Summary:
An easy pressure cooker recipe for Instant Pot Pork Tenderloin served with a creamy mustard sauce and onions, ideal for anyone looking for low carb and keto pork dinners.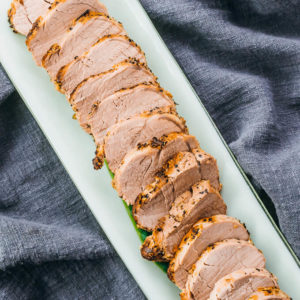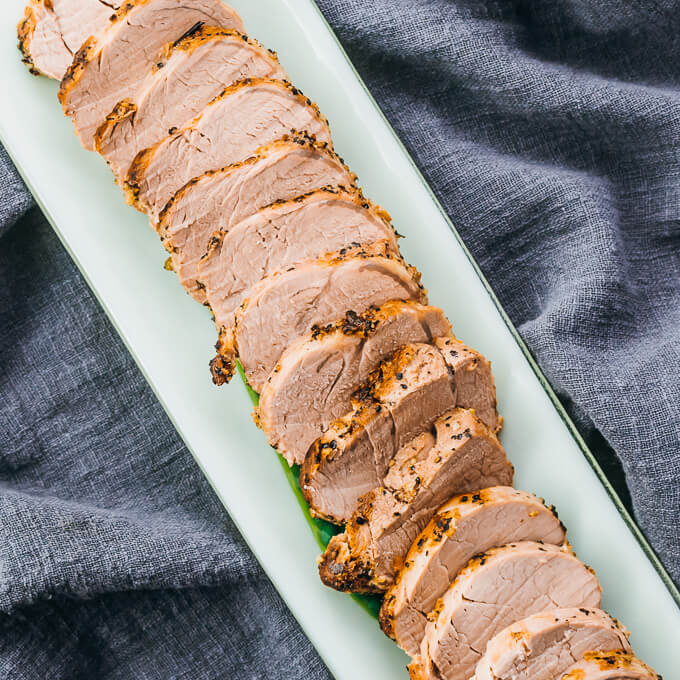 Instant Pot Pork Tenderloin
INGREDIENTS
1

pork tenderloin (1 - 1.5 pounds)

1

small onion

thinly sliced

1/2

cup

water

1

tablespoon

olive oil

salt and pepper
INSTRUCTIONS
Cut the pork tenderloin in half so it's half as long as before. If unseasoned, season all sides with salt and pepper.

Turn on the pressure cooker's saute mode for medium heat. When the display reads HOT, add olive oil to coat the bottom of the pot. Add pork and cook until golden brown on one side, about 5 minutes. Flip to cook the other side for a few minutes. Transfer the pork to a plate.

Add onions and cook for a few minutes, stirring frequently. Turn off the saute mode.

Add water, stirring and briefly scraping up any brown bits stuck to the bottom of the pot. Return the pork to the pot, nestling it on top of the onions.

Secure and seal the lid. Cook at high pressure for 4 minutes, followed by a 10 minute natural release. Make sure to wait the full 10 minutes; do not open even if the pressure is completely released before 10 minutes have elapsed.

Uncover and insert a thermometer into the thickest part of the tenderloin -- it should read 140-145 F. Transfer the pork to a cutting board and let it rest, where it will continue cooking. Do not slice yet.

Turn on the saute mode. Add heavy cream and mustard to the pot, stirring together. Bring to a boil. Let the sauce boil for 8-10 minutes to thicken, stirring frequently. Turn off the saute mode and stir for a minute to let the boiling subside. Stir in parmesan cheese until melted.

Slice the pork into thin slices and serve onto plates. Pour the sauce on top.
NUTRITION
Makes 3 Servings
Amount Per Serving:
| | |
| --- | --- |
| Calories 540 (52% from fat) | |
| Total Fat 31g | 48% |
| Saturated Fat 14g | 72% |
| Cholesterol 195mg | 65% |
| Sodium 270mg | 11% |
| Net Carb 3g | |
| Total Carb 3.5g | 1% |
| Dietary Fiber 0.5g | 1% |
| Sugars 2g | |
| Protein 57g | |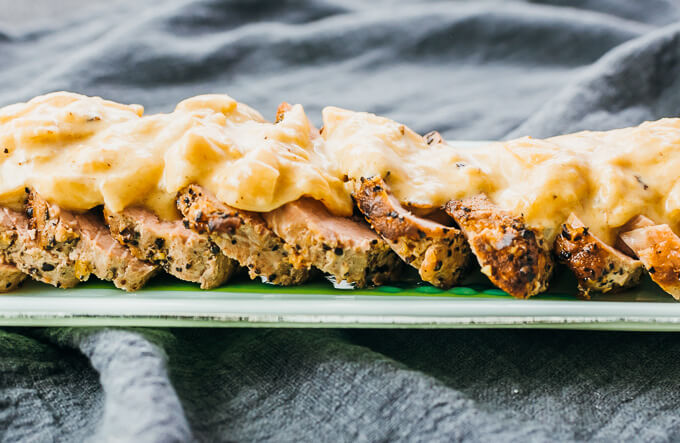 I love making roasted pork tenderloin, but it usually requires both the oven and the stove top, as well as a minimum of two pieces of cookware. Looking for an easier solution, I decided to turn to my Instant Pot.
With the Instant Pot, just a single pot is used for sauteing the tenderloin, pressure cooking, and simmering the gravy sauce. Cleanup is much easier.
Just like the roasted version, pressure cooked pork tenderloin is juicy and tender, and makes for a fabulous main entree. You can pair with a side of greens or vegetables like Instant Pot Green Beans and Instant Pot Brussels Sprouts.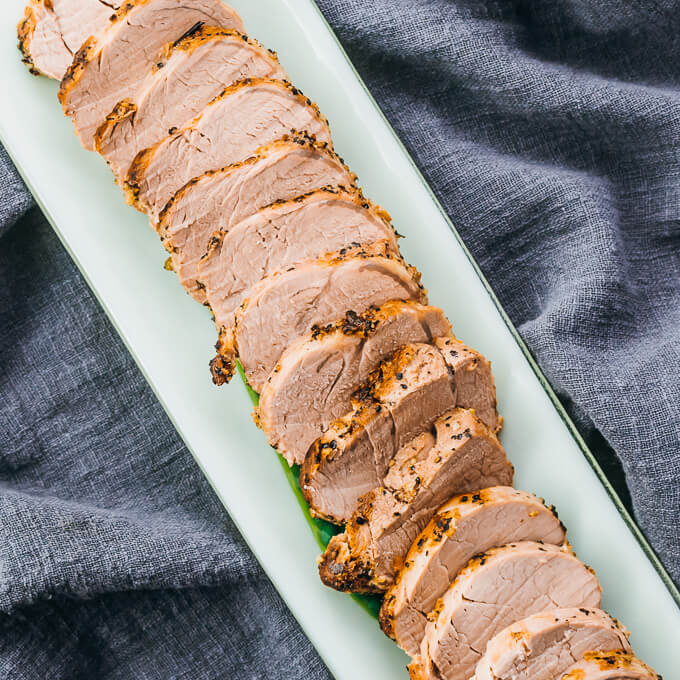 Pork tenderloin is best when cooked until just medium rare (145 F) and no more. This temperature refers to the center of the thickest part of the tenderloin. Ideally, you'll want to cook the pork to 140-145 F and let carryover cooking finish it off. You'll be well-rewarded with incredibly tender meat.
I've tested various methods of cooking tenderloin in the pressure cooker, experimenting with different lengths of time for pressure cooking and natural release. The best combination is a 4 minute pressure cooking time followed by a full 10 minutes natural release, assuming you are sauteing the pork beforehand. This works for tenderloins ranging in weight from 1 to 1.5 pounds.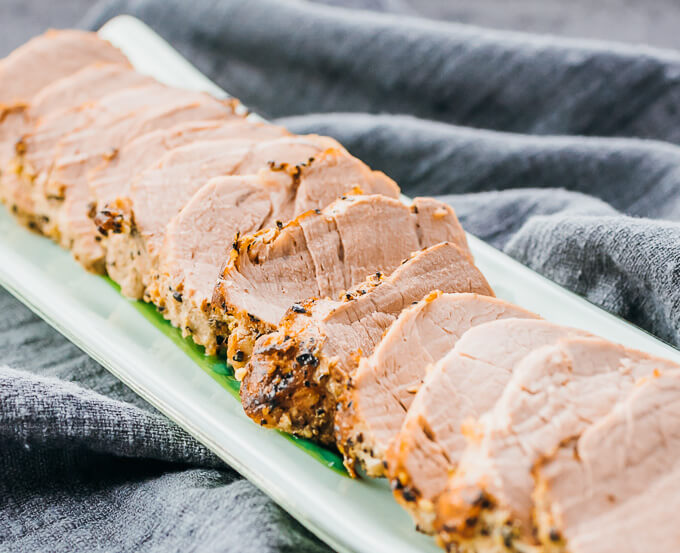 Tips for making instant pot pork tenderloin
Pork tenderloin is not the same thing as pork loin. They're from different parts of the pig and look very different from each other. Pork tenderloin is small, thin, and long, whereas pork loin is a large and wide cut (like steak size). More info here.
I've used pork tenderloins purchased from Trader Joe's and Costco. Trader Joe's has both unseasoned and a seasoned variety (garlic-peppercorn), either will work for this recipe. My local Costco has a great deal for pork tenderloin where you can get a pack of 4 tenderloins. You can use one for this recipe and freeze the rest for later.
Use an instant-read thermometer. After a 10 minute natural release, the thickest part of the tenderloin should be about 140 to 145 F. As it rests, its temperature will continue to rise during carryover cooking. Pork tenderloins can vary a bit in size and shape, so if you don't use a thermometer, you'll just be guessing whether it's cooked through or not.
If the pork tenderloin is less than 140 F after 10 minutes of natural release, add it back to the pot when the liquid is boiling during the sauce thickening step. It'll be done once it reaches 145 F.
Leftovers can be covered and stored in the refrigerator, ideally used within a few days. I typically reheat the pork in the microwave for ease of use, but it can be hit-or-miss. Most of the time it reheats well, but occasionally I get a tenderloin slice that's a bit tough.
Don't have a pressure cooker? Check out my roasted pork tenderloin recipe.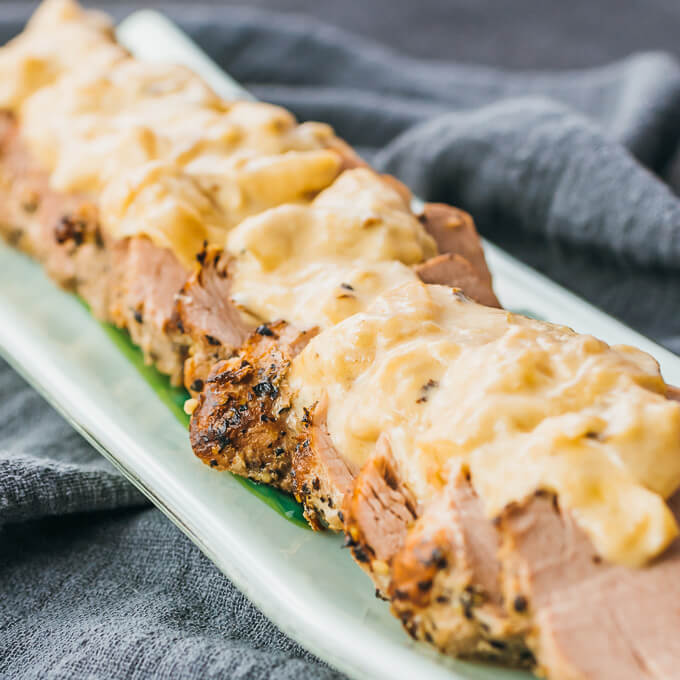 CHECK OUT THESE SAVORY INSTANT POT RECIPES: