Summary:
Tender and juicy, this pork tenderloin is enjoyed with onions and a creamy mustard sauce. With the Instant Pot, just a single pot is used for browning the meat, pressure cooking, and simmering the sauce.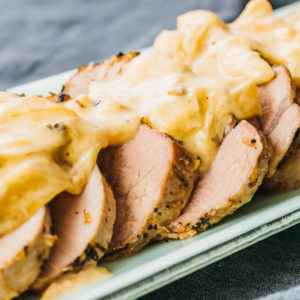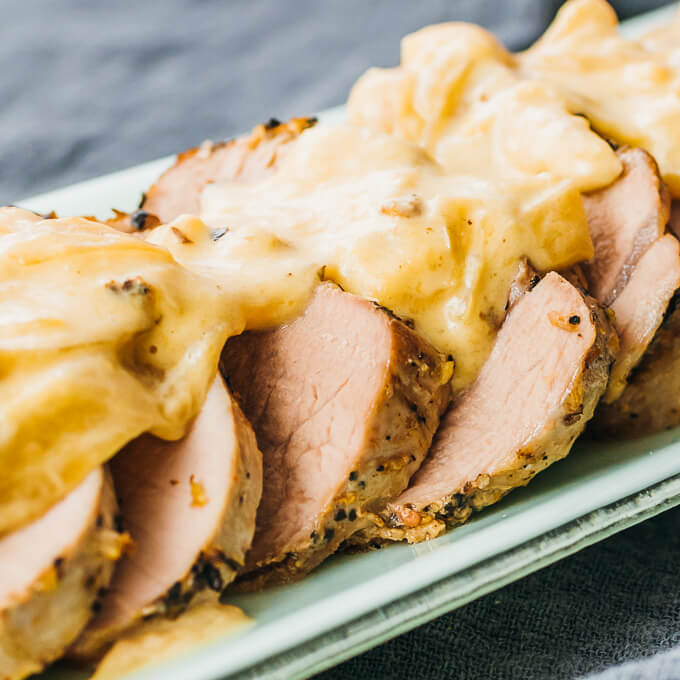 Instant Pot Pork Tenderloin
Natural Release:
10

minutes
INGREDIENTS
1

pork tenderloin (Note 1)

1

small onion, thinly sliced

1/2

cup

water

1

tablespoon

olive oil
salt and pepper
INSTRUCTIONS
Prepare Pork: Cut pork tenderloin in half, so it is half as long as before. If unseasoned, season all sides with salt and pepper.

Brown Pork: Turn on saute mode on pressure cooker (Note 5) for medium heat. When display reads HOT, add olive oil to coat bottom of pot. Add pork and cook until golden brown on one side, about 5 minutes. Flip and cook other side for a few minutes. Transfer pork to plate.

Cook Onions: Add onions to pressure cooker pot and cook for a few minutes, stirring frequently. Turn off saute mode. Add water, stirring and briefly loosening any brown bits stuck to bottom of pot. Return pork to pot, nestling it on top of onions.

Pressure Cook: Secure and seal lid. Cook at high pressure for 4 minutes, followed by 10 minute natural release (Note 6). Uncover, and insert thermometer into thickest part of tenderloin — it should read 140 to 145 F (Note 7). Transfer pork to cutting board and let rest, where it will continue cooking (Note 8). Do not slice yet.

Make Sauce: Turn on saute mode. With remaining liquid in pot, add heavy cream and mustard, stirring together. Bring to boil. Let sauce boil for 8 to 10 minutes to thicken, stirring frequently. Turn off saute mode and stir for a minute until boiling subsides. Stir in parmesan cheese until melted.

Serve: Slice pork into thin slices and transfer onto serving plates. Pour sauce on top and serve (Note 9).
NUTRITION
Makes 3 Servings
Amount Per Serving:
| | |
| --- | --- |
| Calories 540 (52% from fat) |   |
| Total Fat 31g | 48% |
|    Saturated Fat 14g | 72% |
| Cholesterol 195mg | 65% |
| Sodium 270mg | 11% |
| Net Carb 3g |   |
| Total Carb 3.5g | 1% |
|    Dietary Fiber 0.5g | 1% |
|    Sugars 2g |   |
| Protein 57g |   |
PHOTOS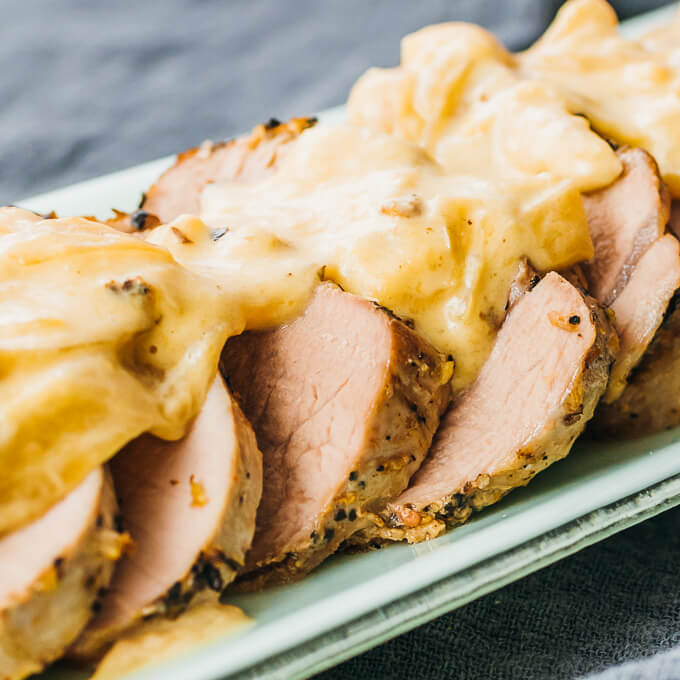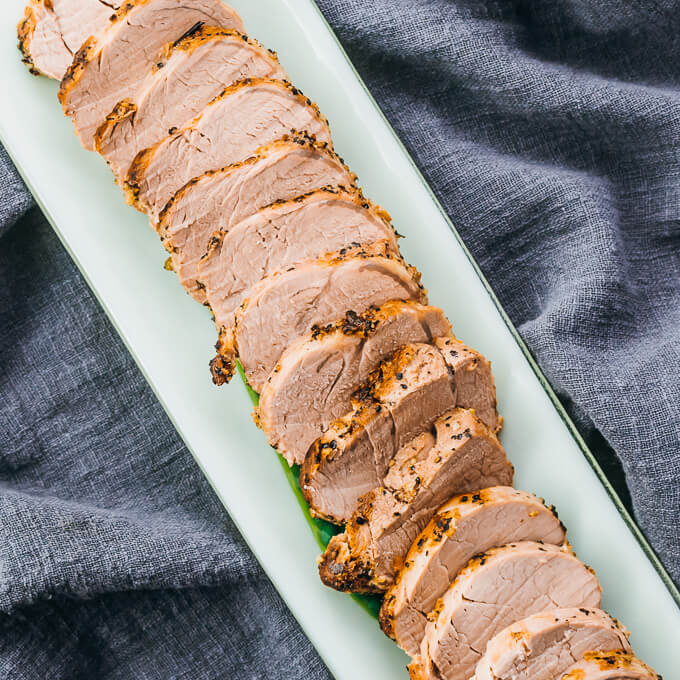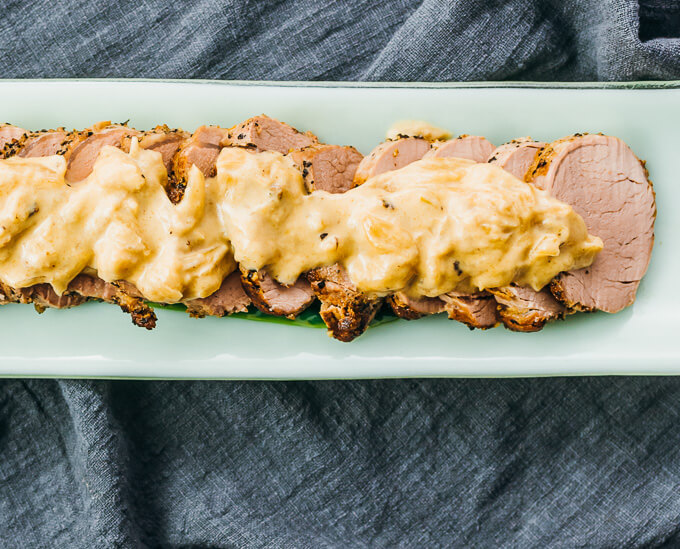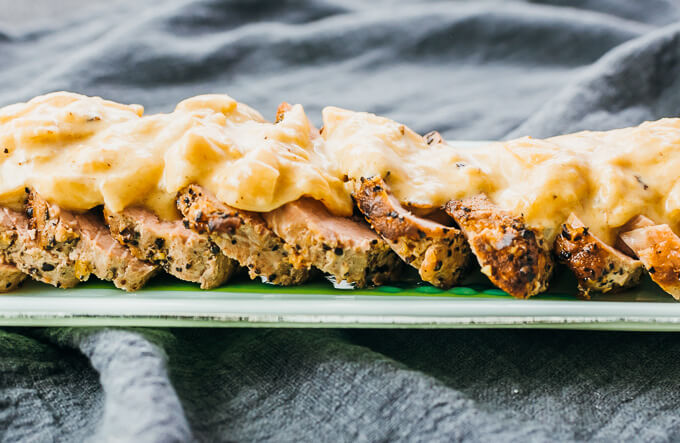 NOTES & TIPS
(1) Pork Tenderloin. Weighing 1 to 1.5 pounds, pork tenderloin is a long cut of pork from a muscle along the pig's spine. It's the most tender cut, because pigs use those muscles for posture and not for movement. It's typically very lean with almost no marbling, and cooks quickly because of its small size. U.S. grocery stores often sell pork tenderloin with seasonings, spices, and sometimes even marinades, so take a look at the ingredients label before purchasing. If your pork tenderloin does not come with any seasonings, I suggest rubbing with salt and pepper (or any meat seasoning of your choice) before browning the tenderloin. 
(2) Heavy Whipping Cream. If you can't find heavy whipping cream, some readers have had success substituting with half and half — in Step 5, simmer the sauce a bit longer to thicken.
(3) Parmesan Cheese. This is finely grated parmesan that has a sandy or almost powdery texture (not shredded), available in pre-grated bags in the refrigerated section of U.S. grocery stores. This can be substituted with similar cheeses like pecorino romano or asiago.
(4) Dijon Mustard. I use the brand Grey Poupon. This amount of mustard gives the sauce a distinct mustard taste but isn't overly strong or overpowering.
(5) Pressure Cooker. I use a 6-quart Instant Pot. You can use a different size of electric pressure cooker as long as all ingredients fit within the maximum capacity line.
(6) Natural Release. Once the timer beeps to signal the end of pressure cooking, let the pot stand for 10 minutes to naturally release pressure. You don't need to press any buttons. Wait the full 10 minutes, even if pressure is completely released before 10 minutes have elapsed. Once that's done, turn the release knob to the venting position and uncover the pot.
(7) Pork Temperature. After a 10 minute natural release, the thickest part of the tenderloin should be about 140 to 145 F (medium rare). Pork tenderloin is best when cooked to this temperature, resulting in incredibly tender meat. Since tenderloins vary in size and shape, I recommend using an instant-read thermometer to verify its temperature instead of guessing. If it's under 140 F, return the tenderloin back to the pot when the liquid is boiling during the sauce thickening step, and take the tenderloin out when it reaches 145 F.
(8) Carryover Cooking. As the tenderloin rests, its core temperature will continue to rise due to carryover cooking, which refers to redistribution of retained heat.
(9) Serving / Leftovers. This pork tenderloin makes for a fabulous main entree. Pair it with a side of roasted vegetable medley, creamy mashed cauliflower, or a refreshing Mediterranean salad. Leftovers can be covered and stored in the refrigerator for up to 2 days. Reheat in the microwave or on the stovetop until warmed through.