Summary:
Compared to other methods like a skillet on the stovetop or microwaving, baking bacon in the oven lets you simultaneously cook more slices, without supervision or greasy splatters. Each bacon slice is evenly cooked and shatteringly crisp.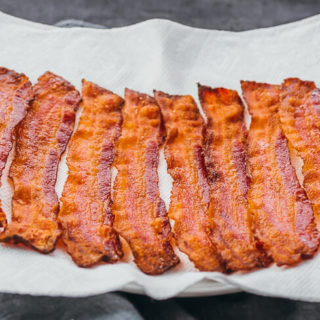 INSTRUCTIONS
Prepare: Position oven rack in center of oven, and preheat to 400 F. Line a rimmed baking sheet with foil, and fit oven-safe rack on top (Note 2).

Bake: Lay out bacon strips in single layer on rack, close together but not touching. Bake uncovered at 400 F until bacon is crispy, 15 to 20 minutes, depending on bacon thickness and preferred doneness (Note 3).

Serve: Use tongs to transfer bacon slices to paper towel lined plate to drain. Serve while hot (Note 4).
NUTRITION
Makes 2 Servings
Amount Per Serving (4 slices):
| | |
| --- | --- |
| Calories 120 (45% from fat) |   |
| Total Fat 6g | 9% |
|    Saturated Fat 3g | 15% |
| Cholesterol 20mg | 7% |
| Sodium 440mg | 18% |
| Net Carb 0g |   |
| Total Carb 0g | 0% |
|    Dietary Fiber 0g | 0% |
|    Sugars 0g |   |
| Protein 8g |   |
PHOTOS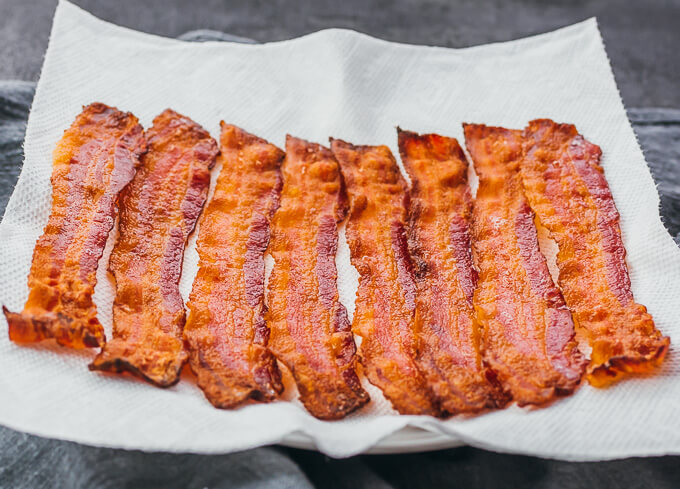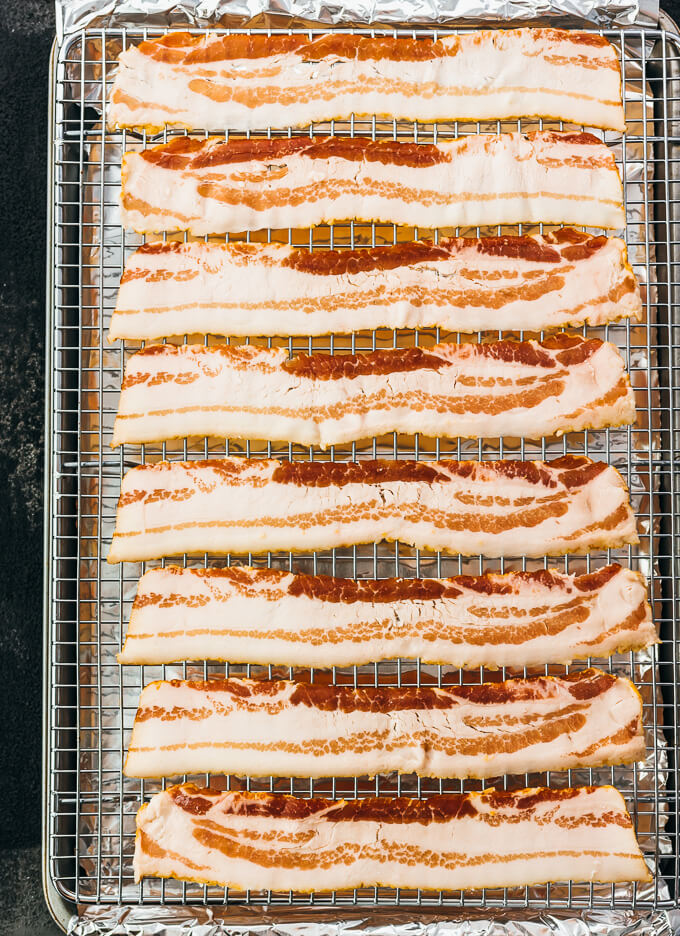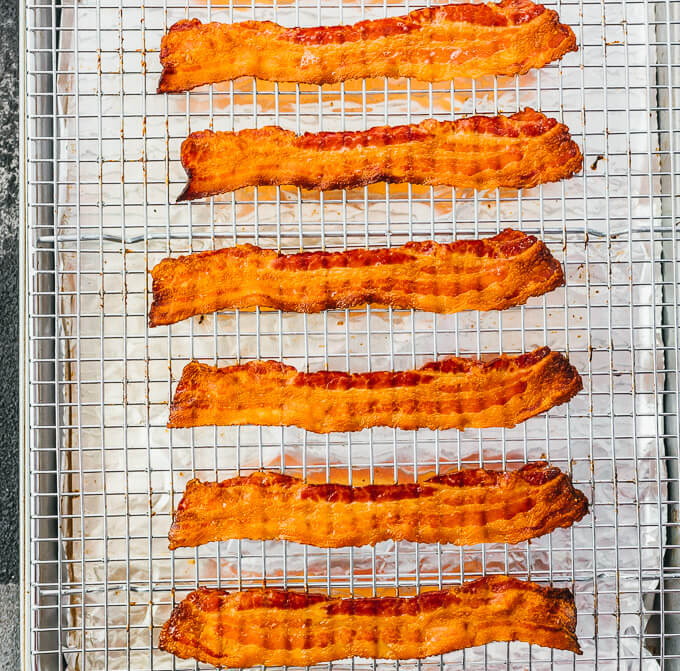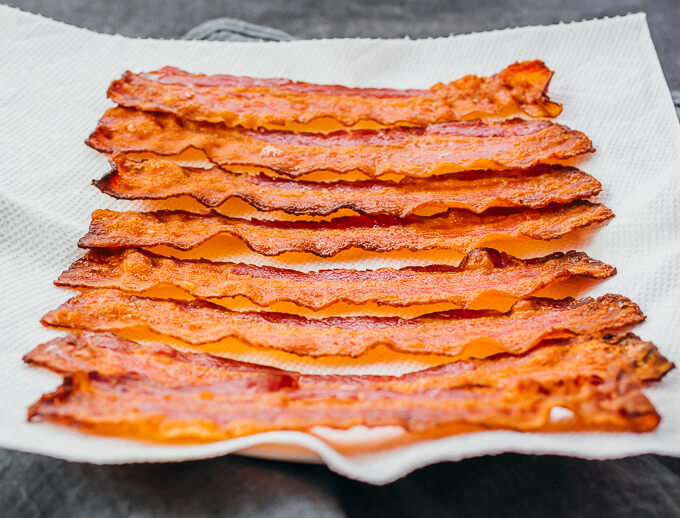 NOTES & TIPS
(1) Bacon. You can use regular or thick-cut bacon varieties. The thickness will affect the baking time (see Note 3 below). Nutrition information will vary between products; if you're on a keto or other low carb diet, check the bacon package's nutrition label to verify it has zero carbs before buying it.
(2) Baking Equipment. I use a baking half sheet from Nordic Ware. While a rack fitted to the baking sheet is not essential, I prefer using a rack so that the grease can drip below instead of pooling. Plus, both sides of the bacon slices get exposed to the hot oven air. The rack doesn't need to be greased. I use aluminum foil to line the baking sheet for easier cleanup; parchment paper also works, but can't conform to the baking sheet as easily as foil. Don't use wax paper — it's not oven safe.
(3) Baking Time. This depends on two main factors: how crispy you prefer your bacon and if the bacon is thick-cut or not. For regular bacon, it takes 15 to 20 minutes at 400 F until extra crispy. For thick-cut bacon, it could take 5 minutes longer. If you like less crispy bacon, you may want to take the bacon out sooner. Since ovens vary, start monitoring the bacon after 10 minutes, especially if it's your first time baking bacon. To determine when bacon is done, watch out for these features: Has the bacon fat been rendered into a pool of grease yet? Is the bacon reddish-brown with no white areas remaining? Are the edges of the bacon crisped up? If you crack the oven door open and smell a bit of smokiness, that's a good sign the bacon is done — it means that the curled-up edges of the bacon are starting to burn a bit.
(4) Serving. Enjoy freshly cooked bacon for brunch alongside scrambled eggs, spinach frittata, or breakfast casserole. Or crumble the bacon into bits and use as a topping over steak salad, broccoli salad, or broccoli cheddar soup. Bacon is also delicious eaten by itself, especially if you have a hankering for a crispy and salty snack.
(5) Garlic 🧄 Variation. If you like the idea of garlic-roasted bacon, chop up a few cloves of garlic and sprinkle over the raw bacon, and bake as directed in this recipe.