Summary:
A simple recipe for cooking bacon in the oven, ideal for feeding a crowd at breakfast. Less fuss and more even crisping than stovetop or microwave methods.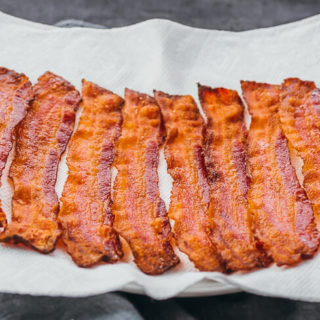 How To Cook Bacon In The Oven Perfectly Every Time
INSTRUCTIONS
Position a rack in the center of the oven and preheat to 400 F.

Prepare a rimmed baking sheet and line with foil. Fit a baking rack on top of the foil lined baking sheet. Place the bacon strips in a single layer on the rack, close together but not touching.

Bake at 400 F until the bacon is crispy, 15 to 20 minutes, depending on the thickness of the bacon and your preference. Since ovens will vary, start monitoring after 10 minutes.

Use tongs to transfer the bacon to a paper towel lined plate to drain. Enjoy while hot.
NUTRITION
Makes 2 Servings
Amount Per Serving (4 slices):
| | |
| --- | --- |
| Calories 120 (45% from fat) | |
| Total Fat 6g | 9% |
| Saturated Fat 3g | 15% |
| Cholesterol 20mg | 7% |
| Sodium 440mg | 18% |
| Net Carb 0g | |
| Total Carb 0g | 0% |
| Dietary Fiber 0g | 0% |
| Sugars 0g | |
| Protein 8g | |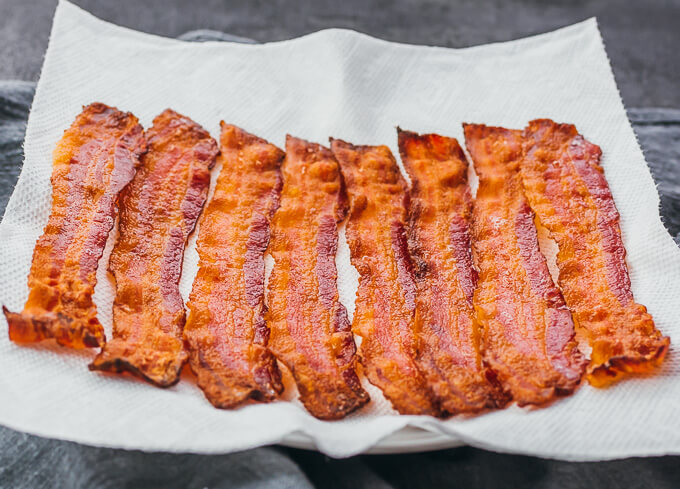 Reasons you should cook bacon in the oven
I consider myself to be somewhat of a bacon expert. I make bacon all the time, whether it's for breakfast, a particular recipe (like low carb biscuits or instant pot beef bourguignon) or just because I have a hankering for a crispy, salty snack.
I can cook bacon on the stovetop to near perfection, but it requires supervision and I can't really fit more than 5 bacon slices on a pan before they're starting to crowd each other.
That's the beauty of cooking bacon in the oven. It solves all of these problems, and is ideal for:
Large volume. You can fit a lot more bacon slices on a baking rack or sheet compared to a frying pan. You can even use multiple baking sheets.
Even cooking and crispness. Bacon laid out on a baking rack or sheet is more evenly heated than bacon crowded on a round frying pan.
No supervision needed. The stovetop method usually requires turning the bacon for even cooking, but the oven method doesn't need any intervention.
No greasy splatters. Never again will you need to dodge bacon grease splatters. There's much less splattery oil when you cook bacon in the oven, and since it's a closed space, it also contains the mess.
Less oily. In the oven, bacon slices are usually cooked on a rack, which means the grease drips down such that the bacon isn't cooking in its own grease. This produces a less oily but equally crispy slice compared to the stovetop.
Making bacon in the oven also helps to free up the stovetop for other dishes that you might be making simultaneously.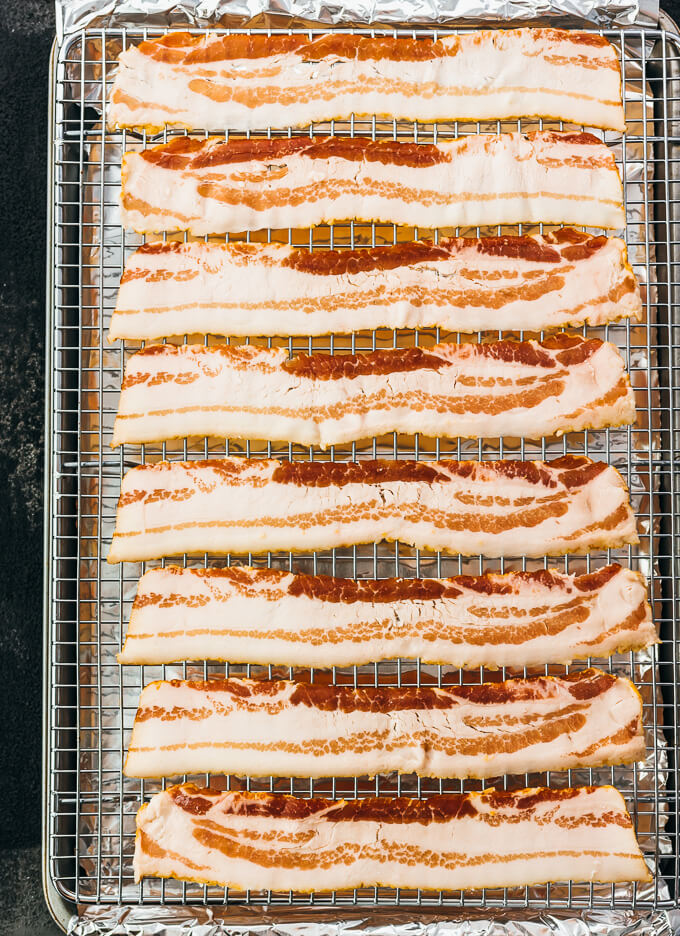 Preparing and baking bacon in the oven
Here are the basic tools you'll need:
large baking sheet
aluminum foil
rack fitted to baking sheet
tongs
paper towels
While the rack is not absolutely essential, I much prefer baking bacon with a rack so that the grease drips below. Moreover, both sides of the bacon slices are exposed to the hot oven air.
I line the baking sheet with foil for easy cleanup. You can also use parchment paper. Do not use wax paper — that isn't oven safe.
Tongs are very helpful for maneuvering the bacon slices to and from the baking sheet.
To cook the bacon, transfer the baking sheet with the bacon into an oven heated to 400 F. Once it reaches your desired crispiness, remove it promptly and transfer the bacon to a paper towel to drain. For me, perfect bacon is always extra crispy, as you can see in these photos.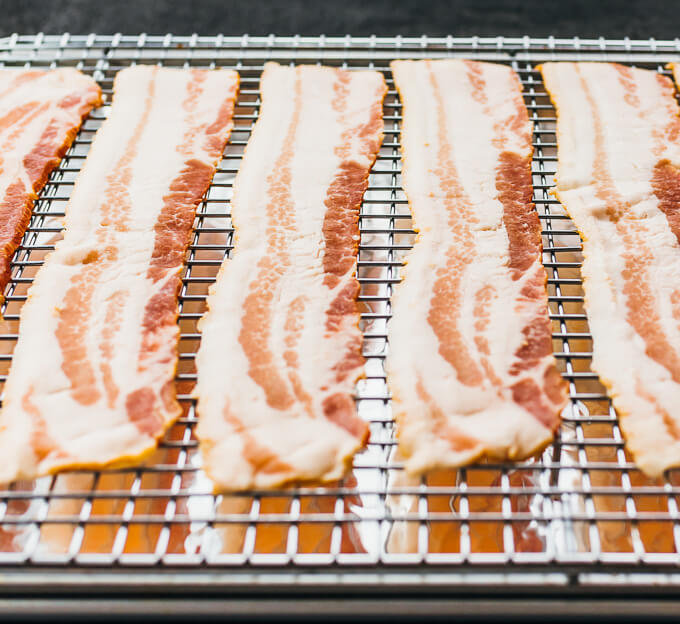 How long to bake bacon and how to know when it's done
The time it takes to bake bacon depends on two main factors: how crispy you prefer your bacon, and if the bacon is thick-cut or not.
For regular bacon, it takes about 15 to 20 minutes at an oven temperature of 400 F. I typically start monitoring after 15 minutes and take it out when it turns extra crispy. For thick cut bacon, it could take 5 minutes longer. If you like less crispy bacon, you may want to take the bacon out sooner.
Since ovens can vary, I typically recommend that you start monitoring the bacon after 10 minutes, especially if it's your first time baking bacon.
To determine when the bacon is done, watch out for these features:
Has the bacon fat been rendered into a pool of grease yet?
Is the bacon reddish-brown with no white areas remaining?
Are the edges of the bacon crisped up?
If you crack the oven open and you start to smell a bit of smokiness, that's also a good sign that the bacon is done — it means that the curled-up edges of the bacon are starting to burn a bit.
Nutrition and carbs in bacon
I use bacon purchased from Trader Joe's, but you can use your favorite type, including thick cut varieties.
Nutrition information will vary based on the brand. For Trader Joe's bacon, there are 120 Calories, 6g fat, 440mg sodium, and 8g of protein for 4 slices. See the recipe card below for a formatted nutrition box.
There are zero carbs in bacon, which is always the case for any food that is pure protein and fat. That's why low carb and keto dieters love their bacon.
For more information on the different types of bacon, check out this comprehensive article discussing all of the different types of bacon.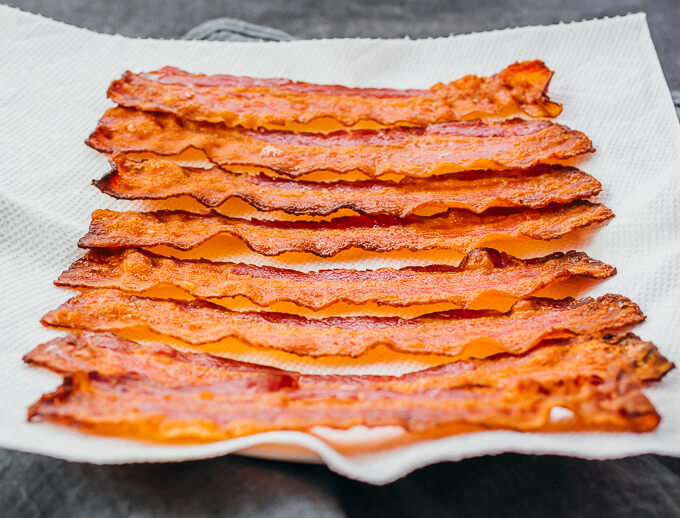 CHECK OUT THESE DELICIOUS BACON RECIPES: