Summary:
With fewer carbs than your traditional shakshuka, this keto version includes spinach, feta cheese, and a bold spice combo. Poached eggs sit atop a savory tomato sauce, whose contrasting flavors and bright colors make this vegetarian dish a delight to enjoy. Everything is cooked in a single pan on the stovetop, only taking 30 minutes from start to finish, fast enough for a simple breakfast.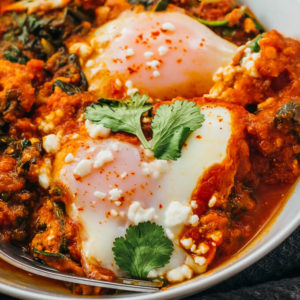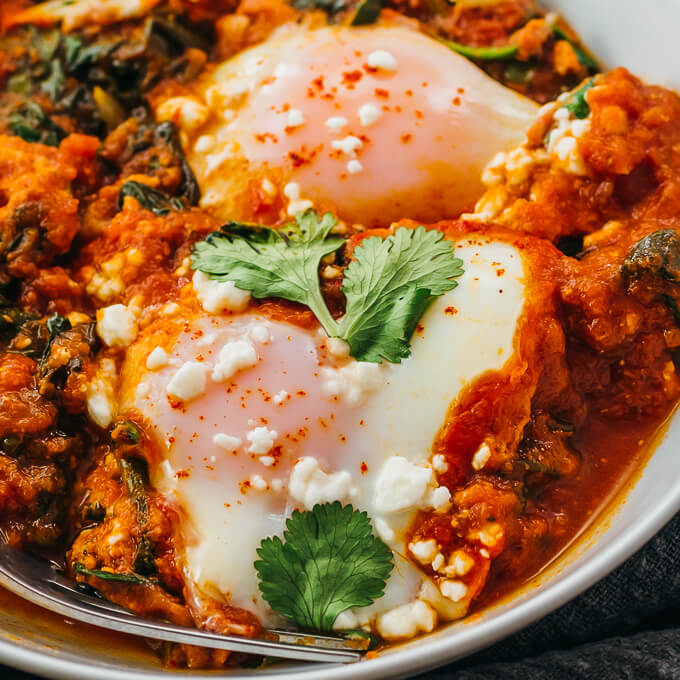 INGREDIENTS
1

(14.5-ounce) can

crushed tomatoes

1

(6-ounce) package

fresh baby spinach (Note 1)

2

cloves

garlic, thinly sliced

4

large eggs

2

tablespoons

olive oil
Toppings, Added Last:
2

tablespoons

crumbled feta cheese (Note 2)

1

tablespoon

fresh cilantro leaves

1/8

teaspoon

smoked paprika
INSTRUCTIONS
Prepare: This recipe moves quickly, so open can of crushed tomatoes and package of spinach so they are ready to go. Prepare a pot wide enough to hold 4 eggs in a single layer and tall enough to hold half of the spinach at a time (Note 3), equipped with a lid. Add olive oil, garlic, and all dried seasonings to the cold pot (Note 4).

Cook Tomatoes & Spinach: Place pot with seasonings on burner set to medium heat. Stir until fragrant, rust-colored, and just starting to simmer, 1 to 2 minutes. Stir in crushed tomatoes and half of spinach until leaves are wilted, 1 to 2 minutes. Stir in remaining half of spinach until wilted, another 1 to 2 minutes.

Thicken Sauce: Simmer for 5 minutes to evaporate excess liquid (Note 5), stirring occasionally to prevent anything from sticking to the pot and burning. Resulting spinach-tomato sauce should be slightly thickened; running utensil along bottom should yield trail that fills in slowly behind it.

Cook Eggs: Reduce to low heat. Crack four eggs over sauce in single layer, evenly distributed over surface. Optionally, scoop some spinach-tomato sauce over egg whites, which helps them cook faster. Cover, and increase to medium-low heat. Cook until yolks develop film and egg whites are no longer translucent, about 4 minutes (or cook to your preferred doneness). Uncover. If the surface looks a bit watery, simmer uncovered over medium-low heat until liquid evaporates, a few minutes.

Serve: Turn off heat. Evenly sprinkle feta cheese, cilantro, and paprika on top. Wait 5 minutes to let shakshuka set and cool a bit. Serve into bowls, and enjoy while warm (Note 6).
NUTRITION
Makes 2 Servings
Amount Per Serving:
| | |
| --- | --- |
| Calories 400 (61% from fat) |   |
| Total Fat 27g | 41% |
|    Saturated Fat 7g | 33% |
| Cholesterol 381mg | 127% |
| Sodium 1120mg | 47% |
| Net Carb 10.5g |   |
| Total Carb 20g | 7% |
|    Dietary Fiber 9.5g | 38% |
|    Sugars 1.5g |   |
| Protein 16g |   |
PHOTOS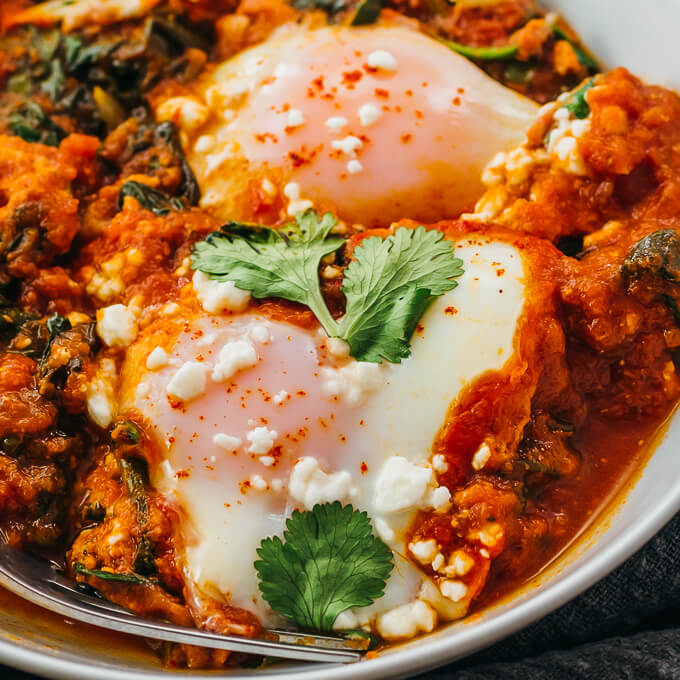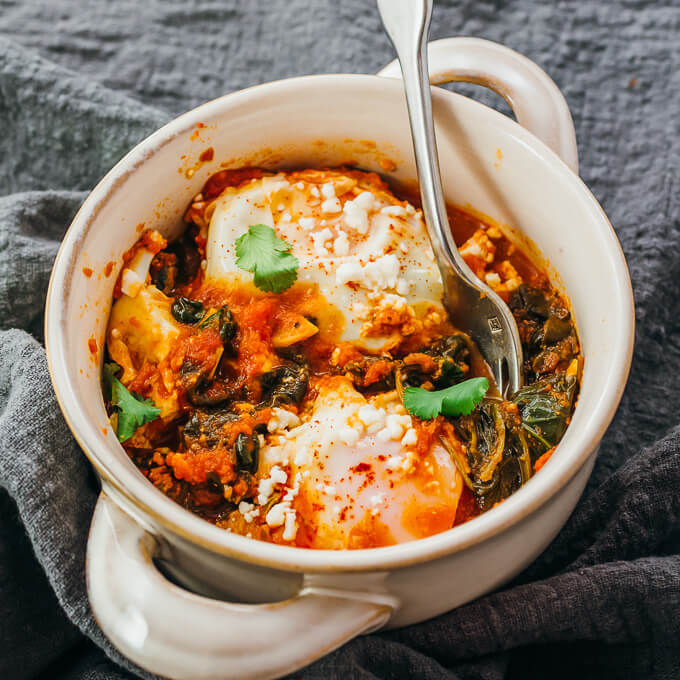 NOTES & TIPS
(1) Spinach. Use both leaves and stems, no chopping needed.
(2) Feta Cheese. To make this dairy-free or paleo friendly, omit the feta cheese, without any significant loss in flavor to the overall dish. If desired, you can replace it with a non-dairy imitation cheese.
(3) Pot Size. I use an 8-inch-diameter and 4-inch-tall stainless steel pot. Try to use a pot with similar dimensions. If yours is too small, it won't hold the raw spinach and the eggs will overlap each other. If too large, the shakshuka will be very thin and it's easy to accidentally burn the tomato sauce with more surface area exposed to heat. You will also need a lid for the pot, ideally glass so you can easily see when the egg whites are done.
(4) Adding Oil & Spices. The starting ingredients (olive oil, garlic, spices) are added to an unheated pot so that they can gradually come to temperature once heated. This reduces oil splatters and overheating.
(5) Thickening Sauce. This step makes the shakshuka less watery, and helps it hold its shape when being served.
(6) Serving. Enjoy this meal alongside Smoked Salmon Scrambled Eggs for breakfast, or as a quick weeknight dinner. Leftovers can be refrigerated and heated on the stovetop over medium-low heat until warmed through.
(7) Nutrition. To reduce carbs, I use a lot of spinach in this dish so that there's proportionally less tomato used. By weight, tomato has about six times as many net carbs as spinach, so this reduces the overall carb impact. While the net carbs per serving is on the high end at 10.5g, it hasn't been difficult to include it in my keto diet. I just make sure that the rest of my day's foods are high in fat and lower in carbs.