Summary:
This is a 30-minute stovetop recipe for a one-pan chicken dinner with sun-dried tomatoes and spinach in a creamy garlic sauce.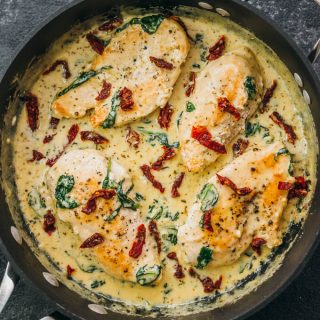 INGREDIENTS
2

(8-ounce)

boneless skinless chicken breasts (Note 1)

1

cup

roughly chopped fresh baby spinach

1/2

cup

heavy whipping cream (Note 2)

1/2

cup

finely grated parmesan cheese, plus more for serving (Note 3)

1/4

cup

chopped sun-dried tomatoes (Note 4)

5

cloves

garlic, minced

2

tablespoons

olive oil

2

tablespoons

salted butter

1

teaspoon

dried oregano
salt and pepper, to taste
INSTRUCTIONS
Prepare Chicken: Cut each chicken breast horizontally so it's half as thick as before, resulting in 4 thinner pieces (Note 5). Pat them dry with paper towels. Generously season both sides of each chicken piece with salt and pepper.

Sear Chicken: Heat 10-inch sauté pan over medium to medium-high heat until hot. Add olive oil to cover pan, and place chicken breasts in single layer over oil. Cook until each side is golden brown, 4 to 5 minutes per side. When chicken is cooked through, transfer to large plate. Work in batches if your pan is not large enough to hold all at once.

Make Sauce: Reduce to low heat. Add heavy whipping cream, butter, and parmesan cheese to pan. Stir until butter and cheese are melted, scraping up any browned bits on bottom of pan. Increase to medium heat and bring to simmer. Stir in spinach until wilted. Stir in minced garlic and oregano until well-mixed.

Return Chicken & Serve: Transfer chicken back to pan, leaving any liquid on plate, and simmer for 1 minute. Top with sun-dried tomatoes. Turn off heat. Serve (Note 6), and optionally top with additional grated parmesan cheese.
NUTRITION
Makes 2 Servings
Amount Per Serving:
| | |
| --- | --- |
| Calories 780 (61% from fat) |   |
| Total Fat 53g | 82% |
|    Saturated Fat 27g | 136% |
| Cholesterol 249mg | 83% |
| Sodium 460mg | 19% |
| Net Carb 6.5g |   |
| Total Carb 8g | 3% |
|    Dietary Fiber 1.5g | 6% |
|    Sugars 4.5g |   |
| Protein 63g |   |
PHOTOS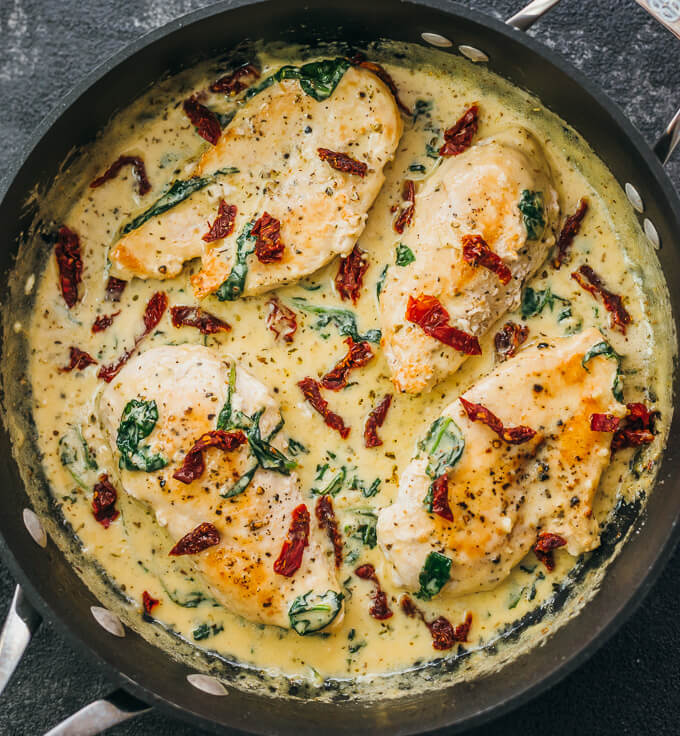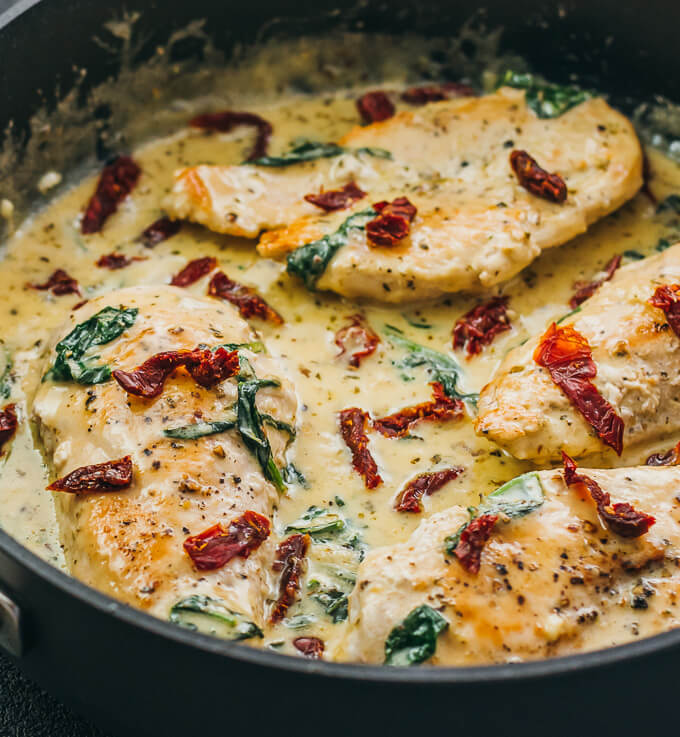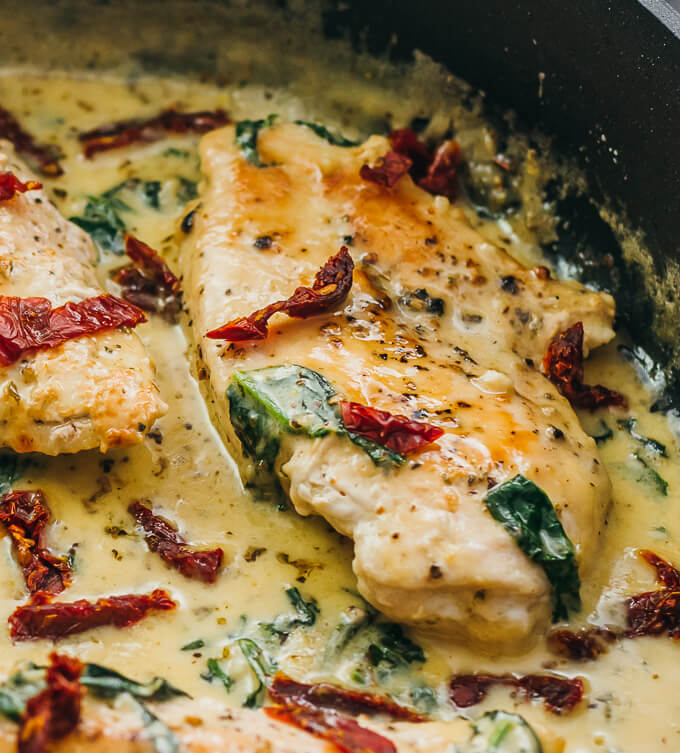 NOTES & TIPS
(1) Chicken. I use fresh chicken; if yours is frozen, defrost in the refrigerator overnight before using in this recipe. I use boneless skinless chicken breasts that weigh 8 ounces each, for a total of 16 ounces (1 pound).
(2) Heavy Whipping Cream. If you can't find heavy cream, some readers have had success substituting with half-and-half.
(3) Parmesan Cheese. This is finely grated parmesan that has a sandy or almost powdery texture (not shredded), available in pre-grated bags in the refrigerated section of U.S. grocery stores. This can be substituted with similar cheeses like pecorino romano or asiago.
(4) Sun-Dried Tomatoes. I use dry-packaged sun-dried tomatoes, typically found in the produce area of U.S. supermarkets, in plastic packaging. Oil-packaged ones are fine as long as you blot off any excess oil. Some readers have substituted with sun-dried tomato paste/puree by mixing it into the sauce.
(5) Halving Chicken. Slice each chicken breast horizontally in half to reduce its thickness prior to cooking. This makes it easier to cook, with a faster and more predictable cooking time, and results in more tender and moist meat. It's also a lot easier than pounding chicken breasts to flatten them. If your chicken breast is on the larger side (more than 8 ounces), you may need to slice it into 3 pieces or increase the cooking time.
(6) Serving. Serve hot, optionally passing around capers or additional sun-dried tomatoes for extra tang. This dish goes well with low carb side dishes like cauliflower rice, zucchini "noodles," roasted mushrooms, or sautéed asparagus.
(7) Lower Calorie Option. To bring the calories per serving down to 610 kcal, reduce the heavy whipping cream to 1/4 cup and omit the butter entirely. There's less overall sauce, but the same great flavors are still present.