This chicken skillet dinner has garlic, sun-dried tomatoes, and spinach in a creamy buttery sauce.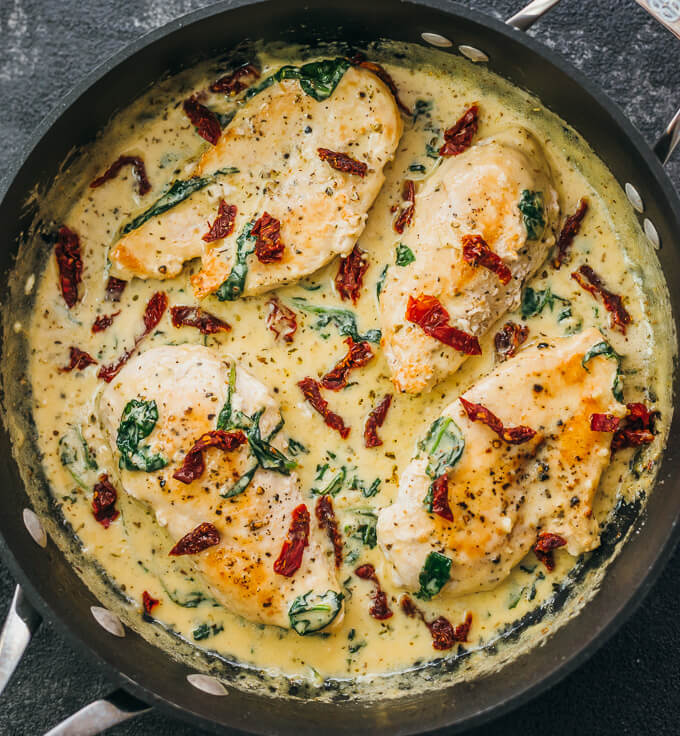 I'm always looking for quick dinner solutions on weeknights, especially chicken skillet meals like this low carb creamy chicken with sun-dried tomatoes, spinach, and garlic in a thick cheesy sauce. This can be a filling and hearty dinner for two, or it can feed four people with additional side dishes such as baked asparagus and roasted cauliflower florets. The chicken is crispy and seared on the outside, and incredibly tender and moist on the inside. The most striking flavors are the tartness of the sun-dried tomatoes and the garlic and oregano flavors of the sauce. Everything is cooked on the stovetop for simplicity, so there's no need to finish off the chicken in the oven. This whole meal takes less than 30 minutes to prep and cook, so it's definitely a winner in the fast weeknight dinner niche.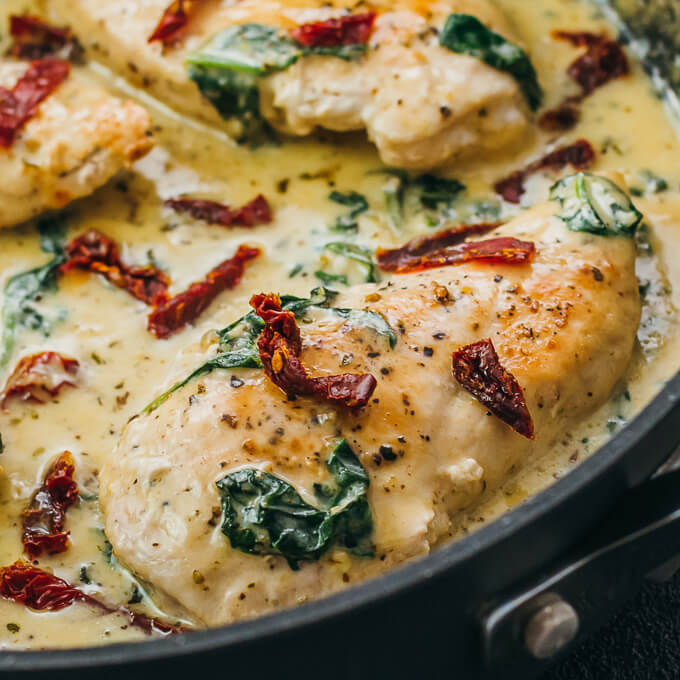 I almost exclusively cook dinners for my family, which is what you'll usually find on this blog. Lately, Mr. Savory Tooth and I have been obsessed with creamy chicken skillet dinners. First, I made this creamy chicken with a lemon caper sauce, next came this lemon chicken piccata, and now this tasty sun-dried tomato chicken. There are endless flavor combinations that work fantastically well with chicken dinners. If you prefer baking chicken, these mustard baked chicken tenders have a spicy kick and are very simple to make. Also check out this list of 100 low carb chicken recipes.
From all of my chicken recipe testing, I've developed my favorite way to cook perfectly moist and tender chicken breasts. There are two main components. First, reduce each chicken breast's thickness. The easiest way to do this is to slice through the chicken so that you end up with two thinner slices. Chicken breasts tend to puff up when cooked, so they will end up thicker than when they're raw, and thick chicken means longer cooking times. Longer cooking times mean there's a higher chance of overcooking parts of the chicken — yielding tough stringy bites of chicken. Thinner pieces of chicken are faster to cook and much easier to handle.

Second, chicken will be much more tender when cooked for longer periods of time at low temperatures, versus shorter periods of time at higher temperatures. That's the whole concept behind sous vide cooking. You've probably heard that chicken needs to be cooked until it reaches an internal temperature of at least 165 F. What's missing from the previous sentence is the fact that chicken's pasteurization temperature depends on how long you are cooking at that temperature. That's because bacteria die faster at higher temperatures.
At 165 F, chicken is immediately pasteurized, at 150 F it only takes a few minutes, and at 145 F it takes about 10 minutes. My results show that chicken is much more tender when cooked at lower temperatures (say, 145 F) compared to higher temperatures, because chicken expels much more juice when exposed to higher heat. That's why I never cook my chicken until it reaches the oft-recommended 165 F, as that it results in tough and usually overcooked chicken. Next time you use your instant-read thermometer, I recommend doing an experiment of your own — monitor the internal temperature of your chicken, how long it cooks for, and the resulting tenderness of the meat. I find that searing chicken over medium to medium-high heat for 5 minutes per side results in deliciously moist cooked chicken.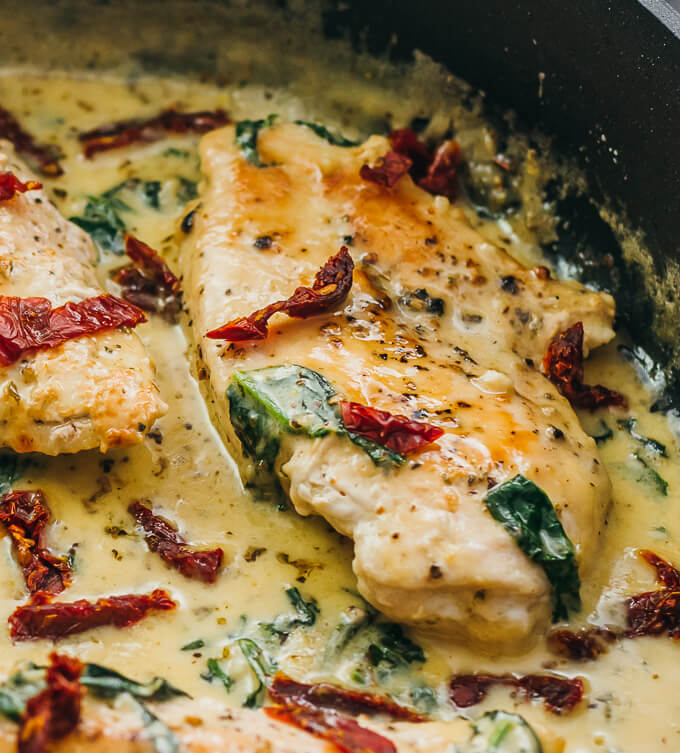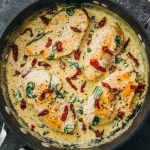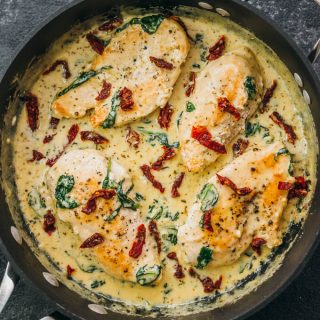 Creamy sun-dried tomato chicken with spinach and garlic
This chicken skillet dinner has garlic, sun-dried tomatoes, and spinach in a creamy buttery sauce.
Ingredients
2

boneless skinless chicken breasts (about 1 pound total)

1

cup

roughly chopped fresh baby spinach (about 1 ounce)

1/2

cup

heavy whipping cream

1/2

cup

finely grated parmesan cheese (about 1.5 ounces)

plus more for serving

1/4

cup

chopped sun-dried tomatoes (about 0.7 ounce)

5

cloves

garlic

minced

2

tablespoons

olive oil

2

tablespoons

salted butter

1

teaspoon

dried oregano

salt and pepper

to taste
Instructions
If chicken breasts are more than 3/4 inch thick, cut into 2 thinner slices. Pat dry with a paper towel. Season both sides of each chicken piece with salt and pepper.

Heat a wide pan over medium to medium-high heat until hot. Add olive oil to cover the pan.

Add chicken breasts to the pan in a single layer. Cook until each side is golden brown, 4 to 5 minutes per side. When the chicken is cooked through, transfer to a plate. Work in batches if your pan is not large enough to hold them all at once.

Reduce to low heat. Add heavy cream, butter, and parmesan cheese to the pan. Stir until the butter and cheese has melted, scraping up any bits that have stuck to the pan.

Increase to medium heat and bring to a simmer. Add spinach and stir until it has wilted.

Add minced garlic and oregano, stirring until well-mixed. Add salt and pepper to taste.

Transfer the chicken back to the pan and simmer for a minute. Top with sun-dried tomatoes.

Serve while hot and optionally top with additional grated parmesan cheese.
Nutrition Notes
This recipe yields 5.5 g net carbs per serving.
Nutrition Facts Per Serving
| | |
| --- | --- |
| Calories 820 |   |
| Total Fat 56g | 85% |
|    Saturated Fat 30g | 148% |
|    Trans Fat 0g |   |
| Cholesterol 282mg | 94% |
| Sodium 450mg | 19% |
| Potassium 590mg | 17% |
| Total Carb 7g | 2% |
|    Dietary Fiber 1.5g | 6% |
|    Sugars 3g |   |
| Protein 61g |   |