Summary:
These oven baked chicken breasts are a keto and low carb meal that's easy, quick, and delicious. They're like un-stuffed chicken, with a cheesy spinach and sun-dried tomato topping. Check out more Cooking For Two recipes.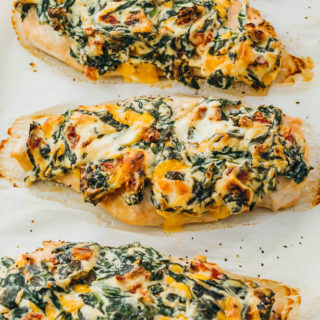 Oven Baked Chicken Breasts (Keto Recipe)
INGREDIENTS
2

(7- to 8-ounce)

boneless skinless chicken breasts

3/4

tsp

table salt

3/4

tsp

ground black pepper
Topping:
2

cups

chopped fresh spinach leaves (3 ounces weight), stems removed

3

ounces

cream cheese

1/4

cup

shredded cheddar cheese

1/4

cup

finely chopped sun-dried tomatoes (dry packaged)

1/2

tsp

garlic powder
INSTRUCTIONS
Preheat the oven to 425 F.

Slice each chicken breast in half, so it's half as thick as before. The resulting pieces should be no thicker than about 1/2 inch. If moist, pat them dry with paper towels.

Prepare a baking tray lined with parchment paper. Spread out the chicken pieces in a single layer on the parchment paper.

Season the chicken with half of the salt and pepper. Flip them and season the other side with the remaining salt and pepper. Set aside.

In a pan on the stovetop, cook spinach until wilted. Separately, microwave cream cheese until very soft and easily mixed, about 20 seconds.

In a bowl, stir together cooked spinach, softened cream cheese, and all other topping ingredients until well-mixed. Evenly spread the mixture across the tops of the chicken pieces.

Bake at 425 F until the chicken is cooked through, about 20 minutes, depending on the size of your chicken pieces. Let it cool at room temperature for about 5 minutes before serving.
NUTRITION
Makes 2 Servings
Amount Per Serving:
| | |
| --- | --- |
| Calories 480 (41% from fat) | |
| Total Fat 22g | 34% |
| Saturated Fat 12g | 60% |
| Cholesterol 183mg | 61% |
| Sodium 1310mg | 55% |
| Net Carb 7g | |
| Total Carb 9g | 3% |
| Dietary Fiber 2g | 8% |
| Sugars 3g | |
| Protein 57g | |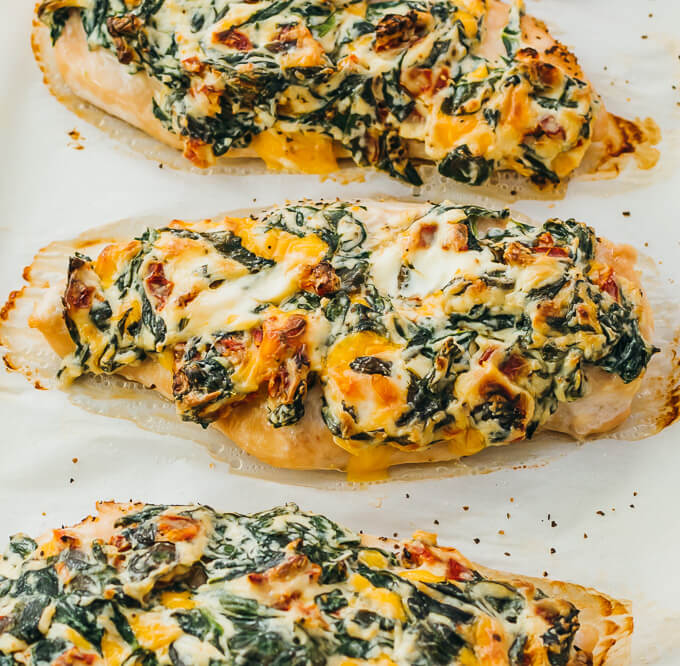 Tastes Like Stuffed Chicken Breasts
I love stuffed anything — stuffed mushrooms, stuffed cabbage rolls, and stuffed jalapeños, to name a few — and stuffed chicken breasts are no exception. But it's a time-consuming hassle to stuff chicken breasts, so I don't make them as often as I'd like.
That's where this recipe comes in. They taste exactly like spinach and cheese stuffed chicken breasts, minus all the effort. The "stuffing" is just a cheesy topping that you can quickly spread on top of the chicken pieces. It stays on easily, and doesn't slide off during baking or when you cut the chicken into slices.
This is great if you're looking for quick and easy weeknight dinner ideas. You can round out a low carb meal by serving them with appetizers like keto friendly garlic knots and biscuits, and with sides like cauliflower mashed "potatoes" or roasted cauliflower florets.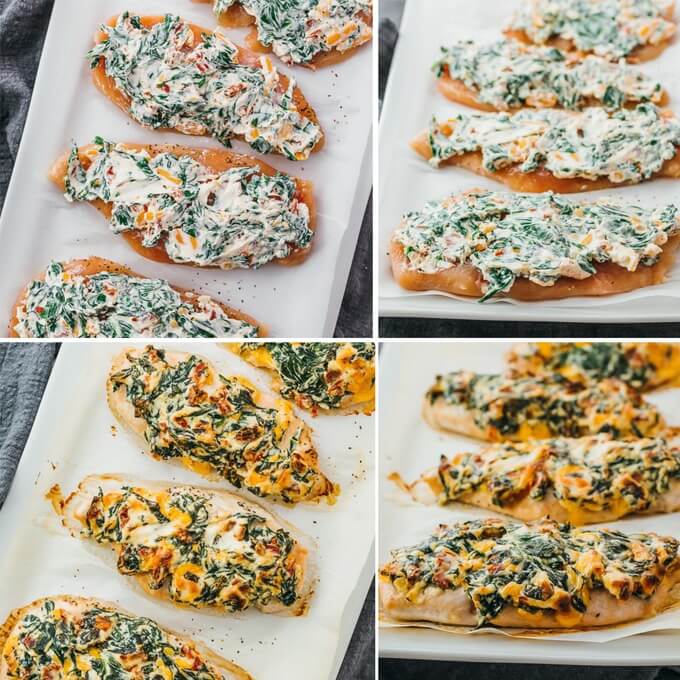 Tips For Baking Chicken Breasts
The key to perfectly baked chicken breasts is timing. When selecting chicken, follow the recipe's instructions for the proper weight and thickness, which is what the cooking time is based on.
If your chicken breasts are smaller or larger than indicated here, you'll have to modify the baking time accordingly.
Don't forget the cooling time. I usually let the chicken rest for about 5 minutes after baking and before cutting into it. This prevents the chicken from releasing liquid, yielding juicier meat.
Another important factor is the oven temperature. I find that hotter temperatures result in more tender and moist chicken breasts compared to lower temperatures — I use 425 F instead of something lower like 350 F.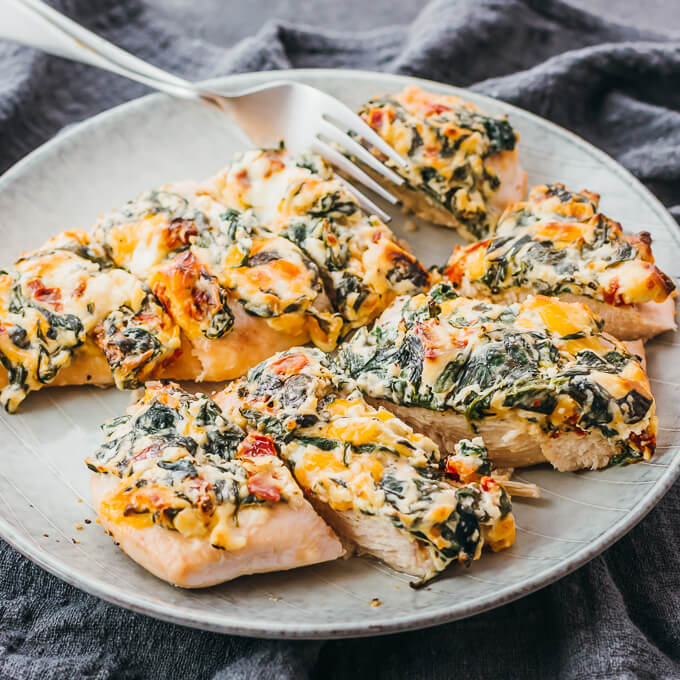 Easy Boneless Skinless Chicken Breast Recipes