Summary:
These oven baked chicken breasts are a keto and low carb meal that's quick, easy, and delicious. The chicken is spread with a cheesy spinach and sun-dried tomato topping.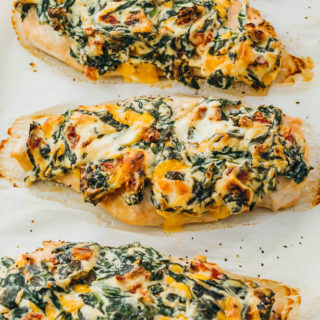 Oven Baked Chicken Breasts
INGREDIENTS
2

(8-ounce) boneless skinless chicken breasts (Note 1)

3/4

teaspoon

table salt

3/4

teaspoon

ground black pepper
INSTRUCTIONS
Prepare Chicken: Preheat oven to 425 F. Slice each chicken breast in half; resulting pieces should be no thicker than 1/2 inch (Note 4). If moist, pat dry with paper towels. Spread out chicken pieces in single layer on baking tray lined with parchment paper. Season both sides of chicken pieces with salt and pepper. Set aside.

Make Topping: Cook spinach on skillet on stovetop until wilted. Separately, microwave cream cheese until very soft, about 20 seconds. Stir together cooked spinach, softened cream cheese, cheddar, tomatoes, and garlic in bowl until well-mixed. Evenly spread mixture across tops of chicken pieces.

Bake: Bake uncovered at 425 F until chicken is cooked through, about 20 minutes, depending on size of chicken pieces. Let cool at room temperature for about 5 minutes before serving (Note 5).
NUTRITION
Makes 2 Servings
Amount Per Serving:
| | |
| --- | --- |
| Calories 480 (41% from fat) |   |
| Total Fat 22g | 34% |
|    Saturated Fat 12g | 60% |
| Cholesterol 183mg | 61% |
| Sodium 1310mg | 55% |
| Net Carb 7g |   |
| Total Carb 9g | 3% |
|    Dietary Fiber 2g | 8% |
|    Sugars 3g |   |
| Protein 57g |   |
PHOTOS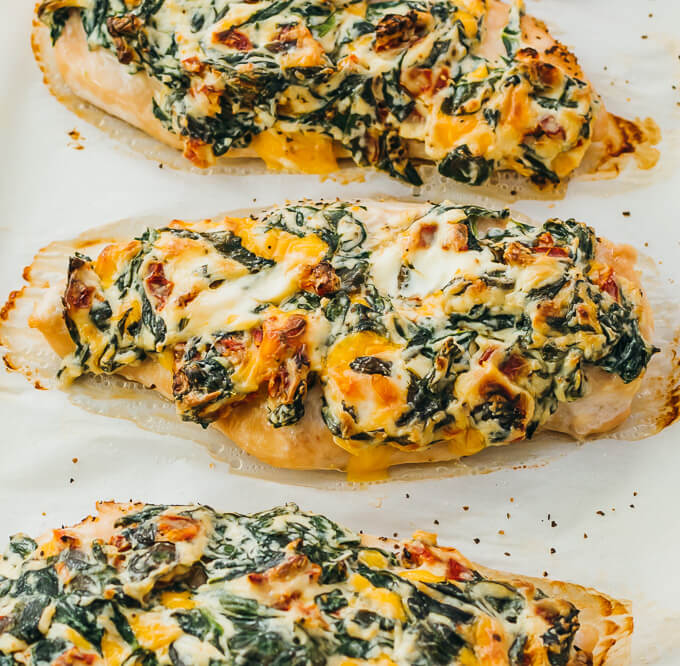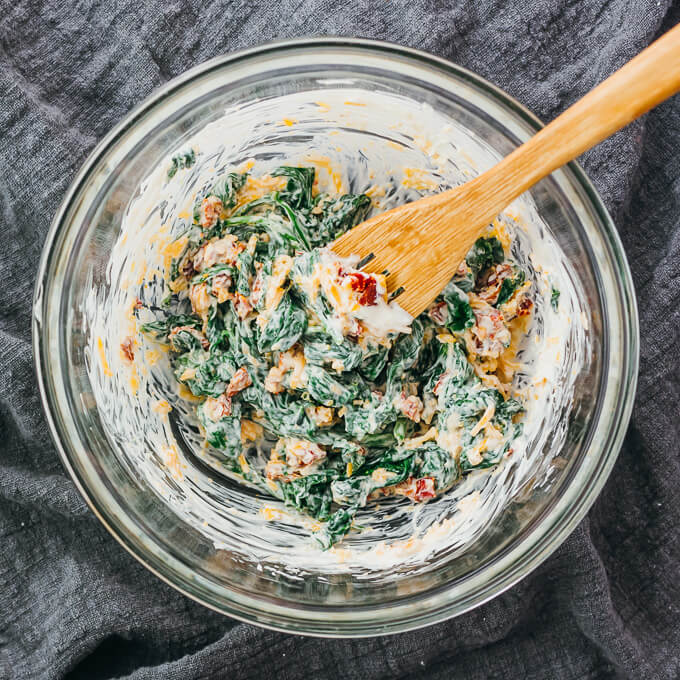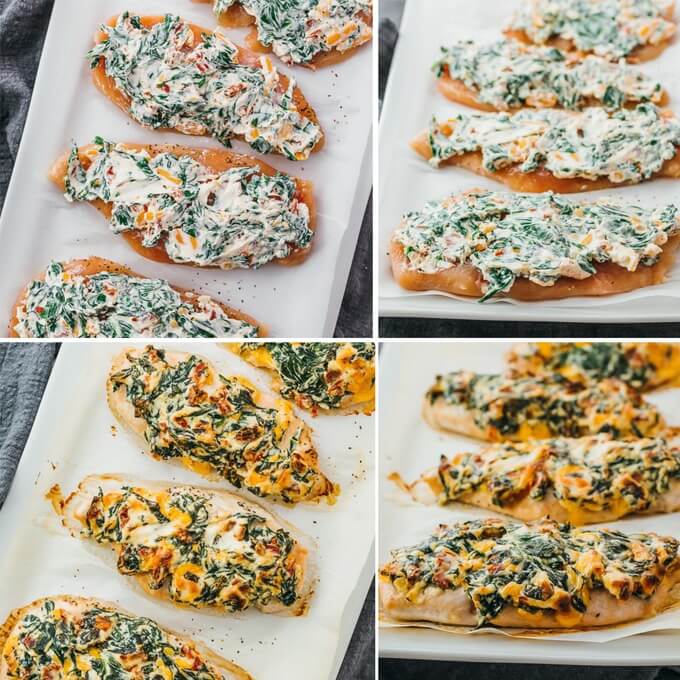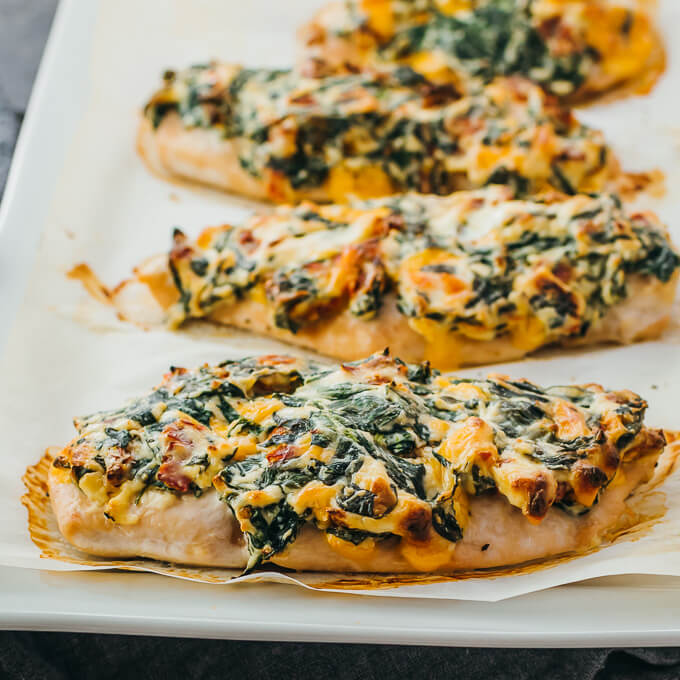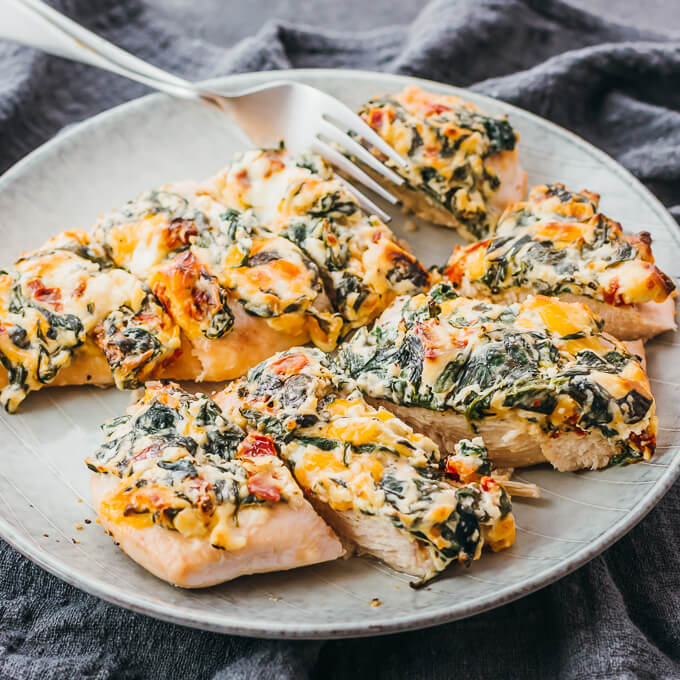 NOTES & TIPS
(1) Chicken. Use 2 whole chicken breasts, boneless and skinless, about 0.5 pound each. I use fresh chicken; if yours is frozen, defrost in the refrigerator until thawed before using in this recipe.
(2) Spinach. About 3 ounces weight. I use fresh spinach, but frozen spinach is fine as long as any excess liquid is squeezed out before using it to make the cheesy filling.
(3) Sun-Dried Tomatoes. I use dry-packaged sun-dried tomatoes, typically found in the produce area in U.S. supermarkets, in plastic bags. Oil-packed ones are fine as long as you blot off any excess oil.
(4) Cutting Chicken. The purpose of cutting each chicken breast in half is to reduce the cooking time and increase the chicken's area that is exposed to the cheesy topping. You should be cutting each chicken breast in half horizontally so that it's half as thick as before. If your chicken breasts are unusually thick, you may need to cut each breast into 3 pieces. Each resulting piece should be no thicker than about 1/2 inch. Alternatively, pound the chicken breasts until they're 1/2 inch or thinner.
(5) Serving. Serve these baked chicken breasts with sides like roasted vegetables or Mexican cauliflower rice, or a bright salad like strawberry salad or broccoli salad.