Summary:
This cooks like oatmeal and tastes like oatmeal, but without oats. Made with seeds and water, this low carb oatmeal has only 1.5 grams of net carbs and is quickly made with the stovetop or microwave. It's easy to adjust the thickness and sweetness to your liking, or add optional toppings for extra flavors.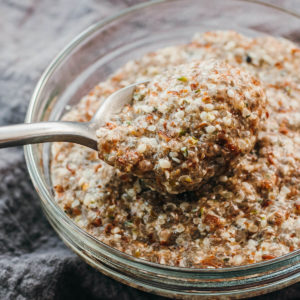 INSTRUCTIONS
Add Ingredients: Add hemp hearts, chia seeds, ground flaxseed, salt, water, and sweetener to small saucepan over medium heat (Note 3 for microwave option). Stir until well-mixed, breaking apart any clumps, about 1 minute.

Thicken: Bring to simmer. Stirring occasionally and adjusting heat to maintain simmer, cook until thickened, a few minutes. Turn off heat. Stir in cinnamon and vanilla until well-mixed, about 1 minute.

Serve: Optionally, adjust water and sweetener for desired consistency and taste. Serve warm (Notes 4-5).
NUTRITION
Makes 2 Servings
Amount Per Serving (1/2 cup):
| | |
| --- | --- |
| Calories 190 (66% from fat) |   |
| Total Fat 14g | 22% |
|    Saturated Fat 1g | 7% |
| Cholesterol 0mg | 0% |
| Sodium 150mg | 6% |
| Net Carb 1.5g |   |
| Total Carb 9.5g (Note 6) | 3% |
|    Dietary Fiber 8g | 32% |
|    Sugars 1g |   |
| Protein 10g |   |
PHOTOS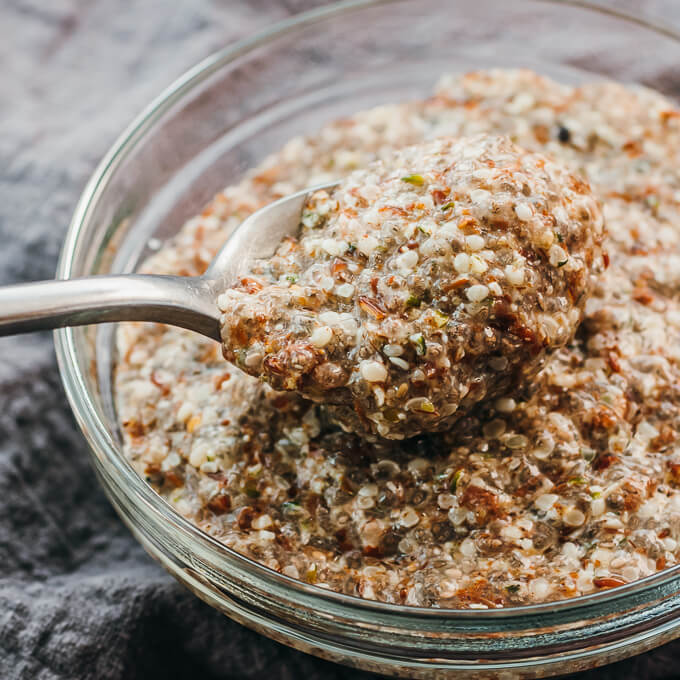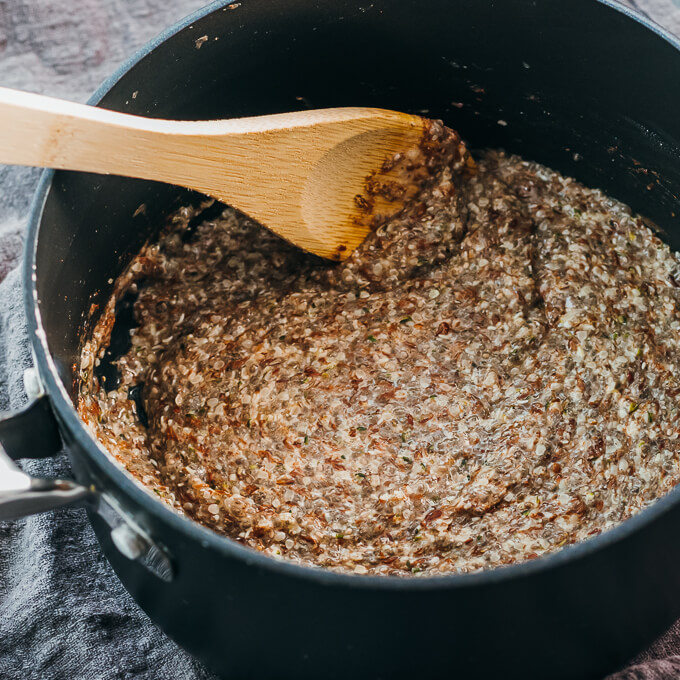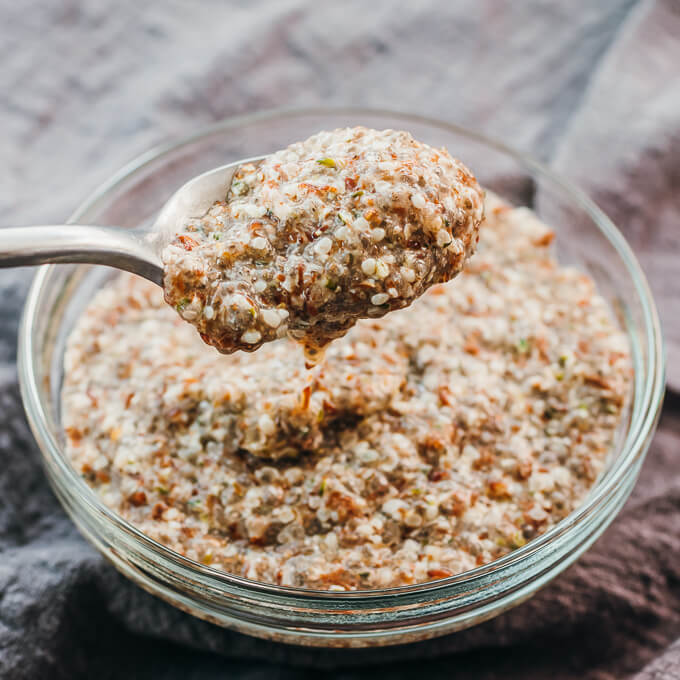 NOTES & TIPS
(1) Water. This can be substituted with milk (dairy or nut based), or partially substituted with cream (e.g., 3/4 cup water + 1/4 cup heavy whipping cream). The provided nutrition estimate assumes 100% water.
(2) Sweetener. About 3/4 ounce weight. Confectioners Swerve is a dry sweetener that measures the same as regular powdered sugar; it's not the same as pure erythritol, which is about 70% as sweet. Substitute with your preferred dry or liquid sweetener (like sugar-free syrup or stevia) by adding it to taste.
(3) Microwave Option. Stir ingredients in a microwave-safe bowl, and microwave uncovered for 60-second intervals, stirring in between, until oatmeal is thickened to your preferred consistency. Then stir in cinnamon and vanilla, and adjust water and sweetener to taste.
(4) Serving. While this oatmeal is delicious by itself, you can change up the flavor with toppings like sugar-free chocolate chips (like Lily's), toasted slivered almonds, unsweetened coconut flakes, a dollop of low carb yogurt (like Two Good), fresh blueberries, peanut butter, or a drizzle of sugar-free maple syrup.
(5) Make Ahead. Measure out all dry ingredients and add them to a bowl or resealable bag, and store covered at room temperature. Just before eating, combine with the wet ingredients (vanilla extract and water) in a saucepan or microwave-safe bowl, and follow the instructions above for heating.
(6) Carbs. The nutrition calculation assumes you are using Swerve or a similar erythritol-based sweetener that uses sugar alcohols, whose carbs are non-impact and therefore not included in the nutrition estimate. Apps that count sugar alcohols will show a higher number of carbs.