Summary:
Curb your burger cravings with this low carb Big Mac Salad. Tasting like a deconstructed cheeseburger with a dressing similar to Thousand Island, each large serving has only 3.5 grams of net carbs.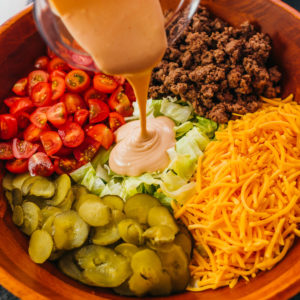 INGREDIENTS
Big Mac Dressing:
1/2

cup

mayonnaise

1/4

cup

no-added-sugar ketchup (Note 6)

1

teaspoon

white vinegar

1/2

teaspoon

table salt
INSTRUCTIONS
Brown Beef: Add beef, garlic powder, salt, and black pepper to pan (Note 7) over medium-high heat. Crumbling beef with stiff utensil, cook until browned, 5 to 7 minutes. Turn off heat and set aside pan.

Assemble Salad: Stir dressing ingredients in measuring glass until very smooth. Add lettuce, cheese, tomatoes, and pickles to large salad bowl. Use slotted spoon to transfer ground beef to salad bowl, leaving behind grease in pan. Drizzle dressing on top. Toss until lettuce is nicely moistened.
NUTRITION
Makes 5 Servings
Amount Per Serving (3 cups):
| | |
| --- | --- |
| Calories 560 (70% from fat) |   |
| Total Fat 43g | 67% |
|    Saturated Fat 13g | 64% |
| Cholesterol 132mg | 44% |
| Sodium 920mg | 38% |
| Net Carb 3.5g |   |
| Total Carb 5g | 2% |
|    Dietary Fiber 1.5g | 6% |
|    Sugars 4g |   |
| Protein 33g |   |
PHOTOS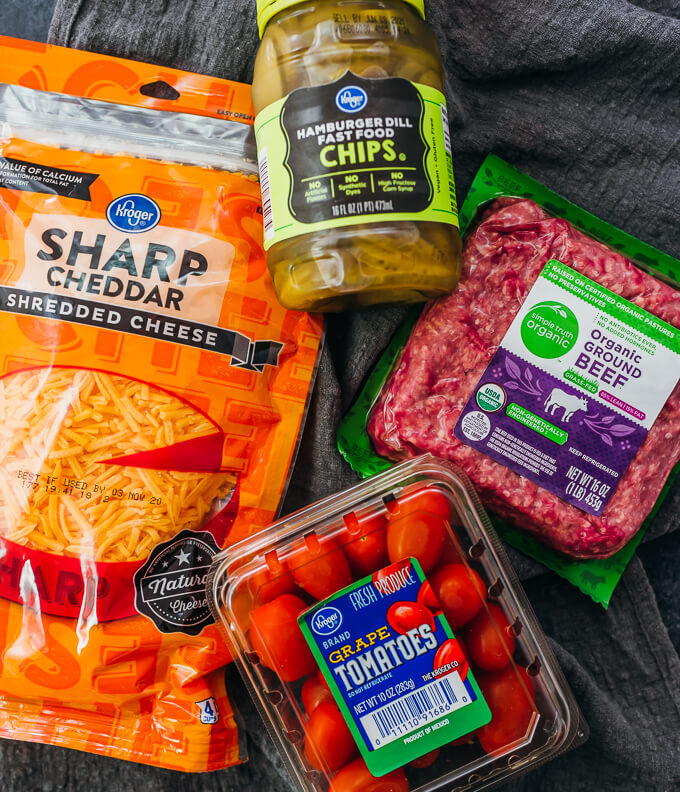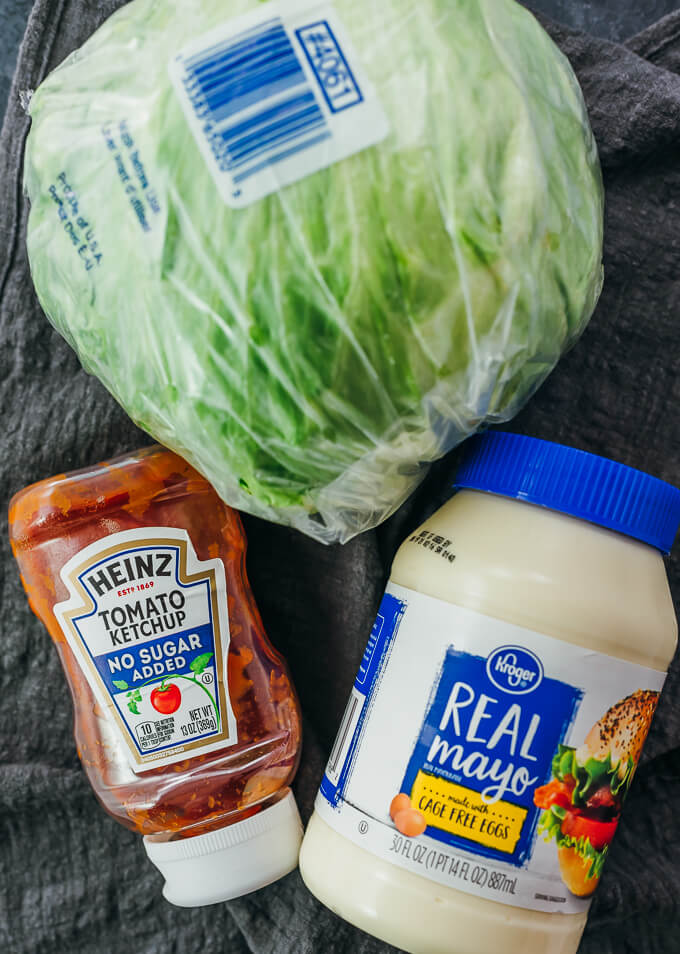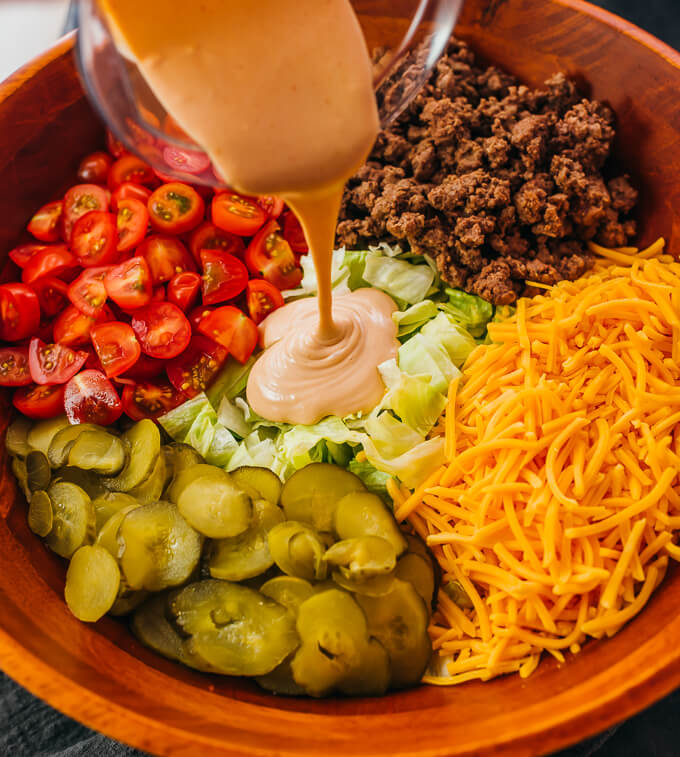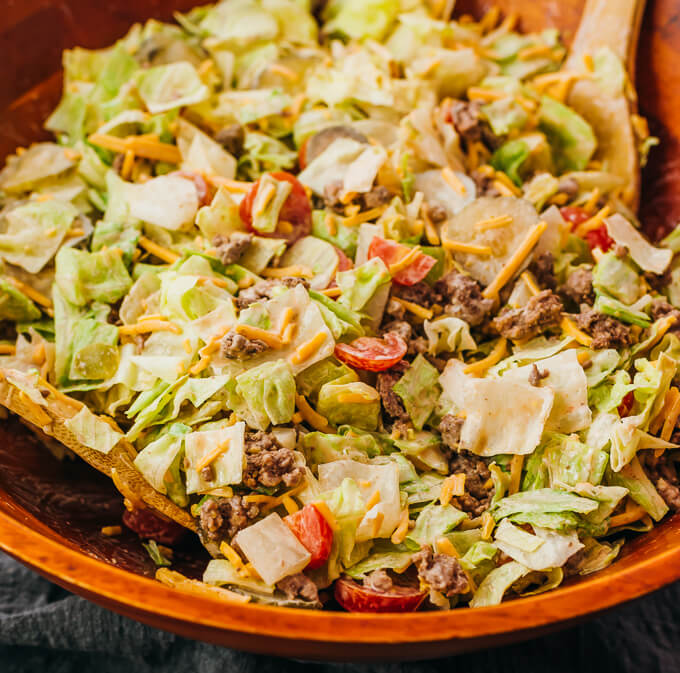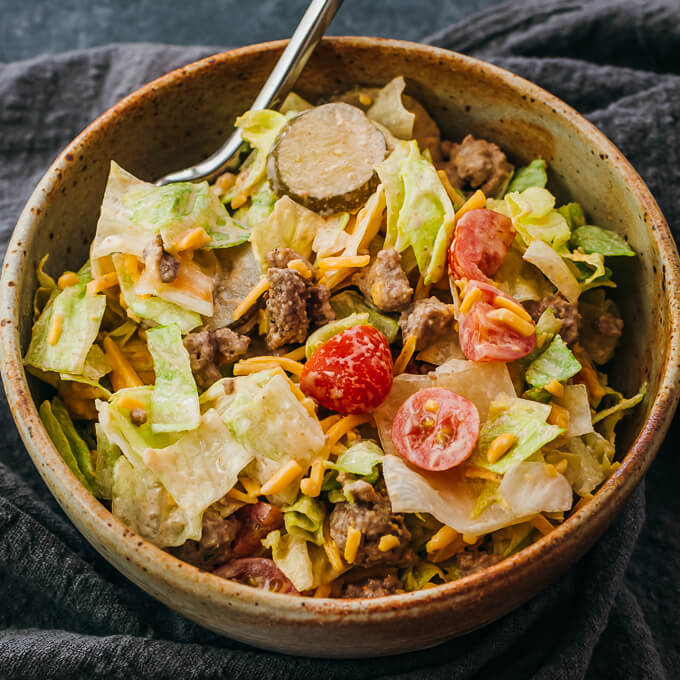 NOTES & TIPS
(1) Lettuce. I use a medium head of iceberg lettuce, 18 to 20 ounces weight. Iceberg gives this salad a nice crunch, but you can substitute with other types of lettuce such as Romaine.
(2) Ground Beef. I use 85% lean. You can substitute with your preferred ground meat, such as turkey.
(3) Cheese. I use packaged pre-shredded cheddar cheese. I like the bright yellow color that cheddar brings to this salad, but you can substitute with your favorite shredded cheese.
(4) Tomatoes. I use fresh mini red tomatoes, each about the size of a grape or cherry, 7 to 8 ounces total weight. You can use multi-colored varieties as well.
(5) Pickles. I use packaged pickles in plastic containers or jars that are pre-sliced into thin "chips" and sometimes called "hamburger pickles." Check the nutrition facts before buying — the net carbs should be negligible. Avoid "bread and butter pickles" or "sweet pickles" because they have added sugar. Since pickles are packaged in liquid, thoroughly drain them before adding them to the salad.
(6) Ketchup. I use ketchup with no added sugar by Heinz, which has 1 gram total carbs per 1 tablespoon serving. Other brands with low or no added sugar versions include Kroger and Simple Truth. You can substitute with store-bought Thousand Island dressing instead of making your own Big Mac dressing.
(7) Pan. I use a 10-inch nonstick pan with high sides. I don't grease or preheat the pan prior to adding the beef.
(8) Serving. This is an entree-sized salad, filling enough for lunch. It's best when freshly made, served at room temperature; it does not need to be chilled. After tossing with dressing, the iceberg lettuce will begin to wilt and lose its crunch, although the salad will still taste delicious.
(9) Saving For Later / Make Ahead. This salad can be made ahead of time and stored in an airtight container in the refrigerator. Once tossed with dressing, this salad is best when enjoyed within a day since the lettuce loses its crispness over time. If the salad is undressed, it will last 2 to 3 days; toss with dressing just prior to serving.