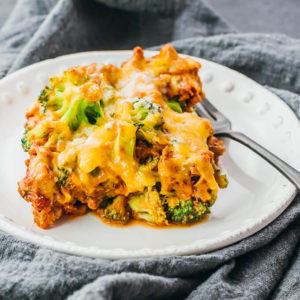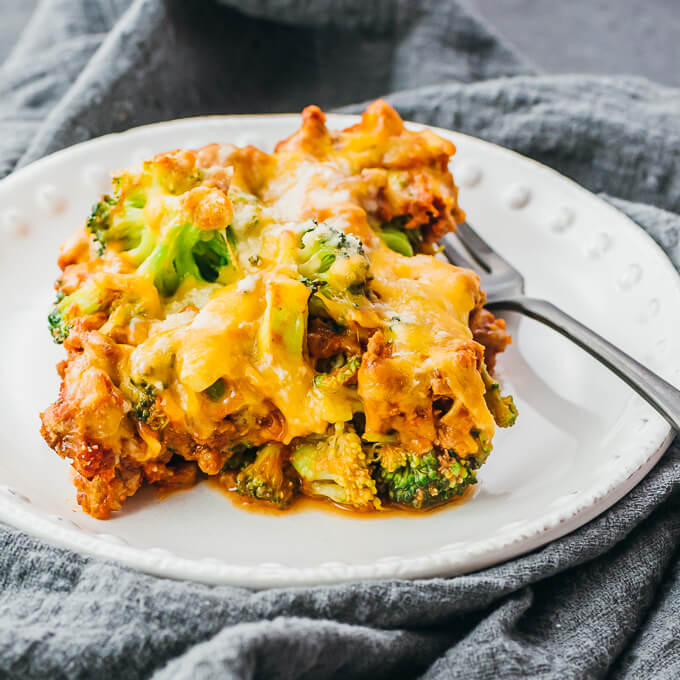 Keto Casserole With Ground Beef & Broccoli
DESCRIPTION
Like a cross between a cheeseburger and a lasagna, this comforting keto casserole has ground beef, broccoli, tomato sauce, and cheddar cheese. It's great for anyone looking for a comforting and easy-to-make low carb dinner.
INGREDIENTS
1

lb

90-95% extra lean ground beef

14

oz wt.

canned tomato sauce

12

oz wt.

small broccoli florets

1 3/4

cup

shredded cheddar cheese (6 oz wt.)

1/4

cup

finely grated parmesan cheese (1 oz wt.)

1

large stalk celery, finely chopped

1 1/2

teaspoons

salt

1

teaspoon

garlic powder

1/4

teaspoon

ground cayenne
INSTRUCTIONS
Cut any broccoli florets larger than 2 inches into smaller pieces, and add all broccoli to a large microwave-safe bowl. Cover and microwave until tender, about 5 minutes. Let them drain and steam out on paper towels.

Pat the ground beef dry with paper towels, if wet. On a large pan over medium heat, cook the ground beef until browned, about 5 minutes, breaking it apart as it cooks.

Add tomato sauce, celery, salt, garlic powder, and cayenne to the pan with the beef, stirring together. Simmer for at least 10 minutes until it thickens to a sauce-like consistency, stirring occasionally. Turn off the heat and let the moisture steam out.

Directly in the baking dish: add broccoli, beef-tomato mixture, and half of the cheddar cheese. Carefully stir until well-mixed.

Evenly top with remaining cheddar cheese. Sprinkle parmesan cheese on top.

Bake at 375 F until the casserole begins bubbling up the sides and starts to brown on top, about 20 minutes. Let it rest for about 10 minutes before cutting into it.
NUTRITION
Nutrition Facts Per Serving (Serves 4)
| | |
| --- | --- |
| Calories 370 |   |
| Total Fat 19g | 29% |
|    Saturated Fat 11g | 53% |
| Cholesterol 111mg | 37% |
| Sodium 1290mg | 54% |
| Net Carb 5.5g |   |
| Total Carb 9.5g | 3% |
|    Dietary Fiber 4g | 15% |
|    Sugars 5.5g |   |
| Protein 37g |   |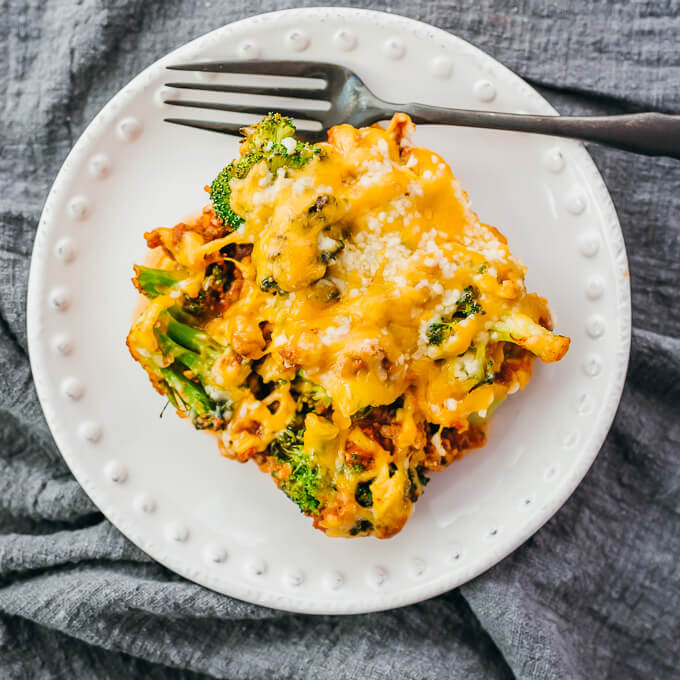 Recipe Overview
This casserole is soft and tender, with a rich and cheesy tomato meat sauce and juicy bites of broccoli. There are occasional crisp bites of diced celery. Seasonings are kept simple — just salt, garlic powder, and a pinch of cayenne.
Its recipe development is inspired by my other baked dishes, like tuna casserole and chicken bacon ranch casserole. This is basically a medley of some of my favorite casserole ingredients.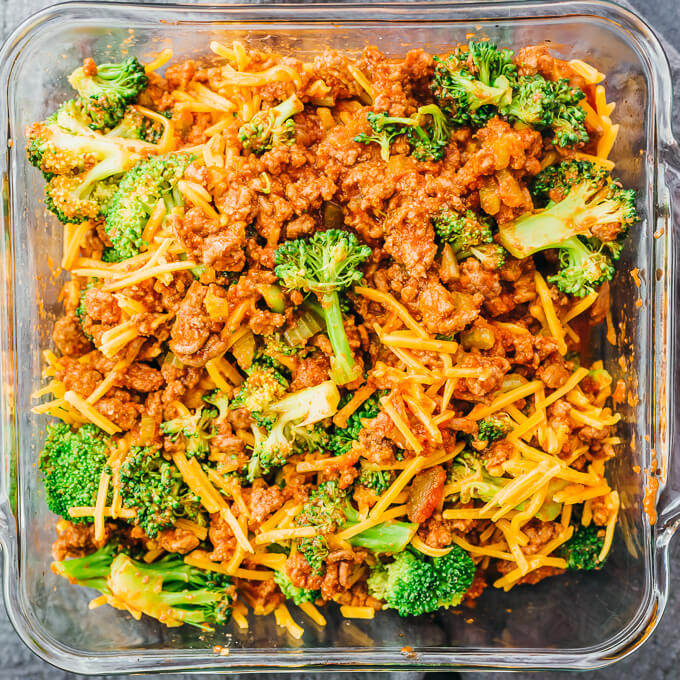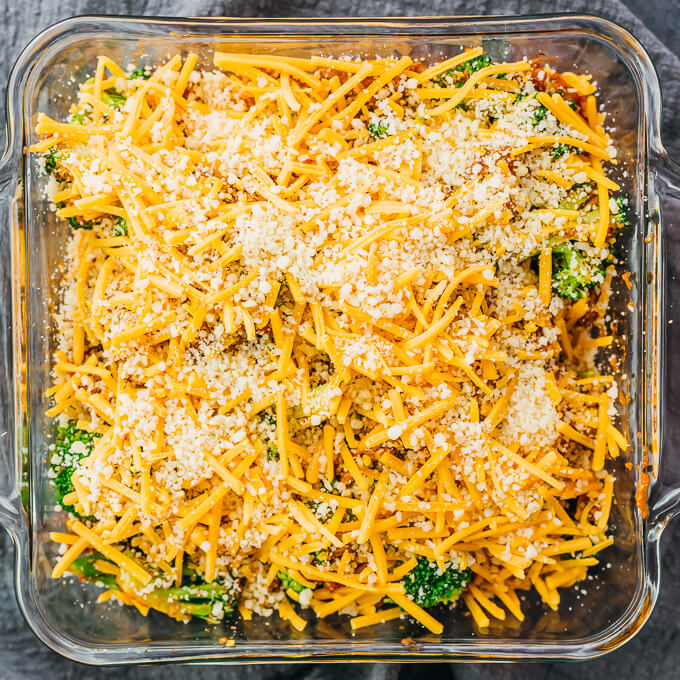 Moisture Control
To avoid ending up with a watery casserole, cook the broccoli and let it steam out before adding it to the casserole dish. The same goes for the ground beef and tomato sauce; the meat sauce should be simmered until it's nice and thick, and then cooled a bit to let the steam escape. These steps will ensure a thick and flavorful casserole that holds together well.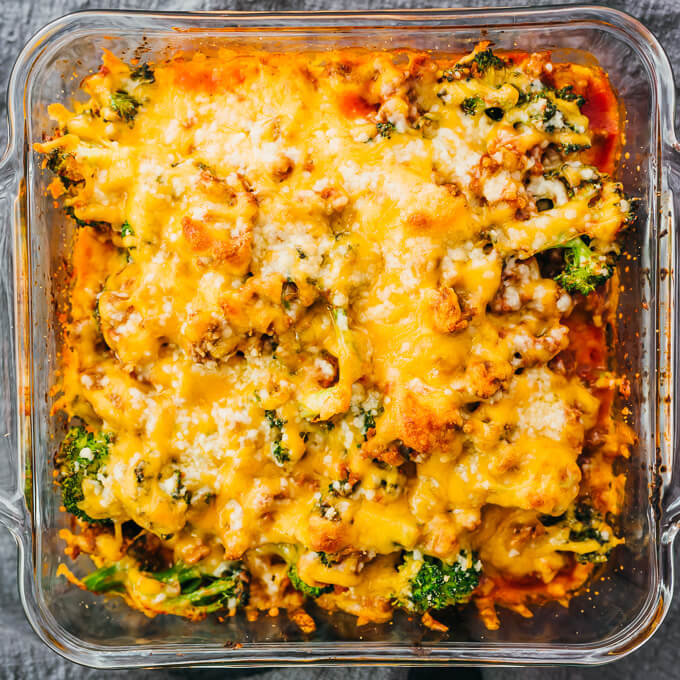 Serving And Leftovers
This recipe yields one 8×8 inch casserole, which is divided into four servings. Each serving is a dinner-sized portion.
Serve this keto casserole with side dishes like garlic roasted mushrooms and creamed spinach. For something creamy, try cauliflower mac and cheese.
Got leftovers? Cover and store them in the refrigerator. They reheat well in the microwave or in the oven.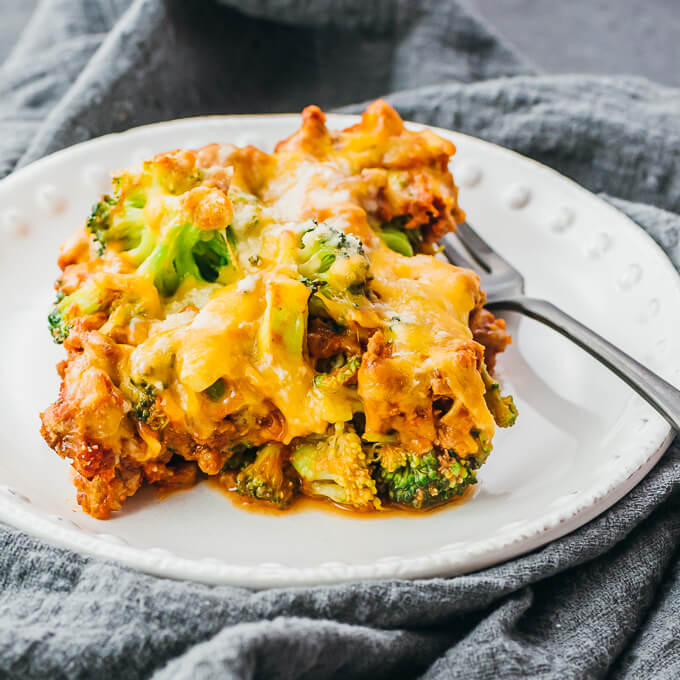 More Low Carb Ground Beef Recipes