Summary:
This beef pot roast is made with peperoncini peppers and slices of butter, inspired by Mississippi style stews. The flavorful beef is slow cooked until falling apart tender, then shredded and served.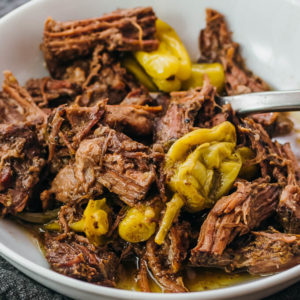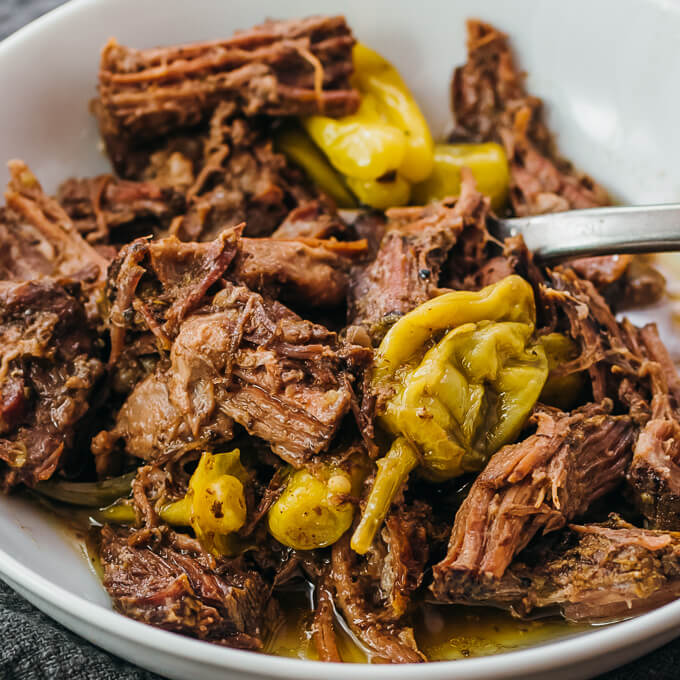 INSTRUCTIONS
Prepare Ingredients: Trim exterior fat from beef, then cut beef into 2-inch chunks (Note 4). Place chunks along bottom of slow cooker. Evenly sprinkle all dried seasonings over beef. Place peperoncini on top of beef, and pour in 1/4 cup of juice from jar. Evenly top with butter slices. No additional liquid is needed.

Cook & Serve: Cover and cook on low heat for 8 hours. Uncover, and transfer only beef to large plate and shred using 2 forks. Transfer shredded beef back to slow cooker and stir with liquid. Serve (Notes 5-6).
NUTRITION
Makes 6 Servings
Amount Per Serving (1.5 cups):
| | |
| --- | --- |
| Calories 650 (58% from fat) |   |
| Total Fat 42g | 65% |
|    Saturated Fat 18g | 92% |
| Cholesterol 200mg | 67% |
| Sodium 1420mg | 59% |
| Net Carb 2g |   |
| Total Carb 2.5g | 1% |
|    Dietary Fiber 0.5g | 2% |
|    Sugars 0g |   |
| Protein 61g |   |
PHOTOS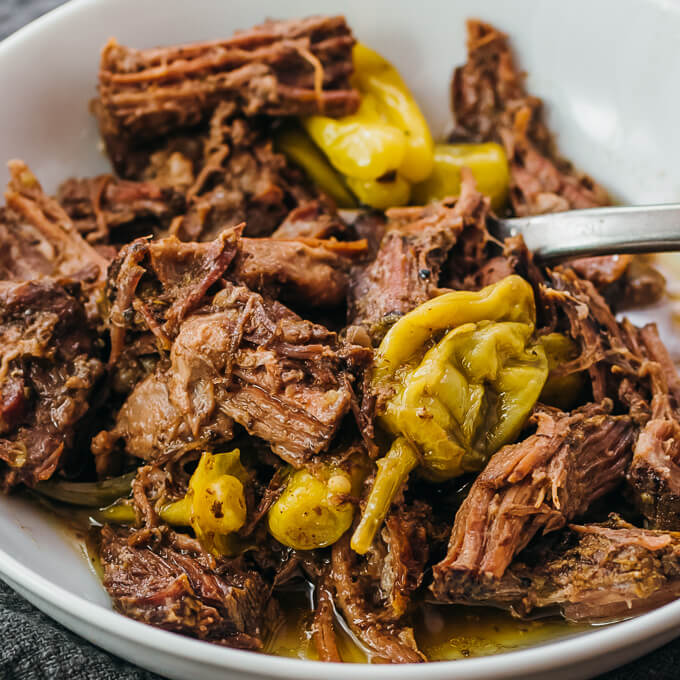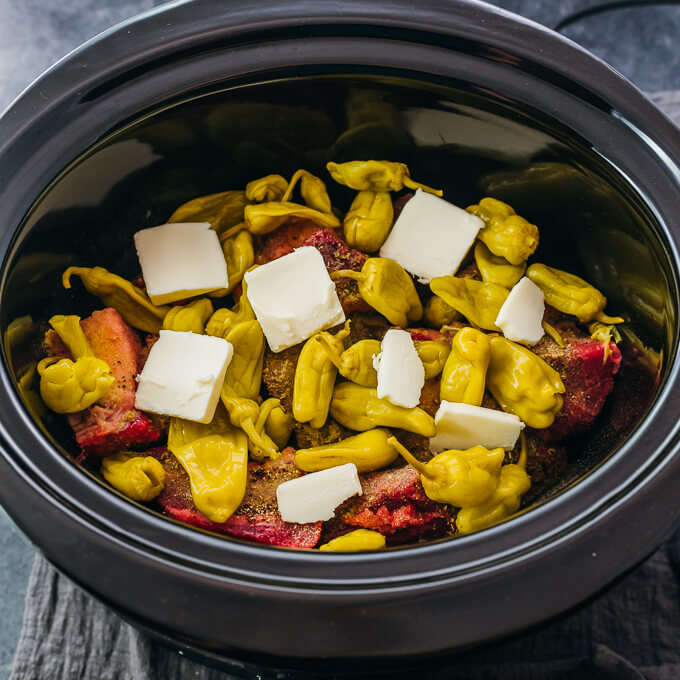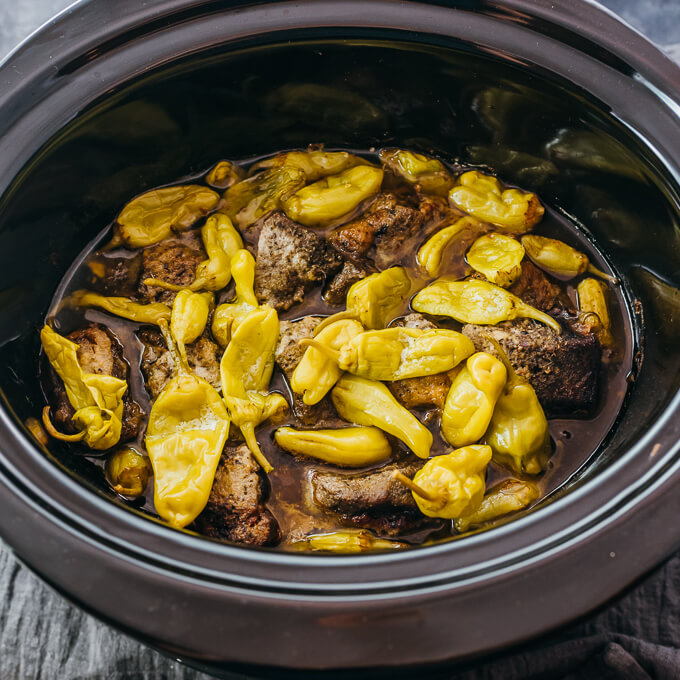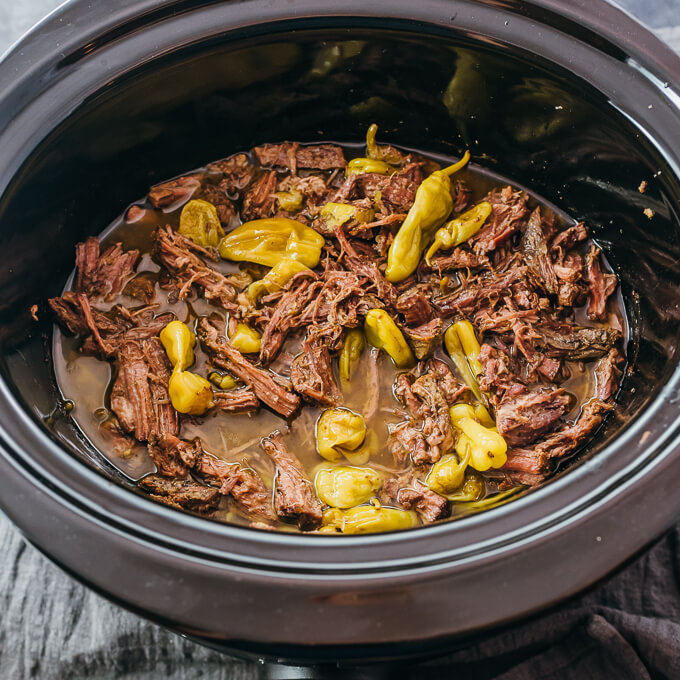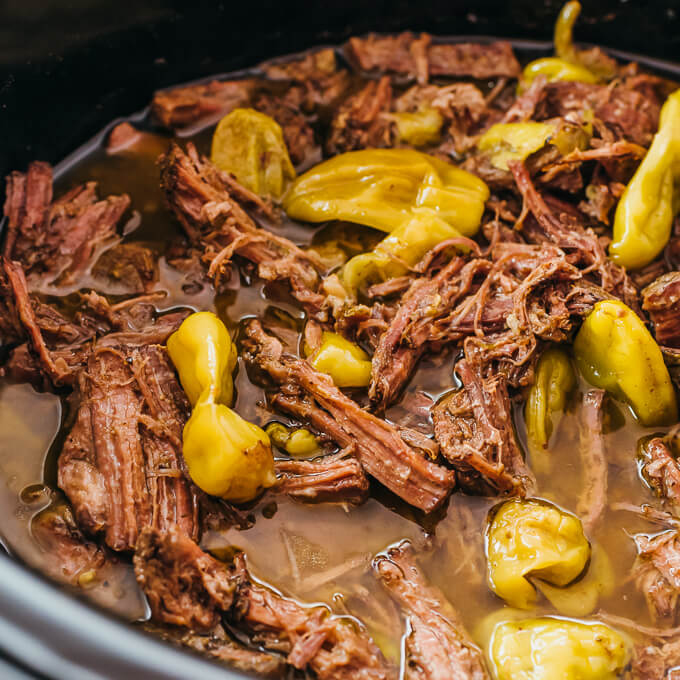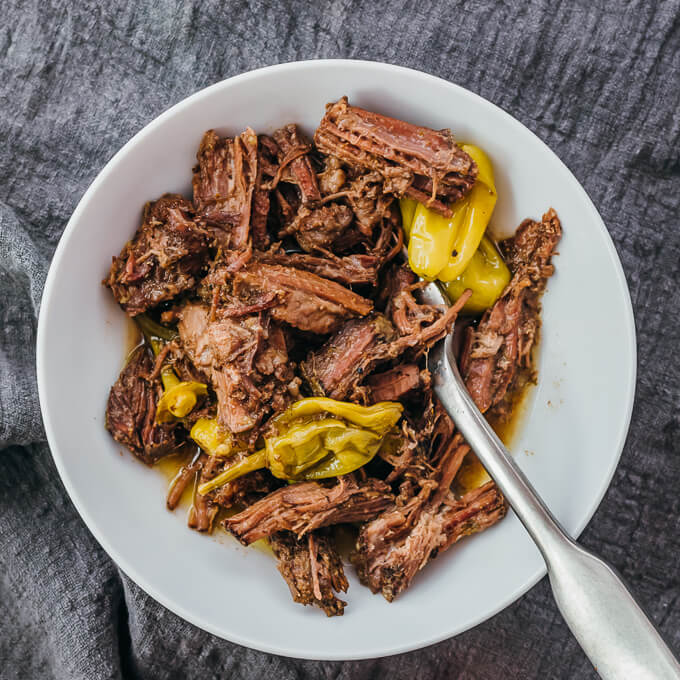 NOTES & TIPS
(1) Beef Cut. I typically use chuck roast; other popular roast cuts for slow cooking include brisket and round. Select a cut that has less exterior fat because it will be trimmed off. Since the meat is slow cooked until shreddable, any roast or steak cut will work — just use a total of 3 to 4 pounds of boneless beef. If your beef contains bones, remove them while cutting the beef into chunks in Step 1. The main difference between various roast or steak cuts is how much fat marbling they have, which will determine how much fat gets rendered into the stew.
(2) Peperoncini. This is a Mediterranean spicy chili pepper. I use the jarred variety: Mezzetta's Golden Greek Peperoncini, Tender and Crispy style. If you're sensitive to spicy foods or if you want a high ratio of meat to peppers in the stew, use only half of the peppers from a 12-ounce jar.
(3) Salt. If your roast is on the smaller end (3 pounds) and you generally prefer less salty meals, decrease the table salt to 1.5 teaspoons.
(4) Cutting Beef. By cutting the beef into 2-inch chunks as opposed to leaving it whole, the meat will be better seasoned. The beef chunks can lay flat along the bottom of the slow cooker and make contact with the cooking liquid, ensuring even cooking.
(5) Serving / Leftovers. Serve the stew warm, with low carb side dishes like mashed cauliflower or mashed turnips. For a spicier stew, drizzle with your favorite hot sauce. Leftovers can be stored in an airtight container in the refrigerator for up to 3 days, and reheated in the microwave.
(6) Serving Size. Each serving is about 1.5 cups. If you have a 3 pound roast, this makes 6 servings. A 4 pound roast will make 8 servings.