Summary:
This aromatic lamb stew has tender shredded meat and flavorful onions, cooked low and slow with a bold garlic-cilantro sauce. Inspired by Peruvian style stews.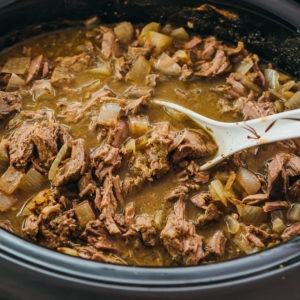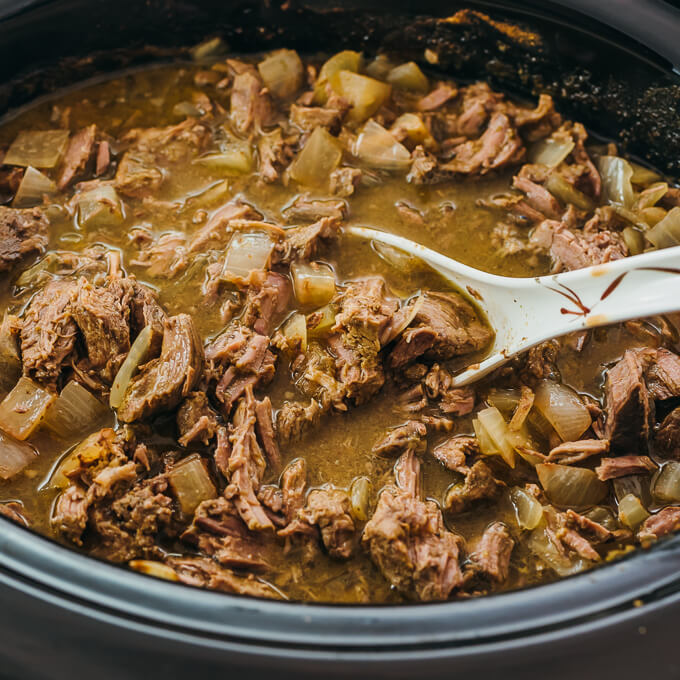 INGREDIENTS
7

pounds

leg of lamb or lamb shoulder, bones and fat removed (Note 1)

2

medium onions, chopped
INSTRUCTIONS
Add Onions & Lamb: Place chopped onions along bottom of slow cooker. Cut lamb meat into 2-inch chunks and place on top of onions in slow cooker.

Blend Sauce: Add all sauce ingredients to blender (Note 6) and blend until thick and smooth, about 20 seconds. Evenly pour sauce over lamb chunks in slow cooker, then use tongs to flip lamb chunks at the top so that sauce drips below and coats more surfaces.

Cook & Serve: Cover and cook on low heat for 8 hours. Transfer only meat to large bowl, and shred using two forks. Transfer shredded meat back to slow cooker and stir to soak up liquid. Serve and store any leftovers (Note 7).
NUTRITION
Makes 10 Servings
Amount Per Serving (1.25 cups):
| | |
| --- | --- |
| Calories 550 (60% from fat) |   |
| Total Fat 36g | 56% |
|    Saturated Fat 16g | 78% |
| Cholesterol 170mg | 57% |
| Sodium 620mg | 26% |
| Net Carb 3.5g |   |
| Total Carb 4.5g | 2% |
|    Dietary Fiber 1g | 3% |
|    Sugars 1.5g |   |
| Protein 47g |   |
PHOTOS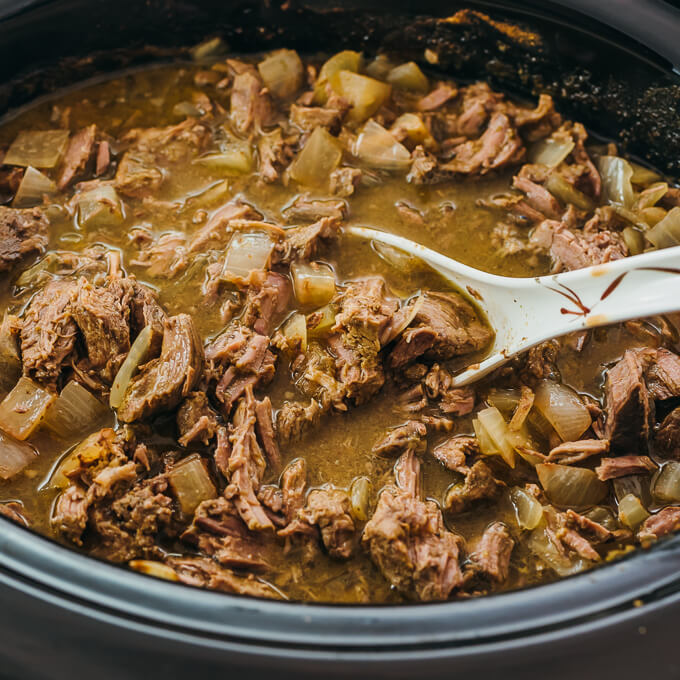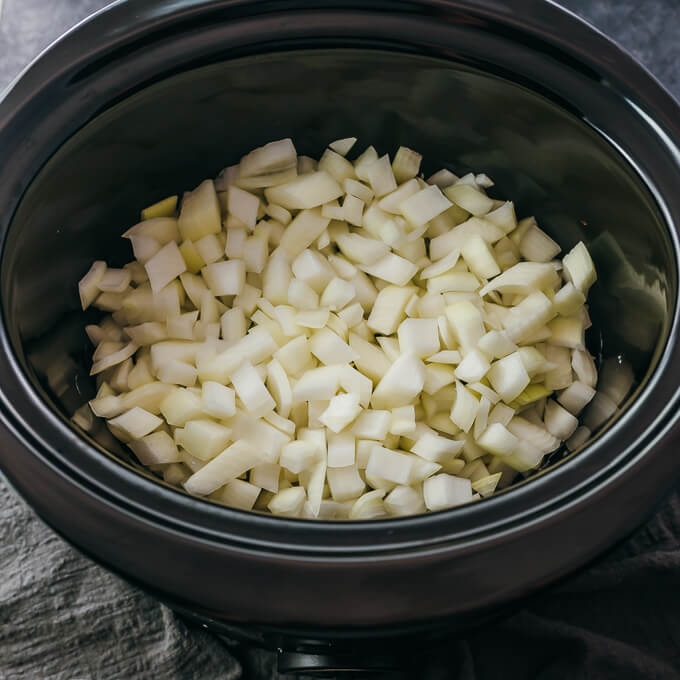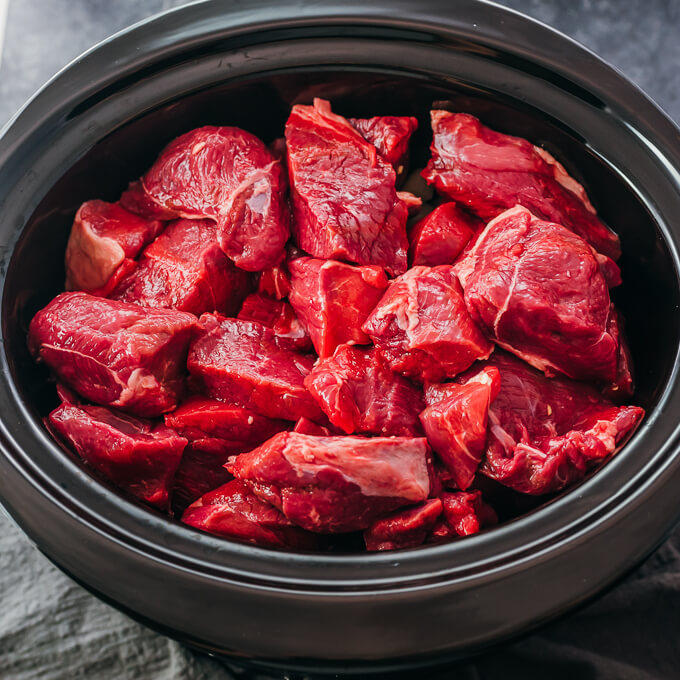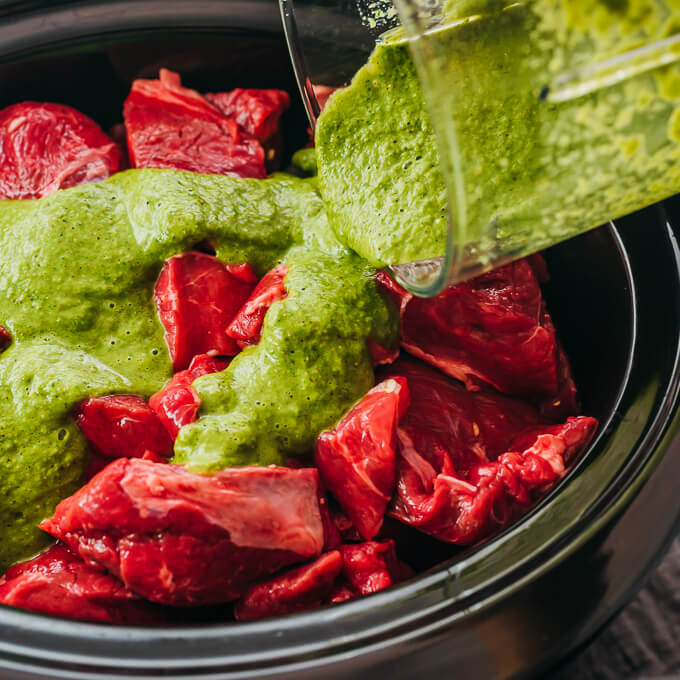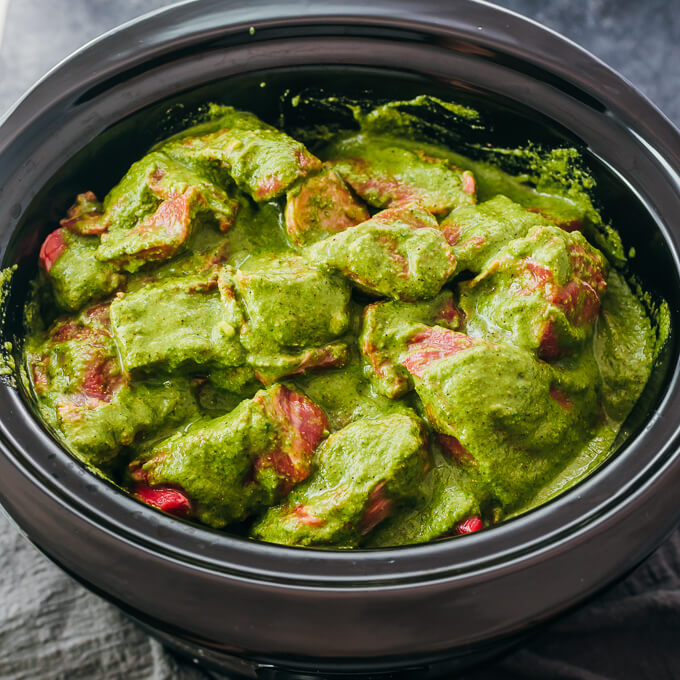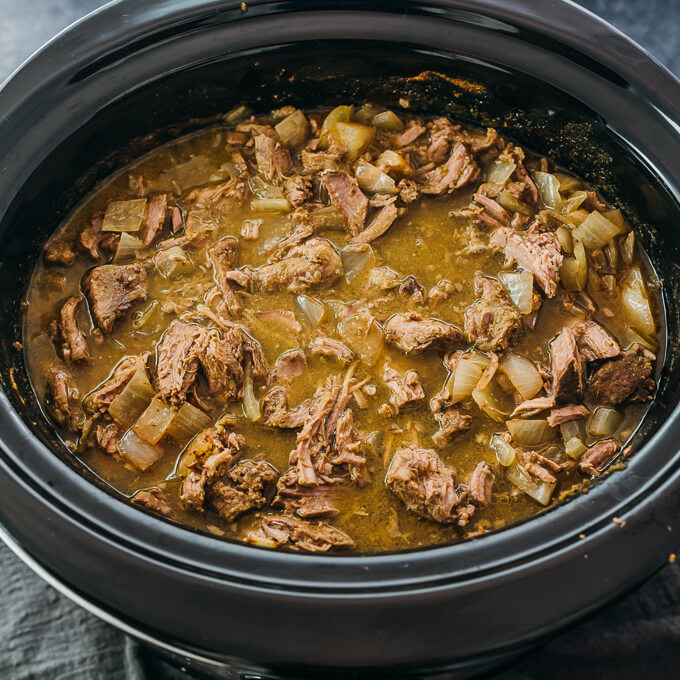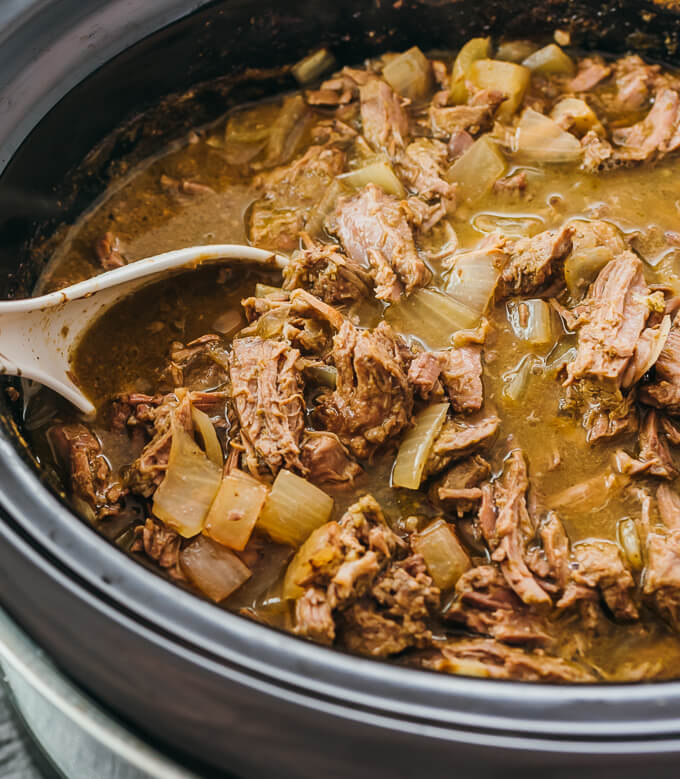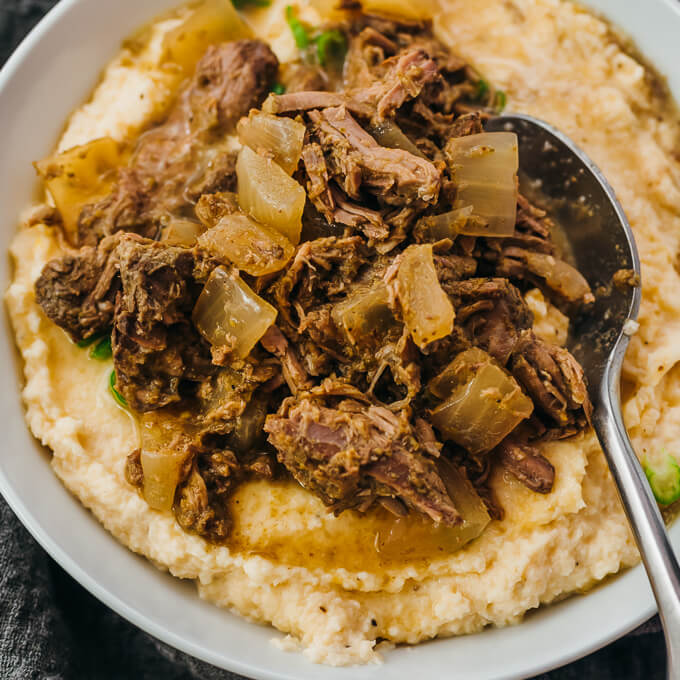 NOTES & TIPS
(1) Lamb. I use a 7-pound leg of lamb, but lamb shoulder will also work. After removing bones and excess fat, the remaining leg meat is about 5.5 pounds.
(2) Vinegar. Red wine vinegar can be substituted with other types of acid such as balsamic vinegar or dry red wine (like Pinot Noir or Cabernet Sauvignon).
(3) Garlic. This may seem like a lot, but once cooked, its flavor is much less pronounced. If you're not a fan of garlic, you can use fewer cloves.
(4) Cilantro. I cut off and discard the bottom two-thirds of a bunch, which are all stems, so that I'm left with mostly leaves (about 1 ounce weight). They don't need to be chopped because they will go straight into the blender. Since the cilantro will be well-cooked, it will lend a subtle flavor to the stew. However, if you don't like the taste of cilantro at all, you can substitute with fresh parsley.
(5) Jalapeño. This yields a moderately spicy stew when enjoyed the same day; reheated leftovers are significantly less spicy. To reduce overall spiciness, use half as much, remove the seeds, or omit the jalapeños completely. If you're sensitive to capsaicin, wear gloves while handling jalapeños, especially if you come into contact with the seeds or membranes.
(6) Blender. I use a Nutribullet pitcher blender, but a food processor will work too. I don't recommend using an immersion blender due to the large quantity of ingredients to blend.
(7) Serving. Serve lamb stew while warm; it's great by itself or over a bed of mashed cauliflower. Leftovers can be covered and stored in the refrigerator for up to 3 days. Reheat using the microwave. Sometimes I will re-purpose leftovers by heating them in a pan over medium to medium-high heat until all liquid has been boiled off, then adding butter and frying the shredded meat until golden brown.
(8) Preparation Tip. To save preparation time in the morning, you can chop the onions, cut the lamb into 2-inch chunks, and toss all sauce ingredients together in the blender (without blending) the night before. Keep everything covered and stored in the refrigerator. In the morning, all you have to do is place the onions and lamb into the slow cooker, blend the sauce and drizzle it over the lamb, and start the slow cooker.