Summary:
Save time by using the Instant Pot pressure cooker -- this boneless leg of lamb with gravy is cooked to fall-apart tenderness in less than half the time it would take to roast it.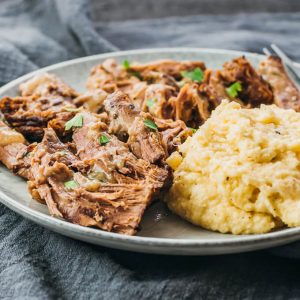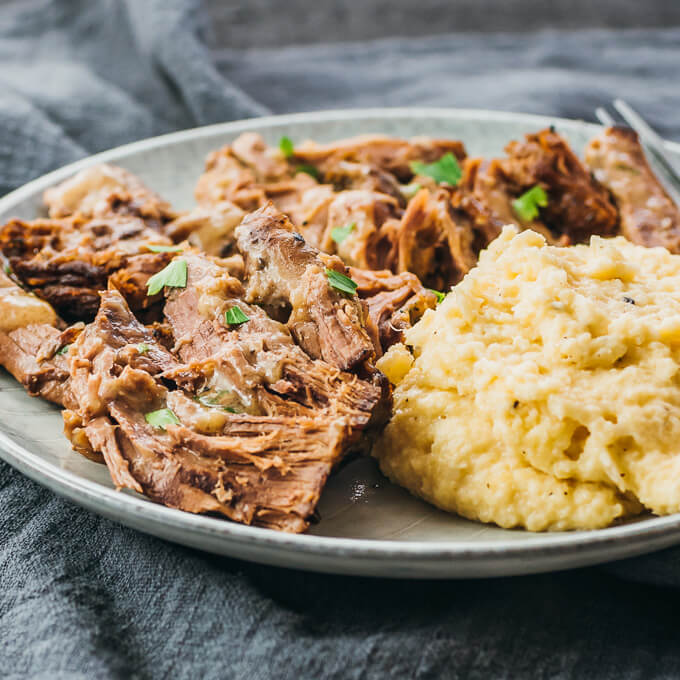 INGREDIENTS
For the lamb:
3-4

pounds

boneless leg of lamb

1 1/2

cups

water

1/2

cup

white wine

2

tablespoons

olive oil

divided

1

teaspoon

garlic powder

chopped fresh parsley

for garnish

salt and pepper
INSTRUCTIONS
Cooking the lamb:
Remove any netting from the lamb and pat dry with paper towels. Season all over with salt, pepper, thyme, and garlic.

Select the sauté mode on the pressure cooker for medium heat. Add 1 tablespoon olive oil to coat the bottom.

When the pot is hot, add lamb leg and brown all over, a few minutes per side. Transfer the lamb leg to a large plate.

Add white wine and let it simmer for a few minutes while you scrape up all brown bits stuck to the bottom of the pot. Turn off the sauté mode.

Add water. Transfer the lamb back to the pot. Secure and seal the lid. Cook for 90 minutes at high pressure, followed by a 20 minute natural release. Manually release remaining pressure using the steam handle.

While waiting for the natural pressure release, preheat the oven to 400 F.

When the pot has depressurized, transfer the lamb to a baking dish, leaving the liquid in the pot.

Drizzle 1 tablespoon olive oil on top of the lamb. Bake the lamb until nicely browned on top, about 15 minutes.
Making the gravy:
While waiting for the lamb to bake, pour all of the liquid from the pressure cooker pot into a bowl. Let the fat rise to the top and use a spoon to skim off the fat. Measure out 2 cups of liquid and discard the rest.

Select the sauté mode on the pressure cooker for medium heat. Add butter and stir until melted.

Add flour on top of the melted butter. Stir together for a minute.

Gradually pour in reserved 2 cups of liquid as you stir together. Continue stirring until it thickens to your desired gravy consistency, about 5 minutes. Add salt and pepper to taste.

Serve sliced lamb with gravy poured on top. Optionally garnish with chopped parsley.
NUTRITION
Makes 4 Servings
Amount Per Serving:
| | |
| --- | --- |
| Calories 1100 (56% from fat) | |
| Total Fat 69g | 105% |
| Saturated Fat 24g | 122% |
| Cholesterol 371mg | 124% |
| Sodium 400mg | 16% |
| Net Carb 4.5g | |
| Total Carb 4.5g | 1% |
| Dietary Fiber 0g | 1% |
| Sugars 0.5g | |
| Protein 104g | |
Nutrition estimate includes all of the lamb; in reality much of its rendered fat is discarded.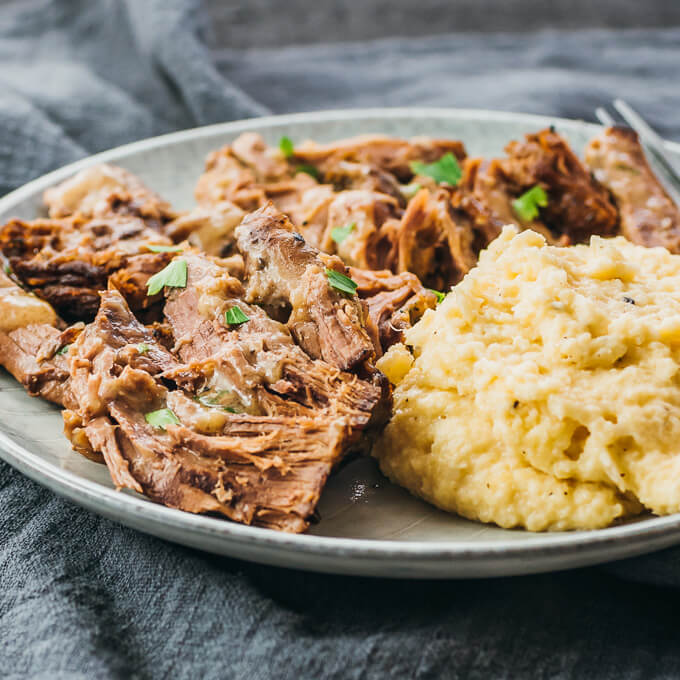 Boneless leg of lamb is a great alternative to serving turkey or beef for the holidays. I prefer the texture and taste of lamb, and cooking a boneless leg is a lot more manageable than roasting a whole turkey. You can serve this for Christmas dinner or any other special occasion, and I usually pair it with some mashed cauliflower (as photographed here) or greens for a low carb meal.
The pressure cooker is the easiest way to cook a leg of lamb, as it would take more than twice as long using a conventional method like roasting, and five times longer using a slow cooker. You'll get the same deliciously tender, shredded meat either way, but far faster if you use a pressure cooker. I love the resulting juicy and moist leg meat, and you can easily whip up a simple gravy using the lamb drippings.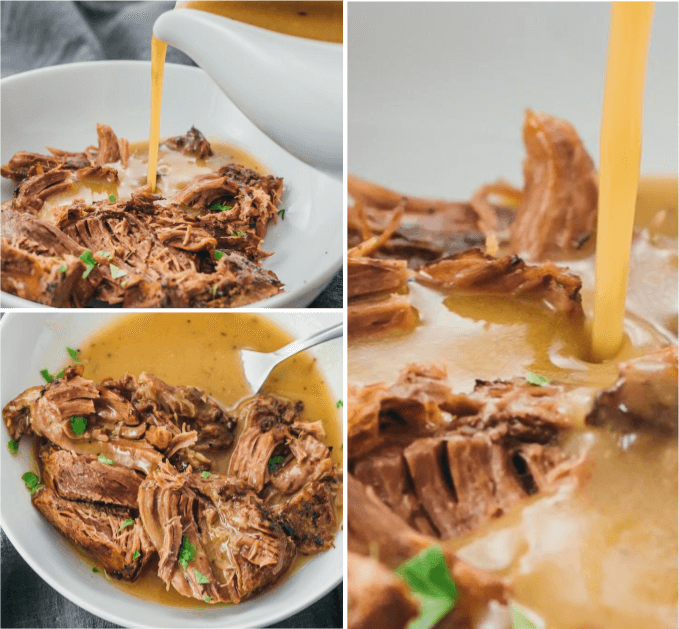 There are three different kinds of lamb leg that you might encounter at the market:
boneless leg: This is what you should buy for this recipe. It often comes in netting, which is useful for keeping its shape while roasting, but you should remove it when using the pressure cooker. I prefer boneless because it's not as heavy as bone-in leg, which makes a big difference when you're hauling it in/out of the pressure cooker. It's also simpler to calculate how much meat you'll need to feed everyone, and it's so much easier to carve into boneless meat to make neat and even slices.
butterflied leg: This is a boneless leg that has been cut open and rolled out, hence the butterflied term. This allows you the opportunity to season both inside and outside the leg. If you use a butterflied leg for this recipe, roll it up before adding it to the pressure cooker.
bone-in leg: For leg with bone, you will either get the shank end (starts at the lamb's ankle and goes up to the calf bone) or the sirloin end (goes from the knee to the hip). It's also possible you'll find a gigantic leg with both shank and sirloin attached. Generally, the sirloin end has fattier and more tender meat, and it's more evenly shaped. Bone-in leg will take longer to cook than boneless, so don't buy bone-in legs for this recipe.
I use a boneless leg for this recipe, and I haven't tried other cuts. I found mine at Trader Joe's and it was a New Zealand lamb, which is typically smaller than American lamb.
Here's a timeline of the recipe so that you can plan ahead:
15 minutes — prep time to gather the ingredients and season the lamb
15 minutes — using the Instant Pot sauté mode to sear the lamb and then to deglaze the pot
8 minutes — Instant Pot coming to pressure (this time is shortened because the pot is already hot)
90 minutes — cooking the lamb at high pressure
20 minutes — letting the pressure naturally release before using the manual release handle, simultaneously preheating the oven
15 minutes — making the gravy while the lamb finishes in the oven
In total, 2 hours and 43 minutes from start to finish, of which 2 hours are for cooking. Compare that to slow roasting in the oven for similarly tender lamb meat, which would take about 5 hours of baking. Or using a slow cooker, which would take about 10 hours.
The oven step at the end of the recipe is optional. The lamb leg is tender after pressure cooking, and the oven time simply gives it a nice browning all over. I don't consider this step to be extra work or time added, because you'll need time to make the gravy, which can happen when the lamb is browning in the oven. The oven preheating can occur at the same time the Instant Pot is depressurizing.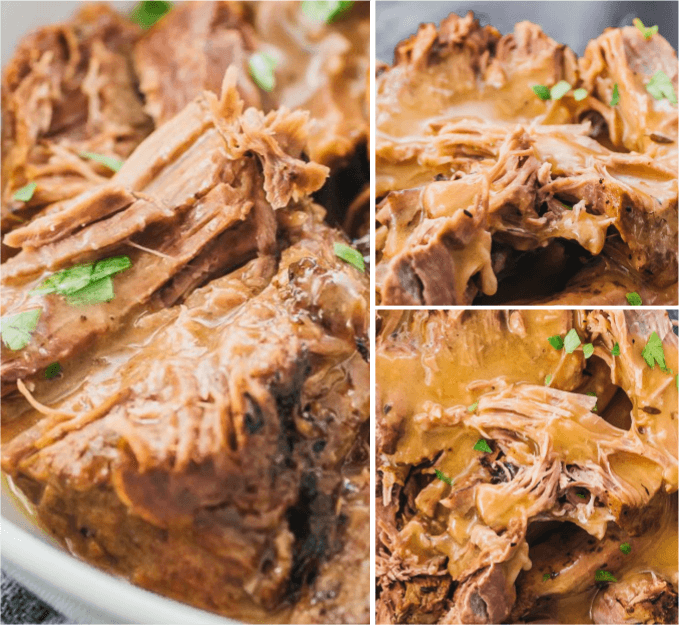 As a low carb eater, I hardly ever have to dig into the farthest reaches of my pantry to grab the flour. But I make exceptions for recipes like this one because only a very small amount (2 tablespoons of flour) is needed to make the gravy. Each tablespoon of flour has about 6g net carbs for a total of 12g for this recipe, which isn't much when you divide it among four servings. For a low carb diet, it's the total consumed net carbs that counts, not the particular ingredients used. Gravy needs the starch that comes with flour, and low carb replacements like xanthan gum aren't as readily available.
I recommend preparing some heavy duty utensils for handling the lamb leg prior to starting the recipe. Weighing about 3-4 pounds, the leg is heavy and you'll need to transfer it to/from the Instant Pot as well as for turning the meat while searing all sides. I prefer using two sturdy wooden utensils to support the leg as I move it about.
Store leftover lamb and gravy separately. To reheat, warm them separately on a pan until heated through. You can also microwave them without much detriment to the tender texture of the lamb.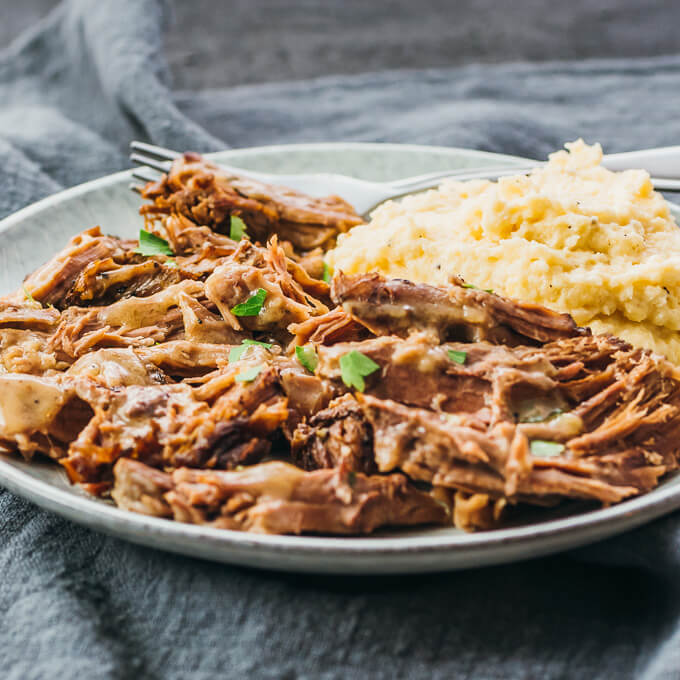 MORE DELICIOUS INSTANT POT RECIPES: