Summary:
These lamb shanks have tender fall-off-the-bone meat, coated in a rich sauce made with crushed tomatoes, red wine, and stew vegetables. Entirely cooked on the stovetop, no oven is needed for this recipe.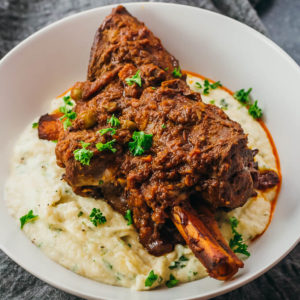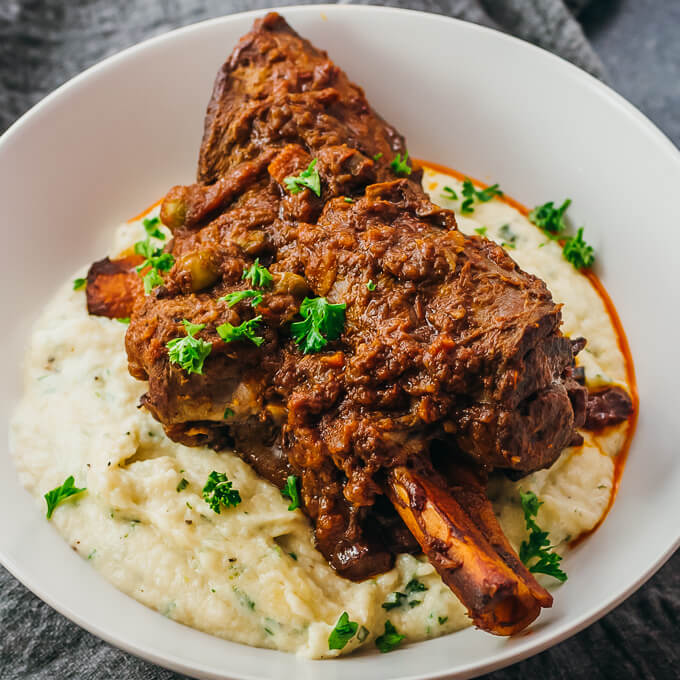 INGREDIENTS
2

lamb shanks (Note 1)

1.5

cups

water or broth

1

cup

canned crushed tomatoes

3/4

cup

dry red wine (Note 2)

1/3

cup

each: diced carrots, celery, and onions (Note 3)

5

cloves

garlic, minced

1/4

cup

frozen green peas

1

tablespoon

butter

1/2

tablespoon

olive oil

1

teaspoon

unsweetened cocoa powder (Note 4)
salt and ground black pepper
chopped fresh parsley, for garnish
INSTRUCTIONS
Prepare Lamb: Pat lamb shanks dry with paper towels. Generously season all sides with salt and pepper.

Brown Lamb: Add olive oil and butter to large pot (Note 5) over medium heat, stirring until butter is melted, less than a minute. Add shanks to pot in single layer and cook for about 5 minutes until bottom side is nicely browned. Flip and repeat with other side for about 4 minutes. Transfer only shanks to large bowl, leaving fat in pot.

Add Aromatics: Add carrots, celery, onions, and garlic to same pot. Stirring occasionally, cook until softened, a few minutes. Carefully add red wine, and loosen any brown bits stuck to bottom of pot. Add water, crushed tomatoes, peas, and cocoa powder, stirring together for a minute.

Slow Cook Lamb: Return lamb shanks to pot in single layer, partially submerged. Increase heat and bring to gentle boil. Cover with lid, and reduce heat to medium-low. Cook until meat is very tender and easily falls off bone (Note 6), about 2.5 hours, adding water if pot appears dry during cooking.

Serve: Uncover, and transfer shanks to serving dishes. If remaining liquid in pot is thin and watery, boil uncovered until thickened to a sauce. Skim off fat, if desired. Pour sauce over shanks, top with parsley, and serve (Notes 7-8).
NUTRITION
Makes 2 Servings
Amount Per Serving (1 shank with sauce):
| | |
| --- | --- |
| Calories 480 (55% from fat) |   |
| Total Fat 29g | 45% |
|    Saturated Fat 9g | 45% |
| Cholesterol 80mg | 27% |
| Sodium 1140mg | 47% |
| Net Carb 9.5g |   |
| Total Carb 13.5g | 5% |
|    Dietary Fiber 4g | 16% |
|    Sugars 5.5g |   |
| Protein 23g |   |
PHOTOS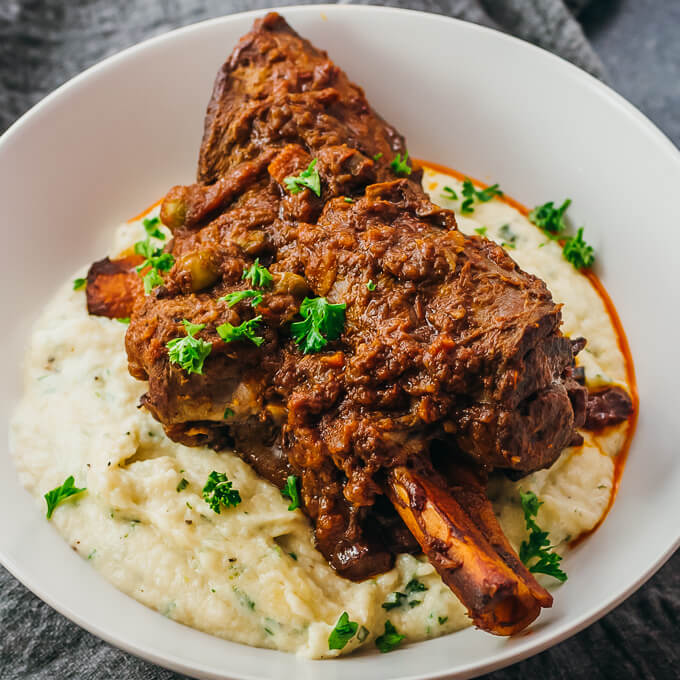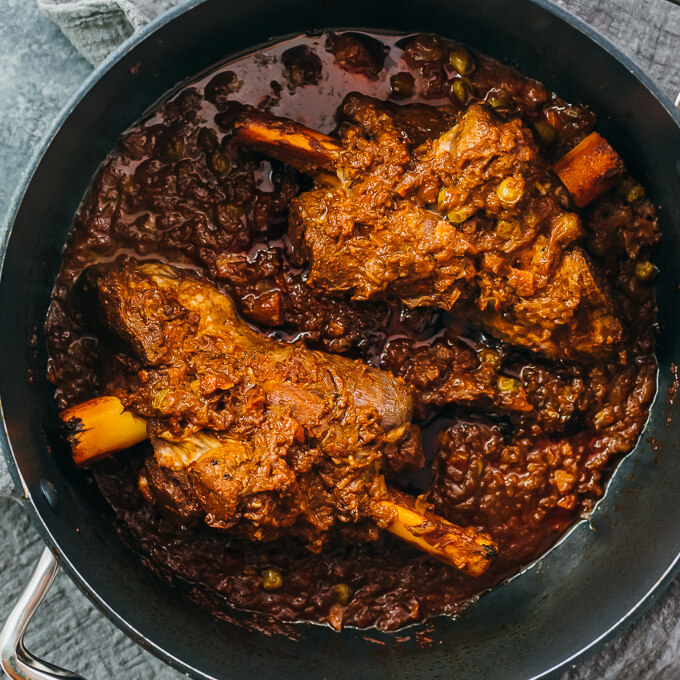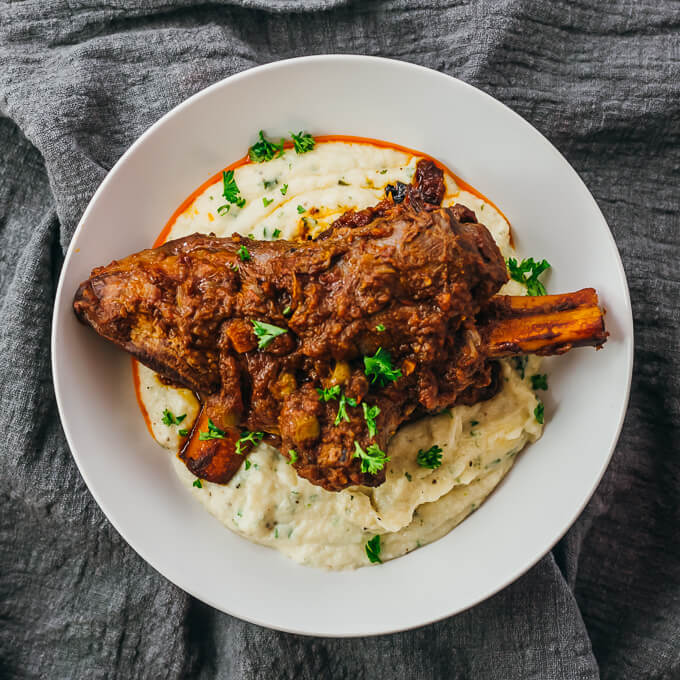 NOTES & TIPS
(1) Lamb Shanks. Each shank weighs about 1 pound, including the bone, which is not removed before cooking. If desired, trim fat to 1/8 inch.
(2) Red Wine. Any dry red wine will work for this recipe, and in this case "dry" means not sweet. I typically use Pinot Noir or Cabernet Sauvignon; other dry reds include Merlot and Zinfandel.
(3) Carrots, Celery, Onions. Mirepoix is a package of pre-chopped carrots, celery, and onions that you can often find in the refrigerated produce section of U.S. grocery stores like Trader Joe's. It's a convenient option if you're looking to minimize prep time.
(4) Cocoa Powder. This is your typical unsweetened cocoa powder used for baking — I use Hershey's Special Dark. It doesn't add a chocolate taste to the sauce, but rather enhances the other flavors.
(5) Large Pot. Select a pot with a lid that is wide enough to fit both lamb shanks side-by-side. I have used both a 6-quart dutch oven and a nonstick pot; the latter is preferred for easier cleanup, especially if the tomato-based sauce sticks to the bottom.
(6) Slow Cooking Lamb. The exact method of cooking isn't important; you can cook the lamb shanks on the stovetop as the recipe indicates, or in the oven at 325 F, as long as they're cooked until very tender. If you're not worried about the meat sliding off the bone as you lift the lamb out of the pot, it's not tender enough and you should continue cooking. If you increase the cooking time past what the recipe states, take note of the non-fat liquid in the pot. If there's too little liquid, you'll run the risk of burning a thickened sauce (still delicious, just messy to clean). Add water as needed because it's better to err on the side of having extra liquid, which you can boil off later.
(7) Serving. These braised lamb shanks are fabulous by themselves, and even better with delicious side dishes. As photographed here, I love serving them over a bed of mashed cauliflower. You can also serve them with other low carb sides like mashed turnips, roasted mushrooms, or cauliflower "mac" and cheese.
(8) Leftovers / Make Ahead Option. Refrigerate cooked lamb shanks with sauce in a covered container or in a lidded pot for up to 2 days. To serve, reheat covered on the stovetop over medium-low heat until warmed through, about 15 minutes.