Summary:
These braised lamb shanks have tender, fall-off-the-bone meat. They're coated in a rich sauce made with red wine, crushed tomatoes, and stew vegetables. Low carb, keto, and gluten free dinner.
INGREDIENTS
2

lamb shanks

1 1/2

cups

water

1

cup

canned crushed tomatoes including liquid

3/4

cup

dry red wine

1/3

cup

each: finely chopped carrots, celery, and onions

5

cloves

garlic

minced

1/4

cup

frozen green peas

1

tablespoon

butter

1/2

tablespoon

olive oil

1

teaspoon

unsweetened cocoa powder

freshly ground sea salt and black pepper

finely chopped fresh parsley for garnish
INSTRUCTIONS
Pat lamb shanks dry with paper towels. Generously season all sides with salt and pepper.

Add olive oil to a 6-quart dutch oven or wide heavy pot over medium heat. Add butter and stir to coat the bottom of the pot until melted.

Add shanks to the pot in a single layer and cook for about 5 minutes until the bottom is nicely browned. Flip and repeat with the other side for about 4 minutes. Transfer the shanks to a large bowl.

Add carrots, celery, onions, and garlic to the pot. Cook until softened, a few minutes, stirring occasionally.

Carefully add red wine, and loosen any brown bits stuck to the bottom of the pot. Add water, crushed tomatoes with liquid, peas, and cocoa powder, stirring them in.

Return the lamb shanks to the pot in a single layer. Increase heat and bring to a gentle boil.

Cover and reduce heat to medium-low. Simmer until the meat is very tender and easily falls off the bone, about 2 1/2 hours.

Uncover and transfer only the shanks to serving dishes. Tent with foil to keep them warm. Increase heat to medium and boil the liquid in the pot until thickened to a sauce-like consistency, about 15 minutes, stirring frequently.

Turn off the heat, skim off fat if desired, and pour the sauce over lamb shanks. Top with parsley, and serve while warm with sides like mashed cauliflower.
NUTRITION
Makes 2 Servings
Amount Per Serving:
| | |
| --- | --- |
| Calories 480 (55% from fat) | |
| Total Fat 29g | 45% |
| Saturated Fat 9g | 45% |
| Cholesterol 80mg | 27% |
| Sodium 1140mg | 47% |
| Net Carb 9.5g | |
| Total Carb 13.5g | 5% |
| Dietary Fiber 4g | 16% |
| Sugars 5.5g | |
| Protein 23g | |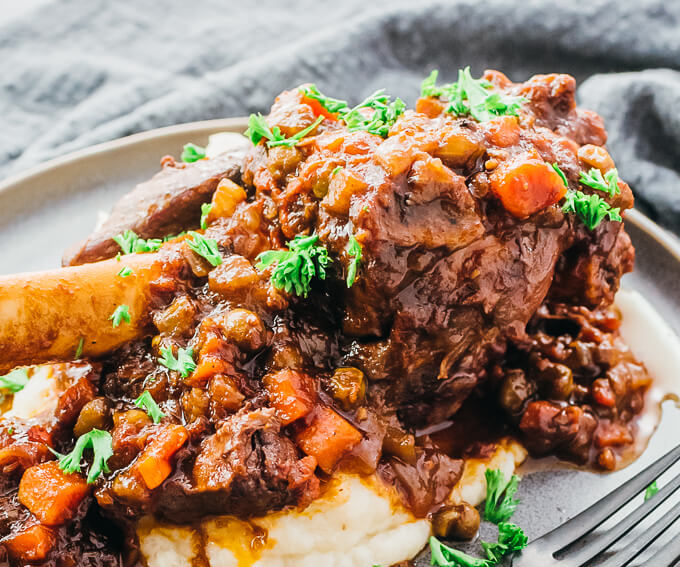 Ingredients
The ingredients for these lamb shanks are straightforward. I use shanks that are about 1 pound each, and about one-third of that weight is the bones.
Any dry red wine will work for this recipe, and in this case "dry" means not sweet. I use Pinot Noir; other dry reds include Cabernet Sauvignon, Merlot, and Zinfandel.
I choose to use water instead of broth. Most store-bought commercial broths are essentially salt and a bunch of additives that don't actually contribute anything in the flavor department.
My special ingredient in making the sauce is cocoa powder. This is your typical unsweetened cocoa powder used for baking — I use Hershey's Special Dark. It doesn't add any discernible chocolate taste to the stew, but it helps enhance the other flavors.
Cooking Tips
For successful lamb shanks, the most important thing to pay attention to is the tenderness of the meat. If you get that part right, it will taste delicious even if you mess up the sauce.
You should simmer the lamb shanks until they're very tender. If you're not worried about the meat sliding off the bone as you lift it out of the pot, it's not tender enough. Cover with a lid and simmer another thirty minutes. The exact mode of cooking isn't important; you can simmer the meat on the stovetop as the recipe indicates, or in the oven at 325 F.
If you increase the cooking time, take note of the liquid in the pot. If there's too little liquid, you'll run the risk of burning a thickened sauce (which tastes great to me, but it's messy cleanup). It's better to err on the side of having extra liquid, which you can boil off later.
Serving
These braised lamb shanks are fabulous by themselves, and even better with delicious side dishes. As photographed here, I love serving them over a bed of mashed cauliflower, which tastes nearly identical to mashed potatoes. You can also serve them with roasted carrots, asparagus, or broccoli.
These shanks can be made a day in advance. After cooking, allow them to cool and then cover and refrigerate. When ready to reheat, you can remove any solidified fat (if desired) and warm on the stovetop or in the oven until heated through. You might even notice that the flavor will have improved overnight.
More Low Carb Main Dishes