Summary:
Cauliflower "mac" and cheese with a rich and creamy sauce. A healthy, no pasta version that's low carb and keto friendly. See more easy Side Dish Recipes.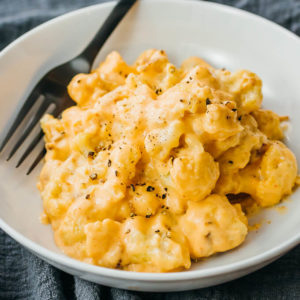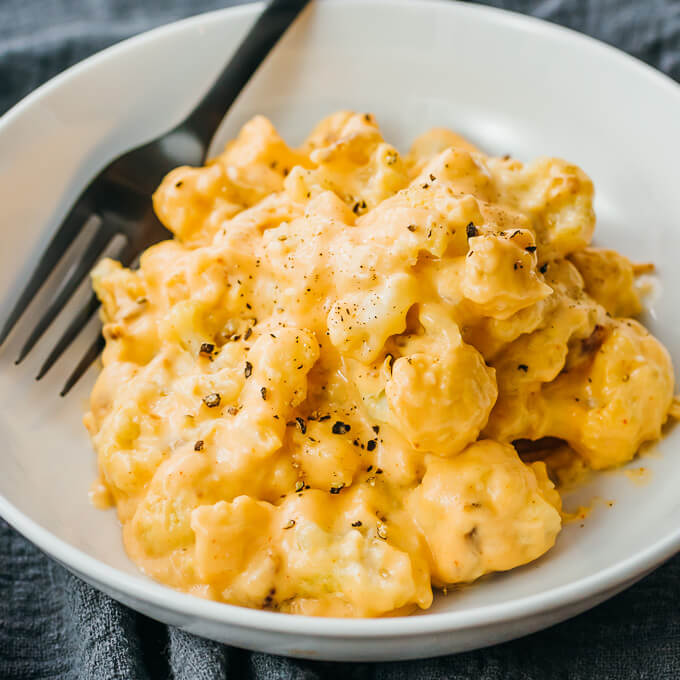 Cauliflower "Mac" And Cheese (Keto, Low Carb)
INGREDIENTS
Sauce:
1/2

cup

heavy whipping cream

1

cup

shredded cheddar cheese

2

ounces

cream cheese, cut into small pieces

2

tsp

dijon mustard

1/2

tsp

table salt

1/2

tsp

garlic powder

1/4

tsp

cayenne
INSTRUCTIONS
Preheat the oven to 400 F.

If any cauliflower florets are on the larger side (> 2 inches), cut them into smaller florets.

Prepare a baking sheet lined with foil. Add olive oil and cauliflower florets to the baking sheet, mixing to coat the florets with oil and then spreading them out in a single layer.

Bake at 400 F for 15 to 20 minutes, or until tender. While waiting for the cauliflower to bake, proceed to the next step to make the sauce.

In a small saucepan, add all sauce ingredients. Heat for about 5 minutes over medium heat until melted and smooth, whisking frequently. Adjust the flame as needed, so that it doesn't get hot enough to simmer. Keep warm over low heat while you wait for the cauliflower to bake.

In a mixing bowl, toss roasted cauliflower with the sauce until well-coated.

Serve in bowls. Evenly sprinkle parmesan cheese on top, and season with freshly ground black pepper.
NUTRITION
Makes 4 Servings
Amount Per Serving:
| | |
| --- | --- |
| Calories 350 (80% from fat) | |
| Total Fat 31g | 47% |
| Saturated Fat 16g | 78% |
| Cholesterol 76mg | 25% |
| Sodium 610mg | 25% |
| Net Carb 4g | |
| Total Carb 7g | 2% |
| Dietary Fiber 3g | 11% |
| Sugars 3.5g | |
| Protein 12g | |
Recipe Overview
This comforting dish is perfect for anyone who loves their cheese sauces. Rich and thick, the sauce is made with heavy cream, cheddar cheese, and cream cheese, and does a great job of coating the cauliflower florets. The sauce is also slightly spicy thanks to the cayenne.
You can make this dish in about 30 minutes. While the cauliflower florets are roasting on a foil lined baking sheet in the oven, you can assemble and heat the cheese sauce on the stovetop. Once the cauliflower is done, toss with the sauce and season with black pepper and parmesan cheese before serving.
Making The Cheese Sauce
The cheese sauce is straightforward to make — dump all of the sauce ingredients in a small saucepan, and whisk over medium heat until melted and smooth.
Since stovetops vary, you may need to adjust the flame as it's cooking. The sauce mixture should be hot enough to nearly bring it to a simmer, so that the ingredients can be easily combined. But it shouldn't be hot enough to burn the cheese.
If the mixture is starting to simmer, decrease the heat level and vigorously whisk to cool it down.
Don't forget to cut the cream cheese into small pieces, as pictured above, so that they melt rapidly.
Roasting Cauliflower Separately
I've tried making cauliflower mac and cheese by roasting cauliflower florets in the sauce, like in a casserole pan. I'm not a fan of this method, because the cauliflower will exude liquid as it cooks, which thins out the sauce. And you end up with soggy cauliflower that tastes more like steamed rather than roasted cauliflower.
I much prefer baking the cauliflower florets by themselves, spreading them out on a baking sheet. The sauce is prepared separately on the stovetop. When the cauliflower florets are done, I toss them with the cheese sauce and serve.
Cauliflower Roasting Time
Depending on the size of your cauliflower florets and how tender you prefer them, you'll want to bake for approximately 15 to 20 minutes at 400 F.
I usually roast them closer to 20 minutes because I like mine extra tender. If you like yours on the crisper side, then 15 minutes is probably better. Watch the florets as they bake, and take them out of the oven when cooked to your preference.
More Delicious Cauliflower Dishes