Summary:
Satisfy your mac and cheese cravings with this no-pasta version — a simple 30-minute recipe for roasted cauliflower florets tossed in a rich and thick cheese sauce.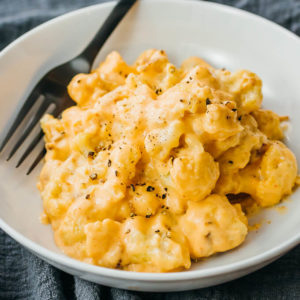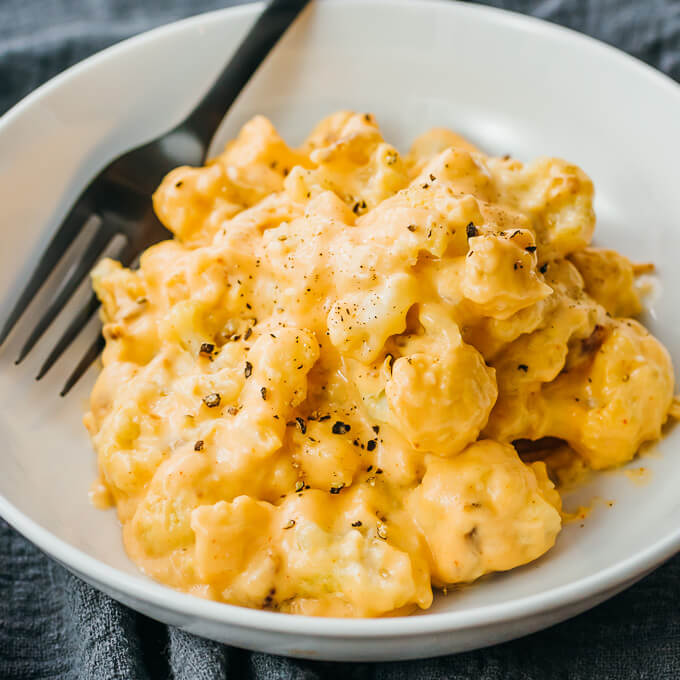 INSTRUCTIONS
Roast Cauliflower: Preheat oven to 400 F. If any cauliflower florets are larger than 2 inches, cut into smaller pieces. Toss florets with olive oil on foil-lined baking sheet until well-coated, then spread out florets in single layer. Bake at 400 F until tender, 15 to 20 minutes (Note 5). While baking, proceed to next step to prepare sauce.

Make Sauce: Whisk all sauce ingredients together in small saucepan over medium heat until melted and smooth, about 5 minutes, reducing heat as needed so that sauce isn't hot enough to simmer. Once combined, keep warm over low heat while waiting for cauliflower to bake.

Serve: Toss roasted cauliflower with sauce in mixing bowl until well-coated. Serve (Note 6), and evenly sprinkle parmesan cheese and black pepper on top.
NUTRITION
Makes 4 Servings
Amount Per Serving:
| | |
| --- | --- |
| Calories 350 (80% from fat) |   |
| Total Fat 31g | 47% |
|    Saturated Fat 16g | 78% |
| Cholesterol 76mg | 25% |
| Sodium 610mg | 25% |
| Net Carb 4g |   |
| Total Carb 7g | 2% |
|    Dietary Fiber 3g | 11% |
|    Sugars 3.5g |   |
| Protein 12g |   |
PHOTOS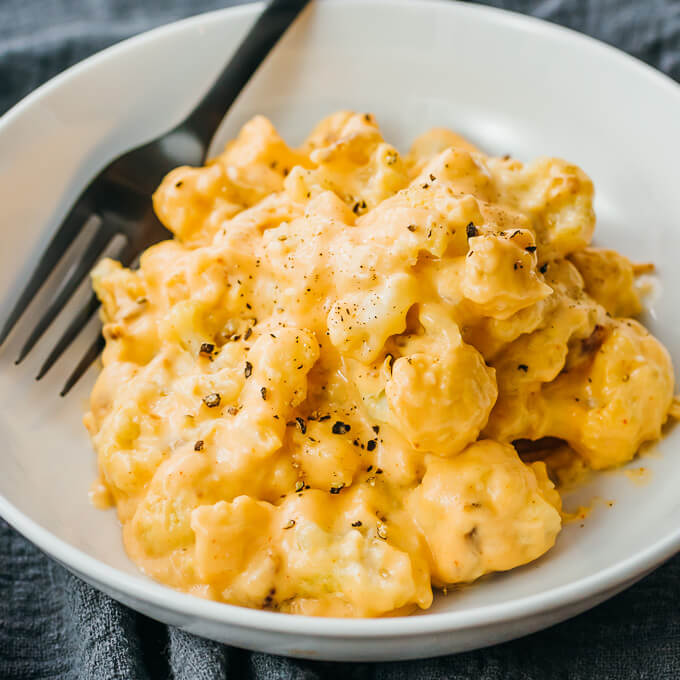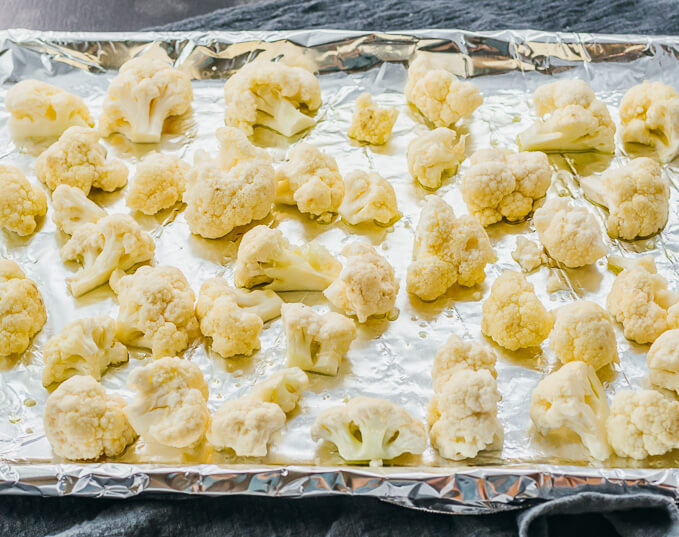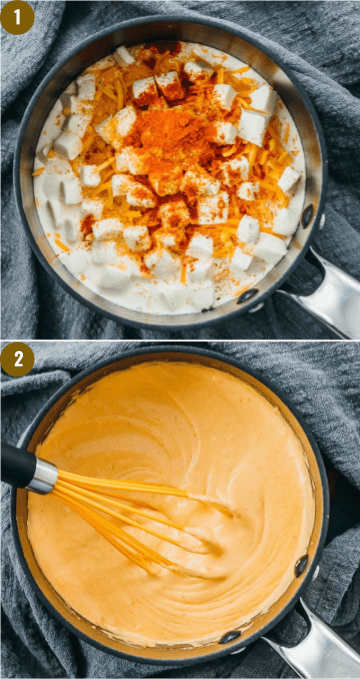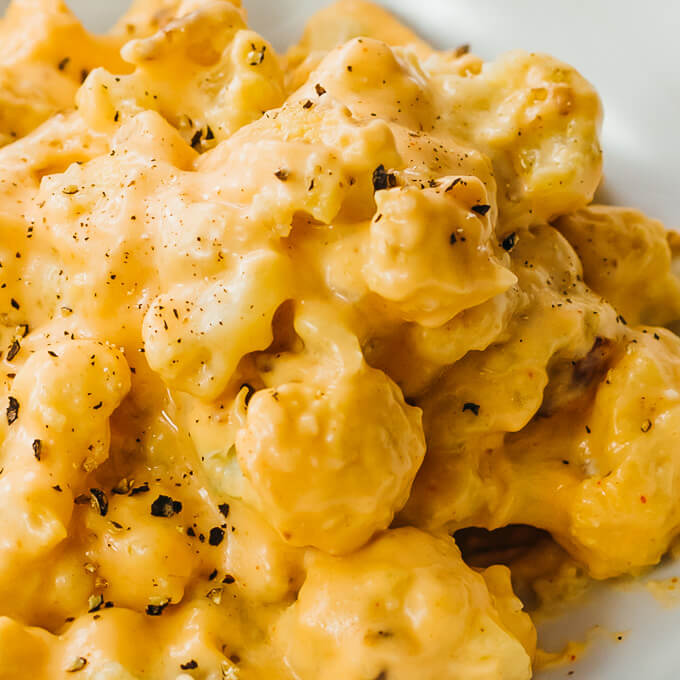 NOTES & TIPS
(1) Cauliflower Florets. About 1 medium head of cauliflower. You can cut florets from a head of cauliflower, or you can buy a 16-ounce bag of pre-cut raw florets located in the refrigerated produce section of many U.S. grocery stores. I recommend cutting the florets into smaller pieces (no larger than 2 inches) so that they cook quickly.
(2) Parmesan Cheese. This is finely grated parmesan that has a sandy or almost powdery texture (not shredded), available in pre-grated bags in the refrigerated section of U.S. grocery stores. This can be substituted with similar cheeses like pecorino romano or asiago.
(3) Heavy Whipping Cream. Some readers have had success substituting with half-and-half or whole milk.
(4) Cream Cheese. Two ounces is one-quarter of a standard 8-ounce brick. I use regular, full-fat cream cheese from the brand Philadelphia, not reduced fat or light versions. The cream cheese is cut into small pieces (see photo) so that it melts rapidly to form the cheese sauce.
(5) Roasting Cauliflower. I usually roast cauliflower florets closer to 20 minutes because I like mine extra tender. If you like yours on the crisper side, then 15 minutes is probably better. Monitor the florets as they bake, and take them out of the oven when cooked to your preference. I've tried making cauliflower mac and cheese by roasting cauliflower florets with the cheese sauce in a casserole pan; I'm not a fan of this method, because the cauliflower will exude liquid as it cooks, which thins out the sauce. You'll end up with soggy cauliflower that tastes more steamed than roasted.
(6) Serving. Cauliflower mac and cheese can be a side dish to a meaty main, or you can make it the main dish and serve with a simple garden salad and a bright vinaigrette. Leftovers can be reheated on the stovetop. If you plan on making this ahead of time, slightly undercook the cauliflower so that it holds up better during reheating.