Summary:
This easy keto cornbread is a low carb and gluten free side dish made with almond flour, eggs, and butter. Its texture is fluffy and moist, and tastes only slightly sweet.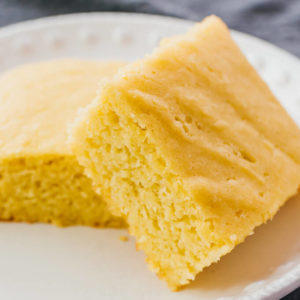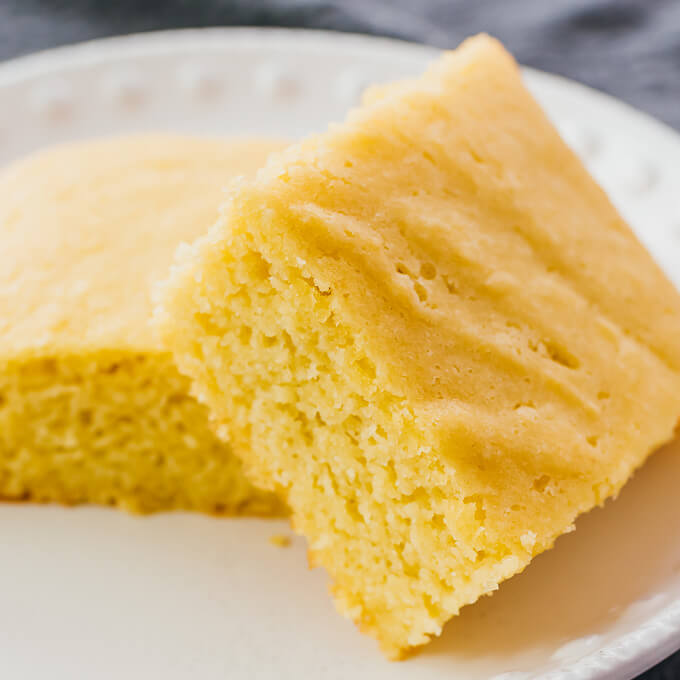 INSTRUCTIONS
In a mixing bowl, add almond flour, sweetener, and baking powder. Whisk until smooth.

In a separate mixing bowl, add eggs, melted butter, and vanilla extract. Use an electric hand mixer or stand mixer to beat until well-mixed, about 30 seconds on low speed.

Add the flour mixture to the egg mixture. Beat until incorporated and smooth, about 30 seconds on low speed. The batter should be thick.

Pour the batter into the pan. Use a spatula to spread the batter to the edges and corners, and smooth the surface. Bake until an inserted toothpick comes out clean, about 25 minutes.

Let the cornbread cool in the pan for 5 minutes, and then slide a knife around the edges to release it. Cut into 9 squares and serve while warm, optionally with sugar-free syrup or slices of butter.
NUTRITION
Makes 9 Servings
Amount Per Serving (2.7x2.7-inch piece):
| | |
| --- | --- |
| Calories 200 (82% from fat) | |
| Total Fat 18g | 28% |
| Saturated Fat 5g | 26% |
| Cholesterol 100mg | 33% |
| Sodium 80mg | 3% |
| Net Carb 1.5g | |
| Total Carb 3.5g | 1% |
| Dietary Fiber 2g | 8% |
| Sugars 1g | |
| Protein 7g | |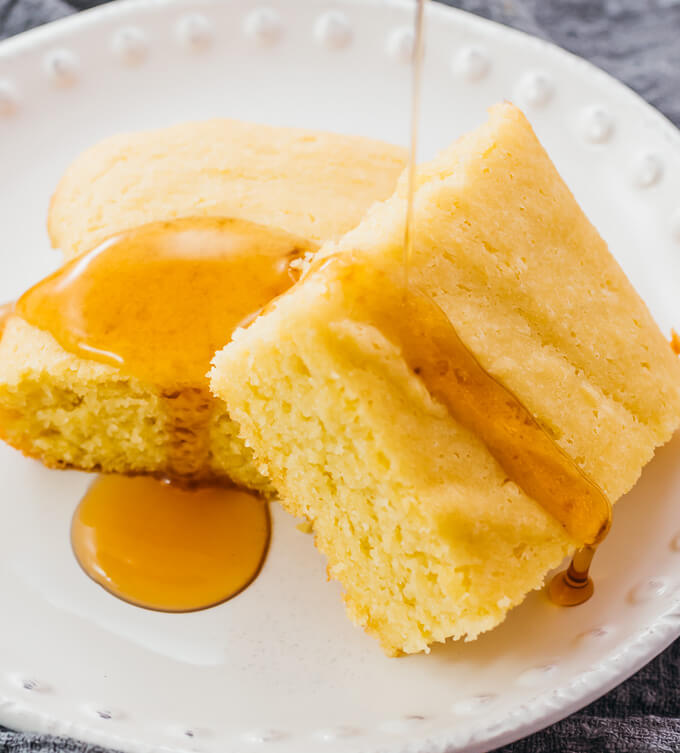 Recipe Development
This cornbread recipe only has a handful of ingredients, none of them being wheat flour or cornmeal, but the end result looks and tastes a lot like actual cornbread.
One thing I love about baking is that the same combination of ingredients — flour, sweetener, eggs, and butter — can yield such a diversity of baked goods from scones to cookies to biscuits. This recipe actually started off as a raspberry cake. My first experiment didn't produce the intended cake, but was surprisingly reminiscent of cornbread, so I decided to follow that route and make this a cornbread recipe after additional experimenting.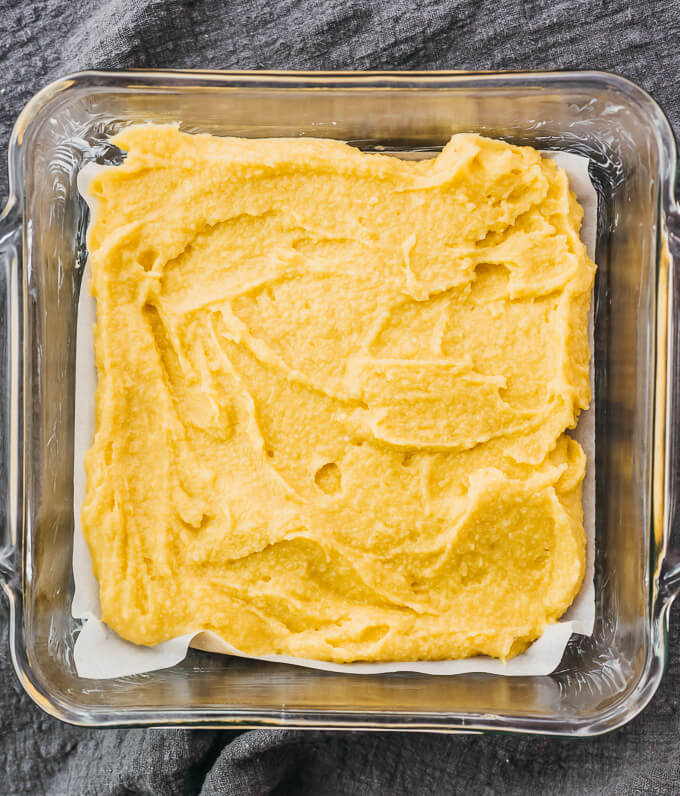 Baking Tips
For best results, measure out the almond flour and sweetener by weight, not volume. Volume measurements can vary quite a bit, especially for powdered sweeteners and how it's packed.
If you use a different type of sweetener, you can use the amount listed in the recipe if your sweetener also measures the same as powdered sugar. Otherwise, you'll have to calculate the converted amount. Your sweetener's packaging should indicate how its sweetness compares to sugar.
The batter should be quite thick after mixing the dry and wet ingredients together (see above photo). Don't add extra eggs or butter in an attempt to thin it out. During baking, the batter will spread out and rise.
Use parchment paper to avoid cornbread sticking to the bottom of the baking dish. If you don't have parchment paper, I highly recommend you invest in some, especially if you do any kind of baking.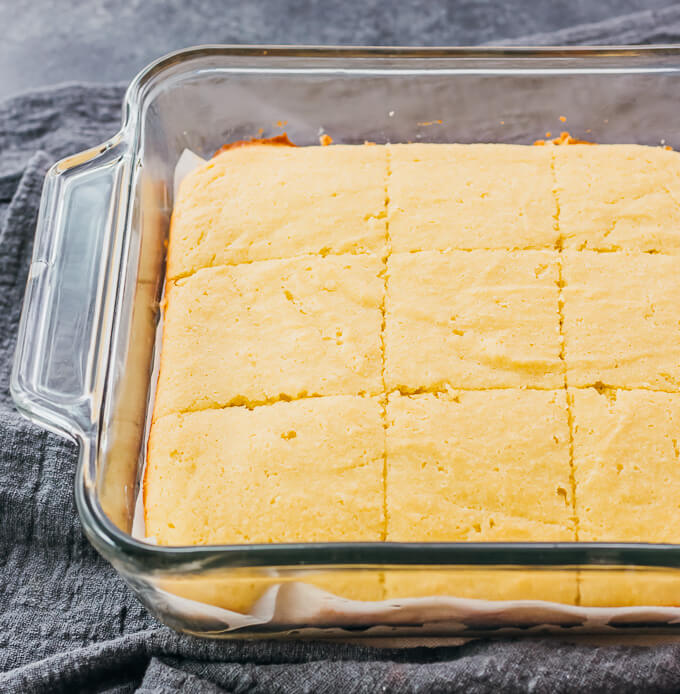 Serving Suggestions
If you enjoy savory cornbread, I recommend serving the cornbread without any extras, or simply with some slices of butter. By itself, the cornbread is mildly sweet. Since it's on the plainer side, this would go well as a side dish to a meaty main entree such as chili, pulled pork, ribs, or anything BBQ. It would even work as a savory breakfast.
For those of you who like sweet cornbread, you can easily dial up the sweetness by drizzling warm cornbread with sugar free syrup. Here are two recommendations:
If you use another brand of sugar free syrup, look at its ingredients list. A commonly used sweetener is maltitol, which I generally avoid due to its higher glycemic index.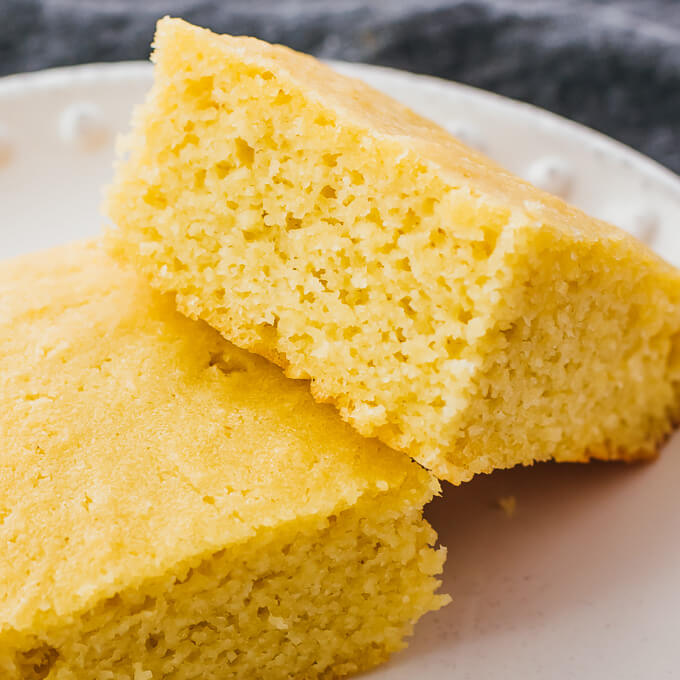 Leftovers
This cornbread should be served warm. If you have leftovers, cover and store them in the refrigerator. They are best within the first two days.
Prior to serving, reheat in the oven until warmed through. I usually place the cornbread in a single layer on an oven-safe dish directly in the cold oven. Then I preheat the oven to 350 F. By the time the oven comes to temperature, the cornbread is heated through and ready to eat.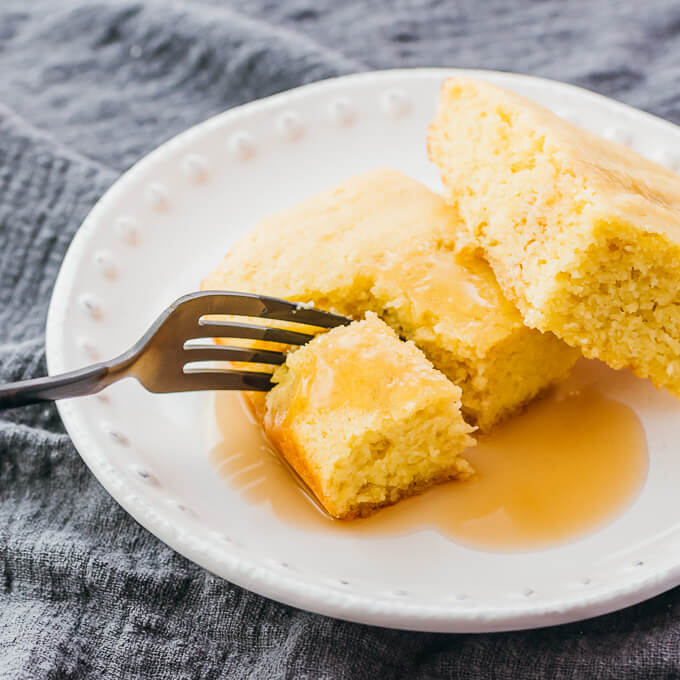 More Keto Baked Goods