Summary:
This low carb cornbread tastes like the real thing, with just 6 total ingredients. It's fluffy and moist, with a slightly sweet taste. Drizzle with sugar-free syrup to dial up the sweetness, or add scallions and cheddar for a savory version.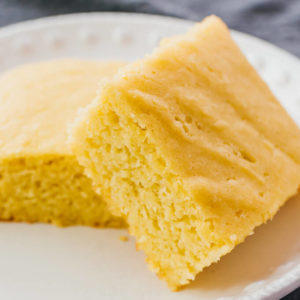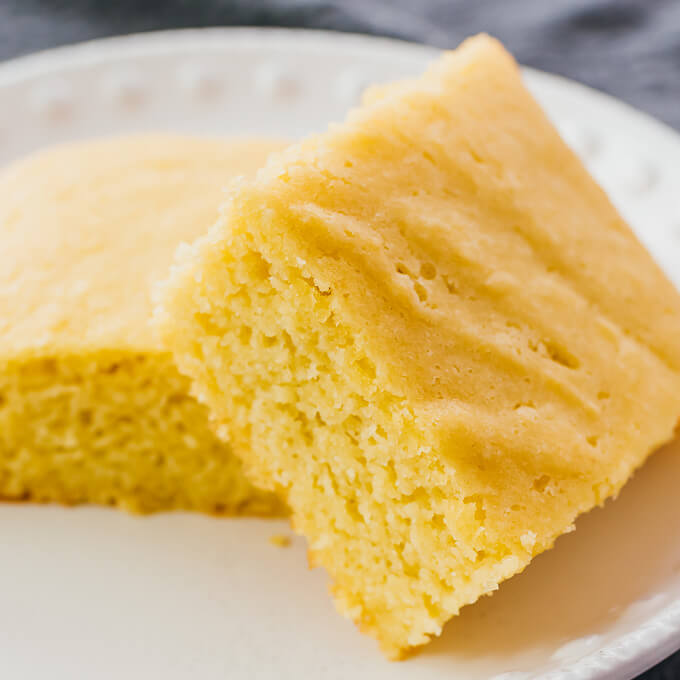 INSTRUCTIONS
Prepare Ingredients: Whisk almond flour, sweetener, and baking powder in mixing bowl until well-mixed. In separate mixing bowl, beat melted butter, eggs, and vanilla extract using electric hand mixer until combined, about 30 seconds on low speed.

Make Batter: Add dry mixture to bowl with wet mixture, then beat until incorporated and smooth, about 30 seconds on low speed. Batter should be thick (Note 4).

Bake: Transfer batter to prepared baking dish. Use spatula to spread batter to edges and corners, and smooth surface. Bake at 350 F until inserted toothpick comes out clean, about 25 minutes.
NUTRITION
Makes 9 Servings
Amount Per Serving (1 square):
| | |
| --- | --- |
| Calories 200 (82% from fat) |   |
| Total Fat 18g | 28% |
|    Saturated Fat 5g | 26% |
| Cholesterol 100mg | 33% |
| Sodium 80mg | 3% |
| Net Carb 1.5g |   |
| Total Carb 3.5g (Note 8) | 1% |
|    Dietary Fiber 2g | 8% |
|    Sugars 1g |   |
| Protein 7g |   |
PHOTOS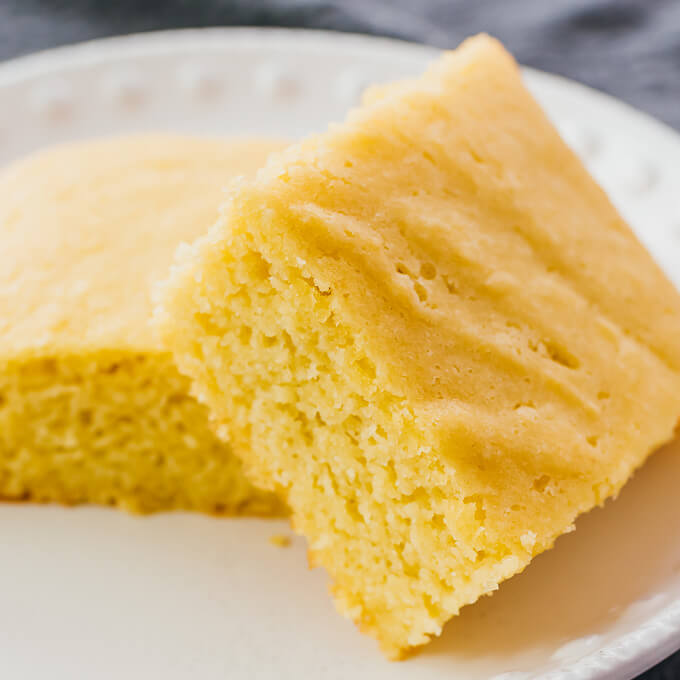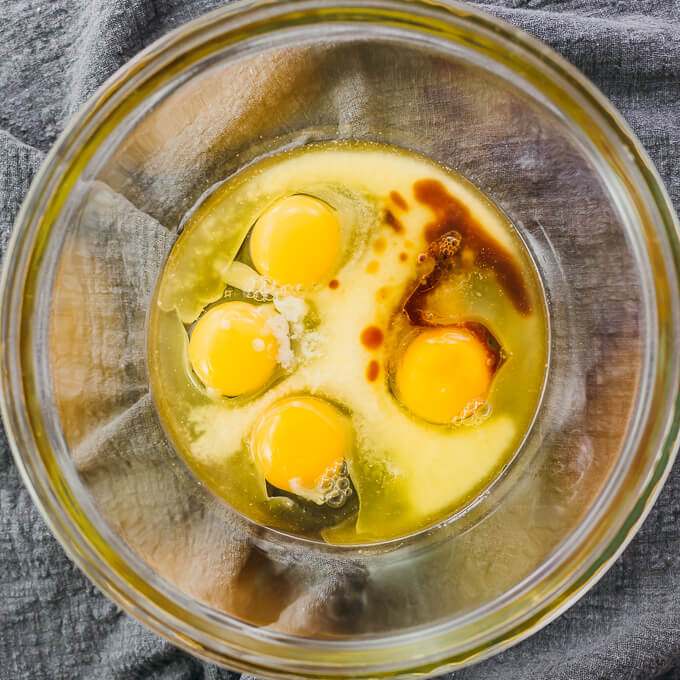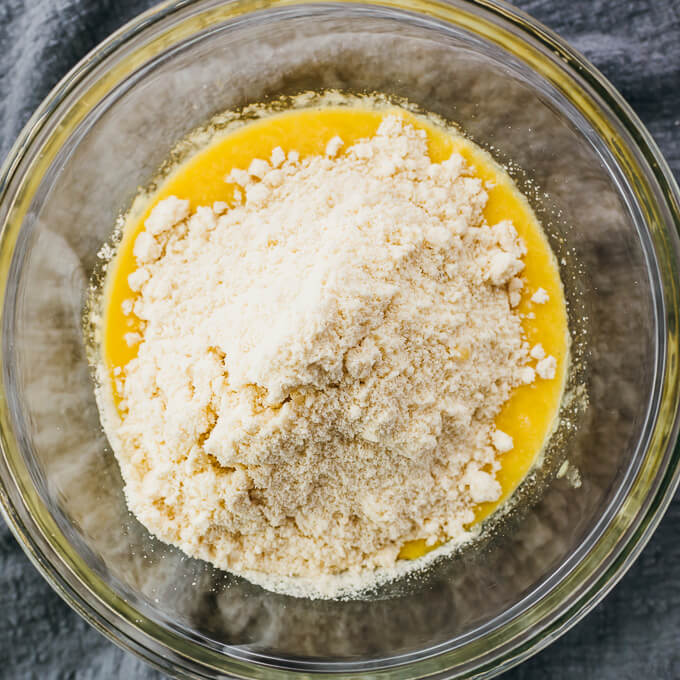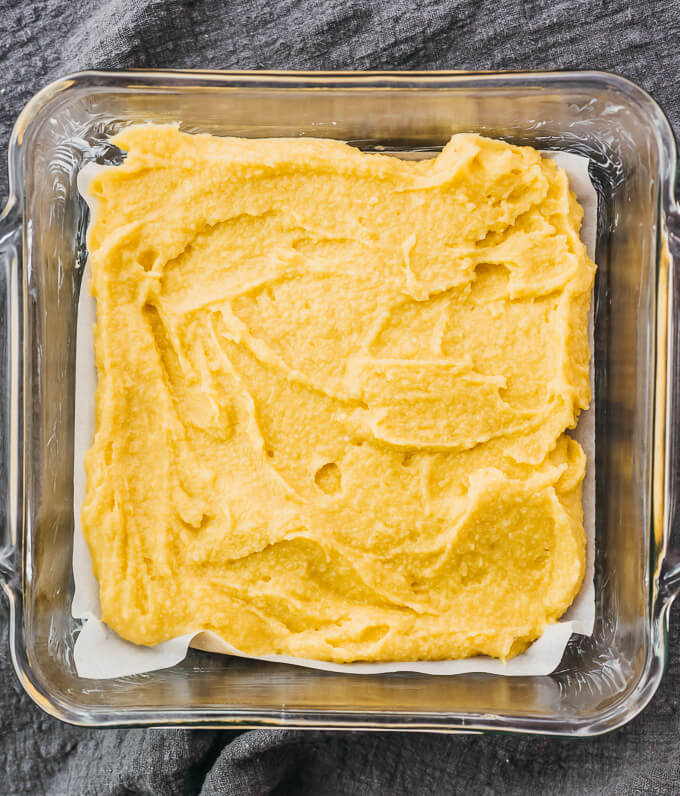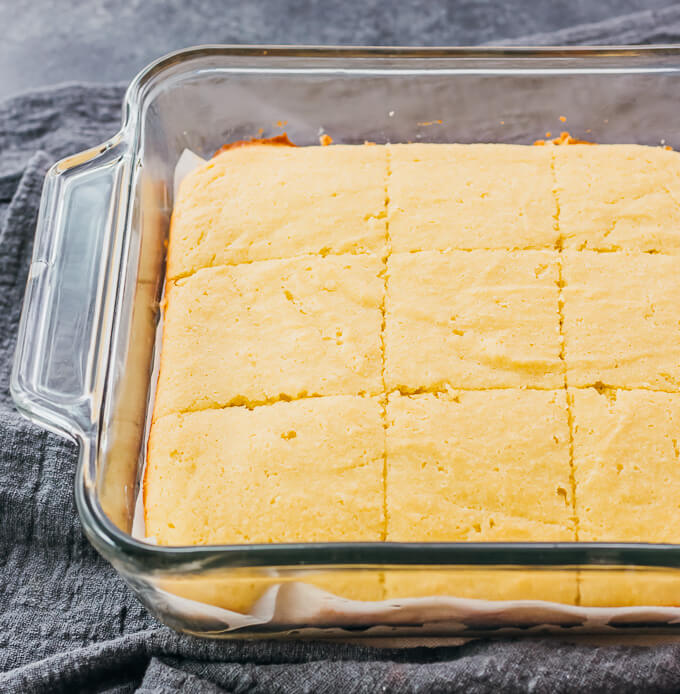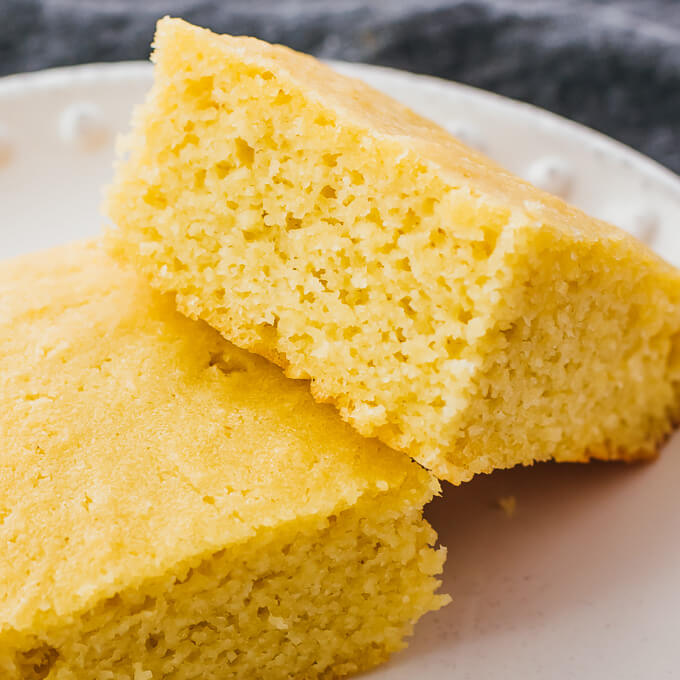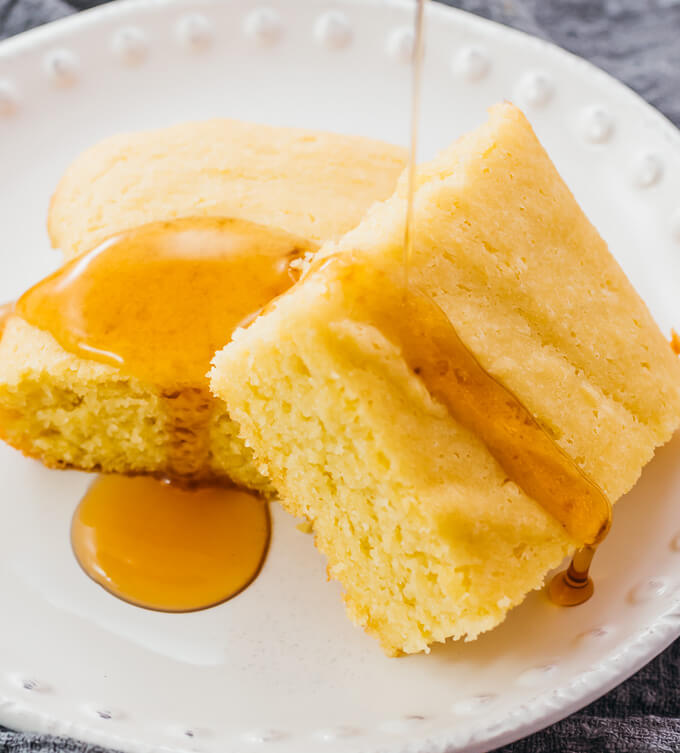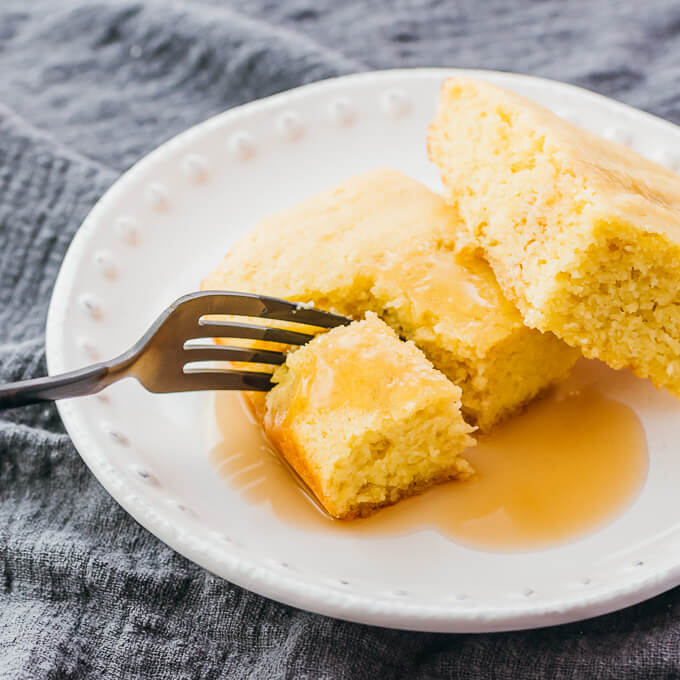 NOTES & TIPS
(1) Almond Flour. About 6 ounces weight. I use almond flour that is blanched, which means the skins are taken off of the almonds, so the resulting flour looks white. I typically use Costco's Kirkland brand, which has 2 grams of net carbs per 1/4 cup serving. Don't substitute with coconut flour or other flours, which vary in their absorbency.
(2) Sweetener. About 2 ounces weight. Confectioners Swerve is a dry sweetener that measures the same as regular powdered sugar; it's not the same as pure erythritol, which is about 70% as sweet. If you use a different type of sweetener, you can use the amount listed in the recipe if your sweetener also measures the same as regular powdered sugar. Otherwise, you'll have to calculate the converted amount. Your sweetener's packaging should indicate how its sweetness compares to sugar. I don't recommend liquid sweeteners, which affect the ratio of dry to wet ingredients.
(3) Baking Dish. I use a glass 8×8 inch baking dish. I recommend lining with parchment paper because it helps the cornbread release easily from the baking dish; otherwise, it'll stick.
(4) Batter Consistency. The batter should be quite thick after mixing the dry and wet ingredients together. Don't add extra eggs or butter in an attempt to thin it out. During baking, the batter will spread out and rise.
(5) Serving. If you enjoy savory cornbread, I recommend serving the cornbread with some slices of butter, or savory add-ins like scallions and cheddar cheese (see Savory Cornbread). By itself, this cornbread is mildly sweet. Since it's on the plainer side, this would work well as a side dish to a meaty main entree such as chili, pulled pork, sloppy joes, ribs, or anything BBQ. It's also great alongside soups or as a savory breakfast. For those of you who like sweet cornbread, you can easily dial up the sweetness by drizzling with sugar-free syrup.
(6) Sugar Free Syrups. I recommend Walden Farms Sugar Free Maple Walnut Syrup (per 1/4 cup serving: 0 calories, 0g net carbs, sweetener: sucralose) and Lakanto Maple Flavored Sugar Free Syrup (per 1/4 cup serving: 30 calories, 2g net carbs, sweetener: erythritol, monk fruit extract). If you use another brand of sugar free syrup, look at its ingredients list. A commonly used sweetener is maltitol, which I generally avoid due to its higher glycemic index.
(7) Saving For Later. If you have leftovers or you're making this in advance, store baked cornbread in a covered container in the refrigerator for up to 3 days. Reheat uncovered in a 350 F oven for 10 to 15 minutes or until heated through.
(8) Carbs. The nutrition calculation assumes you are using Swerve or a similar erythritol-based sweetener that uses sugar alcohols, whose carbs are non-impact and therefore not included in the nutrition estimate. Apps that count sugar alcohols will show a higher number of carbs.