Summary:
This is a simple 6-ingredient recipe for a low carb tuna casserole with broccoli, cheddar cheese, and ranch dressing. It has a creamy and cheesy texture, with a distinct but not overpowering tuna taste.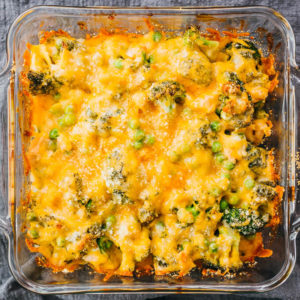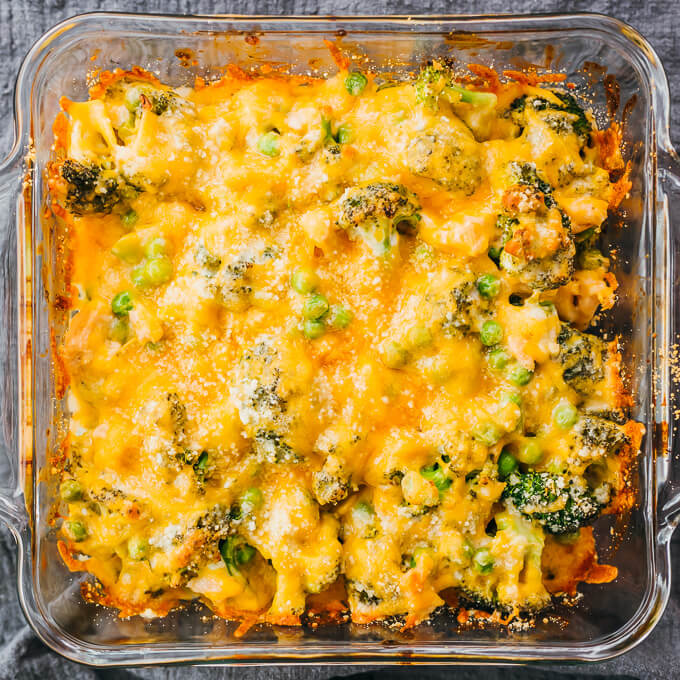 INGREDIENTS
5-ounce

can solid albacore tuna (Note 1)

6

cups

small broccoli florets (Note 2)

1.75

cups

shredded cheddar cheese (Note 3)

1

cup

frozen green peas

1

cup

ranch dressing (store-bought or homemade dressing)

1/4

cup

finely grated parmesan cheese (Note 4)
INSTRUCTIONS
Prepare: Preheat oven to 375 F. Cut any broccoli florets larger than 2 inches into smaller pieces, and add all broccoli to large microwave-safe bowl. Cover and microwave until tender, about 5 minutes, then drain and steam out on paper towels. Drain can of tuna, then pat surface dry with paper towels. Flake tuna with fork until there are no large chunks.

Assemble Casserole: Directly in 8×8 inch baking dish (Note 5), add broccoli, tuna, peas, ranch dressing, and half of cheddar cheese, carefully stirring together until well-mixed. Evenly top with remaining cheddar cheese, then sprinkle with parmesan cheese.

Bake & Cool: Bake at 375 F until heated through and starting to brown on top, about 25 minutes. Let rest for about 5 minutes until bubbling subsides before cutting. Serve (Note 6).
NUTRITION
Makes 4 Servings
Amount Per Serving:
| | |
| --- | --- |
| Calories 510 (75% from fat) |   |
| Total Fat 42g | 65% |
|    Saturated Fat 13g | 64% |
| Cholesterol 59mg | 20% |
| Sodium 1240mg | 52% |
| Net Carb 6g |   |
| Total Carb 9.5g | 3% |
|    Dietary Fiber 3.5g | 15% |
|    Sugars 4.5g |   |
| Protein 23g |   |
PHOTOS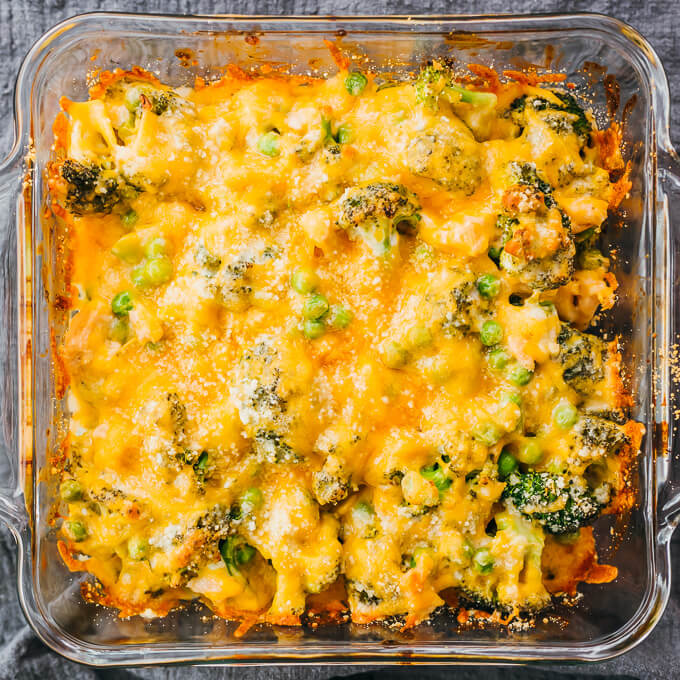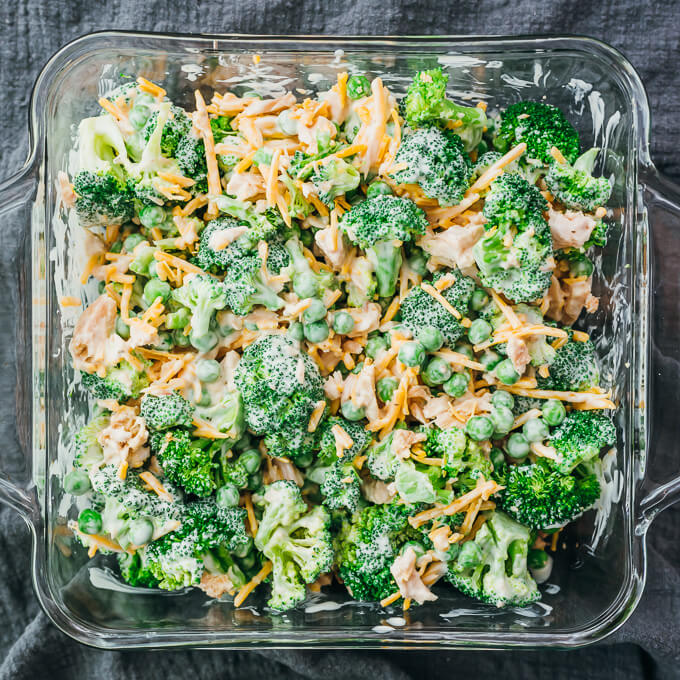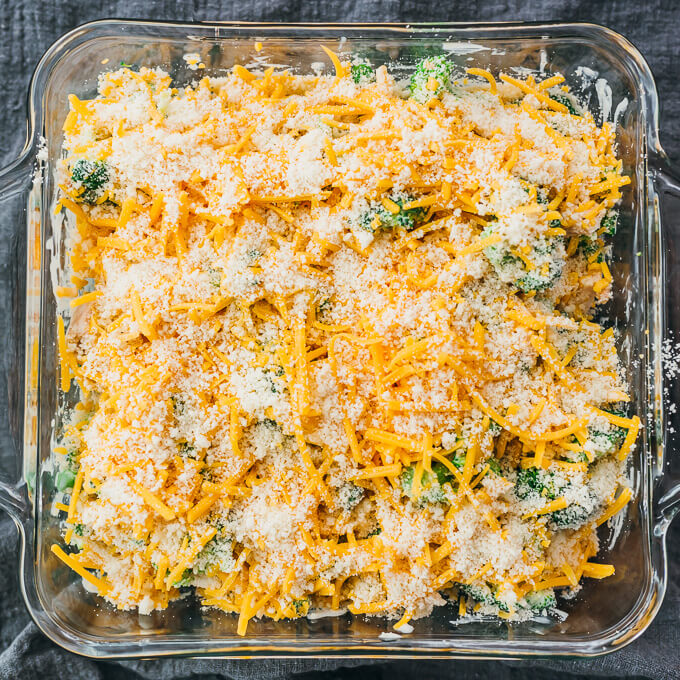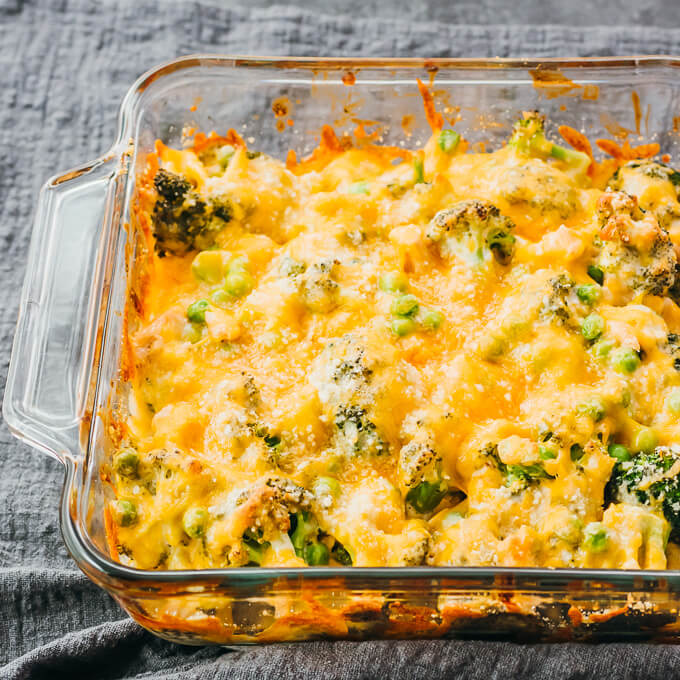 NOTES & TIPS
(1) Tuna. I use water-packed solid albacore tuna, typically packaged in a standard 5-ounce can. Don't like tuna? You can use other canned meat like salmon. Remove any bones, and follow the recipe instructions by draining and flaking the meat before adding it to the casserole.
(2) Broccoli Florets. About 12 ounces raw weight. You can cut florets from a head of broccoli, or you can buy a bag of pre-cut florets located in the refrigerated produce section of many U.S. grocery stores. I recommend cutting the florets into smaller pieces (no larger than 2 inches) so that they cook quickly and are more likely to be evenly distributed in the casserole. I use fresh florets, but frozen should be fine — you may need to cook them longer in the microwave and thoroughly drain to remove moisture.
(3) Cheddar Cheese. About 6 ounces weight. I like the bright yellow color that cheddar brings to this casserole, but you can substitute with any kind of shredded soft cheese that melts easily, like shredded mozzarella, pepper jack, or provolone.
(4) Parmesan Cheese. This is finely grated parmesan that has a sandy or almost powdery texture (not shredded), available in pre-grated bags in the refrigerated section of U.S. grocery stores. This can be substituted with similar cheeses like pecorino romano or asiago.
(5) Baking Dish. I use a glass 8×8-inch baking dish and do not grease or line. If you use a metal pan, your baking time may be different from mine since glass transfers heat differently than metal.
(6) Serving / Leftovers. This recipe yields one 8×8 inch casserole, which is divided into four servings. Each serving is a dinner-sized portion, and can be topped with sour cream or avocado. Enjoy it alongside other low carb dishes like cauliflower mac-and-cheese, roasted vegetables, or mashed turnips. Leftovers can be stored in an airtight container in the refrigerator for up to 3 days. They reheat well in the microwave and in the oven.