Summary:
Not your classic tuna noodle casserole -- this is an easy tuna casserole recipe with only six ingredients, including broccoli, cheddar cheese, and ranch dressing. Find more Keto and Low Carb Casserole Recipes.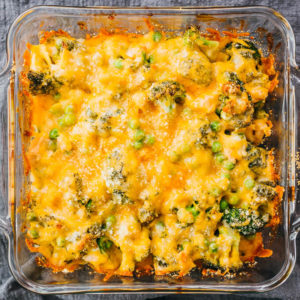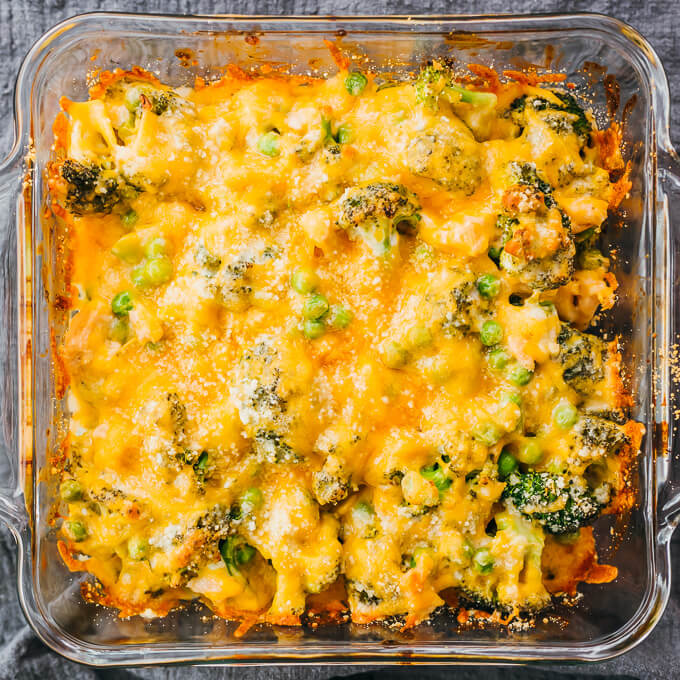 Tuna & Broccoli Casserole
INGREDIENTS
1

(5-ounce)

can water-packed solid albacore tuna

6

cups

small broccoli florets (12 ounces weight)

(I save prep time by buying a bag of ready-to-use fresh broccoli florets, and cut some of the larger florets into smaller pieces)

1.75

cup

shredded cheddar cheese (6 ounces weight)

1

cup

frozen green peas

1

cup

ranch dressing

(store-bought or try this fantastic homemade one)

1/4

cup

finely grated parmesan cheese
INSTRUCTIONS
Cut any broccoli florets larger than 2 inches into smaller florets. Cover and microwave the broccoli until tender, about 5 minutes. Let it drain and steam out on paper towels.

Drain the can of tuna. Pat dry with paper towels. Flake the tuna with a fork so there are no large chunks.

Directly in the baking dish: add broccoli, tuna, peas, ranch dressing, and half of the cheddar cheese. Carefully stir until well-mixed.

Evenly top with remaining cheddar cheese. Sprinkle parmesan cheese on top.

Bake at 375 F until heated through and starting to brown on top, about 25 minutes. Let it rest for 5 minutes until the bubbling subsides before cutting into it.
NUTRITION
Makes 4 Servings
Amount Per Serving:
| | |
| --- | --- |
| Calories 510 (75% from fat) | |
| Total Fat 42g | 65% |
| Saturated Fat 13g | 64% |
| Cholesterol 59mg | 20% |
| Sodium 1240mg | 52% |
| Net Carb 6g | |
| Total Carb 9.5g | 3% |
| Dietary Fiber 3.5g | 15% |
| Sugars 4.5g | |
| Protein 23g | |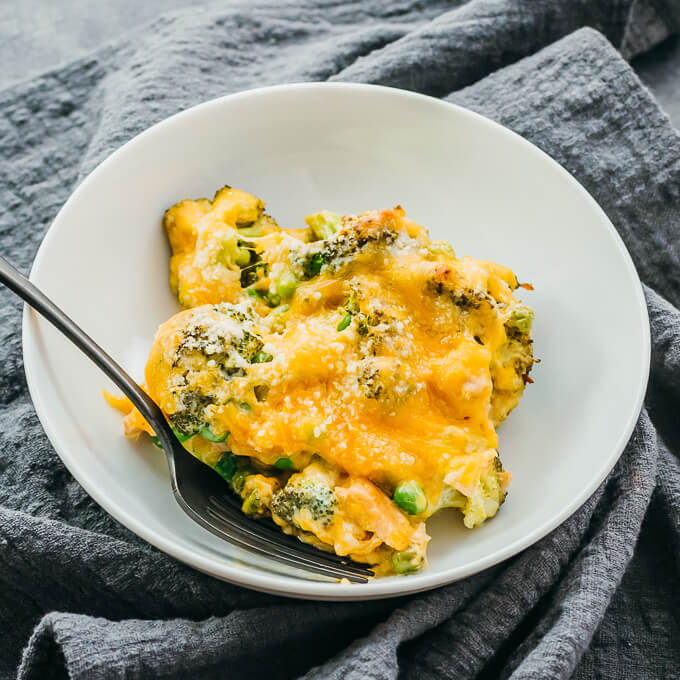 This is one of my favorite winter comfort foods, and it was inspired by my chicken bacon ranch casserole and classic tuna noodle casseroles.
It has some common elements that you would find in traditional tuna casseroles, like green peas. Other than that, I've converted it to a keto friendly casserole by skipping noodles and milk, substituting them with low carb ingredients like broccoli, cheddar cheese, and ranch dressing.
The tuna taste is definitely there, but not dominant or overpowering. This casserole will appeal to almost everyone, even those who don't usually like tuna. It's incredibly comforting to eat, and has a very creamy and cheesy texture.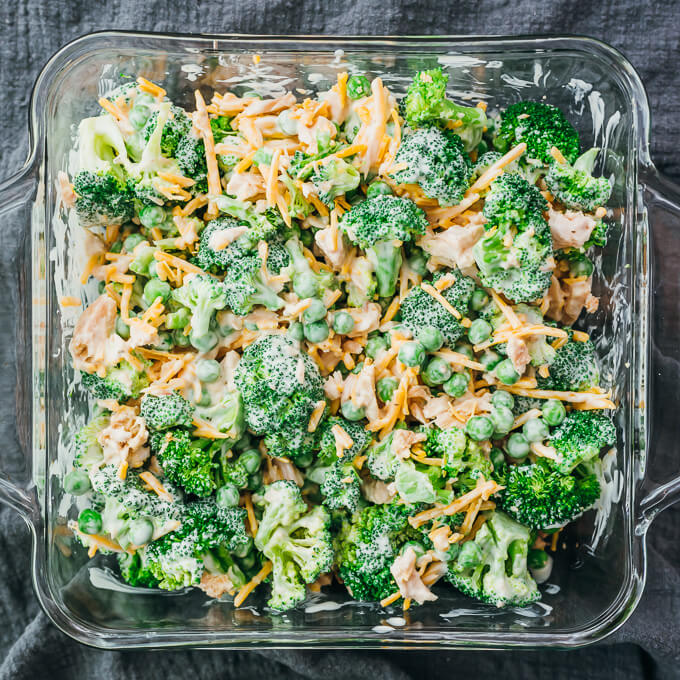 You can customize this casserole to your liking by adjusting various ingredients.
Instead of broccoli, you can substitute cauliflower florets. Use the same amount and pre-cook them by steaming or microwaving. This allows the moisture to escape instead of being released into the casserole and watering it down.
Don't like tuna? You can use other canned meat like salmon or other fish. Follow the recipe instructions as directed by draining and flaking the meat before adding it to the casserole.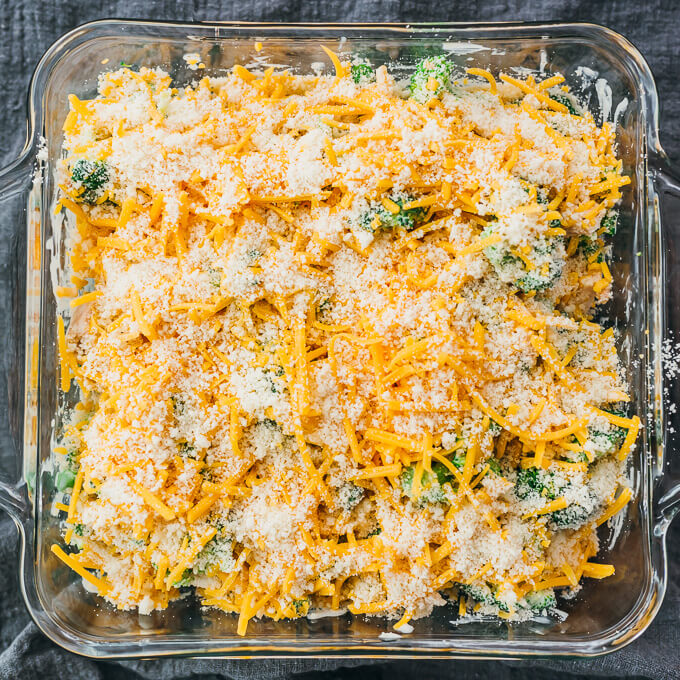 I use cheddar cheese because I'm a fan of its taste and the splash of orange it brings to any dish. You can substitute all or some of it with your favorite soft shredded cheese such as mozzarella or pepperjack.
Instead of store-bought classic ranch dressing, you can make this fantastic homemade ranch dressing that I often use in chicken casseroles. Or you can skip plain ranch and opt for one of its many varieties available at grocery stores, like extra creamy, jalapeño, chipotle, buttermilk, bacon, or light.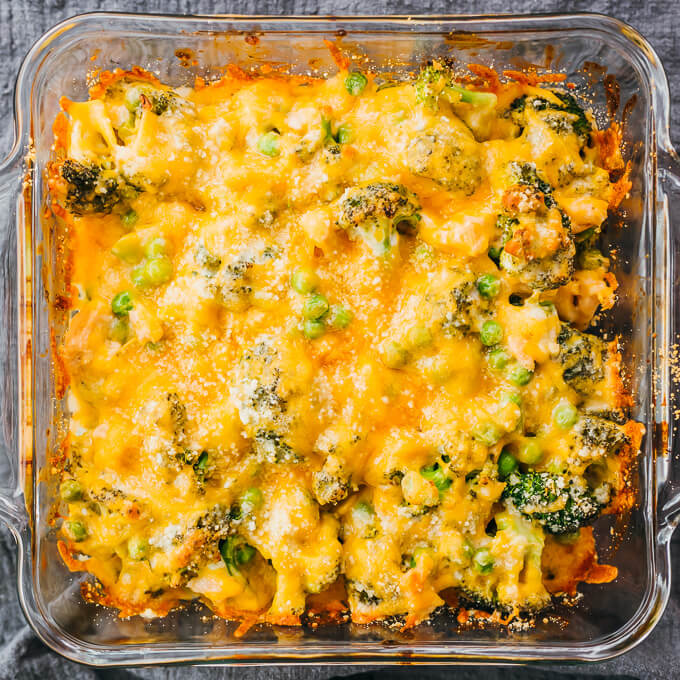 For more healthy casserole recipes, check out keto shepherd's pie, which is a rich meaty casserole topped with cauliflower mash, and zucchini lasagna, which is so good that you won't miss the lasagna noodles at all.
Enjoy!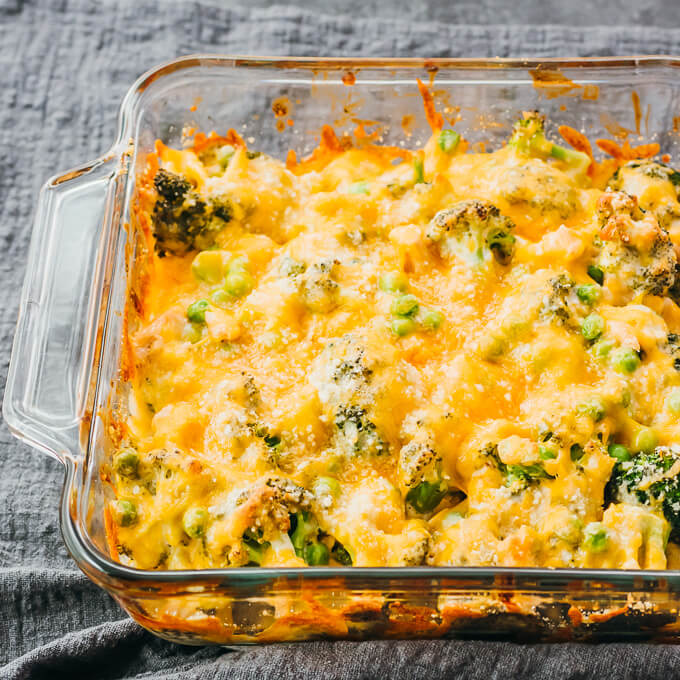 More Comforting Low Carb Meals