Summary:
This is a versatile and fuss-free method of cooking salmon in the Instant Pot, whether you're using fresh or frozen, skin on or off. This simple recipe yields tender and flaky salmon, paired with a flavorful chili-lime sauce. Great seafood dinner option for keto, low carb, and paleo diets.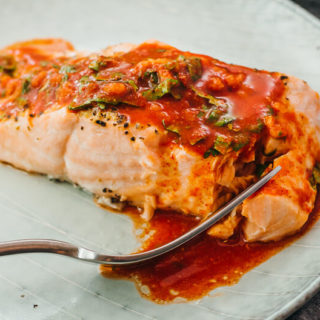 Instant Pot Salmon Recipe
INGREDIENTS
Salmon:
2

(5- to 7-ounce)

salmon fillets (Notes 1-3)

1

cup

water

1/4

teaspoon

table salt

1/4

teaspoon

ground black pepper
optional nonstick oil spray
Chili Lime Sauce:
2

cloves

garlic, minced

1

tablespoon

sriracha

1

tablespoon

freshly squeezed lime juice

1

tablespoon

finely chopped fresh cilantro (Note 4)

2

teaspoons

hot water

1/2

teaspoon

smoked paprika

1/2

teaspoon

ground cumin
INSTRUCTIONS
Make Sauce: Stir all sauce ingredients together with spoon in small bowl until well-mixed. Set aside at room temperature to let flavors develop while you prepare salmon.

Cook Salmon (Note 7): Secure and seal lid to pressure cooker. Select steam mode at high pressure. For fresh salmon, set cooking time to 3 minutes. For frozen salmon, set cooking time to 8 minutes. After pressure cooking (as soon as timer beeps), perform quick pressure release to avoid overcooking fish.

Serve (Note 8): Uncover pot, and use spatula and/or tongs to carefully transfer salmon to serving plates. Give chili lime sauce a quick stir, and spoon over salmon fillets. Serve immediately.
NUTRITION
Makes 2 Servings
Amount Per Serving (1 fillet with sauce):
| | |
| --- | --- |
| Calories 310 |   |
| Total Fat 18g | 28% |
|    Saturated Fat 4g | 22% |
| Cholesterol 78mg | 26% |
| Sodium 490mg | 21% |
| Net Carb 2.5g |   |
| Total Carb 3g | 1% |
|    Dietary Fiber 0.5g | 1% |
|    Sugars 1.5g |   |
| Protein 28g |   |
PHOTOS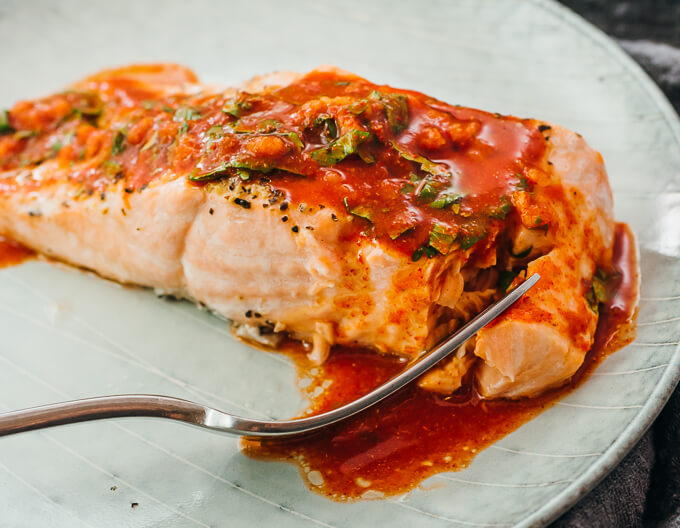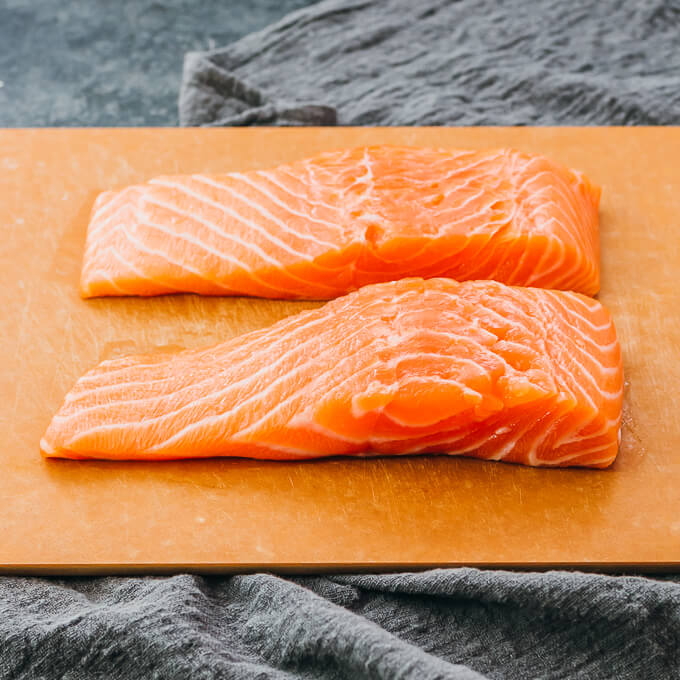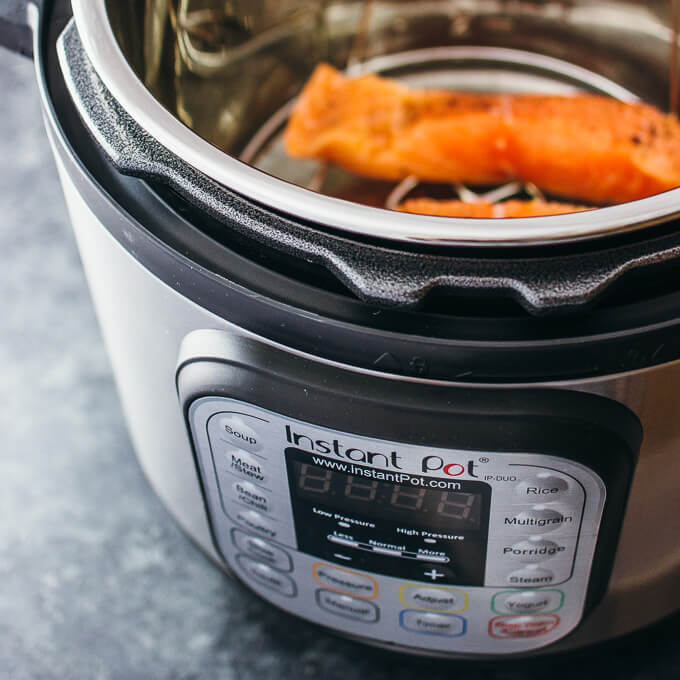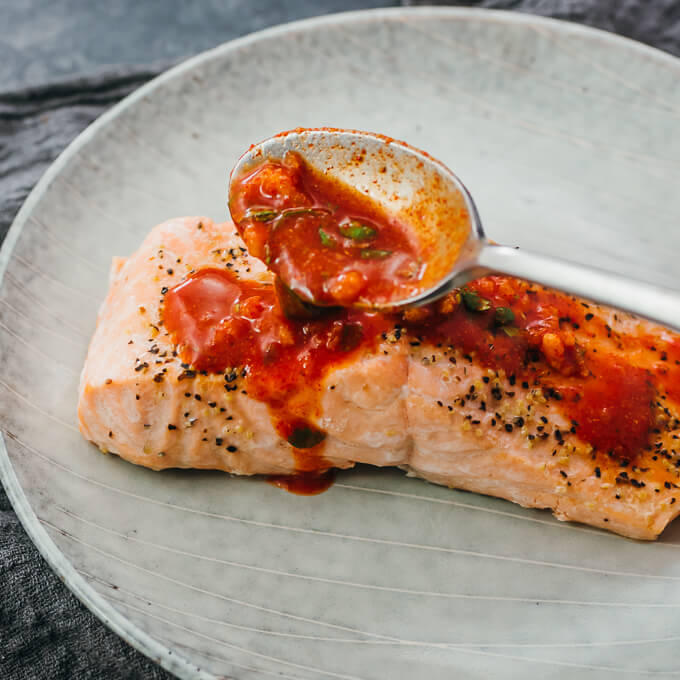 NOTES & TIPS
(1) Fresh Or Frozen Salmon. Either works. I personally prefer salmon cooked from fresh rather than from frozen; it yields a better texture and tenderness. If you have the time, I recommend defrosting your frozen salmon overnight in the refrigerator, rather than cooking directly from frozen.
(2) Salmon Cut & Thickness. Select salmon cut from the center rather than from the tail. This is important because you'll have more evenly sized fillets, which will cook uniformly. Also, the pressure cooking time listed in the recipe is designed for center-cut fillets, which are about 1 inch thick in the thickest part, whereas the tail is much thinner. If you use a tail piece, you may have trouble fitting both fillets on the trivet without overlapping each other.
(3) Salmon Skin. You can use skin on or off. If yours has skin attached, keep it on because it will make it easier to transfer the cooked salmon from the Instant Pot onto serving plates; the skin helps hold the flaky salmon together. It will also make the salmon less likely to stick to the trivet. Don't worry about removing the skin later — once cooked, the skin falls off effortlessly.
(4) Cilantro. Can be substituted with parsley.
(5) Pressure Cooker Equipment. I use a 6-quart Instant Pot. For the steam rack, I use the trivet that came with my Instant Pot, positioning it with handles resting on the sides of the pot.
(6) Nonstick Oil Spray. If you are using skin-off salmon, spray the trivet with a nonstick oil spray to help release the salmon after cooking. This is usually not necessary for skin-on salmon which releases easily.
(7) Pressure Cooking. Before cooking, remember to seal the pressure cooker by turning the pressure knob from "venting" to "sealing." After cooking, to perform a quick pressure release, turn the knob back to "venting" and wait for the pressure pin to drop before uncovering. If you scale the ingredients up or down to accommodate a different number of servings, the pressure cooking time remains the same.
(8) Serving. Handle cooked salmon carefully because it's soft and flaky, and may fall apart or stick to the trivet if you're not careful. Serve promptly because salmon will cool down quickly. You can serve with side dishes like oven roasted vegetables or creamed spinach.