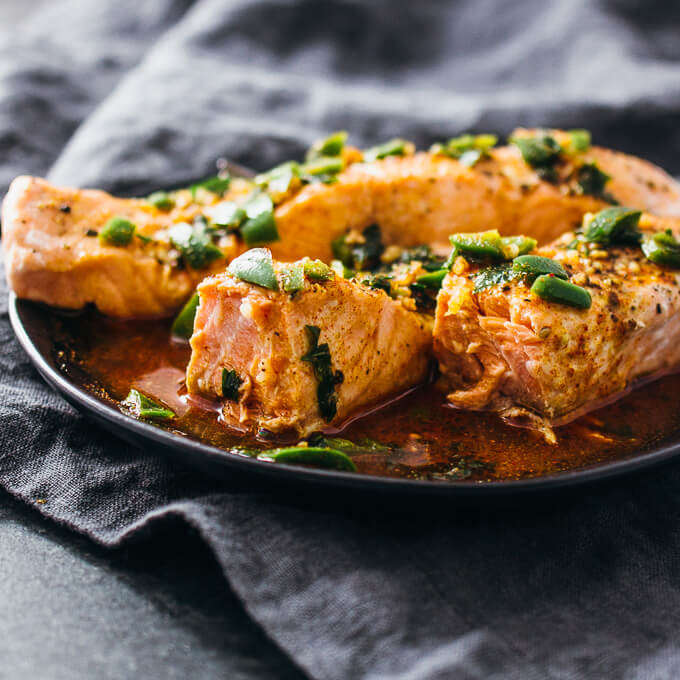 Instant Pot Salmon With Chili-Lime Sauce
DESCRIPTION
Make this Instant Pot salmon dish — the salmon cooks perfectly in just 5 minutes in a pressure cooker, with minimal cleanup.
INGREDIENTS
For steaming salmon:
2

salmon fillets

5 ounces each

1

cup

water

sea salt

to taste

freshly ground black pepper

to taste
INSTRUCTIONS
Combine and mix all sauce ingredients in a bowl with a pourable lip. Set aside.

Add water to the

pressure cooker

. Place salmon fillets on top of a steam rack inside the pot.

Season the top of the salmon fillets with salt and pepper to your liking.

Cover and lock the lid. Select the steam mode and adjust the cooking time to 5 minutes at high pressure.

When the pressure cooker is finished, use the quick release handle to release steam pressure and to stop the cooking.

Open the lid and transfer the salmon to a serving plate. Drizzle with chili-lime sauce and serve.
NUTRITION
This recipe yields 10 g net carbs per serving.
Nutrition Facts Per Serving
| | |
| --- | --- |
| Calories 400 |   |
| Total Fat 25g | 39% |
|    Saturated Fat 5g | 27% |
|    Trans Fat 0g |   |
| Cholesterol 78mg | 26% |
| Sodium 90mg | 4% |
| Potassium 580mg | 17% |
| Total Carb 10.5g | 4% |
|    Dietary Fiber 0.5g | 2% |
|    Sugars 9g |   |
| Protein 29g |   |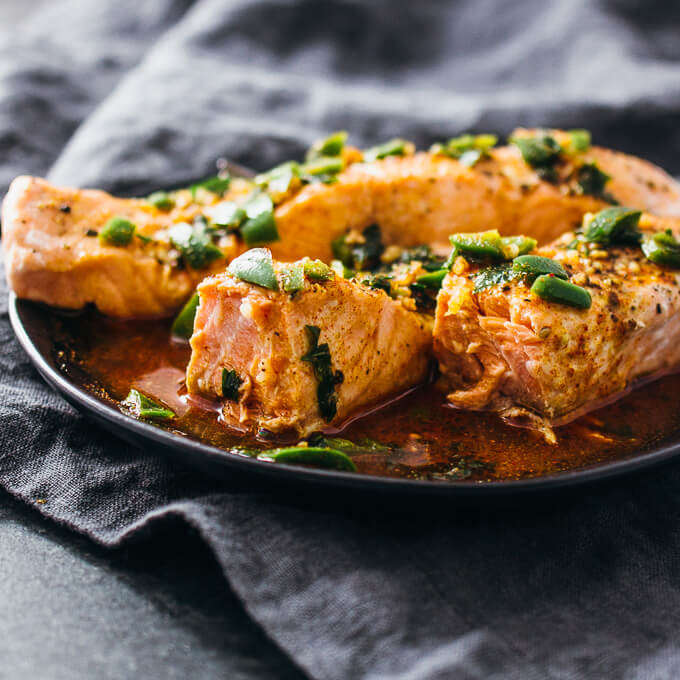 Last weekend, I decided to give pressure cooking a try. I used a multi-functional cooker from Instant Pot that serves as pressure cooker, rice cooker, slow cooker, yogurt maker, steamer, warmer, and more. You can even use it to sauté and brown your meats. I thought it would take me a while to learn how to operate it, but it's been surprisingly easy to use.
I first experimented with cooking fish in the pressure cooker, and learned how to make perfectly cooked salmon in just 5 minutes. In today's recipe you'll find instructions on how to do this as well as a delicious chili-lime sauce recipe to accompany the salmon.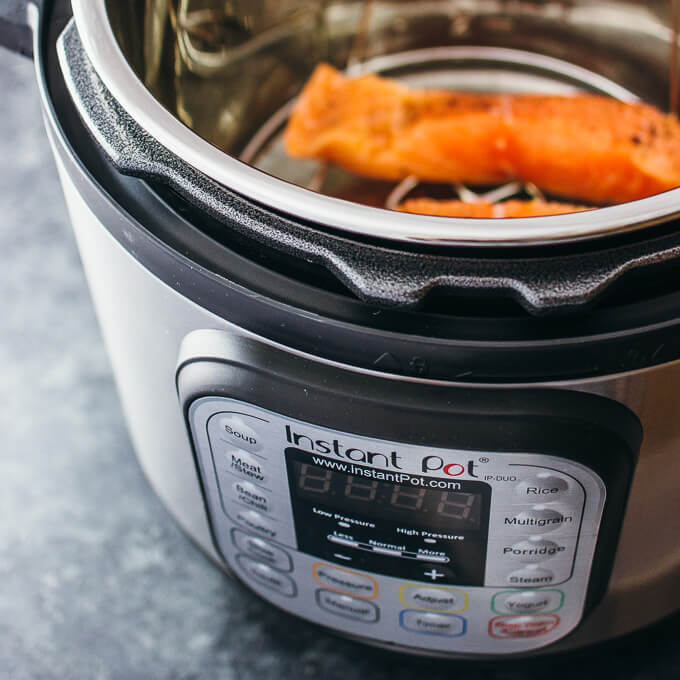 Here are some of the things I've learned from using my Instant Pot pressure cooker:
Fast. Pressure cooking is usually twice as fast as normal cooking, and sometimes even faster than that. However, it's necessary to wait for the cooker to build up pressure before it can cook. How fast this occurs depends on the amount of liquid; it takes as little as a few minutes for 1-2 cups of liquid.
Easy. I thought it would be hard to learn how to use this new cooking appliance, but it wasn't the case at all. I push a button to give it instructions and to allow it to reach pressure, and then I flip a handle to release pressure when it has finished cooking.
Steam release options. You can either use the quick release handle or let it naturally release its steam. The quick release handle is preferable because it's faster, but is not suitable for food with large liquid volume (such as soups) or with high starch content that might splatter out.
Minimal cleanup. All I have to do is clean up the pressure cooker's stainless steel inner pot and maybe a steam rack. Overall, there is less cleanup compared to my stovetop or oven recipes.
Fewer appliances. This appliance replaces my slow cooker and rice cooker, so I now have extra room on my kitchen counters. I like how a single appliance can perform a variety of functions.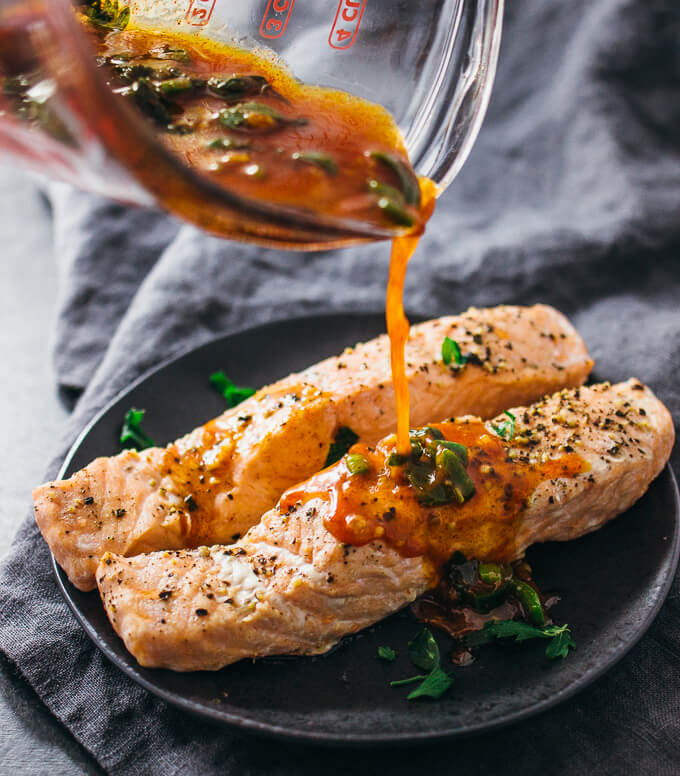 When it comes to seafood/fish and pressure cooking, most people are wondering, "How long do I pressure cook salmon or other fish/seafood in the Instant Pot?" It only takes 5 minutes to cook a fresh salmon fillet at the high pressure setting. I use the steaming function on the pressure cooker and place the salmon on a steamer rack along with 1 cup of water. You can apply these instructions to other fresh whole fish fillets such as trout or snapper. If you have frozen fish, I recommend defrosting it first.
Other types of seafood can be cooked in this manner as well, such as crab, lobster, mussels, and shrimp/prawns. You'll be surprised at how fast it cooks, so make sure you have all accompanying side dishes ready before you begin. It took me longer to assemble my salmon's chili-lime sauce than to actually cook the salmon in the pressure cooker, so I recommend making the sauce first and having it ready before cooking.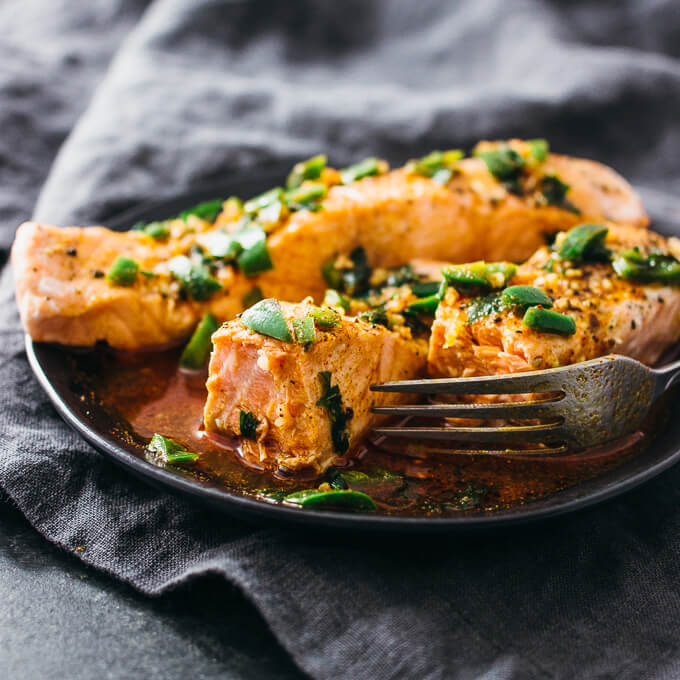 MORE DELICIOUS INSTANT POT RECIPES: