A flavorful Brazilian fish stew with coconut milk and tomatoes, also called moqueca, made in the Instant Pot pressure cooker. Low carb, keto, paleo, and gluten free.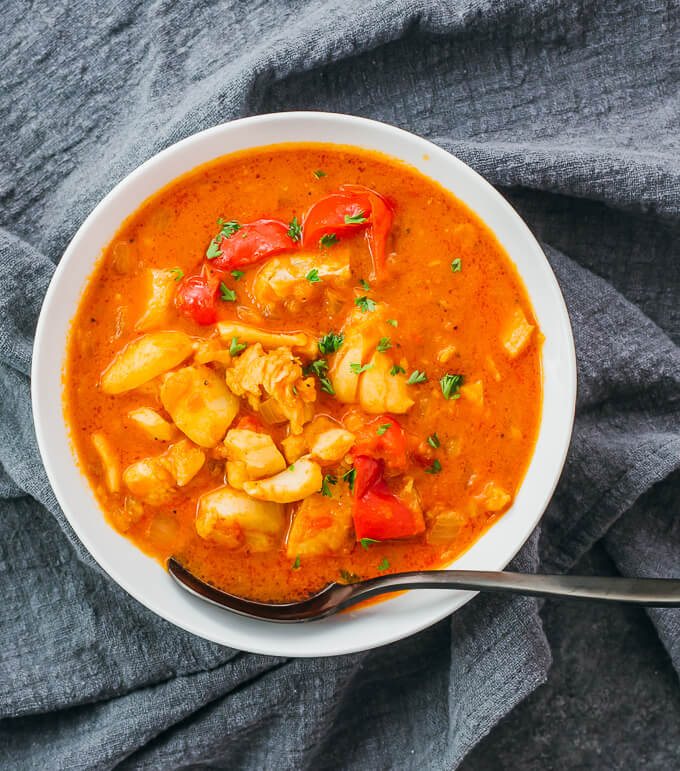 Recipe Overview
Moqueca is a fantastic seafood stew with white fish. The stew base is made with coconut milk, which gives it a creamy texture and feel. It tastes like a thick and hearty meal, but isn't actually very caloric. I feel like I'm eating at a fancy Brazilian restaurant every time I make this.
To me, this dish is all about the stew base, and not so much the fish. After all, it's just white fish, which is pretty bland by itself. What really shines in this recipe is the base, which includes coconut milk, crushed tomatoes, vegetables, broth, and spices. Since the fish is merely a vehicle to transport more of the delicious stew into your mouth, I tell people that this is a dish you'll love even if you don't usually like white fish.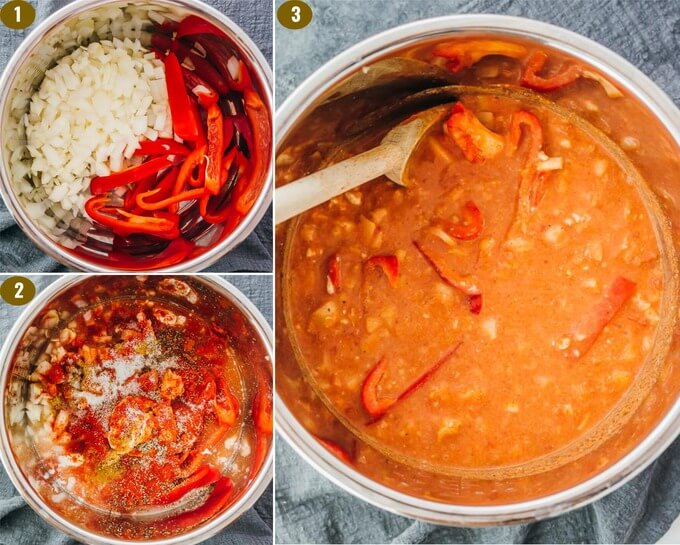 Making Moqueca In The Instant Pot
I usually think of cooking appliances like the slow cooker and pressure cooker as primarily cold weather appliances, since they excel at making stews and soups.
Turns out I was wrong. I've actually been using my Instant Pot more than ever during this past summer, making things like Turkey Chili and Bacon Pork Chops. Unlike oven or stovetop dishes, using my Instant Pot doesn't heat up the kitchen. It's perfect for hot weather days, when the last thing I want to do is cook anything that's going to heat up the house.
The Instant Pot does a spectacular job with this seafood stew by bringing out the flavors of various ingredients. To adapt this Brazilian dish for the Instant Pot, I started with this stovetop version and made some ingredient tweaks as well as optimizing cooking times for the pressure cooker.
For reference, I developed this recipe using a 6 quart Instant Pot. Smaller pressure cookers should work just fine, as long as their maximum capacity is at least 7 1/2 cups, which is the approximate volume of this recipe. Larger pressure cookers will also work, and if you decide to double the recipe, note that the pressure cooking time should remain the same.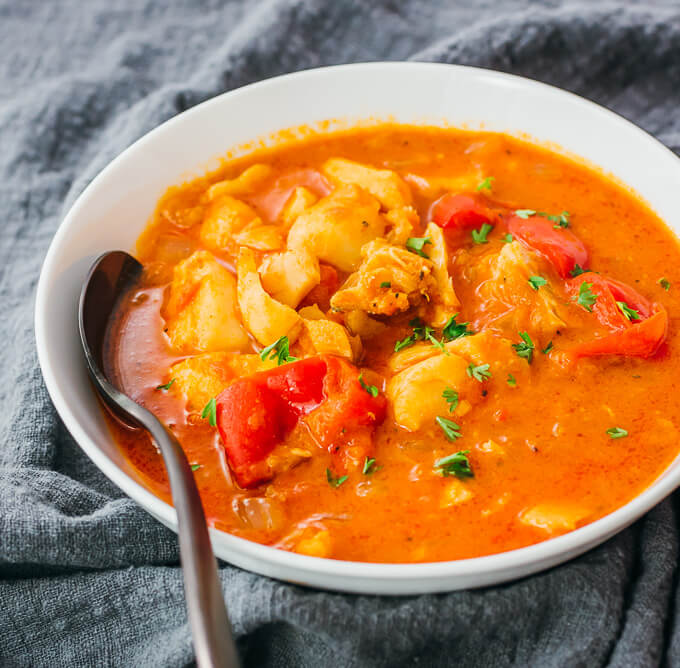 Ingredient Tips
Some of the ingredients are worth pointing out:
Note the amounts used for crushed tomatoes and coconut milk. In the U.S., crushed tomatoes are usually sold in 28 ounce cans, and the recipe calls for 14 ounces, so you should only use half a can. The same goes for coconut milk, which usually comes in larger sizes than what the recipe uses.
I use seafood broth, but fish broth will also work well. I use a low sodium version, but regular is fine too. If you're worried about this seafood stew being overly salty, you can start off with less salt and add more to taste after it's done cooking.
I give a range of amounts for cayenne. The lower amount is for mild spiciness, which is actually my preference because it allows me to taste the other flavors without being overpowered by cayenne. The higher amount is for moderate spiciness, which is for anyone who loves spicier foods. If you're not sure what to use, start with the smaller amount and add more later if it's not spicy enough.
I recommend using white fish that's on the firmer side. I usually use fresh cod because it's readily available at my local grocery store, but halibut should work well too. Since the white fish isn't a crucial component of this stew, I think that substituting other fish like salmon, or even other kinds of seafood like shrimp would also work well. The seafood component is added at the end of the recipe, so just stir it in until it's cooked through. You can tell when the fish is done because the flesh looks less tight and more flaky. I don't recommend using frozen fish because it'll exude a lot of liquid into the stew, so make sure to thaw it first.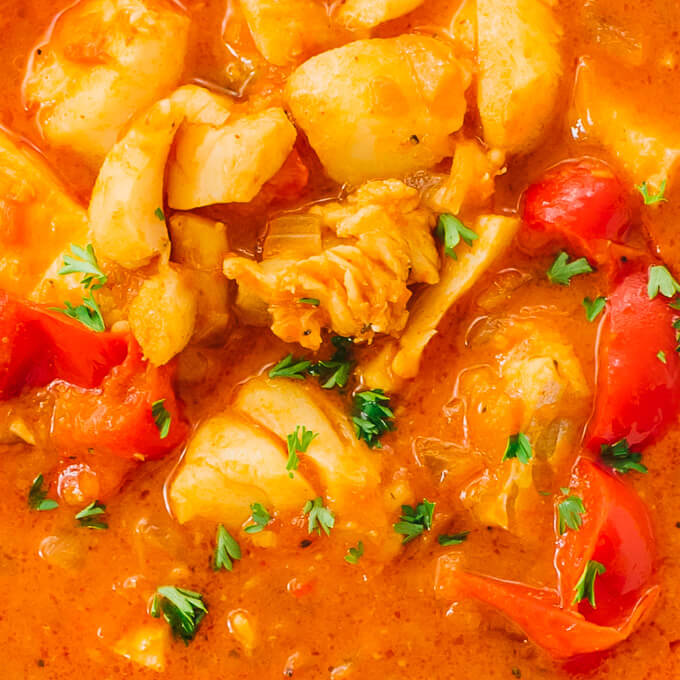 Serving and Leftovers
This fish stew is really hot when it's done, so give it 5 to 10 minutes after cooking to cool down a bit before enjoying.
If you have leftovers, you're in luck. I think this fish stew is even better the next day, after the flavors have had a chance to get acquainted with each other.
You can reheat leftovers in the microwave, but be careful not to overheat because you can easily ruin the texture of the fish by overcooking it.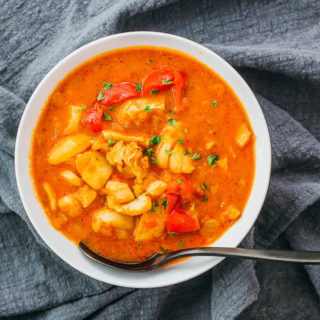 Instant Pot Brazilian Fish Stew (Moqueca)
DESCRIPTION
A flavorful Brazilian fish stew with coconut milk and tomatoes, also called moqueca, made in the Instant Pot pressure cooker. Low carb, keto, paleo, and gluten free.
INGREDIENTS
Stew Base:
1

onion

diced

1

red bell pepper

sliced

5

cloves

garlic

minced

14

ounces

canned crushed tomatoes

8

ounces

seafood or fish broth

6

ounces

canned full-fat coconut milk

2

tablespoons

coconut oil

1

tablespoon

ground cumin

1

tablespoon

smoked paprika

1

teaspoon

salt

1/2

teaspoon

black pepper

1/4 to 1/2

teaspoon

ground cayenne (mild to moderate spiciness)
For Finishing:
1 1/2

pounds

firm white fish

like cod or halibut

2

tablespoons

coconut oil

1

tablespoon

lime juice

1

tablespoon

chopped fresh cilantro or parsley
INSTRUCTIONS
Add all stew base ingredients to the

pressure cooker

pot, and stir until well-mixed.

Secure and seal the lid. Cook for 10 minutes at high pressure, followed by a 10 minute natural release. Manually release remaining pressure.

Uncover and turn on the saute mode on the pressure cooker for medium heat. Let the stew boil for 10 minutes to thicken the sauce, stirring frequently. While waiting for the stew to thicken, proceed to the next step to prepare the fish.

Remove any skin and bones from the fish, and pat dry with paper towels if moist. Cut into 1 inch pieces.

When the stew has thickened, stir in fish until cooked through, about 5 minutes.

Turn off the saute mode. Stir in coconut oil and lime juice until combined. Serve in bowls, and top with chopped cilantro or parsley.
NUTRITION
This recipe yields 7 g net carbs per serving (1 1/2 cups or 1/5th of the recipe).
Nutrition Facts Per Serving
| | |
| --- | --- |
| Calories 320 |   |
| Total Fat 18g | 27% |
|    Saturated Fat 14g | 72% |
|    Trans Fat 0g |   |
| Cholesterol 60mg | 20% |
| Sodium 370mg | 15% |
| Potassium 110mg | 3% |
| Total Carb 10g | 3% |
|    Dietary Fiber 3g | 11% |
|    Sugars 5.5g |   |
| Protein 27g |   |
Liked this recipe?
Sign up for email updates!
More Instant Pot Dinner Ideas