Summary:
This Instant Pot Fish Stew is inspired by the Brazilian dish moqueca, combining coconut milk, tomatoes, and spices to form a richly flavorful stew. It's a great seafood recipe for diets such as keto, low carb, paleo, and gluten free.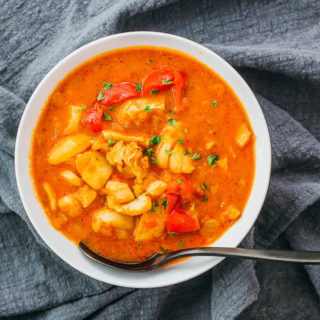 Instant Pot Brazilian Fish Stew Recipe
INGREDIENTS
Stew Base:
1

onion, finely chopped

(I use a yellow onion)

1

red bell pepper, sliced

5

cloves

garlic, minced

(I use a garlic press)

1

(14-ounce)

can crushed tomatoes

1

cup

seafood or fish broth

3/4

cup

canned full-fat coconut milk

(I use the brand Goya and thoroughly shake the can before opening since the fat may have separated; avoid low-fat versions)

2

tbsp

coconut oil

1

tbsp

ground cumin

1

tbsp

smoked paprika

1

tsp

table salt

1/2

tsp

ground black pepper

1/4

tsp

ground cayenne

(this yields mild spiciness)
For Finishing:
1.5

lb

fresh or thawed white fish

(firm white fish like cod or halibut is ideal; you can use more delicate fish like tilapia if you don't mind some pieces falling apart during cooking)

2

tbsp

coconut oil

1

tbsp

fresh lime juice

1

tbsp

chopped fresh cilantro or parsley leaves
INSTRUCTIONS
Add all stew base ingredients to the pressure cooker pot (I use a 6-quart Instant Pot), and stir until well-mixed.

Secure and seal the lid. Cook for 10 minutes at high pressure. While waiting for it to cook, proceed to the next step to prepare the fish.

Remove any skin and bones from the fish, and pat dry with paper towels if moist. Cut into roughly 1 inch pieces. Set aside.

After pressure cooking has completed, let it naturally release pressure for 10 minutes. Then manually release remaining pressure.

Uncover, and turn on the saute mode on the pressure cooker for medium heat to bring to a boil. Let the stew boil for about 10 minutes to thicken into a stew-like consistency, stirring frequently.

Stir in the fish until cooked through, about 5 minutes. Fish is done when it flakes easily with a fork and is no longer translucent.

Turn off the saute mode. Stir in coconut oil and lime juice until combined. Serve in bowls, and top with chopped cilantro or parsley. The soup will be very hot, so let it cool 10 minutes before enjoying.

Leftovers: Store leftovers in a covered container in the refrigerator for up to 3 days. Reheat in the microwave or bring to a simmer on the stovetop (avoid overheating, which will overcook the fish). This stew often tastes better the next day, after the flavors have gotten acquainted with each other.
NUTRITION
Makes 5 Servings
Amount Per Serving (1.5 cups):
| | |
| --- | --- |
| Calories 330 | |
| Total Fat 18g | 27% |
| Saturated Fat 15g | 76% |
| Cholesterol 59mg | 20% |
| Sodium 690mg | 29% |
| Net Carb 7g | |
| Total Carb 10g | 3% |
| Dietary Fiber 3g | 11% |
| Sugars 5.5g | |
| Protein 28g | |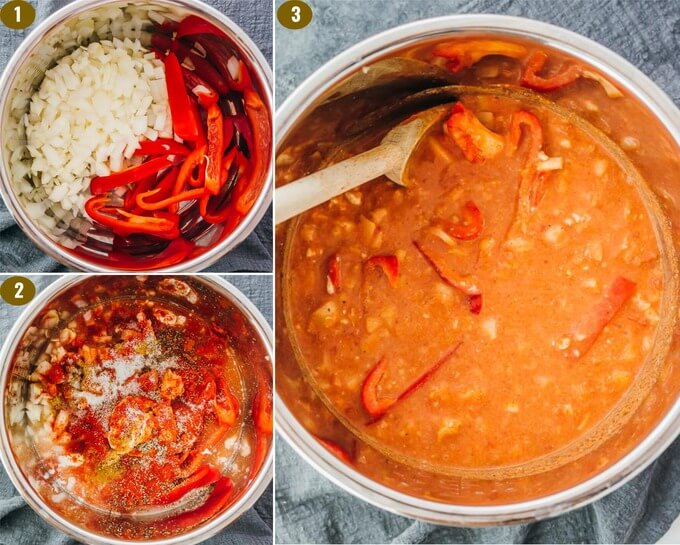 🔆 Try These Variations
This recipe calls for firm white fish, but you can use other fish and types of seafood depending on what you have on hand. Since the seafood component is added at the end of the recipe, just stir it into the stew for a few minutes or until it's cooked through. In the comments below, readers have shared their successful experiences using other seafood such as shrimp, sea bass, scallops, mussels, and calamari.
If you love a spicy stew, then double the cayenne. As written, this stew has a low spiciness level, just mildly hot from the 1/4 tsp of cayenne. This is my preference because it allows the other flavors to shine without being overpowered by cayenne, but you can add more to taste after cooking.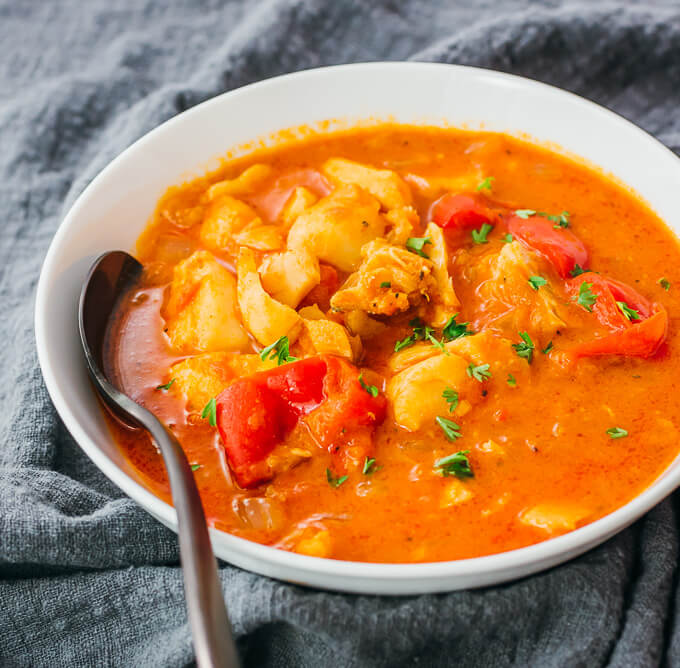 ❕ Tips For Success
Note the amounts used for crushed tomatoes and coconut milk. In the U.S., crushed tomatoes are often sold in 28 ounce cans, and the recipe calls for 14 ounces, so you should only use half a can. The same goes for coconut milk, which usually comes in larger sizes than what the recipe uses.
Thaw your frozen fish. I don't recommend cooking directly from frozen because it'll exude a lot of liquid into the stew.
If you're new to pressure cooking, avoid beginner mistakes such as forgetting to seal the lid (knob goes to the sealing position). Familiarize yourself with terminology such as natural release (don't touch any buttons and let the pressure cooker passively release pressure).
To scale the recipe, you can increase or decrease the ingredients proportionally, but the pressure cooking time should remain the same.
I use a 6-quart Instant Pot. If you are using a smaller capacity pressure cooker, make sure that its maximum capacity is at least 7.5 cups, which is the approximate volume of this recipe. Larger pressure cookers are fine.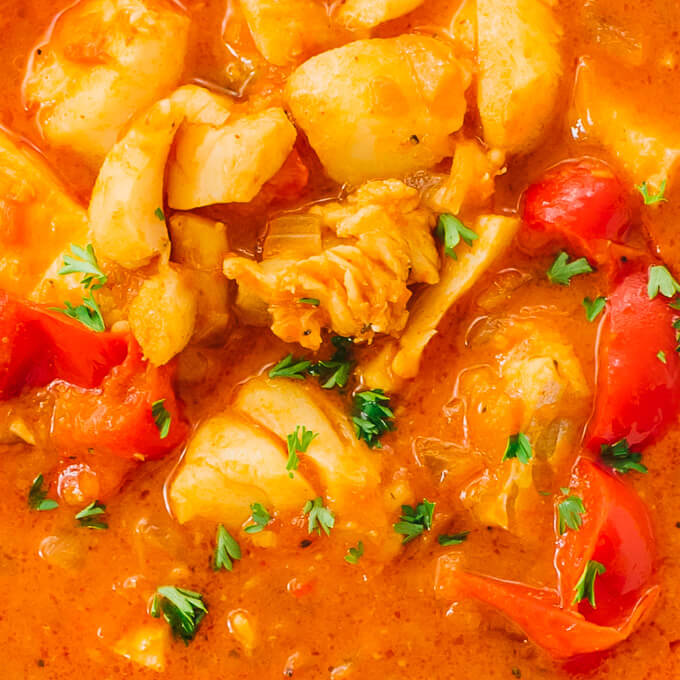 🔧 Behind The Scenes: Recipe Development
This recipe is inspired by the Brazilian dish moqueca, which is a seafood stew that traditionally uses palm oil, coconut milk, tomatoes, onions, garlic, lime, and cilantro. I developed this recipe by referencing a stovetop version; I adjusted the ingredients to suit my palette and optimized the cooking process for the pressure cooker.
To me, this dish is all about the stew base, and not so much the fish (which is why it can be substituted with other seafood, since it's just a vehicle for transporting stew into your mouth). What really shines in this recipe is the base — coconut milk adds a unique richness and creamy feel, and the spices work together beautifully.
I chose the pressure cooker for this stew because it does a spectacular job of blending the flavors together (tastes like you're eating at a fancy Brazilian restaurant) and for simplicity — most ingredients are tossed into the pressure cooker without fuss, almost a dump-and-go recipe.
More Instant Pot Stews & Soups