Summary:
Cookie dough fat bombs with chocolate chips and cream cheese -- bite-sized frozen treats that are tasty and convenient snacks for anyone on a keto or low carb diet. See more Keto Sweets.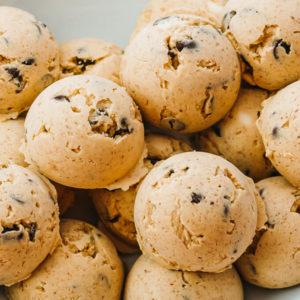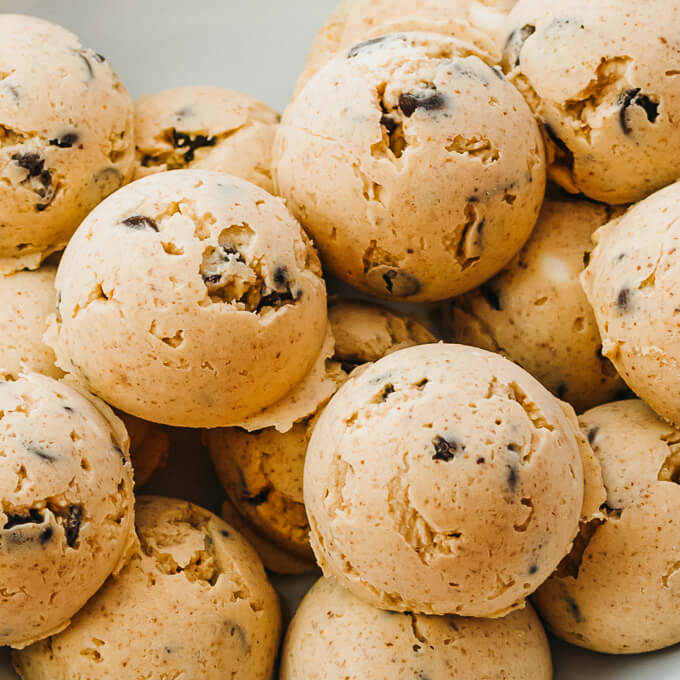 Chocolate Chip Cookie Dough Fat Bombs
(Ratings:
)
INGREDIENTS
1/2

(8-ounce)

brick cream cheese, room temperature

1/2

cup

sugar-free chocolate chips (3 ounces weight)

(I use Lily's baking chocolate chips)

1/4

cup

creamy almond butter or peanut butter (2 ounces weight), room temperature

4

tbsp

salted butter, room temperature

3

tbsp

granular swerve sweetener (1.5 ounces weight)

1

tsp

vanilla extract
INSTRUCTIONS
In a small bowl, microwave the cream cheese for 5 to 10 seconds until very soft and pliable. This is an optional step, but it makes the cream cheese softer and more easily combined with other ingredients.

In a large bowl, add all ingredients. Use an electric hand mixer and beat until well-mixed.

Scrape down any batter sticking to the beaters, and refrigerate for 30 minutes.

Using the chilled mixture, form 1-inch balls (15 to 20, depending how large yours are). You can do so by rolling into small balls and placing them in a single layer on a baking tray, or distributing the mixture among round silicone molds.

Freeze for 2 hours or until solid before serving. Store leftovers in a resealable bag in the freezer.
NUTRITION
Makes 17 Servings
Amount Per Serving (1 fat bomb):
| | |
| --- | --- |
| Calories 90 (87% from fat) | |
| Total Fat 9g | 13% |
| Saturated Fat 4g | 21% |
| Cholesterol 14mg | 5% |
| Sodium 50mg | 2% |
| Net Carb 1g | |
| Total Carb 3g | 1% |
| Dietary Fiber 2g | 7% |
| Sugars 0g | |
| Protein 2g | |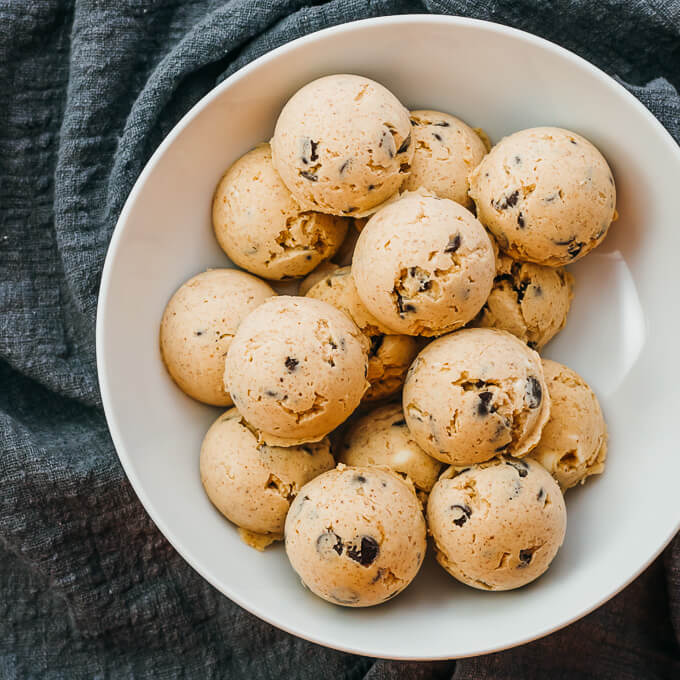 Recipe Overview
Ketogenic "fat bombs" are some of the most popular recipes on my blog this year. It's easy to see why; they're super easy to make (zero cooking), really tasty (even non-ketoers tell me how much they love them), and low carb/high fat. They're also really convenient because they store in the freezer and you can grab a quick bite whenever you have a sweet tooth.
Compared to my other fat bomb recipes — see Strawberry Fat Bombs, Lemon Cheesecake Fat Bombs, and Peanut Butter Fat Bombs — these cookie dough ones have a higher proportion of butter, which gives it a more "cookie dough' taste. They also have a bonus ingredient: mini chocolate chips!
To make these fat bombs, all of the ingredients are beaten together to form the batter, which is chilled and rolled into balls or divided into molds. Freeze them until solid and enjoy them as a cold treat.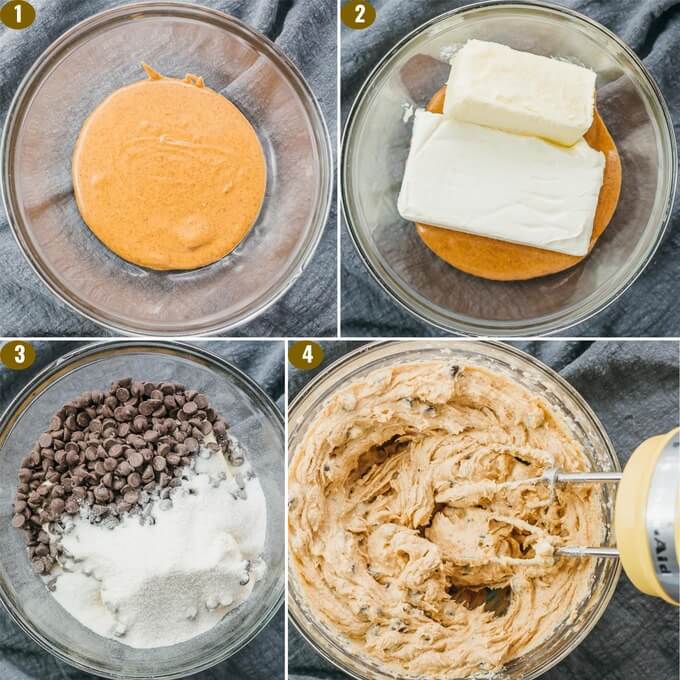 Selecting Ingredients
Some suggestions and things to watch out for when selecting ingredients:
Use regular, full fat cream cheese. Avoid low fat varieties or cream cheese spreads.
I recommend Lily's brand of baking chocolate chips because they're low carb (sweetened with stevia), and I buy them at Whole Foods. They're pretty small in size, so if you substitute with another brand, look for mini chocolate chips if possible.
These fat bombs are fantastic with almond butter, but peanut butter can work as well. Whichever one you use, choose creamy (not chunky) versions. It should also be "natural," which means no other ingredients are added besides almonds (or peanuts) and salt. If you're opening a new jar, there will likely be a lot of separation so vigorously stir until smooth before using. A tip for measuring anything sticky like almond butter: use a kitchen scale and measure by weight, so you don't need a measuring cup!
I recommend sugar free sweeteners and I use swerve, which is an erythritol blend that's a 1:1 substitution for sugar. Any other dry sweetener will work well. For best results, measure by weight not volume. Note that pure erythritol is only 70% as sweet as sugar, so you'll need to use more than listed in the recipe, and I also recommend powdering the granules using a Nutribullet.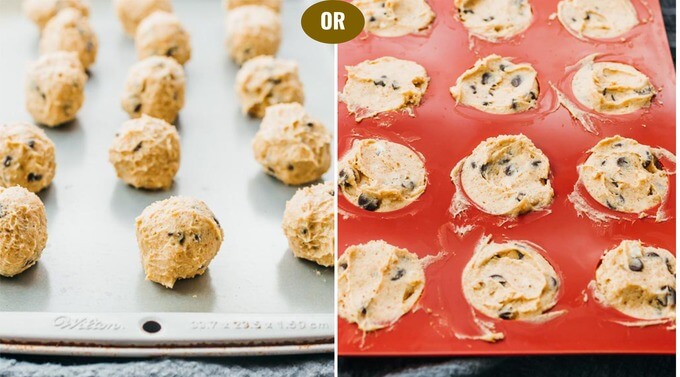 Working With The Batter
The batter comes together easily when you have both cream cheese and butter at room temperature. If you take both items out of the refrigerator about 30 minutes before starting the recipe, that should give them sufficient time to soften.
I usually zap the cream cheese in the microwave for 5 to 10 seconds until it's extra soft, which makes it easier to combine with other ingredients.
Once your batter is ready, you can either roll into balls or use a mold. I prefer using round silicone molds so my hands don't come into contact with the food and the final result is much prettier.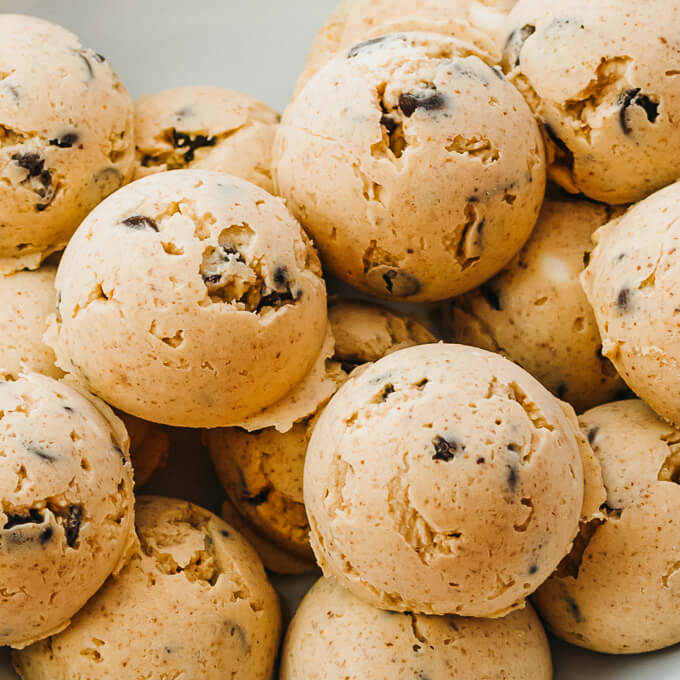 More Fat Bomb Flavors