Summary:
One of my favorite keto desserts, these addicting cookie dough fat bombs with chocolate chips are incredibly easy to make (no cooking involved) and help keep you in ketosis, with 87% of calories coming from fat. These treats have a higher proportion of butter compared to other fat bombs on this site, giving them a more "cooke dough" taste.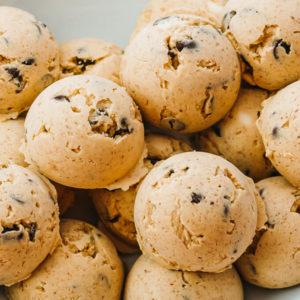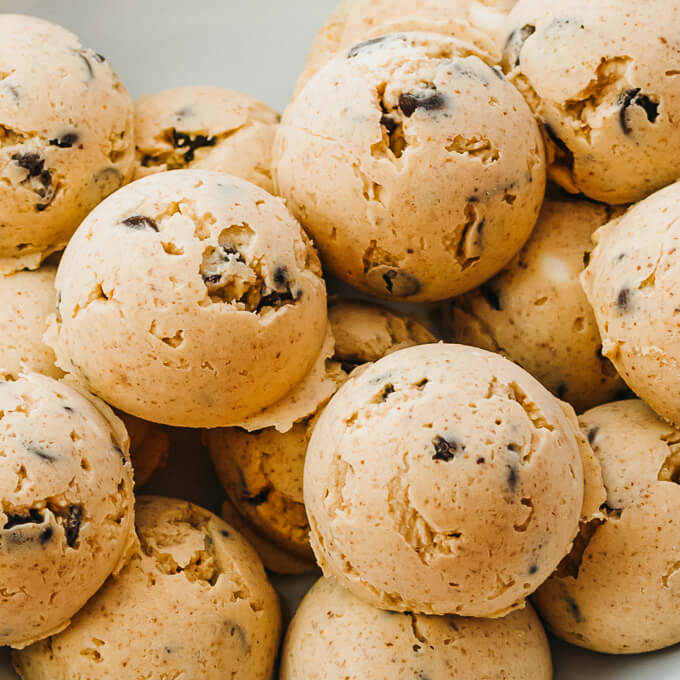 INGREDIENTS
INSTRUCTIONS
Soften Ingredients: Let cream cheese, nut butter, and butter sit at room temperature until softened, about 1 hour. Then microwave cream cheese in small bowl until very soft and pliable (Note 5), about 10 seconds.

Make Batter: Beat all ingredients in large bowl using electric hand mixer (Note 6) until well-mixed without any butter or cream cheese clumps (Note 7), scraping down beaters and sides of bowl as needed. Divide batter among round silicone molds (Note 8) using back of spoon, yielding 16 to 18 total fat bombs.

Freeze & Serve (Note 9): Freeze fat bombs until solid, about 2 hours. Serve frozen, and transfer any leftovers to resealable bag in freezer.
NUTRITION
Makes 17 Servings
Amount Per Serving (1 fat bomb):
| | |
| --- | --- |
| Calories 90 (87% from fat) |   |
| Total Fat 9g | 13% |
|    Saturated Fat 4g | 21% |
| Cholesterol 14mg | 5% |
| Sodium 50mg | 2% |
| Net Carb 1g |   |
| Total Carb 3g | 1% |
|    Dietary Fiber 2g | 7% |
|    Sugars 0g |   |
| Protein 2g |   |
PHOTOS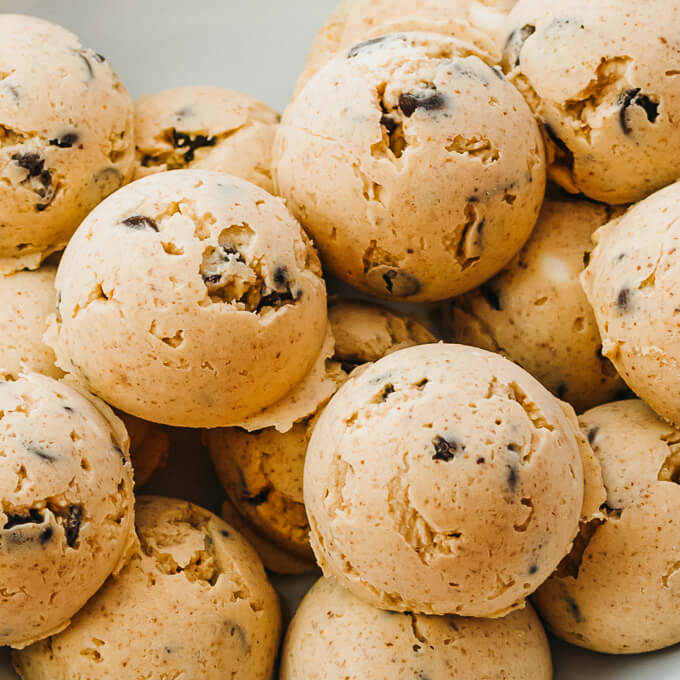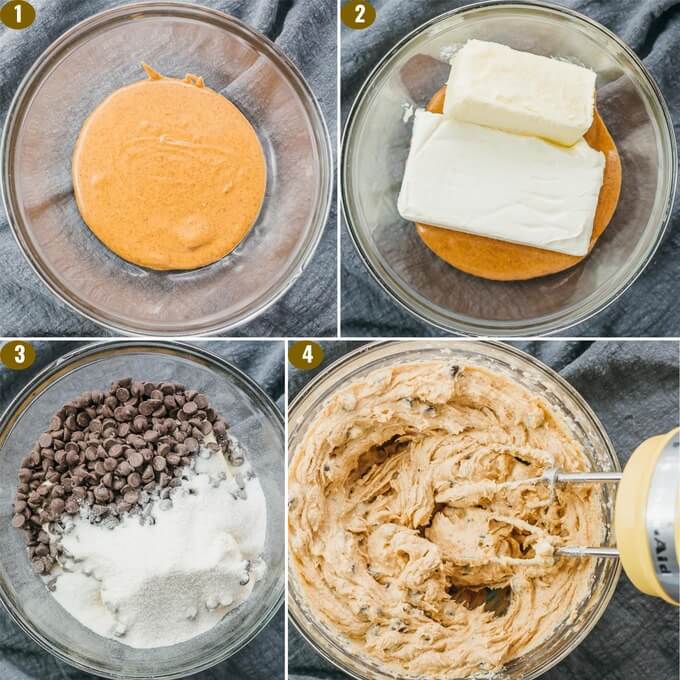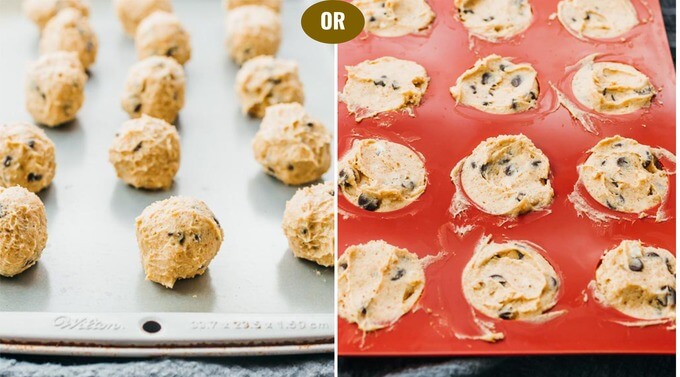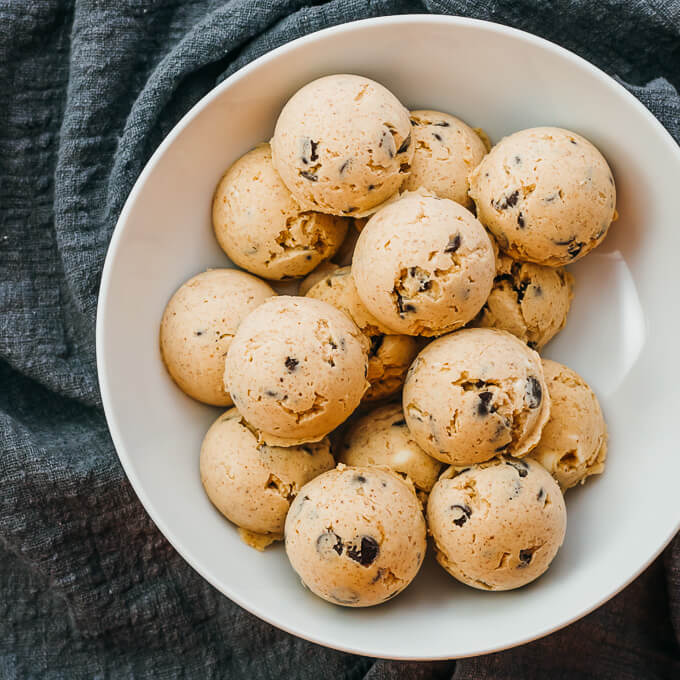 NOTES & TIPS
(1) Cream Cheese. Same as half of a standard 8-ounce brick. I use regular, full-fat cream cheese from the brand Philadelphia, not reduced fat or light versions.
(2) Chocolate Chips. Same as 3 ounces weight. I use Lily's baking chocolate chips, which are low carb and sweetened with stevia. They're versatile and can also be used to make low carb chocolate chip cookies or almond butter cookies. You can find them at U.S. supermarkets such as Kroger and Whole Foods. Lily's chocolate chips are relatively small in size, so if you substitute with another brand, look for mini chocolate chips if possible. If you prefer to make fat bombs without chips, then I recommend making these peanut butter fat bombs instead.
(3) Almond/Peanut Butter. Same as 64 grams. I use creamy, not crunchy, and I use the "natural" kind that has only nuts and salt in the ingredients, no added sugar. There is typically some separation, so stir up the jar of nut butter before measuring out the amount to use. Almond butter has a milder taste and results in fat bombs that taste more like cookie dough, whereas peanut butter has a dominant flavor that is very noticeable. Personally, I like these fat bombs best with peanut butter.
(4) Sweetener. Same as 1.5 ounces weight. Swerve is a dry erythritol blend that measures the same as regular sugar; it's not the same as pure erythritol which is about 70% as sweet. I've provided volume measurements for both granulated and confectioners (powdered) since they pack differently into a measuring cup. For consistent results, use the weight value. Substitute with your preferred dry or liquid sweetener by adding it to taste.
(5) Microwaving Cream Cheese. This is an optional step, but it's very helpful to allow the cream cheese to easily combine with other ingredients, resulting in a smooth batter. The microwave cooking time is based on a 700 watt microwave with 100% power.
(6) Electric Mixer. I recommend a hand mixer, not stand mixer, because the volume of ingredients is small. With a hand mixer, you can more easily incorporate ingredients sticking to the sides of the bowl. I use a KitchenAid 5-speed hand mixer on the lowest speed setting and it takes a few minutes of beating until well-mixed.
(7) Beating Ingredients. Take extra care to ensure that all ingredients are fully mixed. Look out for small white clumps of cream cheese in the batter, which can ruin the taste of these fat bombs.
(8) Round Silicone Molds. Silicone molds are convenient because you can easily invert them and pop out the fat bombs after they're frozen. You can also use any other mold you may have on hand, or even ice cube trays, styrofoam egg cartons, or mini muffin wrappers. Another idea is freezing the batter as a single rectangle in a baking dish, and then cutting it up into bars after freezing. If you want to make them round but don't have molds, you can refrigerate the batter for 30 minutes and use the chilled batter to form 1-inch balls with your hands.
(9) Serving. These fat bombs should be enjoyed frozen, as a convenient snack or as a bite-sized dessert after dinner. You can serve them alongside other fat bomb flavors, including chocolate, strawberry, and lemon.
(10) Nutrition. The nutrition calculation assumes you are using Swerve or similar erythritol-based sweetener that uses sugar alcohols, whose carbs are non-impact and not included in the nutrition estimate.