Summary:
Tasting similar to shortbread cookies, these 6-ingredient pecan sandies with almond flour are perfect for anyone looking for an easy keto and low carb dessert.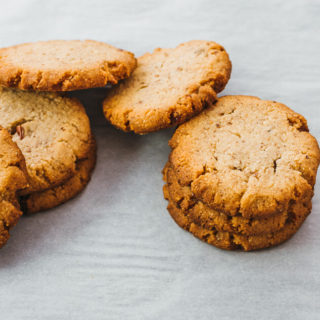 Pecan Sandies (Keto Shortbread Cookies)
INSTRUCTIONS
Preheat the oven to 325 F. Prepare a baking sheet lined with parchment paper.

Process 75% of pecans through a blender or food processor for a few seconds until they're finely ground. Chop the remaining 25% of pecans into small pieces.

In a mixing bowl, use an electric hand mixer to beat together butter and sweetener until smooth and creamy, about a few minutes on low speed, scraping down the beaters as needed.

Add vanilla and almond extracts, then beat until just combined, about 10 seconds on low speed.

Add almond flour and finely ground pecans to the butter mixture, beating together until well-mixed, about 30 seconds on low speed. Stir in chopped pecans.

Divide the dough into 8 to 10 balls about 1 1/2 inches in diameter, and flatten them to form cookies. Spread them out on the lined baking sheet.

Bake at 325 F until they're brown around the edges, 15 to 20 minutes. Let the cookies cool completely before removing from parchment paper. They're very soft after baking, and will harden as they cool.
NUTRITION
Makes 10 Servings
Amount Per Serving (1 cookie):
| | |
| --- | --- |
| Calories 130 (90% from fat) | |
| Total Fat 13g | 20% |
| Saturated Fat 3g | 17% |
| Cholesterol 12mg | 4% |
| Sodium 40mg | 2% |
| Net Carb 1g | |
| Total Carb 2.5g | 1% |
| Dietary Fiber 1.5g | 6% |
| Sugars 0.5g | |
| Protein 2g | |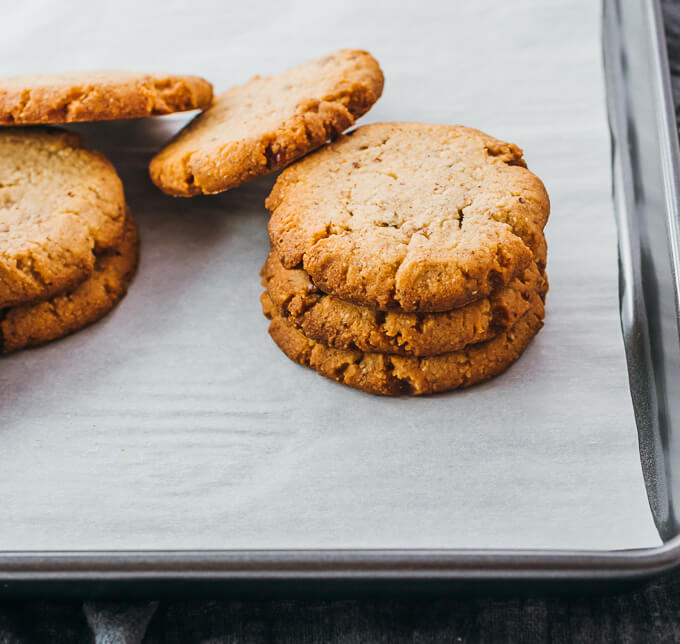 What Are Pecan Sandies?
Pecan sandies are delicious nutty cookies, great for special occasions and holidays like Christmas. They're dry shortbread-like cookies. These are a bit crumbly, but not too soft and not too hard.
They remind me a bit of mexican wedding cookies — also known by many other names like polvorones, russian tea cakes, or snowball cookies — except that these pecan cookies aren't dusted in powdered sugar.
Recipe Development
Shortbread cookies are traditionally three parts flour, two parts butter, and one part sugar. I started off with those proportions, using almond flour and a sugar-free sweetener. Since pecan sandies are supposed to be nutty in flavor, almond flour makes for a perfect low carb substitution.
My early experiments yielded cookies that were too greasy, so I made some modifications by adding both chopped pecans and ground pecans to balance the fat content. Doing so also increased the pecan flavor, which is always a plus. Note that you can easily get ground pecans by pulsing whole pecans in a blender (I use a Nutribullet).
After getting the texture right, I added both vanilla and almond extracts for a richer flavor.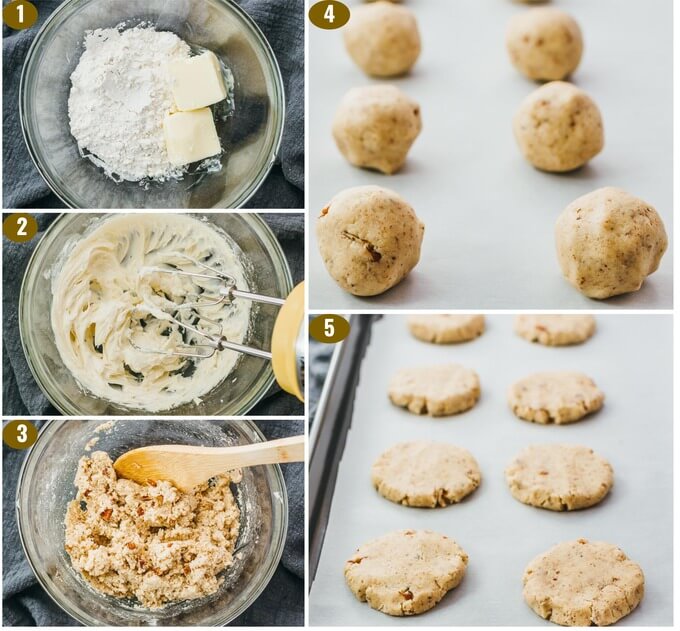 Tips For Making Successful Pecan Sandies
For best results, measure out all ingredients by weight, not volume. This is especially true for the sweetener, which can vary a lot in volume depending if it's granular or powdered, and how it's packed.
Look for "almond flour," not just "ground almonds" which may not be fine enough. I've used brands like Trader Joe's, Kirkland, King Arthur Flour — they all work great. Nutritionally, it should have 2g net carbs per 1 ounce (1/4 cup) serving.
I use Swerve, which is an erythritol blend that measures the same as sugar. If you use another type of sweetener, ideally choose a dry one that's a 1:1 substitution for sugar. That way, you'll maintain the same ratio of dry to wet ingredients in this recipe. Note that pure erythritol is only 70% as sweet as sugar and therefore not a 1:1 sugar substitution, and sometimes has rather large granules that you should powder first using a small blender like a Nutribullet.
After baking, don't touch or otherwise disturb the cookies until they have a chance to cool to room temperature. They will be super soft, and will harden as they cool. This could take up to a few hours.
If you prefer your pecan sandies to be on the drier and harder side, you can add an extra 1/2 ounce of almond flour or ground pecans to the dough. This will make them firmer, which some people prefer.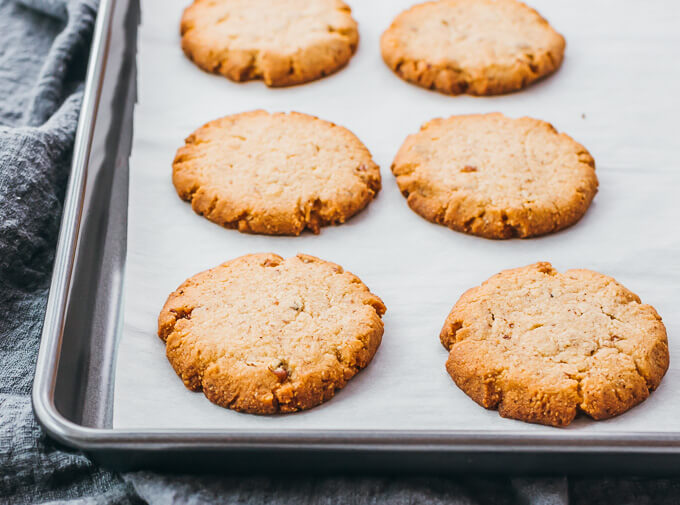 More Easy Low Carb Desserts