Summary:
This is a softer chocolate fudge that basically melts in your mouth. Keto, sugar free, and low carb -- just 0.5 g net carbs for a generous bar of fudge. It's very easy to make; all you need are a handful of ingredients and a microwave for melting chocolate. No baking. For more simple treats, visit Keto Dessert Recipes.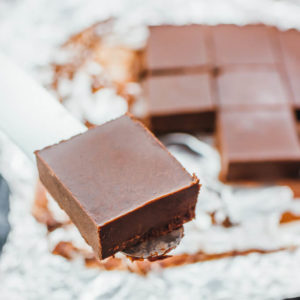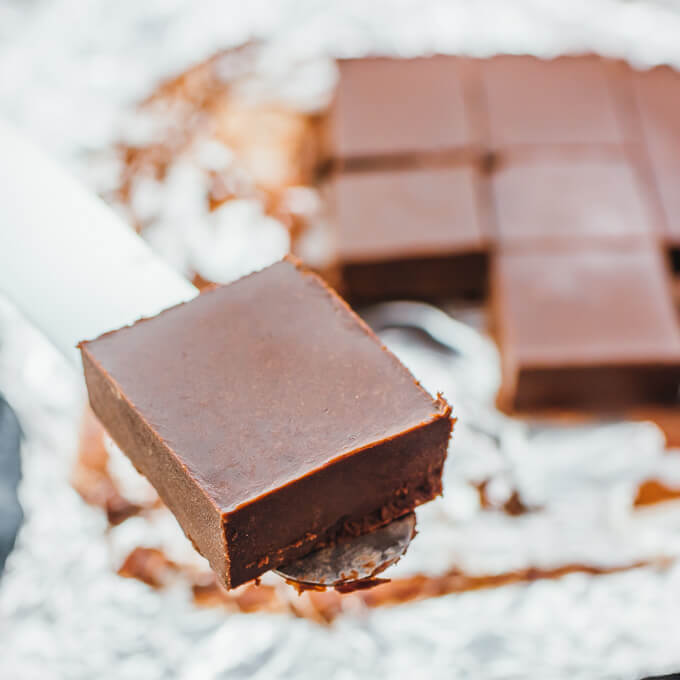 INSTRUCTIONS
Prepare an 8x8-inch pan lined with foil.

In a microwave-safe bowl, add all ingredients. Microwave for 30-second intervals at 50% power until just melted, stirring well in between. Mix well until silky smooth.

Pour the chocolate mixture into the lined pan.

Freeze until the fudge is set, about an hour. Lift up the foil to remove the fudge from the pan. Cut into 16 bars and serve cold. Cover and store leftovers in the refrigerator.
NUTRITION
Makes 16 Servings
Amount Per Serving (1 large bar):
| | |
| --- | --- |
| Calories 190 (88% from fat) | |
| Total Fat 18g | 28% |
| Saturated Fat 12g | 58% |
| Cholesterol 36mg | 12% |
| Sodium 100mg | 4% |
| Net Carb 0.5g | |
| Total Carb 3g | 1% |
| Dietary Fiber 2.5g | 9% |
| Sugars 0g | |
| Protein 2g | |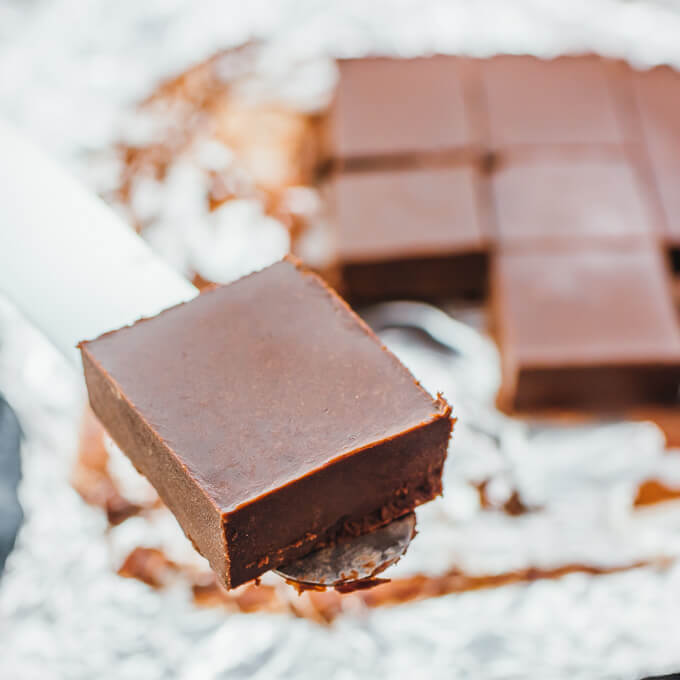 Tips For Making Keto Fudge
This recipe is pretty forgiving in terms of the exact proportions of the various ingredients, so it's hard to mess up even if you're not very precise. I've provided both weight and volume measurements for the main ingredients, and I recommend using the weight numbers if you have a food scale. It also makes cleanup easier with fewer measuring cups to wash.
I use confectioners swerve to sweeten the fudge, and you can replace it with any other powdered sweetener that measures the same as sugar. If you use a granulated sweetener, powder it using a small blender like the Nutribullet. If your sweetener doesn't measure the same as sugar — for example, pure erythritol is only 70% as sweet — then you'll need to alter the measurement for the same level of sweetness.
I use baking chocolate that's unsweetened and 100% chocolate by the Bakers brand. You can check if your chocolate is unsweetened by looking at its nutrition label — the only ingredient listed should be chocolate. They usually come in bars, which I chop into small pieces for easier melting.
All of the ingredients are melted together to form a fudge mixture. You can use either the microwave or a double boiler on the stovetop. I prefer using the microwave because I've found that it's less likely to overheat and seize the chocolate.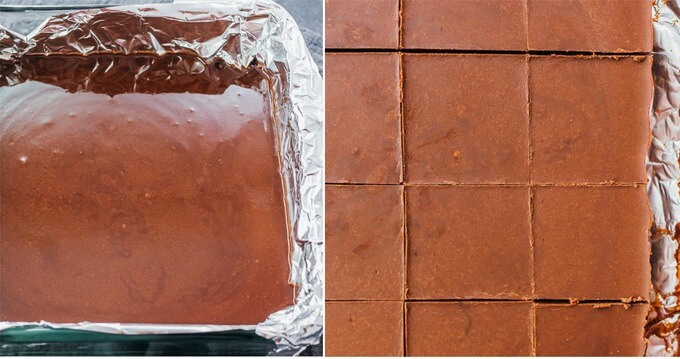 Fudge Variations
If you're looking for more than plain chocolate fudge, you can add extra ingredients like coarse sea salt or finely chopped nuts. Sugar free chocolate chips would also be a delicious addition.
You can make an easy peanut butter fudge by combining equal parts salted butter and natural peanut butter with a sweetener added to taste. Melt everything together in the microwave until very smooth. Set the fudge in the freezer by itself, or pour it over a hardened chocolate fudge as an additional layer.
The no-bake simplicity of keto fudge and its variations reminds me of keto fat bomb recipes, for which I've made raspberry/strawberry, lemon, peanut butter, chocolate, and cookie dough flavors.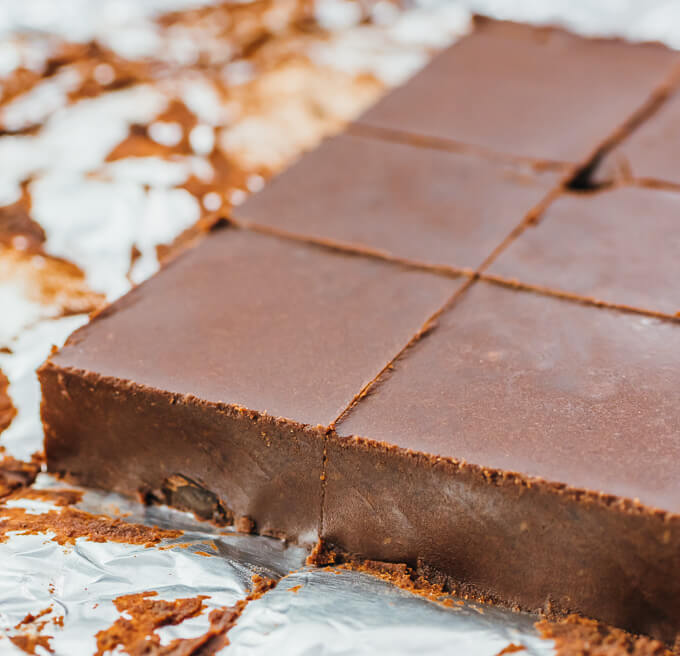 Serving And Storing Leftovers
This recipe makes one 8×8-inch fudge brick, which I've divided into 16 servings or bars. Each bar is fairly large, and you may want to further cut each bar into 4 bite-sized cubes. It's up to you.
They should be served cold, and leftovers can be stored in either the refrigerator or freezer, depending on how soft or hard you prefer fudge to be. I keep mine in the refrigerator.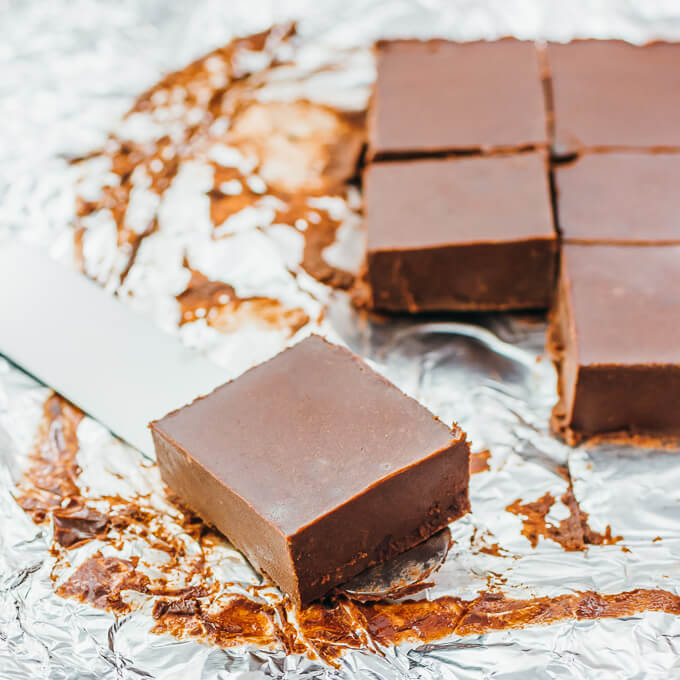 More No-Bake Keto Dessert Recipes