If you follow any low carb diet like the keto diet, you will likely be tracking your daily net carb intake. Most people try to stay under 20-50 grams of net carbs every day. To calculate this, nutrition facts labels are used to determine the number of net carbs per serving. Here's the formula:
Net Carbs = Total Carbs – Fiber – Sugar Alcohols (e.g., erythritol)
That sounds simple enough. However, you may be unknowingly consuming "hidden carbs" when you use nutrition labels for foods with small serving sizes. When a product has a label with a small serving size, it's more susceptible to rounding errors when you need to use multiple servings for a recipe.
Example: Heavy Whipping Cream
A great example is heavy whipping cream, which typically has a nutrition facts label with a serving size of 1 tablespoon. Note that 1 tablespoon of heavy whipping cream has 0.4 g total carbs, according to the USDA's basic nutrient report.
Most product manufacturers will not list 0.4 g for total carbs on the label; instead, they will round down and list 0 g. As a result, many people will erroneously think that heavy whipping cream has zero carbs, which is not true.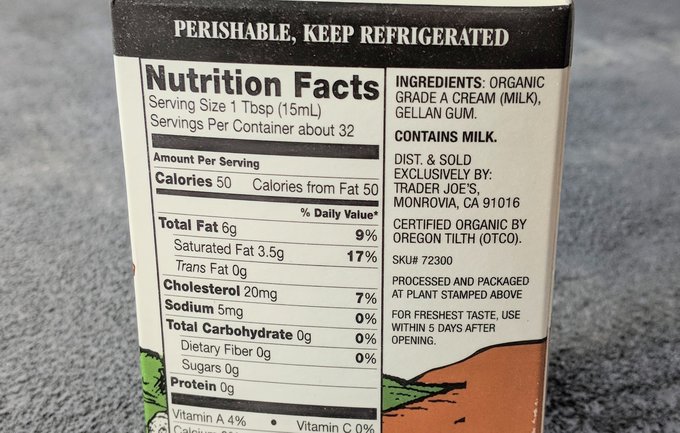 If you need 1 cup of heavy whipping cream for a recipe, that would equate to 6.4 g carbs that you unknowingly consumed. That's about one-third of your daily carb allowance if you follow a strict 20 g keto diet.
That's why you should watch out for foods with small serving sizes listed on nutrition facts labels, especially if you need to use multiple servings. These "hidden carbs" add up, and can knock your body out of ketosis.
When in doubt, check if the food in question is available in the USDA database with a standard reference source (as opposed to a source from a branded label).