Summary:
Wondering what to do with extra jalapeños? Try slicing and frying them with a healthy breading that's low carb, keto, and gluten free. They come out crispy, perfect as a delicious snack or appetizer.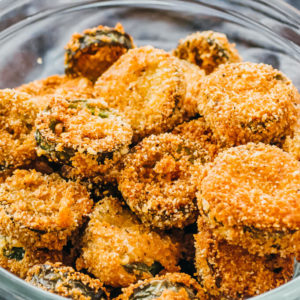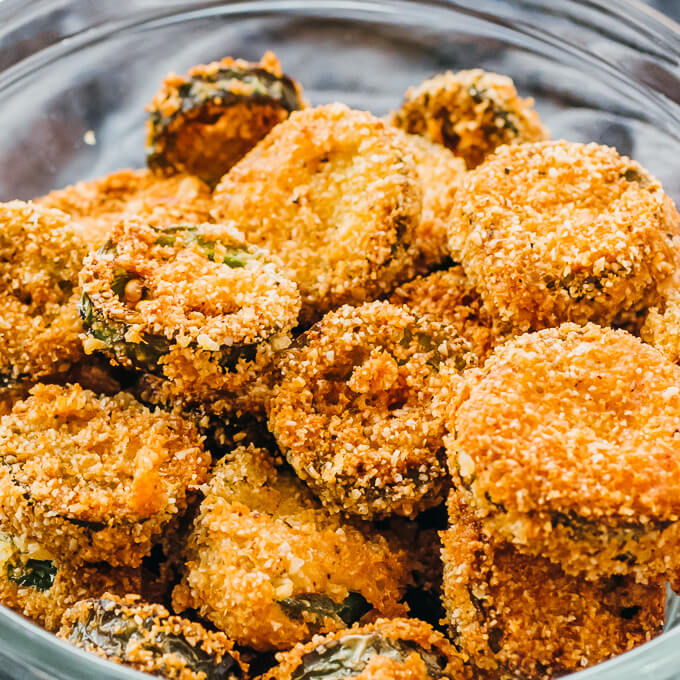 Crispy Fried Jalapeño Slices
(Ratings:
)
INGREDIENTS
5

jalapeños, sliced widthwise

oil for frying
Egg Wash:
1

large egg

1

tablespoon

heavy whipping cream
INSTRUCTIONS
In a bowl, add the eggs and heavy cream, beating until well-mixed. In another bowl, stir together all breading ingredients until well-mixed. Set aside.

Coat each jalapeño slice first in the egg wash (shake off excess), and then in the breading until coated on both sides. Transfer to wax or parchment paper while you bread the rest.

Using a or a pan on the stovetop, add oil and heat it to 350 F. If using a pan, there should be about 1 to 2 inches of oil. Frequently monitor to maintain the temperature during frying by adjusting the heat level.

Carefully lower the breaded jalapeños into hot oil and fry until golden brown, about 5 minutes. Work in batches as needed to avoid overcrowding. After frying, drain on paper towels.

Serve immediately while hot and crispy.
NUTRITION
Makes 2 Servings
Amount Per Serving:
| | |
| --- | --- |
| Calories 240 (68% from fat) | |
| Total Fat 18g | 28% |
| Saturated Fat 6g | 29% |
| Cholesterol 115mg | 38% |
| Sodium 740mg | 31% |
| Net Carb 3g | |
| Total Carb 6.5g | 2% |
| Dietary Fiber 3.5g | 13% |
| Sugars 2.5g | |
| Protein 13g | |
Oil not included in nutrition estimate.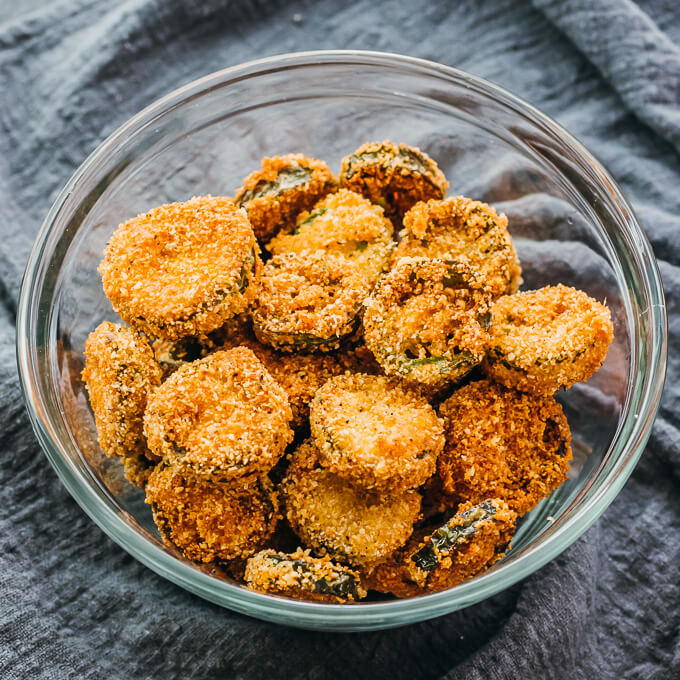 Overview
This is a variation of one of my favorite recipes developed this year: keto fried chicken. Similar to fried asparagus, I've used the same egg wash and low carb breading, which easily adheres to both meat and vegetables. It results in a fabulous golden brown crunchy exterior that satisfies all of my fried food cravings.
These fried jalapeño slices (or "bottle caps") are only mildly spicy, even with their seeds and membranes intact. The interior is meltingly tender, surrounded by crispy breading. Definitely one of my favorite ways to use up extra jalapeños.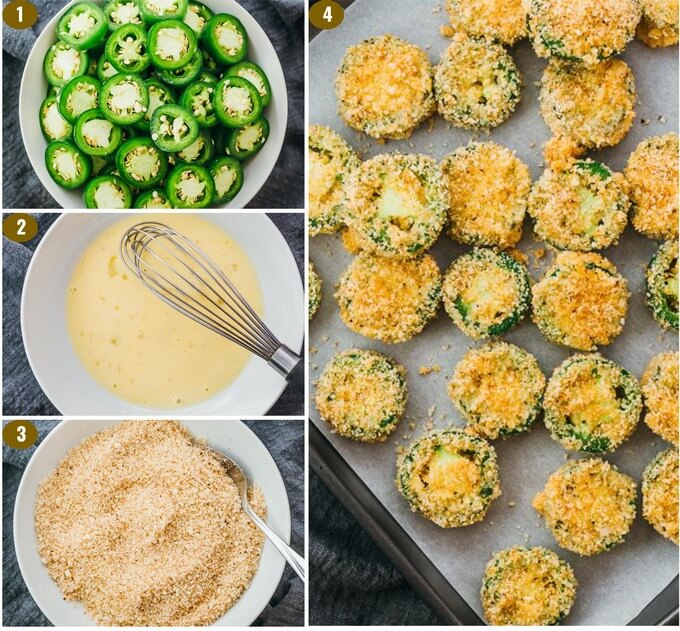 Tips For Frying Jalapeño Peppers
If you're sensitive to capsaicin, wear gloves while handling jalapeños, especially if you come into contact with the seeds or membranes. Trust me, you don't want to have "pepper hands."
Breading can be a huge mess. To make it less messy, here's what I do: one hand touches the egg wash and the other hand touches the breading. Only one hand ever touches either bowl. This keeps your fingers from being breaded.
The parmesan cheese used for the breading is the finely grated kind with a sandy consistency, not the shredded kind. It's usually found in the refrigerated cheese section of a supermarket.
When selecting an oil for frying, verify that its smoke point is above the frying temperature of 350 F. The last thing you want is for your oil to start smoking. Also, pick one with a neutral flavor. I typically use canola oil or vegetable oil.
I recommend getting a deep fryer if you fry often, since it comes with automatic temperature control and neat features like oil filtration. Easier than dealing with a pot of hot oil and a thermometer, and constantly adjusting the gas flame. If you don't have a deep fryer, enlist someone to monitor your oil temperature and adjust as needed while you do the deep frying part.
Serving
I recommend serving these jalapeño slices as a standalone appetizer or snack, without any accompanying dips or sauces. I eat them the way I would eat a bowl of flavored chips. The crunchy breading is tasty and doesn't need any flavor enhancers.
But if you're dying to add some kind of sauce (buffalo wing sauce?), I would suggest keeping it on the side as a dip rather than tossing with the fried jalapeño slices. Any kind of sauce will moisten the breading and it will quickly lose its crunch.
Other uses for fried jalapeño slices include adding them to salads, burgers, and pizza.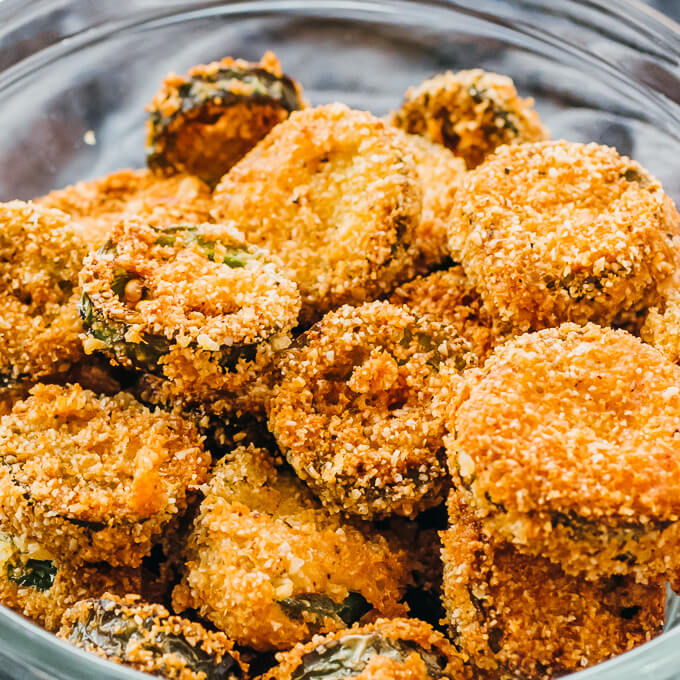 More Delicious Low Carb Appetizers