Summary:
Chicken wings are flavored with dry seasonings and pressure cooked until deliciously tender. They're then tossed with hot sauce and broiled for a crisp finish.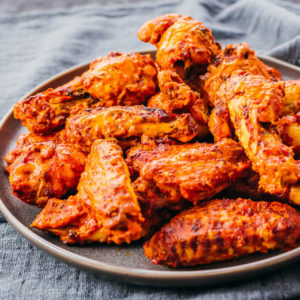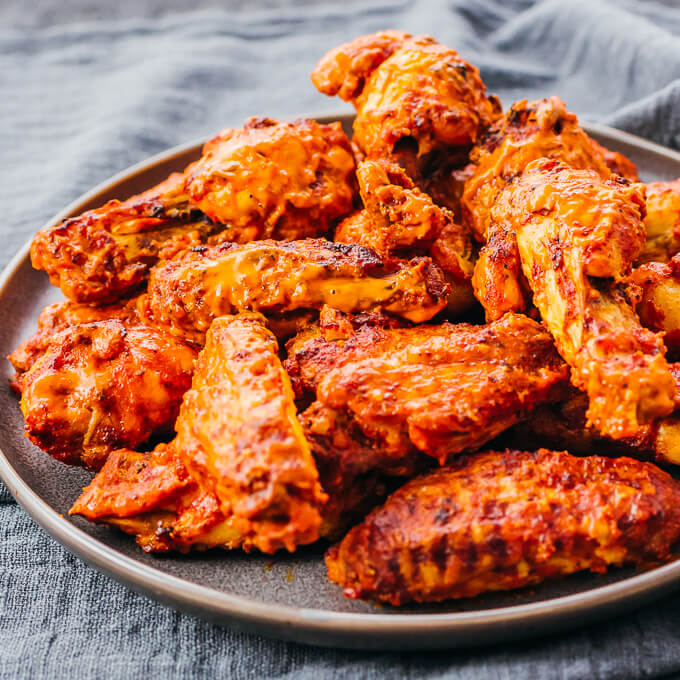 INSTRUCTIONS
Season: Prepare chicken wings by trimming off most fat, leaving skin on (Note 3). If moist, pat dry with paper towels. Add wings to gallon-size resealable bag. Stir all seasoning ingredients in small bowl until well-mixed. Add seasoning mix to resealable bag with wings, tossing until well-coated.

Pressure Cook: Add water to pressure cooker pot (Note 4). Place trivet inside and seasoned wings on top. Secure and seal lid. Cook for 10 minutes at high pressure, followed by quick pressure release. While waiting for wings to cook, prepare foil-lined baking sheet fitted with baking rack. Spray or brush with oil, and set aside.

Broil: Position oven rack about 8 inches from broiler element. Set broiler on high. Transfer wings to large bowl and toss with hot sauce until well-coated. Arrange wings in single layer on prepared baking rack. Broil until wings start to blacken on top, about 5 minutes. Flip and repeat for other side, another 3 to 5 minutes. Transfer wings to large bowl and serve (Note 5).
NUTRITION
Makes 4 Servings
Amount Per Serving (4 to 5 wings):
| | |
| --- | --- |
| Calories 450 (38% from fat) |   |
| Total Fat 19g | 29% |
|    Saturated Fat 5g | 24% |
| Cholesterol 170mg | 57% |
| Sodium 1000mg | 42% |
| Net Carb 2g |   |
| Total Carb 2.5g | 1% |
|    Dietary Fiber 0.5g | 3% |
|    Sugars 0g |   |
| Protein 63g |   |
PHOTOS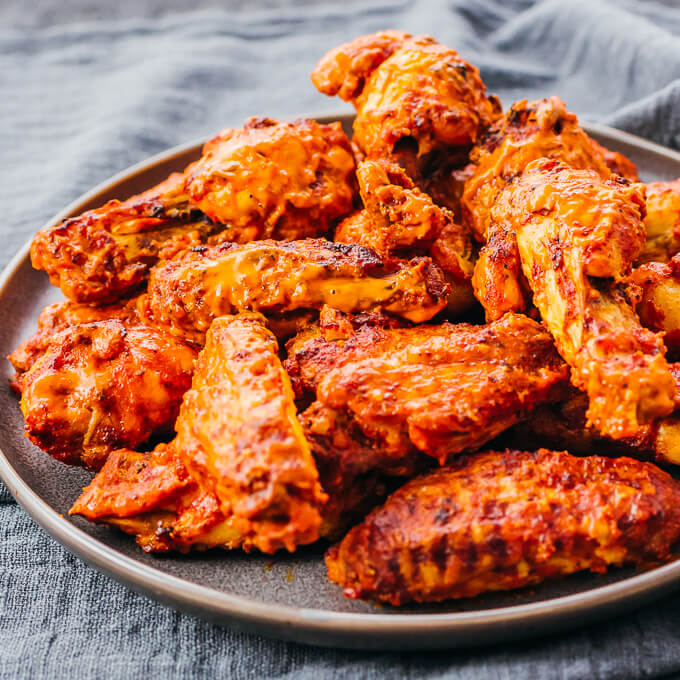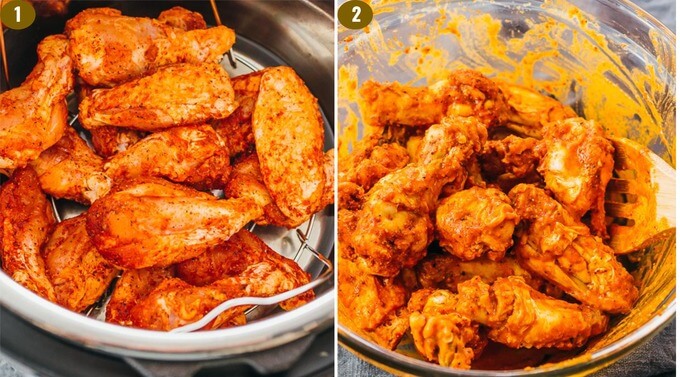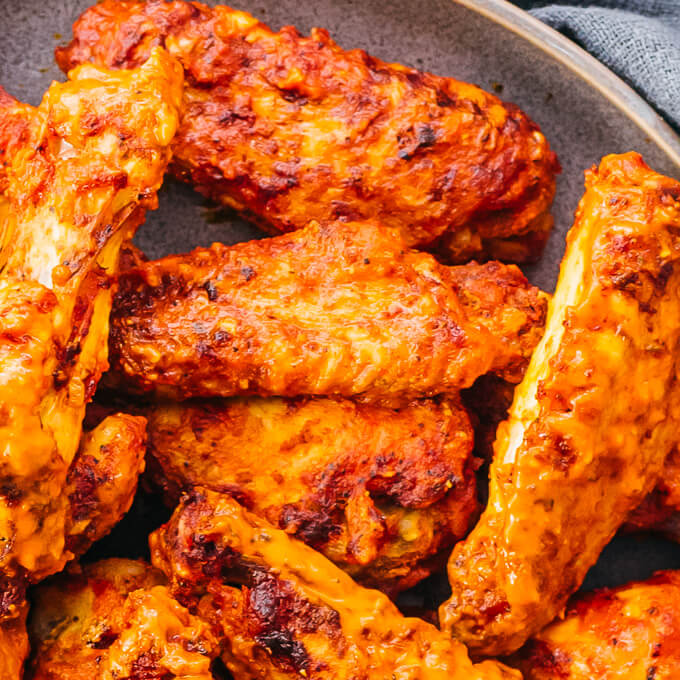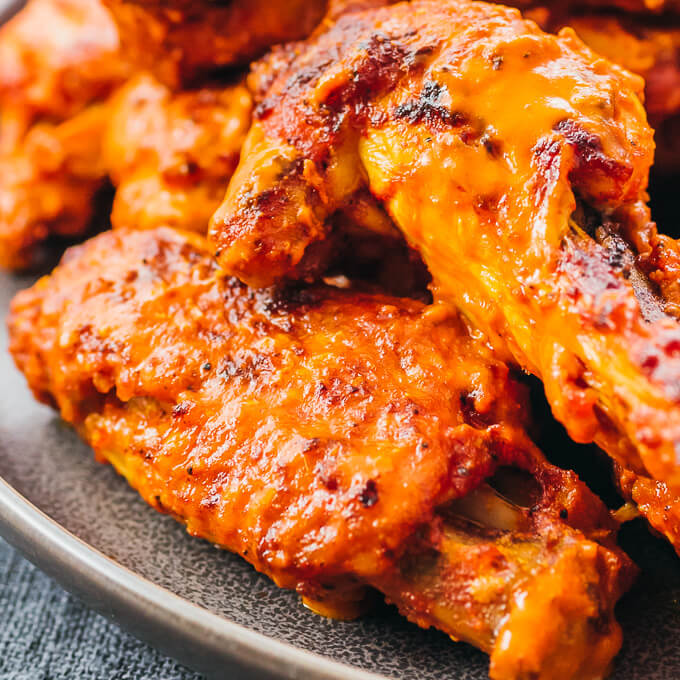 NOTES & TIPS
(1) Chicken Wings. About 18 wings. I use fresh chicken wings; if you use frozen, add 2 minutes to the pressure cooking time and note that the dry seasoning mix won't adhere to the wings as well.
(2) Hot Sauce. I prefer using buffalo sauce, which is typically available in mild, medium, and hot varieties. Sometimes they're sold as "wing sauce." The nutrition information on this page assumes you're using a sauce with 1 gram of carbs per 1 tablespoon serving, which should be the case if you use a sauce with no added sugar (ingredients on the label should be simply peppers, salt, water, and vinegar). Other hot sauce ideas include sriracha, chipotles in adobo, and gochujang (Korean chili sauce). For those of you who can't handle the heat, grab a bottle of your favorite BBQ sauce for this recipe. If you're low carb, you can make your own keto friendly BBQ sauce. Some other non-spicy sauces are teriyaki, fruit glazes, and herby green sauces.
(3) Preparing Chicken Wings. I like to cut off most of the fat, but I leave the skin on. This is mostly due to my taste preferences, so you can trim as much or as little of the fat and skin as you like, depending on how you like your wings. I find that kitchen shears are very useful for this job.
(4) Pressure Cooker. I use a 6-quart Instant Pot. There is plenty of room for two pounds of chicken wings. You can easily double the ingredients if you're cooking for a crowd. If you do so, keep the pressure cooking time the same. You can also use a smaller or larger pressure cooker, assuming all ingredients fit within the max line. For the trivet, I use the one that came with my Instant Pot, with its handles resting on the sides of the pot.
(5) Serving. Just before serving, toss the chicken wings with extra sauce to give them another coating of flavor — this is optional, but it gives the wings a nice shine. Serve the wings alongside baby carrots and celery sticks. Ranch dressing or blue cheese dressing could be a nice accompaniment if you want a dip to help neutralize the spicy flavors.