Summary:
This keto bbq sauce recipe is low carb and sugar free sauce. Sweet, tangy, and slightly spicy -- you would never guess that it's homemade. Ever so versatile, you can use this bbq sauce for pulled pork, ribs, brisket, and more.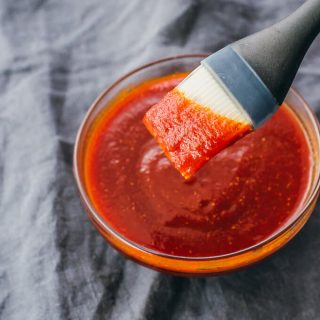 Keto BBQ Sauce Recipe (Low Carb & Sugar Free)
INSTRUCTIONS
Add all ingredients to a sauce pot over medium-high heat and stir together as you bring to a simmer.

Simmer until the sauce reaches your desired thickness, about 15 minutes, stirring frequently. Gradually reduce the heat as needed to maintain a simmer.

Taste the sauce. Add erythritol and cayenne as needed to adjust sweetness and spiciness.

Let cool. Cover and refrigerate.
NUTRITION
Makes 10 Servings
Amount Per Serving (2 tbsp):
| | |
| --- | --- |
| Calories 20 (5% from fat) | |
| Total Fat 0g | 0% |
| Saturated Fat 0g | 0% |
| Cholesterol 0mg | 0% |
| Sodium 270mg | 11% |
| Net Carb 2.5g | |
| Total Carb 3g | 1% |
| Dietary Fiber 0.5g | 3% |
| Sugars 1g | |
| Protein 1g | |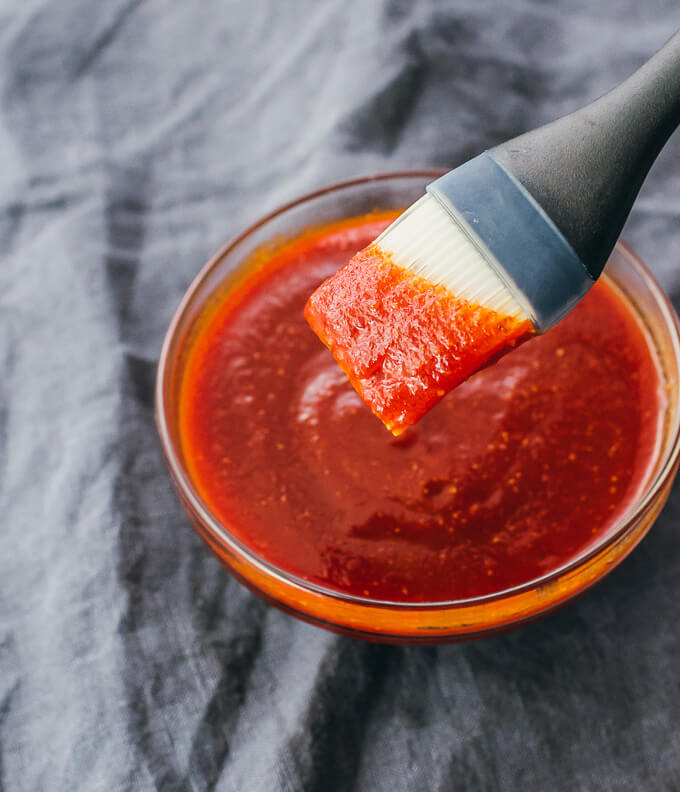 How do you make low carb bbq sauce that's keto friendly?
Low carb bbq sauce is made using tomato puree, apple cider vinegar, worcestershire sauce, garlic powder, paprika, cayenne, and erythritol sweetener instead of sugar. These ingredients are combined in a small saucepan, simmered for about 15 minutes until the sauce thickens, and then chilled in the refrigerator until ready to use.
To develop this recipe, I experimented with various flavors and ingredients. Paprika is great for its smoky flavor and coloring, and the cayenne helps bring the heat.
This homemade version tastes just like the storebought kind. You can adjust the cayenne to taste to match your preference. I recommend using 1/4 teaspoon cayenne for a mild to moderately hot bbq sauce. If you're concerned that it'll be too spicy, start with only 1/8 teaspoon and add more to taste after the sauce has simmered and reached its desired thickness.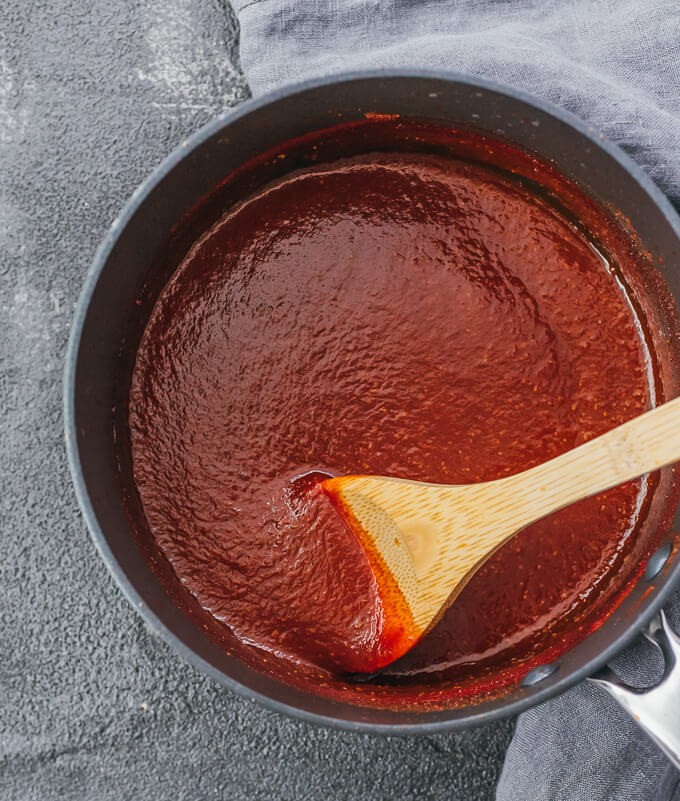 What is erythritol powder?
Erythritol is key to making this bbq sauce keto friendly, low carb, and sugar free. It's a sweetener that cannot be digested by the body and has no effect on blood sugar or insulin levels. It works fabulously in this recipe, as it becomes wholly incorporated into the sauce. You won't taste a "cooling" effect or experience erythritol crystallization.
I use powdered erythritol, and not the granulated kind. If you buy erythritol granules, you can pulverize them in a blender such as the Nutribullet until it becomes very fine powder. The volume will significantly increase as well. The powder is more easily incorporated into the sauce and I recommend using that form in this recipe.
Note that erythritol is only about 70% as sweet as table sugar. If you replace with another type of sweetener, you'll have to adjust the amount used. You can either do the math or add your preferred sweetener to taste.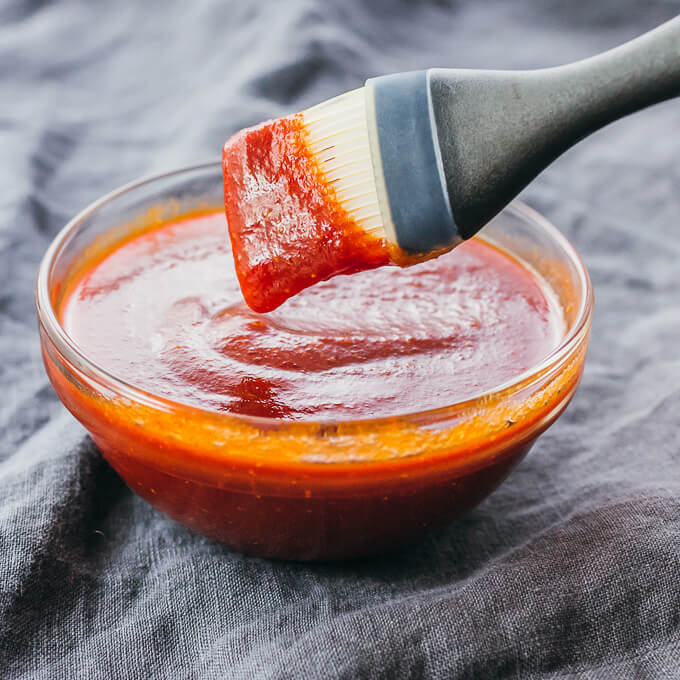 What can I do with keto bbq sauce?
There are so many ways you can use this keto bbq sauce:
bbq meatloaf (scroll below for my 5 ingredient recipe)
bbq ribs
bbq burgers
bbq shredded chicken
bbq pulled pork sandwiches
bbq brisket
bbq salad dressings
bbq meatballs
bbq pizza or flatbread
And the list goes on. Give this recipe a try, and in the comments section below, let me know what you used the sauce for!
How about some keto bbq meatloaf?
The above recipe yields 1.25 cups of homemade keto bbq sauce. That's more than enough to make my delicious 5-ingredient meatloaf. This is a keto meatloaf that doesn't require milk or bread crumbs. Ingredients include:
1 pound 80% lean ground beef
1/2 cup low carb bbq sauce
1/2 cup finely grated parmesan cheese (sandy consistency)
1/2 cup finely diced onions
1 large egg, beaten
Mix all of these ingredients together except for half of the bbq sauce, and form into a loaf and place on a baking dish. Bake at 325 F until cooked through, about 1 hour. Drain out the meatloaf drippings, brush the meatloaf with remaining bbq sauce, and bake for another 5-10 minutes until the sauce is cooked in. This meatloaf yields 4 servings, each with 210 calories and 4 g net carbs.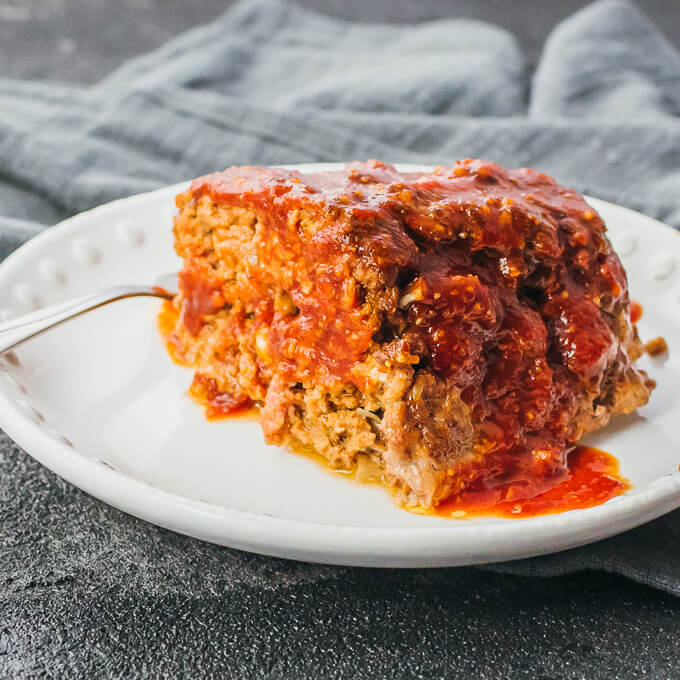 I spent some time investigating how to make meatloaf as moist as possible. If your meatloaf is a tad bit on the dry side, I recommend using fattier ground beef (no less than 20% fat) and avoid lean meats such as turkey or chicken. Use a thermometer so that you don't overcook the meat — take it out of the oven when the center reaches 155 F.
MORE KETO FRIENDLY SAUCES & DIPS: