Summary:
Juicy and tender Italian meatballs, baked in the oven and drizzled with an orange creamy sauce. This comforting and easy meal uses low carb and gluten free ingredients; no breadcrumbs or almond flour required.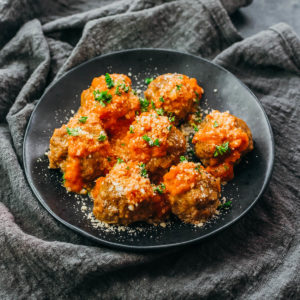 INGREDIENTS
Meatballs:
1

pound

ground beef (Note 1)

1

large egg

1/2

cup

finely grated parmesan cheese (Note 2)

1/2

cup

sugar-free marinara sauce (Note 3)

1

teaspoon

garlic powder

1

teaspoon

dried oregano

1/2

teaspoon

ground black pepper

1/2

teaspoon

table salt
Sauce:
1

cup

sugar-free marinara sauce (Note 3)

2

tablespoons

heavy whipping cream
INSTRUCTIONS
Form Meatballs: Preheat oven to 350 F. Prepare 9×13 inch baking dish, optionally lined with foil or parchment paper for easy cleanup; set aside. Knead all meatball ingredients using hands in large mixing bowl until combined. Form into 16 to 18 meatballs, 1.5 to 2 inches in diameter, placing them in baking dish without touching each other.

Bake Meatballs: Bake uncovered at 350 F until meatballs are cooked through, 25 to 30 minutes (Note 4). While waiting, make sauce in next step and prepare desired toppings.

Make Sauce: Bring marinara sauce to a simmer in small saucepan. Simmer for 5 minutes, stirring frequently. Over low heat, stir in heavy whipping cream until sauce turns orange. Keep warm over low heat while waiting for meatballs to cook.

Serve (Note 5): Transfer cooked meatballs onto serving plates, leaving grease behind in baking dish. Pour sauce over meatballs, and top with parmesan, parsley, and crushed red pepper. Serve while hot.
NUTRITION
Makes 2 Servings
Amount Per Serving (8-9 meatballs):
| | |
| --- | --- |
| Calories 540 (32% from fat) |   |
| Total Fat 19g | 30% |
|    Saturated Fat 22g | 112% |
| Cholesterol 339mg | 113% |
| Sodium 1550mg | 65% |
| Net Carb 6g |   |
| Total Carb 8g | 3% |
|    Dietary Fiber 2g | 8% |
|    Sugars 5.5g |   |
| Protein 75g |   |
PHOTOS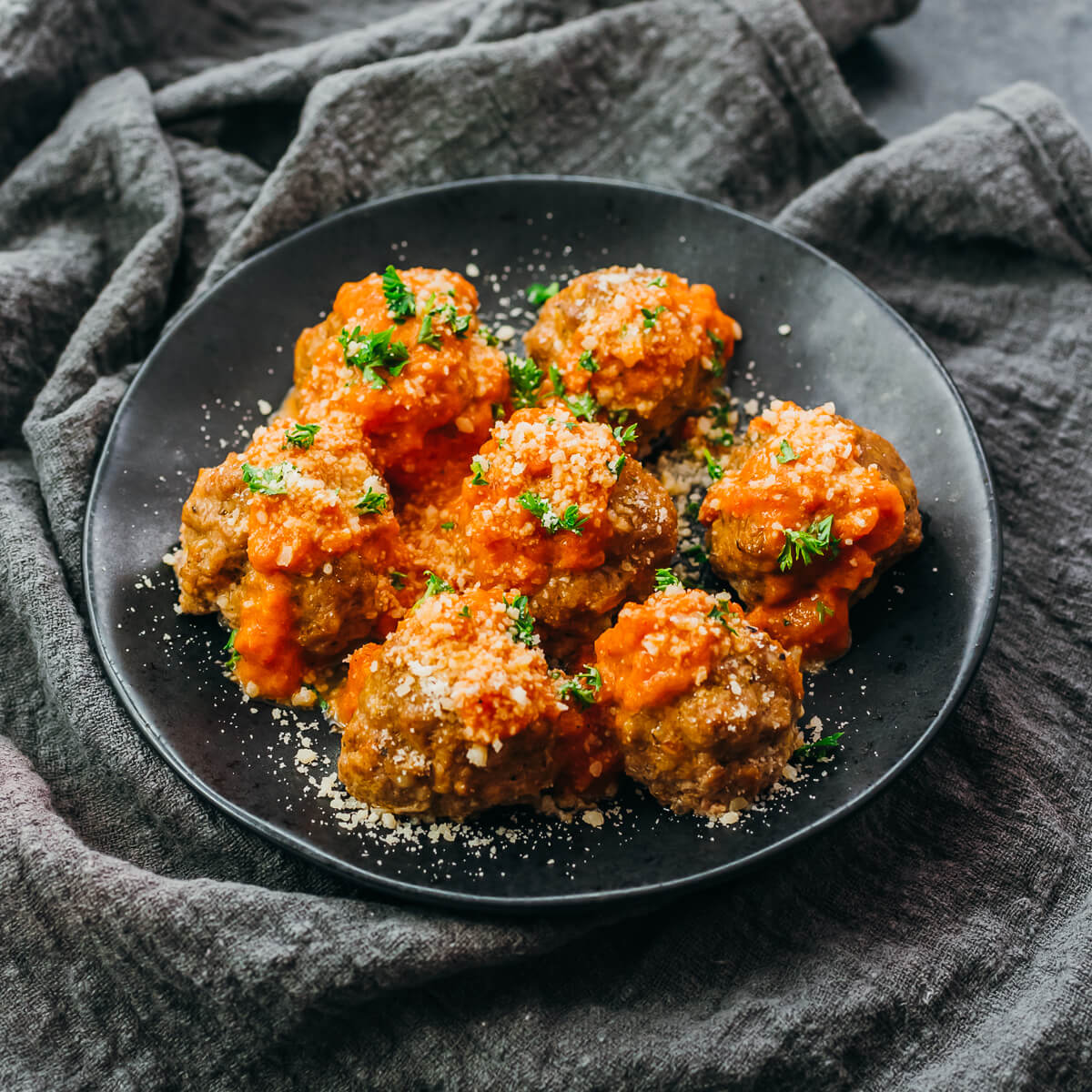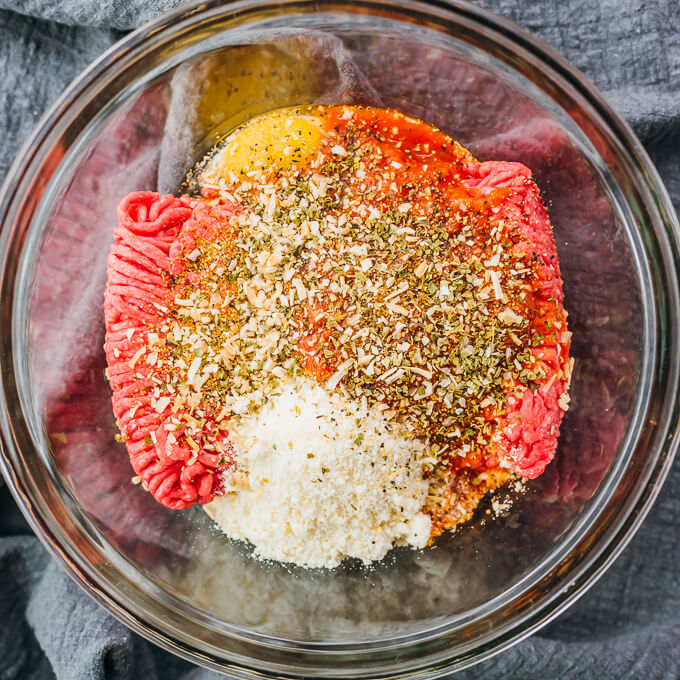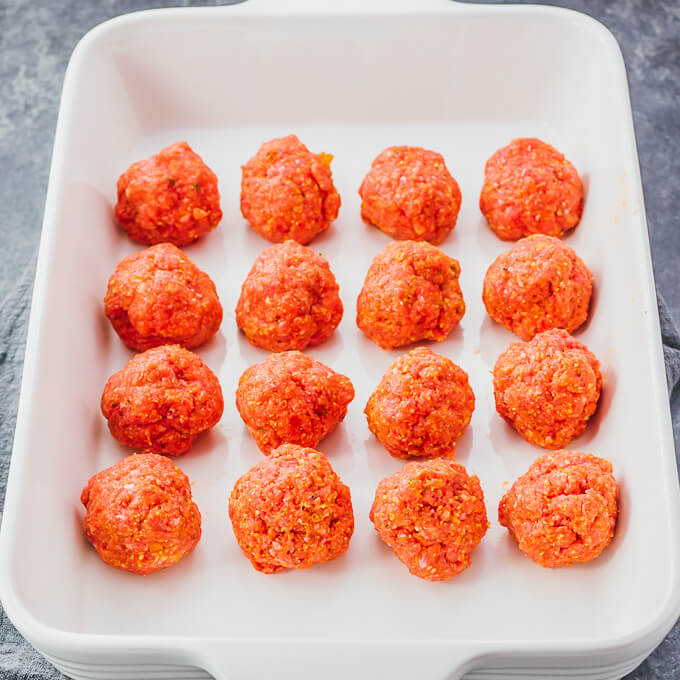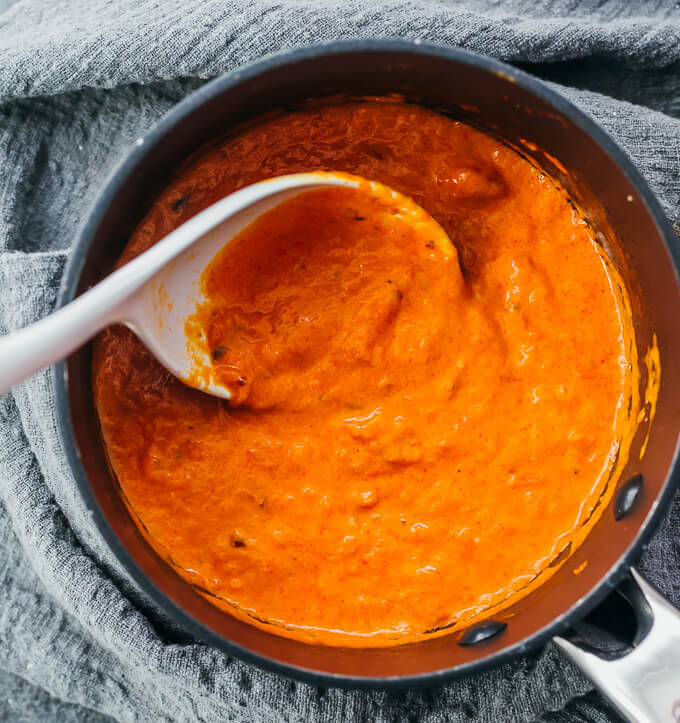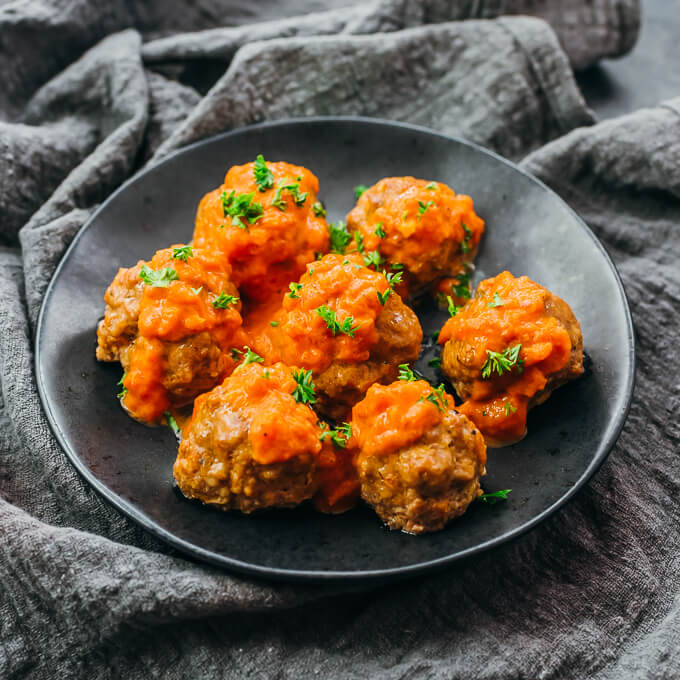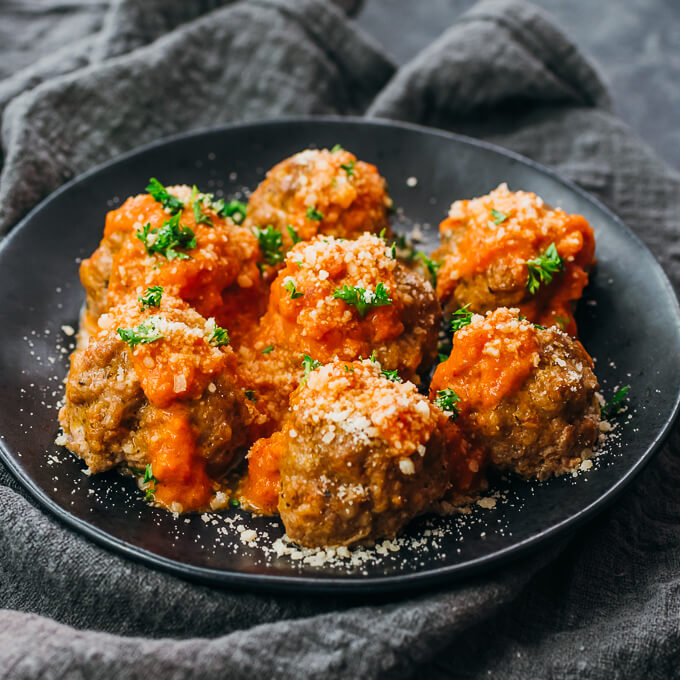 NOTES & TIPS
(1) Ground Beef. I use 80% lean. If your meat looks wet, pat it dry with paper towels to avoid a watery meatball mixture.
(2) Parmesan Cheese. This is the kind of parmesan that has a sandy or almost powdery texture. Not shredded.
(3) Marinara Sauce. To keep carbs low, select a marinara sauce that has no sugar added. I've used brands like The Silver Palate, which has 4g net carbs per 1/2 cup serving, and Rao's, which has 5g per 1/2 cup.
(4) Baking Meatballs. Meatballs are cooked through when their internal temperature reaches 165 F. The cooking time is dependent on individual meatball size and oven temperature, so your results may vary. The best way to determine when meatballs are done is to use a probe thermometer. This is different from an instant-read thermometer because the probe stays in the meatball as it cooks and will beep when the set temperature is reached. The probe should be set at 165 F and inserted into the center of the largest meatball. Using a probe thermometer means that you'll get tender and perfectly cooked meatballs every time.
(5) Serving. Enjoy these meatballs with sides like almond flour garlic knots and mashed cauliflower.
(6) Nutrition. Assumes that meatballs release 3 ounces weight of fat as they cook, which is discarded and not consumed.