My easy beef picadillo stew recipe is a quick and modern take on this classic Mexican and Cuban dish.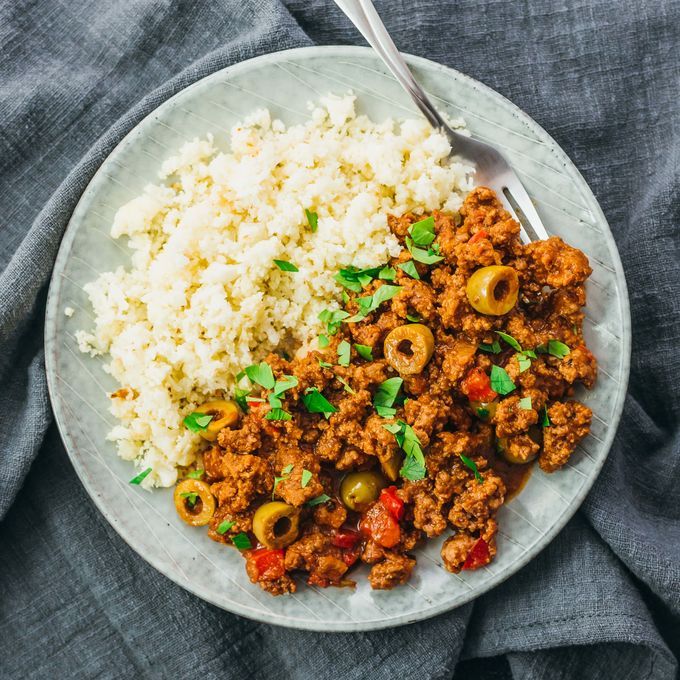 I'm always overly ecstatic when I come across a dish that I can make entirely out of ingredients already in my kitchen. It means that I can skip a run to the grocery store (although I've been contemplating trying out one of those grocery delivery services that are everywhere these days), and that's just one of the reasons why I love this beef picadillo recipe. You can use shelf-stable pantry items like canned tomato puree, a jar of olives, and dried spices. All of the fresh ingredients are easy to find, such as ground beef, bell peppers, and onions. Together, they make a fragrant, rich, and saucy beef dish with an occasional acidic flavor coming from the olives. Since it's such a fast stovetop dinner, you can prep and cook everything in just under 30 minutes, perfect for those busy weeknights. It's also reasonably low in carbs and I love serving it with either cauliflower rice (as pictured here) or spiralized vegetable noodles.

You can find picadillo as a traditional dish in several continents across the world, primarily as a ground beef and tomato dish served over rice or used as a filling. It's popular in Cuba, with a lot of spices such as oregano, cumin, and garlic. Olives are also included, and sometimes raisins and capers. In Mexico, occasionally limes, chiles, and honey are added. Picadillo is also a traditional dish in the Philippines, where it's soupier and can include potatoes, but usually doesn't have olives. My version of picadillo is a mix of both Cuban and Mexican influences, but most similar to the Cuban version.
This picadillo recipe is also simpler than most — you don't need to simmer the stew for very long and you don't need to use a pan that comes with a lid. From testing different versions of this recipe, I didn't find any differences between simmering this stew for longer or shorter times. Once the ground beef is browned and cooked through, and the sauce is thickened to your liking, there's really no reason to cover with a lid and simmer for longer periods of time. I prefer simmering without a lid so that the liquid evaporates, thickening the stew.
To give the dish a bit of acidity, I've included green olives as well as some olive juice. You can use either regular pitted green olives or pimento stuffed olives — both are delicious choices. For the "olive juice," this is the liquid that comes with jarred or canned olives, which is typically an acidic vinegar or wine mixture. I find that the olive juice adds a nice acidic tone to the stew. If you have olives but no juice, you can substitute with apple cider vinegar.
The picadillo recipe includes 1/8 teaspoon of cayenne powder, which results in a slightly spicy dish. It's a very mild heat that's barely perceptible. If you want a more moderate amount of spiciness, you can use 1/4 teaspoon of cayenne, which is spicy enough to make my head start sweating a bit.
I recommend having all of the ingredients prepped and ready to go. In particular, have all of the dried spices measured out beforehand, because the recipe moves fast once everything is cooking.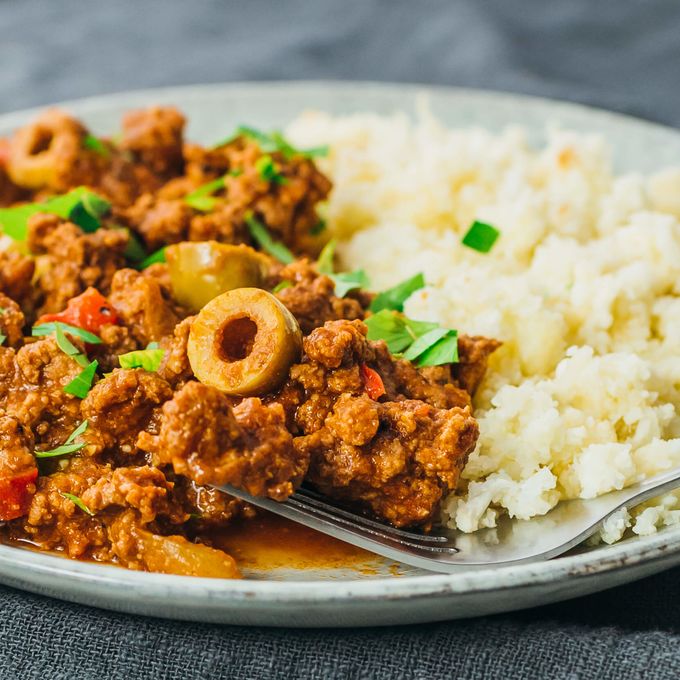 Traditionally, beef picadillo is served with rice, black beans, and sometimes fried plaintains. Since I follow a low carb diet, I paired it with fried cauliflower rice (as shown in these photos). I've also tried it with spiralized radishes, which were a fantastic vehicle for soaking up the picadillo's sauce.
Another way to enjoy picadillo is to use it as a filling, such as in empanadas, tacos, burritos, stuffed peppers (including stuffed jalapenos), and just about anything else you can think of.
Easy beef picadillo
Beef picadillo is an easy Mexican and Cuban stew with tomatoes and olives.
Ingredients
1

pound

90% lean ground beef

1/2

cup

diced red bell peppers (about 1/2 pepper)

1/4

cup

diced onions (about 1/4 onion)

8

ounce

can tomato sauce or puree

2

ounces

(drained weight) pitted green olives in juice

halved (about 1/2 cup)

1

tablespoon

olive oil
For serving:
cauliflower rice or spiralized vegetable noodles

fresh chopped cilantro
Instructions
Heat olive oil in a large pan over medium heat. Add diced onions and red bell peppers, cooking until onions are aromatic and tender, about 5 minutes, stirring occasionally.

Add beef and cook until completely browned, about 5 minutes, breaking apart the meat to crumble it.

Add tomato sauce, 2 tablespoons of olive juice (liquid from the can of olives), and all spices. Stir together until well-mixed. Lastly, stir in olives.

Simmer until the stew has thickened to desired consistency, 5 to 10 minutes, stirring frequently. Reduce the heat as needed to maintain a simmer.

Add salt and pepper to taste, if desired.

Serve with rice and top with freshly chopped cilantro.
Nutrition Info
This recipe yields 12 g net carbs per serving. Nutrition information does not include rice.
Nutrition Facts Per Serving
| | |
| --- | --- |
| Calories 570 |   |
| Total Fat 34g | 52% |
|    Saturated Fat 11g | 55% |
|    Trans Fat 0g |   |
| Cholesterol 150mg | 50% |
| Sodium 1960mg | 82% |
| Potassium 120mg | 4% |
| Total Carb 17g | 6% |
|    Dietary Fiber 5g | 21% |
|    Sugars 6g |   |
| Protein 45g |   |