Summary:
Broccoli cheese soup comes together quickly using a pressure cooker because it doesn't take long to break down all of the ingredients into a state of creamy tenderness. Don't have a pressure cooker? Check out Stovetop Broccoli Cheddar Soup.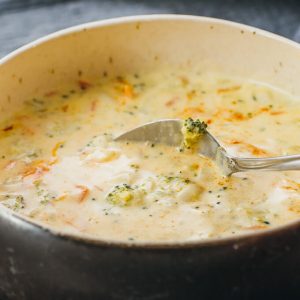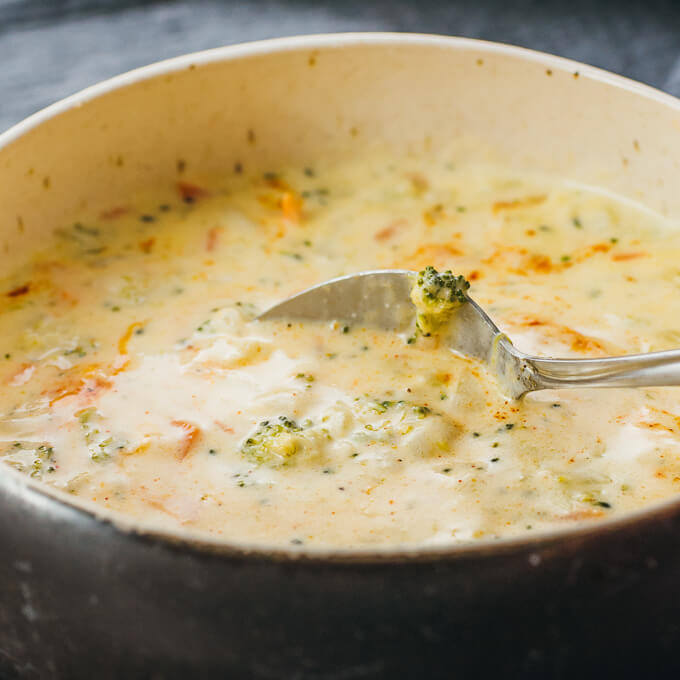 Instant Pot Broccoli Cheese Soup
INGREDIENTS
INSTRUCTIONS
Sauté Vegetables: Select sauté mode on pressure cooker (Note 4) for medium heat. Add butter and stir until melted. Add diced onions, carrots, and celery, cooking for about 5 minutes until onions are soft, stirring frequently. Turn off sauté mode.

Pressure Cook: Add chopped broccoli and 2 cups of water (Note 5), and stir. Secure lid and seal vent. Cook for 5 minutes at high pressure, immediately followed by quick pressure release.

Stir In Dairy: Uncover, select sauté mode, and stir in heavy whipping cream and garlic. Gradually add shredded cheddar cheese, stirring in until melted and well-mixed. Turn off sauté mode.
NUTRITION
Makes 5 Servings
Amount Per Serving (1.75 cups):
| | |
| --- | --- |
| Calories 560 (82% from fat) |   |
| Total Fat 52g | 79% |
|    Saturated Fat 32g | 159% |
| Cholesterol 162mg | 54% |
| Sodium 370mg | 15% |
| Net Carb 9.5g |   |
| Total Carb 12g | 4% |
|    Dietary Fiber 2.5g | 10% |
|    Sugars 7g |   |
| Protein 15g |   |
PHOTOS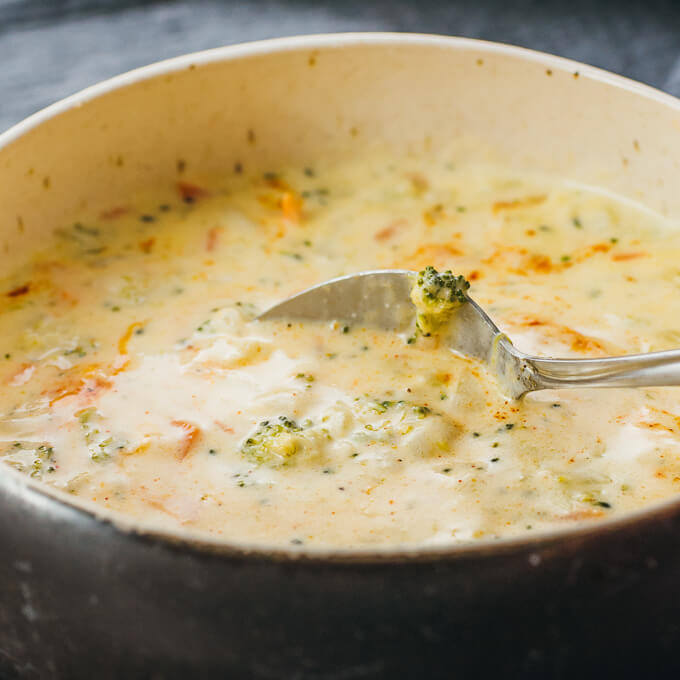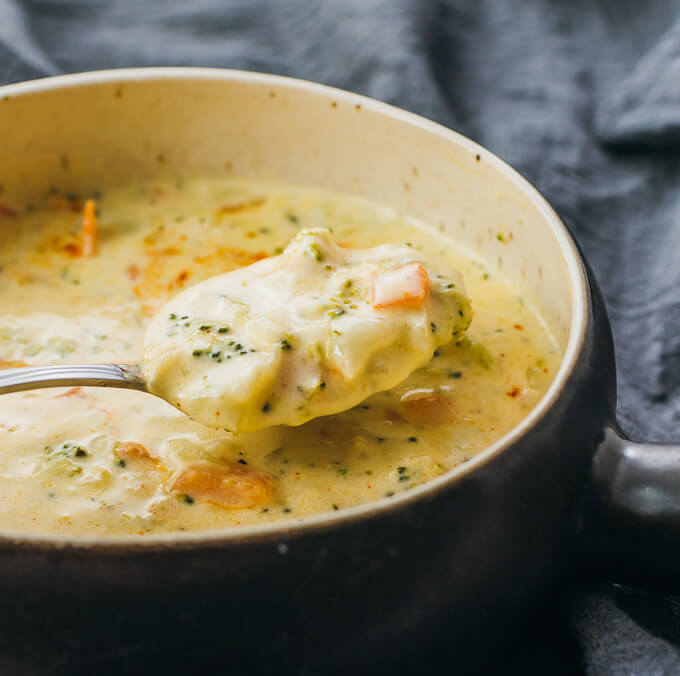 NOTES & TIPS
(1) Broccoli Florets. About 7 ounces raw weight. You can cut florets from a head of broccoli, or you can buy a bag of pre-cut raw florets located in the refrigerated produce section of many U.S. grocery stores. I recommend cutting the florets into smaller pieces (no larger than 2 inches) so that they cook quickly. I use fresh florets, but some readers have had success using frozen ones. Another option is using a mix of broccoli and cauliflower.
(2) Cheddar Cheese. About 7 ounces weight. I use a bag of pre-shredded cheese. I like the flavor that cheddar brings to this soup, but you can substitute with any other soft shredded cheese.
(3) Heavy Whipping Cream. If you want to use something less caloric than heavy whipping cream, some readers have had success substituting with half and half, or halving the amount of heavy whipping cream.
(4) Pressure Cooker. I use a 6-quart Instant Pot. You can use a different size of electric pressure cooker as long as all ingredients fit within the maximum capacity line.
(5) Water. This can be substituted with chicken broth or vegetable broth.
(6) Serving. Serve broccoli cheddar soup into bowls, topped with extra shredded cheddar cheese, a sprinkle of smoked paprika, or parmesan crisps. This soup would pair well with low carb sides like jalapeño cornbread or garlic knots.
(7) Saving For Later. Store broccoli cheddar soup in an airtight container in the refrigerator or freezer, and reheat using the microwave. For frozen portions, thaw in the fridge overnight or until completely defrosted before reheating.
(8) Double Yield Version. To double the recipe, the ingredients should be doubled (including water), but the pressure cooking time should remain the same. Make sure that your pressure cooker is large enough to hold 2x the ingredients.
(9) Blender Version. For an even thicker soup, you can use an immersion blender to puree the soup. I prefer a chunkier soup so this isn't something I do, but it's a great option for those who prefer a smoother consistency.
(10) No-Chop Version. You can make your prep work almost nonexistent by buying a bag of pre-chopped broccoli florets and a 15 oz container of mirepoix at the grocery store. Mirepoix is packaged and pre-diced carrots, onions, and celery, typically used as a flavor base for soups and stews. You can find it in the refrigerated produce section of many U.S. grocery stores.
(11) Lower Carb Version. To reduce the number of carbs, use half as many onions and carrots. It'll be noticeably thinner, but still delicious.