Summary:
This cauliflower fried rice stir-fry is tossed with crispy bacon and chopped kimchi, and works with many diets -- keto, low carb, gluten free, paleo, and whole30. Part of a recipe series on Cooking For Two.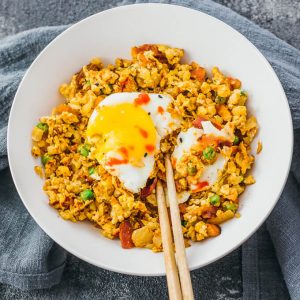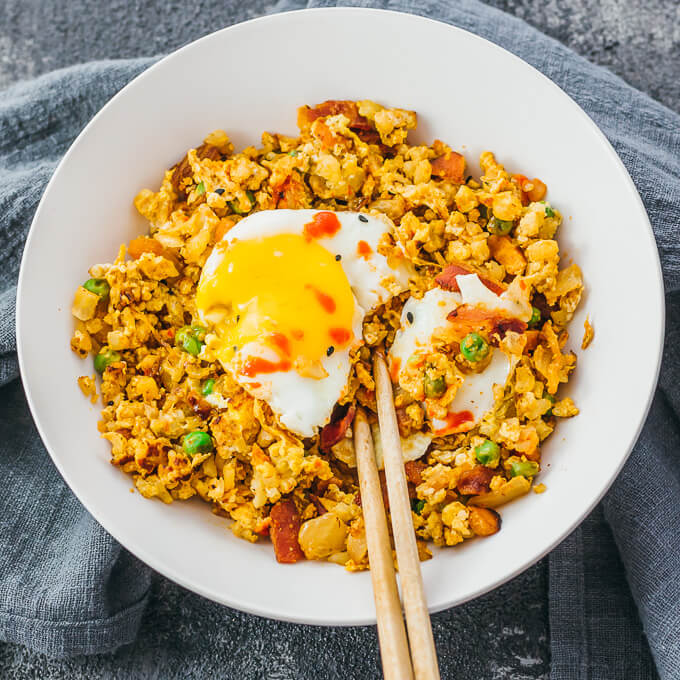 Bacon Kimchi Cauliflower Fried Rice
INGREDIENTS
1 1/2

cups

riced cauliflower

1/2

cup

finely chopped kimchi

1/3

cup

frozen green peas

1/3

cup

diced frozen carrots

3

slices

bacon

2

large eggs

beaten

2

cloves

garlic

minced

1

tablespoon

sriracha
INSTRUCTIONS
Heat bacon strips in a single layer on a large pan over medium heat. Cook until crispy, turning them occasionally, for 5 to 10 minutes. Transfer bacon to a paper towel to drain and cool.

Add minced garlic to the pan with bacon drippings. Stir as the garlic browns, less than a minute.

Add peas, carrots, and kimchi. Increase to medium-high heat. Cook until everything is tender, a few minutes, stirring frequently.

Add cauliflower rice, cooking for a few minutes until tender, stirring frequently.

Pour beaten eggs on top. Immediately stir to scramble the eggs until they're cooked and everything is well-mixed, about a minute.

Drizzle sriracha on top, and stir until well-mixed, about a minute.

Remove the pan from heat. Crumble bacon into small pieces over the pan and stir them in.

Serve in bowls. Optionally top with fried eggs, sesame seeds, a drizzle of chili sauce, and a swirl of sesame oil.
NUTRITION
Makes 2 Servings
Amount Per Serving:
| | |
| --- | --- |
| Calories 190 (40% from fat) | |
| Total Fat 8g | 13% |
| Saturated Fat 3g | 14% |
| Cholesterol 194mg | 65% |
| Sodium 370mg | 16% |
| Net Carb 7.5g | |
| Total Carb 11.5g | 4% |
| Dietary Fiber 4g | 15% |
| Sugars 6.5g | |
| Protein 13g | |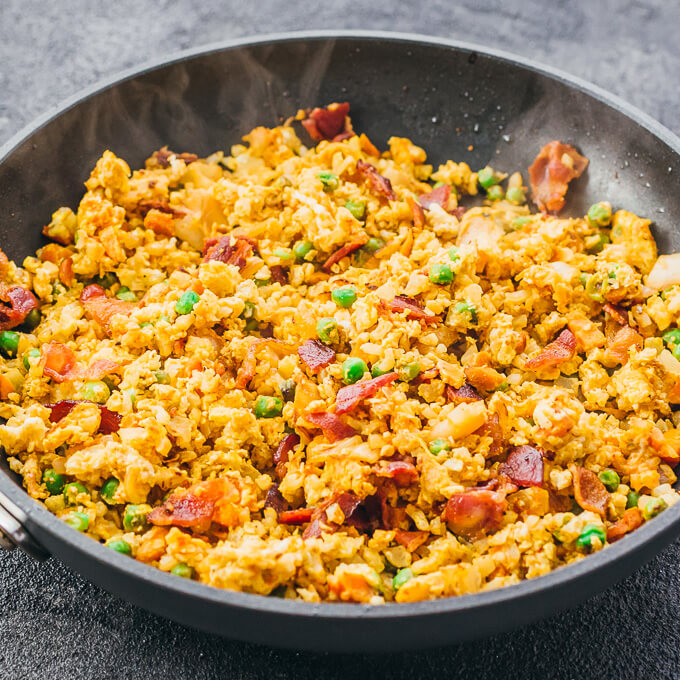 This cauliflower fried rice is a super fast, 30 minute recipe that smells amazing when it's cooking — minced garlic sizzling on a hot pan, crisping bacon slices, and nicely seared carrots and peas. This easy recipe yields 2 small dinner servings, great on days when you're looking for a meal light on calories but still comforting, flavorful, and healthy. It definitely satisfies all of my Chinese takeout cravings.
There's no dominant flavor here that overwhelms everything else. It has a little of everything. The kimchi is not strong except for the occasional bite, the bacon adds a nice crunch, and the eggs and cauliflower rice are tenderly savory. It's only mildly spicy from the sriracha, and you can add more chili sauce to taste.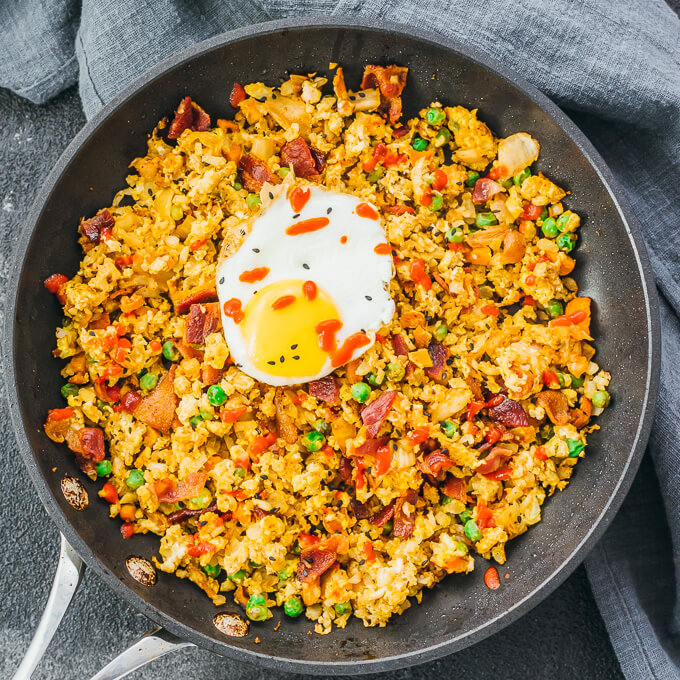 I started making cauliflower fried rice several years ago. Since then, I've experimented with both stovetop and oven methods, various ingredients, different pans, and ricing my own cauliflower vs storebought. I made many variants before deciding that this is my favorite.
I much prefer cooking cauliflower rice using the stovetop method compared to baking, as it allows for greater control, and I'm able to frequently stir the cauliflower rice for even frying. The oven yields more inconsistent results, including uneven cooking where the roasted cauliflower rice on the edges of the baking pan are overcooked and the ones in the center are undercooked.
How to rice cauliflower using a food processor:

This short video by Popsugar shows how to rice cauliflower using a food processor. You can buy a head of cauliflower or a bag of cauliflower florets, and use either a food processor or grater to rice the cauliflower. Avoid using a blender, as you can easily over-mix the cauliflower, leaving you with a mushy wet mess.
My preferred way is to buy riced cauliflower at the grocery store. I buy mine at Trader Joe's, and you can also buy it at Whole Foods and some Costco stores. Some supermarkets carry the Green Giant line of riced vegetables, which includes riced cauliflower.
If you have any leftover riced cauliflower, you can use it to make pesto flatbread or loaded mashed cauliflower.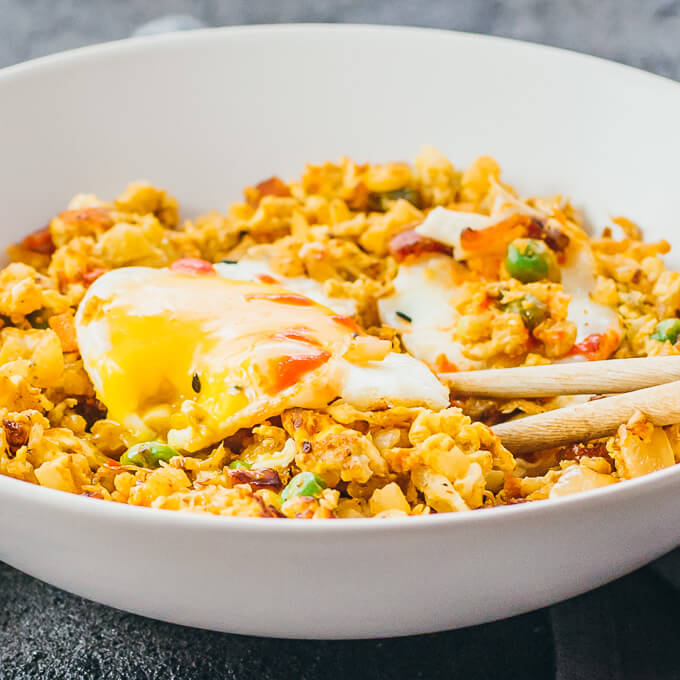 Carrots and peas can be used frozen. When it comes to stir fry dishes that only require small amounts of veggies, it's convenient to use frozen bags of them. You simply take what you need, and return the remainder to the freezer. If you substitute with other types of vegetables, pick ones that don't release a lot of liquid when cooked — you don't want to end up with mushy cauliflower fried rice.
This recipe moves fast, so have everything chopped, measured, and ready to go. If you opt to serve with fried eggs, you can fry the eggs in a small separate pan when the bacon is almost done crisping.
I use kimchi from Trader Joe's, which is a traditional kimchi made with napa cabbage, radishes, chili, and garlic. You'll need to drain and finely chop the kimchi before adding it to the pan.
I assume that if you're reading a post with anything kimchi that you enjoy spicy foods, but if for some reason that's not the case, you can reduce the amount of sriracha or substitute entirely with soy sauce. As it stands, the recipe is only very mildly spicy. I don't recommend substituting sriracha with gochujang because that often has 5-10g carbs per 1 tablespoon serving.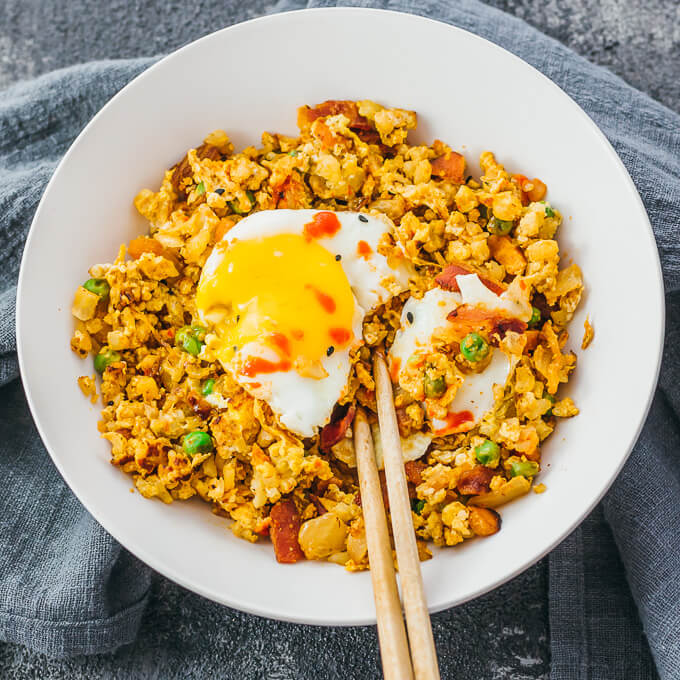 MORE RECIPES USING CAULIFLOWER RICE OR FLORETS: