Learn how to cook tofu in a pan with a delicious sauce using this very simple recipe.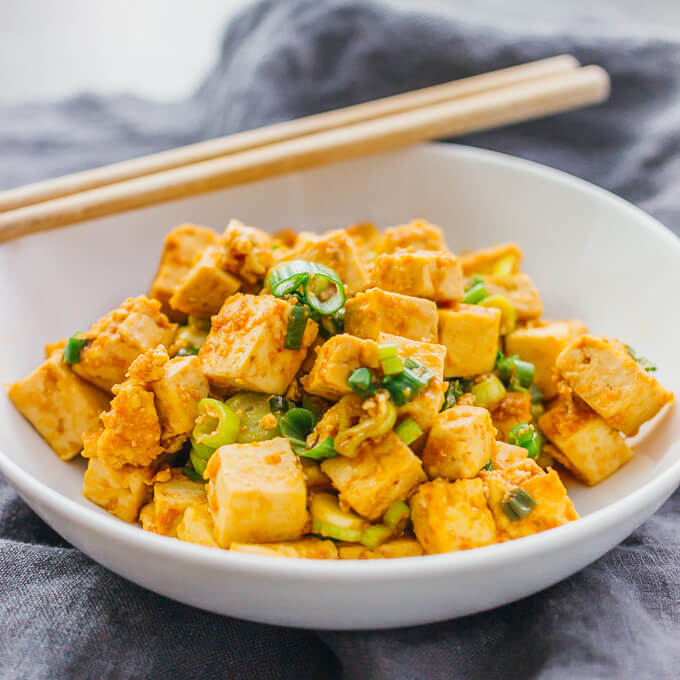 I first made this tofu skillet a few years ago, and with just one dish I converted Mr. Savory Tooth from a self-avowed tofu skeptic to a fanatic convert. He now regularly requests this dish — and why not, as it's healthy, a great vegetarian dinner option, and has a really delicious sauce that I can't get enough of. Try it and you'll see what I mean. You'll also find that just one serving of this tofu skillet is surprisingly filling, which helps fend off late night snack impulses.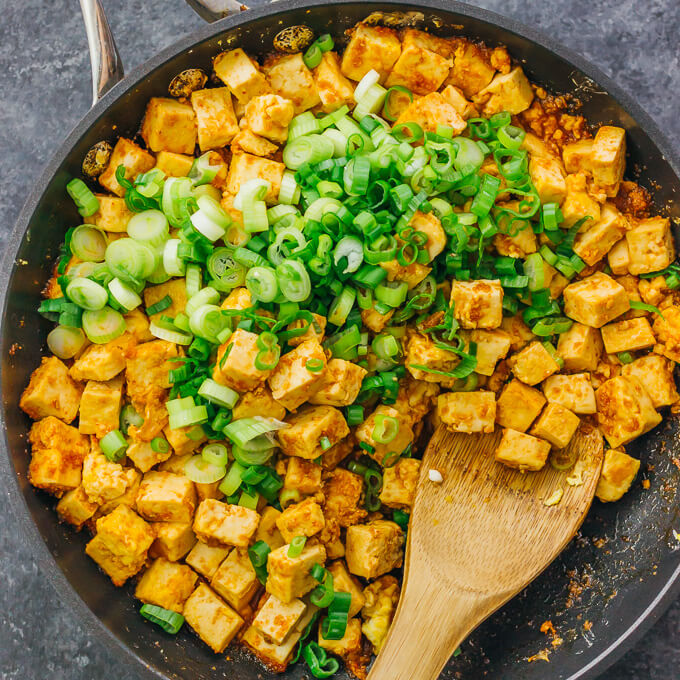 When I ask people why they don't like tofu, it's usually one or both of these reasons: (1) "the texture is weird and chewy," and (2) "the flavor is so bland." Let's go through both of these reasons:
Tofu should not be chewy. That usually happens because someone tried to crisp it up by frying or baking. Tofu does not crisp well — even when fried, it loses its crispiness quickly and always ends up tasting chewy. Not to mention how difficult it is to crisp tofu, because tofu blocks come packed with moisture and require a lot of time and effort to dry.
Tofu comes as a blank slate, so it will be bland unless you add some kind of sauce to it. I cook my tofu with scallions and scrambled eggs, and mix everything together in a spicy sauce made with soy sauce and sriracha. The sauce is key.
My tofu skillet is a no-frills kind of recipe. You won't find anything here about having to marinate your tofu first, squeezing out its moisture, or tossing with corn starch. My recipe is really simple and easy, and I have often made it when I'm looking for a quick, healthy homemade meal.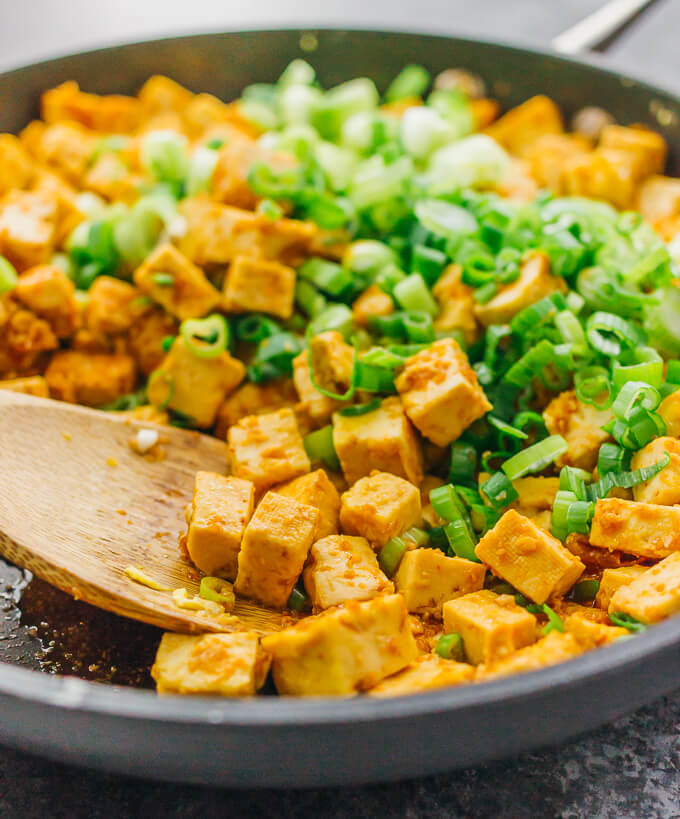 This recipe is vegetarian friendly and demonstrates a basic way to cook tofu on a pan. If you're looking for a meatier tofu dinner recipe, you can check out my mapo tofu dish, which has tofu with ground pork and a chili-garlic-bean sauce. For creative (read: crazy) tofu ideas, check out this list of tofu recipes where you can make tofu skewers, tofu cheesecake, tofu soup, tofu smoothie, and more.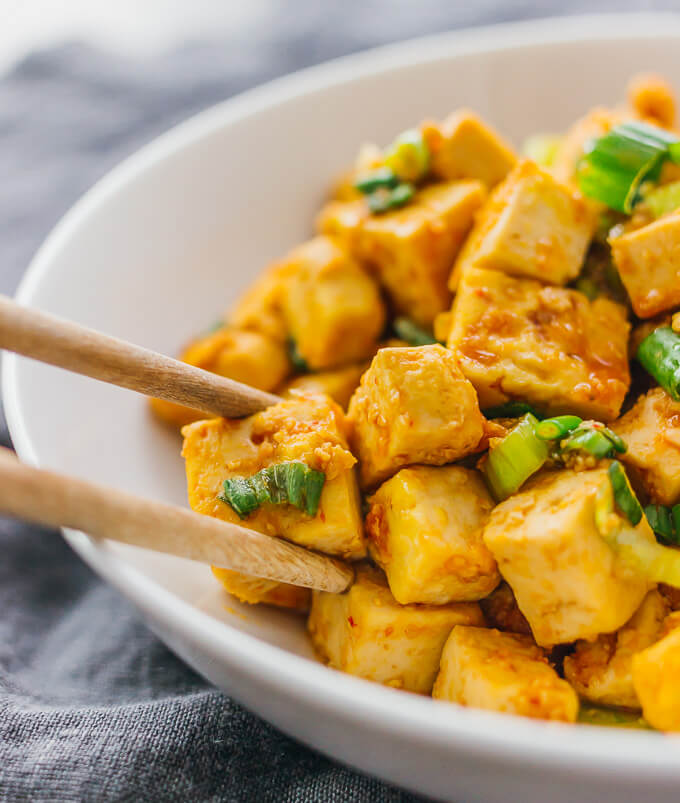 I recently converted this recipe to a low carb and keto friendly version, and one of the things I did was use erythritol instead of honey. If you don't have erythritol, you can either replace with another type of sweetener or omit entirely.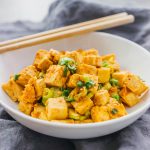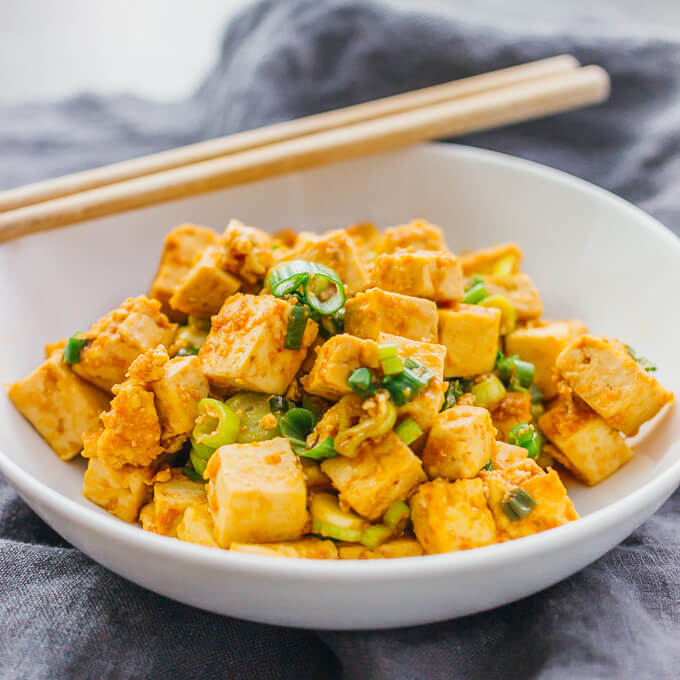 How to cook tofu (so you'll actually want to eat it)
Very simple and easy tofu skillet recipe with a spicy sauce.
Ingredients
12

ounces

extra firm tofu

drained and chopped into 1/2-inch cubes

2

eggs

1/3

cup

sliced scallions (about 2)

1

tablespoon

mayonnaise
Instructions
Mix up all of the ingredients for the sauce in a bowl and set aside.

Heat a large nonstick pan over medium heat. Add tofu cubes and cook until lightly golden, about 10 minutes, stirring frequently.

Crack eggs over the pan, immediately stirring it with the tofu to scramble. Stir until the eggs are cooked, about 1 minute.

Stir the sauce and pour it over the pan. Mix everything together so the tofu is well coated in the sauce, stirring for a few minutes.

Remove the pan from heat. Add and stir in the scallions and mayonnaise. Serve immediately.
Nutrition Notes
This recipe yields 10 g net carbs per serving.
Nutrition Facts Per Serving
| | |
| --- | --- |
| Calories 450 | |
| Total Fat 33g | 51% |
| Saturated Fat 5g | 25% |
| Trans Fat 0g | |
| Cholesterol 190mg | 63% |
| Sodium 1070mg | 45% |
| Potassium 20mg | 0% |
| Total Carb 12.5g | 4% |
| Dietary Fiber 2.5g | 11% |
| Sugars 5g | |
| Protein 22g | |
LOW CARB & KETO COMMUNITY
Join our support group on Facebook.
Visit Group