Summary:
These keto lettuce wraps contain saucy ground beef topped with pickled cucumbers and spicy mayo. This easy Asian dinner can be made in under 30 minutes with just a skillet on the stovetop. Great for low carb diets with only 2.5g net carbs per serving.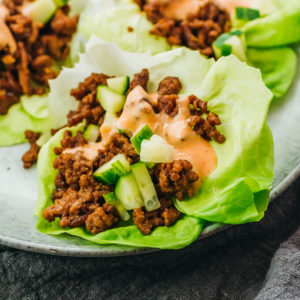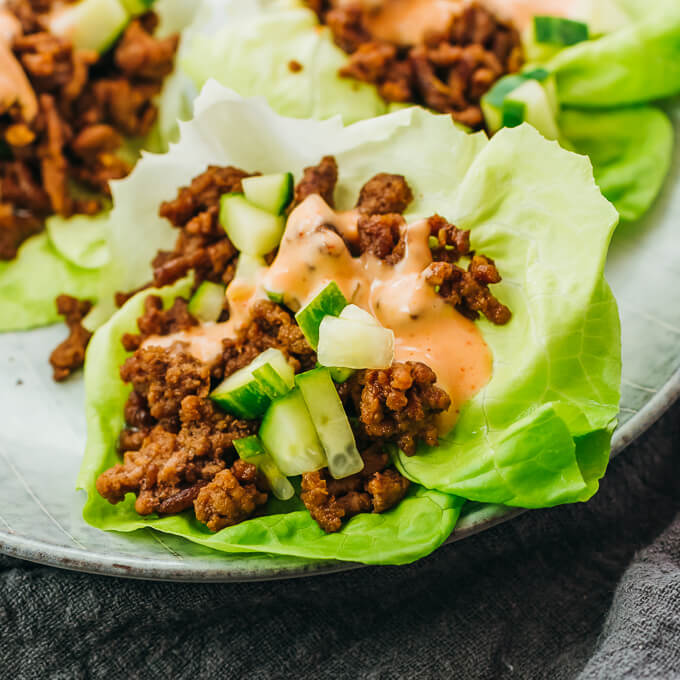 Asian Lettuce Wraps Recipe
INGREDIENTS
Pickled Cucumbers:
1/3

cup

white vinegar

(can be substituted with rice vinegar)

1/2

english cucumber (5 ounces weight), diced
Other:
1

lb

ground beef

(I use 85% lean)

1

head butter lettuce (8 ounces weight), leaves separated

(sometimes under more specific names like Bibb or Boston lettuce — see section below called "Best Lettuce For Wraps")
INSTRUCTIONS
Add vinegar to a microwave-safe bowl; I use a 4-cup glass bowl or measuring glass. Microwave until hot, about 1 minute. Add diced cucumbers to the hot vinegar, and stir until well-coated. Set aside at room temperature.

Add mayonnaise and sriracha to a second bowl, stirring until very smooth. Add soy sauce, sweetener, sesame oil, and garlic to a third bowl, stirring until well-mixed and aromatic. Set them aside.

Add beef to a cold skillet; I use a 10-inch nonstick pan. Over high heat, cook until its juicies have evaporated and it begins to fry in its own fat, 8 to 10 minutes, crumbling and stirring frequently. You can tell it's frying in its own fat when there's darker browning on parts of the beef touching the pan.

Add the soy sauce mixture to the skillet and cook until it's nearly evaporated, about 2 minutes, stirring frequently so that the beef is well-coated with sauce. Turn off the heat.

Divide the beef mixture among the lettuce leaves, prioritizing rounder cup-shaped ones. Strain out the pickled cucumbers and distribute them over the beef. Spoon the sriracha mayo on top. Serve immediately. If you have leftovers, store the lettuce separate from the other ingredients.
NUTRITION
Makes 4 Servings
Amount Per Serving:
| | |
| --- | --- |
| Calories 440 | |
| Total Fat 32g | 49% |
| Saturated Fat 8g | 39% |
| Cholesterol 110mg | 37% |
| Sodium 910mg | 38% |
| Net Carb 2.5g | |
| Total Carb 3.5g | 1% |
| Dietary Fiber 1g | 4% |
| Sugars 1.5g | |
| Protein 32g | |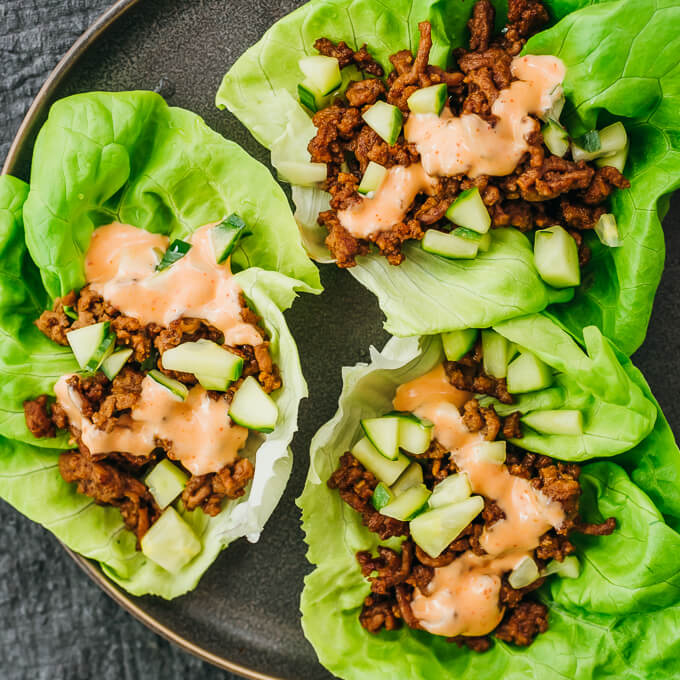 Why You Should Make These Lettuce Wraps
Simple Ingredients. I like how this recipe has easy-to-find ingredients, and it's likely that many are already in your pantry. Some Asian recipes use specialty ingredients that require a special trip to hunt them down, but not this one. All of them can be found in generic U.S. supermarkets.
Bold Flavors. Good Asian cuisine should strive for a well-balanced mix of salty + sweet + sour + spicy. These lettuce wraps have them all. The sauce is both salty and sweet, the pickled cucumbers give a nice tang, and the sriracha mayo is spicy but not overpowering.
Fast 30-Minute Dinner. Like many Asian stir-fry dishes, this recipe takes very little time to prepare and cook. Taking only 15 minutes to prepare ingredients and assemble the wraps plus 10 minutes of cooking, you'll have dinner on the table in less than 30 minutes. It's great for busier weeknights.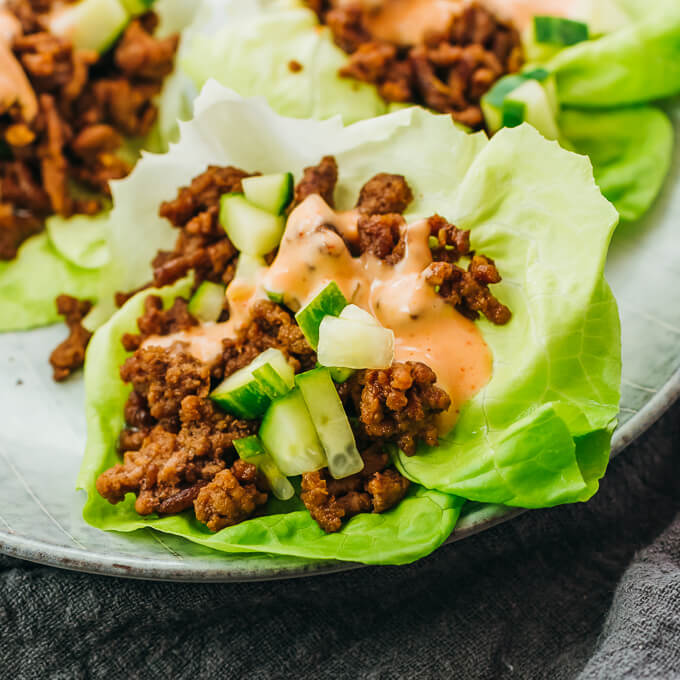 Best Lettuce For Wraps
Use a head of butter lettuce, which is sometimes found under more specific varieties like Bibb or Boston lettuce. In the UK, they are sometimes called "round lettuce." Any of them will work well for this recipe. They typically have a loose arrangement of leaves, with tender texture and mild sweet flavor, and are perfect for making lettuce wraps.
Butter lettuce is also low in carbs, which makes it a great vehicle for the flavorful toppings. Each ounce of lettuce has only 0.3g of net carbs.
When you're separating out the leaves from the core, the best leaves are the small to middle sized ones, which tend to be rounder and cup shaped. They're great for holding up the toppings. Avoid the larger outer leaves, which are flatter and will break under the weight of the toppings — resulting in a messy, but still delicious meal.
Recipe Development
These Asian lettuce wraps are inspired by a recipe in Cook's Country June/July 2018 issue. I reduced or substituted the most carb-dense ingredients (brown sugar, sriracha, seasoned rice vinegar, and cucumbers) to reduce the net carbs to only 2.5g per serving, making it more suitable for anyone on a keto diet. I also made minor changes in the proportion of ingredients to maximize flavor.
More Keto Asian Dishes