Summary:
This is a one-pot dinner recipe for Indian butter chicken, with tender bites of chicken breast browned and simmered in a rich and creamy tomato-based sauce. Onions add sweetness, and butter is stirred in at the end for extra richness. Cilantro and ground coriander add a subtle earthy flavor.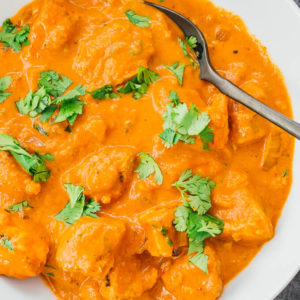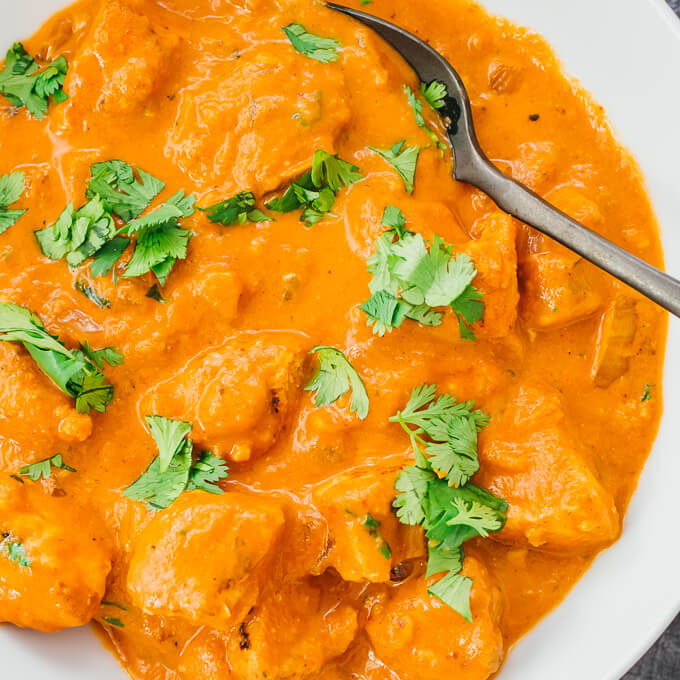 INGREDIENTS
Browning Chicken:
INSTRUCTIONS
Prepare Chicken: Pat chicken dry with paper towels and trim off excess fat, if any. Cut into 1-inch chunks. Stir together yogurt, salt, and pepper in large bowl until well-mixed. Add chicken chunks and stir until well-coated with yogurt.

Sear Chicken: Heat large nonstick pan (Note 7) over high heat until very hot. Add half of yogurt-covered chicken chunks to pan and spread out. Cook until golden brown and a bit charred, a few minutes, while stirring and flipping chicken to sear all sides. As they finish searing, transfer to large plate. Repeat with remaining chicken.

Sauté Onions: Reduce to medium heat. Add 2 tablespoons butter to now-empty pan, spreading around until melted. Add chopped onions and cook for about 5 minutes to soften, stirring frequently and loosening any browned bits stuck to bottom of pan. Add minced garlic and all spices, stirring for a minute until aromatic.

Simmer Sauce: Add tomato sauce and heavy cream, stirring for a minute until mixed. Add seared chicken chunks (without drippings) to pan and submerge in sauce; no need to stir. Bring sauce to simmer. Simmer for 20 minutes, stirring occasionally and decreasing heat as needed to maintain light simmer. Chicken should be cooked through and sauce should be slightly thickened and orange.

Finish & Serve: Add 2 tablespoons chopped cilantro and 2 tablespoons butter to sauce, stirring until melted. Turn off heat. Serve into bowls (Note 8), and garnish with 1 tablespoon cilantro.
NUTRITION
Makes 4 Servings
Amount Per Serving:
| | |
| --- | --- |
| Calories 560 (56% from fat) |   |
| Total Fat 35g | 54% |
|    Saturated Fat 21g | 107% |
| Cholesterol 199mg | 66% |
| Sodium 530mg | 22% |
| Net Carb 8.5g |   |
| Total Carb 11.5g | 4% |
|    Dietary Fiber 3g | 12% |
|    Sugars 6.5g |   |
| Protein 44g |   |
PHOTOS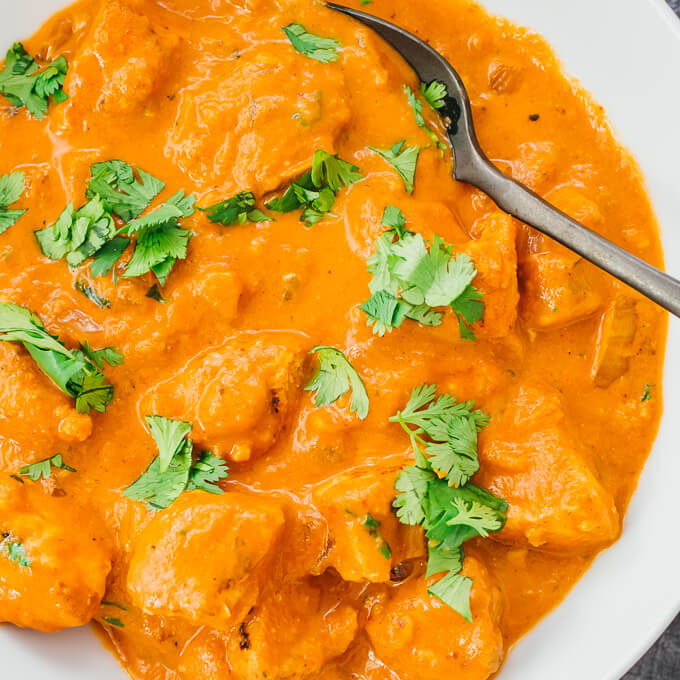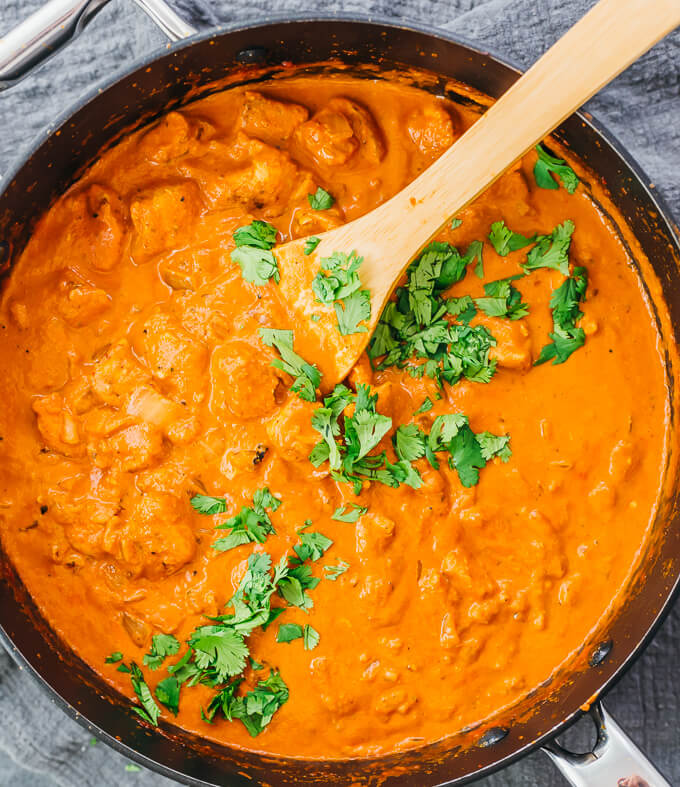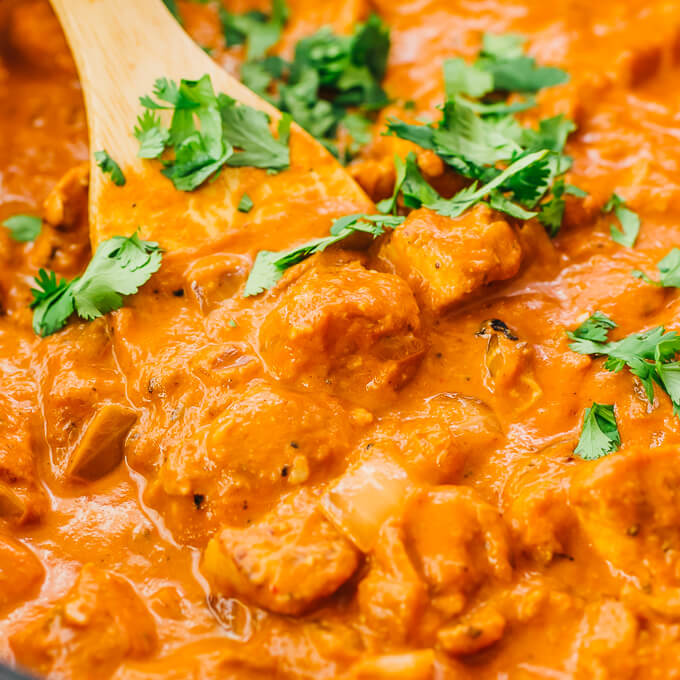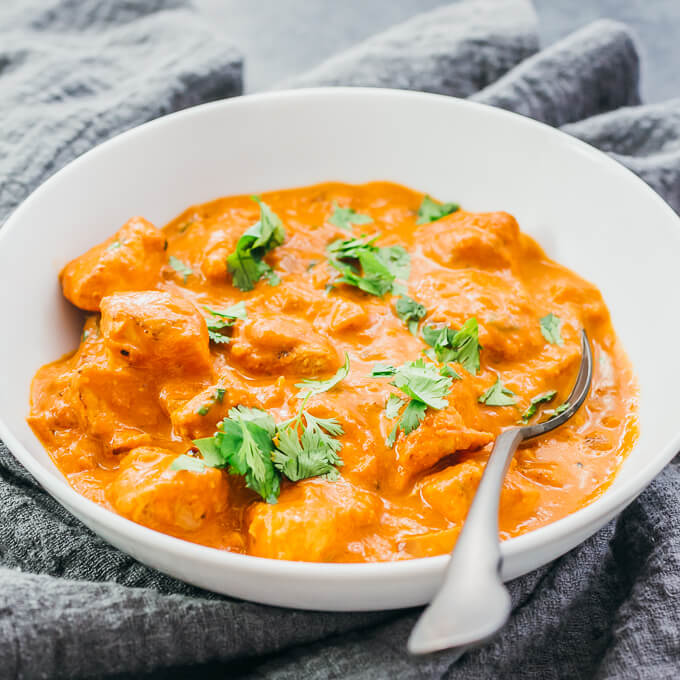 NOTES & TIPS
(1) Chicken. I use fresh chicken; if yours is frozen, defrost in the refrigerator until thawed before using in this recipe. I use chicken breasts and they come out tender and moist, and don't get tough. I haven't tested with other cuts, but chicken thighs should also work well.
(2) Greek Yogurt. About 4 ounces weight. Greek yogurt is used because of its thick consistency; don't use American yogurts, which would result in a watery marinade. Select one with at least 2% fat, plain flavor, and unsweetened. I use the Fage brand. This can't be substituted with sour cream.
(3) Garam Masala. This is one of those spices that can't be easily substituted because it gives a characteristic taste to Indian dishes like chicken tikka masala and butter chicken. It's a blend of ground Indian spices including pepper, cloves, cinnamon, nutmeg, cardamom, and cumin. You can easily buy garam masala online, or find it at many U.S. supermarkets.
(4) Cayenne. 1/8 teaspoon for mild spiciness, 1/4 teaspoon for medium spiciness. Adjust as needed to match your preferences.
(5) Tomato Sauce. I use canned tomato sauce that is unsalted and plain (no added herbs). Tomato sauce is the same as tomato puree. Don't substitute with other tomato products like diced tomatoes, crushed tomatoes, tomato paste, or pasta sauce.
(6) Heavy Whipping Cream. I haven't used anything other than dairy-based cream, but readers have told me that they have successfully substituted some or all of the cream with half and half or coconut milk. I think the taste of coconut milk would go wonderfully with the flavors in this dish, especially if you use full-fat coconut milk. For a thicker, luxurious sauce, a better substitution might be coconut cream.
(7) Large Pan. I use a 10-inch wide and 3-inch tall nonstick pan. No oil needed.
(8) Serving. Like many Indian dishes, butter chicken is often served with basmati rice and naan. You can replace them with lower carb options like fried cauliflower rice and low carb tortillas. Bags of pre-riced cauliflower can be found in the produce section of many U.S. grocery stores, or you can buy florets and use a food processor to grate them into rice-sized pieces. Low carb tortillas are also available in many U.S. supermarkets — look for wraps by brands including Mission, La Banderita, and Kroger.
(9) Butter Chicken vs. Chicken Tikka Masala. Butter chicken is similar to chicken tikka masala, and some restaurants use those terms interchangeably. Also known as murgh makhani, butter chicken originated in India whereas chicken tikka masala is more of a British invention. Both recipes use garam masala, but butter chicken tends to be milder. I recommend butter chicken for those who prefer a less spiced, more buttery and subtle curry, and chicken tikka masala for those who prefer boldly flavored sauces. I've cooked the latter a number of different ways, with recipes for stovetop, pressure cooker, and slow cooker.