An easy and low carb recipe for Indian butter chicken, with tender yogurt-marinated chicken cooked in a deliciously spiced orange curry.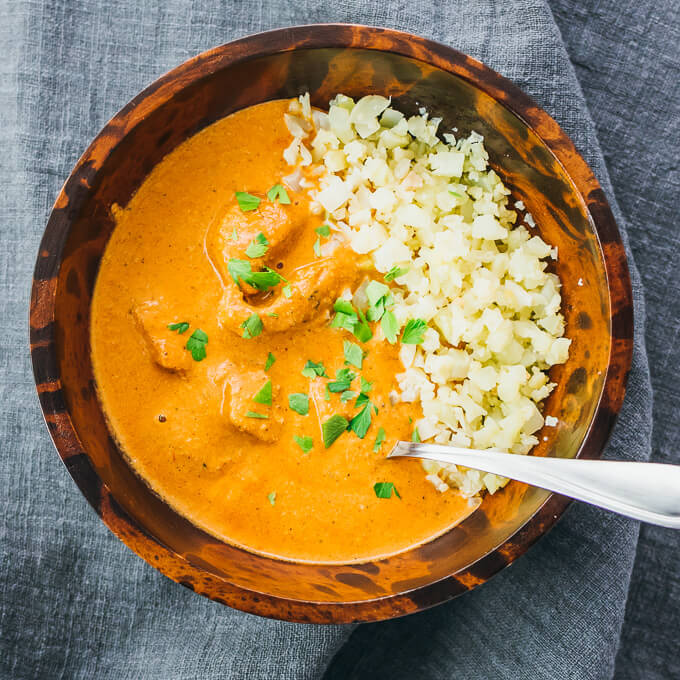 Indian butter chicken is very similar to chicken tikka masala, and many restaurants all over the globe will use those terms interchangeably. Butter chicken is a more traditionally Indian dish, also called chicken makhani (makhani means "with butter"), whereas chicken tikka masala is more of a British invention. This butter chicken recipe differs from the former because it has a more buttery and milder sauce with fewer spices, but is otherwise very similar.
Most people will say that the best thing about Indian curries is the amazing flavor of the sauce, and I can't disagree with that, but the tenderness of the chicken chunks is a close second. The yogurt marinade, made with lemon juice and spiced with garam masala, really helps develop the texture of the chicken.
This butter chicken recipe is also designed for carb conscious folks — each hearty serving has 7.5g net carbs and can be eaten on a keto diet. You can meal prep by making a large batch of this on Sunday to enjoy for packed lunches and dinners during the weekdays.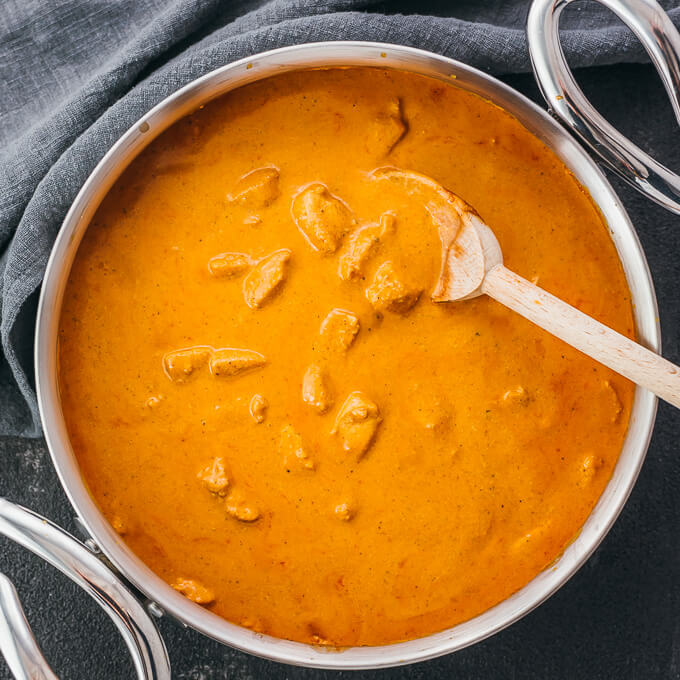 This Indian butter chicken recipe is adapted from my original chicken tikka masala, which I have made with three different cooking methods:
I recommend butter chicken for those who prefer a more buttery, less spiced, and more subtle curry, and chicken tikka masala for those who prefer boldly flavored sauces.

You'll need garam masala to make this recipe — it's a blend of dry spices including cumin, cardamom, cinnamon, cloves, nutmeg, and others. From reader feedback, I've learned that garam masala has different flavor profiles depending on the brand. I typically buy garam masala from Whole Foods, where I've found it to be very consistent in flavor.
Recently I've noticed very few generic supermarkets carry plain 2% fat Greek yogurt, whereas nonfat options are much more prevalent. If you're having trouble finding it, I suggest checking out Trader Joe's or Whole Foods; both places carry FAGE plain 2% Greek yogurt, which is what I always use for Indian marinades.
If you thaw frozen chicken breasts for this recipe, I recommend patting them dry with paper towels after thawing to remove any excess moisture. Otherwise you'll end up with chicken chunks sitting in wet marinade. The texture of the marinade should be sticky and it should easily coat the chicken chunks.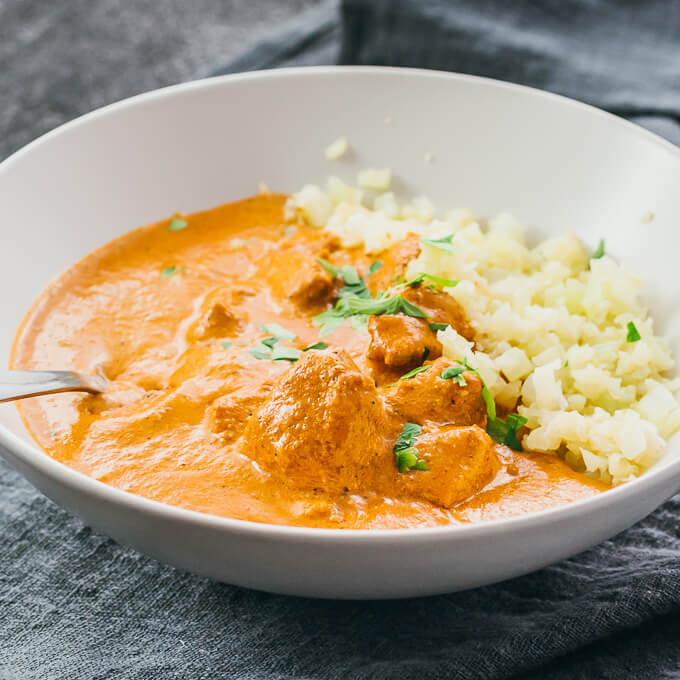 Like many Indian recipes, butter chicken is typically served with basmati rice and naan, but for a low carb option you can serve with cauliflower rice, as photographed here. I use 85g of riced cauliflower for every butter chicken serving. To cook them, just microwave the cauliflower until tender. You can buy riced cauliflower at most supermarkets, or you can buy florets and use a hand grater or food processor to grate into rice sized pieces.
Leftovers can be covered and stored in the refrigerator for up to a week. To reheat, simply microwave until heated through, pausing halfway to stir the sauce.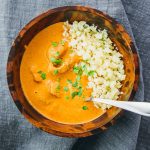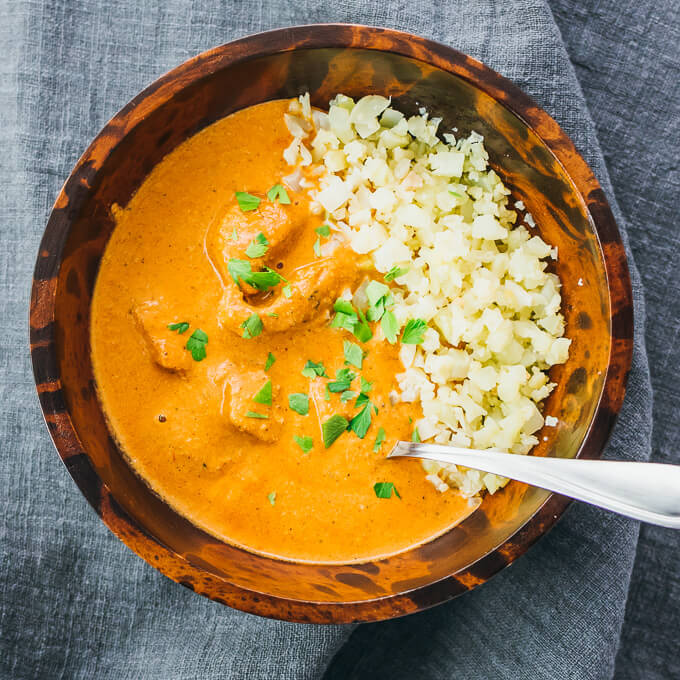 Easy Indian Butter Chicken
A quick and easy recipe for Indian butter chicken, yielding a creamy orange sauce with yogurt marinated chicken.
Ingredients
Marinade:
1 1/2

pounds

boneless skinless chicken breasts (about 3)

chopped into bite sized chunks

7

ounces

plain 2% fat greek yogurt

1

tablespoon

lemon juice

2

teaspoons

garam masala

1

teaspoon

coarsely ground black pepper
Serving:
cauliflower rice, white rice, or naan

chopped fresh cilantro
Instructions
Marinating the chicken:
Combine marinade ingredients (yogurt, garam masala, lemon juice, pepper) in a bowl and mix well. Add chicken chunks and thoroughly coat with the marinade. Let sit in the refrigerator for at least 1 hour.
Cooking the chicken:
Add chicken chunks (along with the marinade sticking to them) to a 3-quart or larger pan over medium-high heat and sauté until the chicken is mostly cooked, about 5 minutes.

Add butter and garlic to the pan. Stir until the butter is melted, a few minutes.

Add tomato sauce, heavy cream, garam masala, paprika, and cayenne. Stir to mix well as the sauce comes to a simmer, a few minutes.

Cook for 20 minutes to thicken the sauce, stirring occasionally, reducing heat as needed to maintain a simmer.
Serving:
Serve with cauliflower rice, basmati rice, or naan. Garnish with cilantro or parsley.
Nutrition Info
This recipe yields 7.5 g net carbs per serving. Nutrition information does not include rice or naan.
Nutrition Facts Per Serving
| | |
| --- | --- |
| Calories 680 |   |
| Total Fat 50g | 77% |
|    Saturated Fat 32g | 161% |
|    Trans Fat 0g |   |
| Cholesterol 267mg | 89% |
| Sodium 570mg | 24% |
| Potassium 520mg | 15% |
| Total Carb 10.5g | 3% |
|    Dietary Fiber 3g | 11% |
|    Sugars 4.5g |   |
| Protein 37g |   |
MORE DELICIOUS & EASY CHICKEN RECIPES: