Summary:
An easy, one-pot dinner recipe for Indian butter chicken where tender bites of chicken breast are browned and simmered in a rich and creamy tomato-based sauce. One of my favorite keto/low carb Asian Takeout recipes.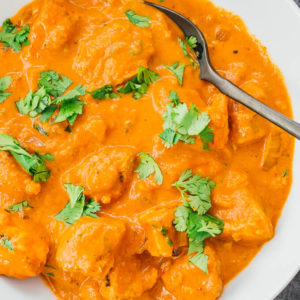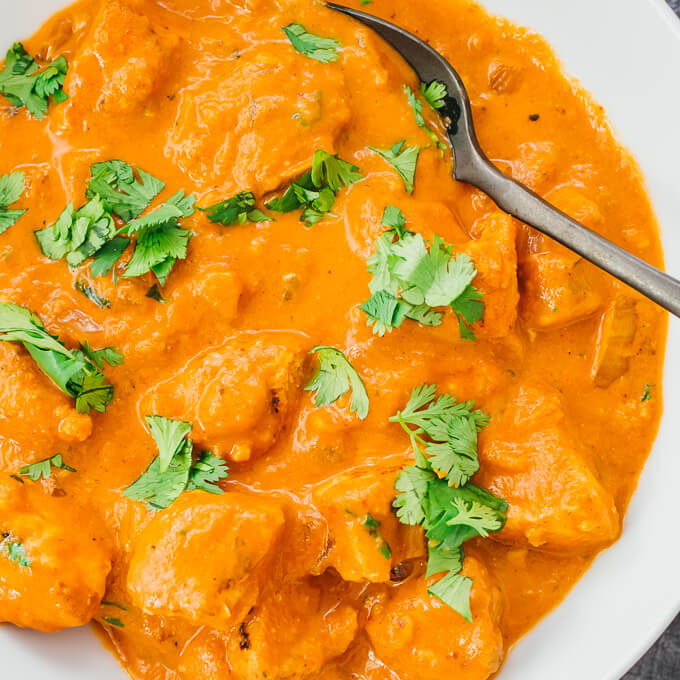 INGREDIENTS
For Browning Chicken:
1 1/2

pounds

boneless skinless fresh chicken breasts

1/2

cup

(4 ounces) plain 2% fat greek yogurt

(I use the Fage brand)

1/2

teaspoon

table salt

1/2

teaspoon

ground black pepper
Everything Else:
1

small yellow onion, finely chopped

5

cloves

garlic, minced

15

ounces

canned unsalted plain tomato sauce

1

cup

heavy whipping cream

4

tablespoons

salted butter, cut into 4 pieces

3

tablespoons

chopped fresh cilantro
INSTRUCTIONS
Browning Chicken:
Pat the chicken dry with paper towels. Trim off excess fat, if any. Cut into 1-inch chunks.

In a large bowl, stir together yogurt, salt, and pepper until well-mixed. Add chicken chunks and mix until well-coated with the yogurt.

Heat a large nonstick pan over high heat (I use a 10-inch wide and 3-inch tall nonstick pan) until very hot, no oil needed. Add only half of the yogurt-covered chicken chunks, spreading them out in the pan. Cook for a few minutes until they are golden brown and a bit charred, frequently stirring and flipping the chicken to sear different sides (tongs are useful for this).

Once the chicken chunks are seared, transfer them to a large plate. Repeat the searing process with the remaining half of the chicken chunks. Doing this in 2 batches prevents the pan from cooling too much, resulting in a better sear.
Making The Sauce:
Reduce to medium heat. Add half of the butter (2 tablespoons) to the now-empty pan, spreading it around until melted. Add chopped onions and cook for about 5 minutes to soften them, stirring frequently and loosening browned bits stuck to the bottom of the pan.

Add all of the spices and the minced garlic, stirring them for a minute to release their aromatics.

Add tomato sauce and heavy cream, stirring for a minute until mixed. Add seared chicken chunks without pan drippings and submerge them into the sauce; no need to stir. Bring to a simmer.

Simmer for 20 minutes, stirring occasionally and decreasing the heat as needed to maintain a light simmer. After simmering, the chicken should be cooked through and the sauce slightly thickened and orange.

Add two-thirds (2 tablespoons) of chopped cilantro and the remaining (2 tablespoons) butter, stirring it in until melted. Turn off the heat. Serve into bowls, and garnish with remaining (1 tablespoon) cilantro.
NUTRITION
Makes 4 Servings
Amount Per Serving:
| | |
| --- | --- |
| Calories 560 |   |
| Total Fat 35g | 54% |
|    Saturated Fat 21g | 107% |
| Cholesterol 199mg | 66% |
| Sodium 530mg | 22% |
| Net Carb 8.5g |   |
| Total Carb 11.5g | 4% |
|    Dietary Fiber 3g | 12% |
|    Sugars 6.5g |   |
| Protein 44g |   |
This dish can also be made in an electric pressure cooker — see Instant Pot Butter Chicken.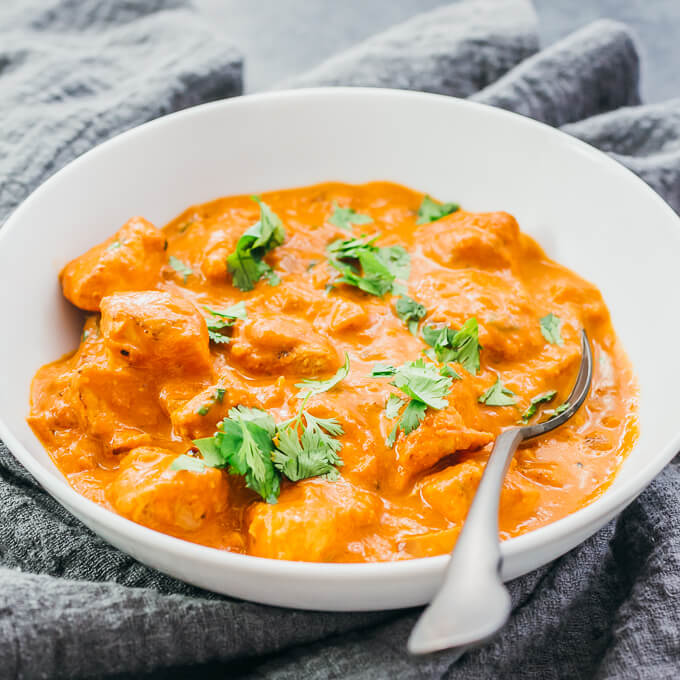 Butter Chicken vs. Chicken Tikka Masala
Butter chicken is similar to chicken tikka masala, and some restaurants use those terms interchangeably. Also known as murgh makhani, butter chicken originated in India whereas chicken tikka masala is more of a British invention. Both recipes use garam masala, which is a spice blend containing cumin, cardamom, cinnamon, and cloves, but butter chicken tends to be milder in taste.
I recommend butter chicken for those who prefer a less spiced, more buttery and subtle curry, and chicken tikka masala for those who prefer boldly flavored sauces. I've cooked the latter a number of different ways, with recipes for stovetop, pressure cooker, and slow cooker.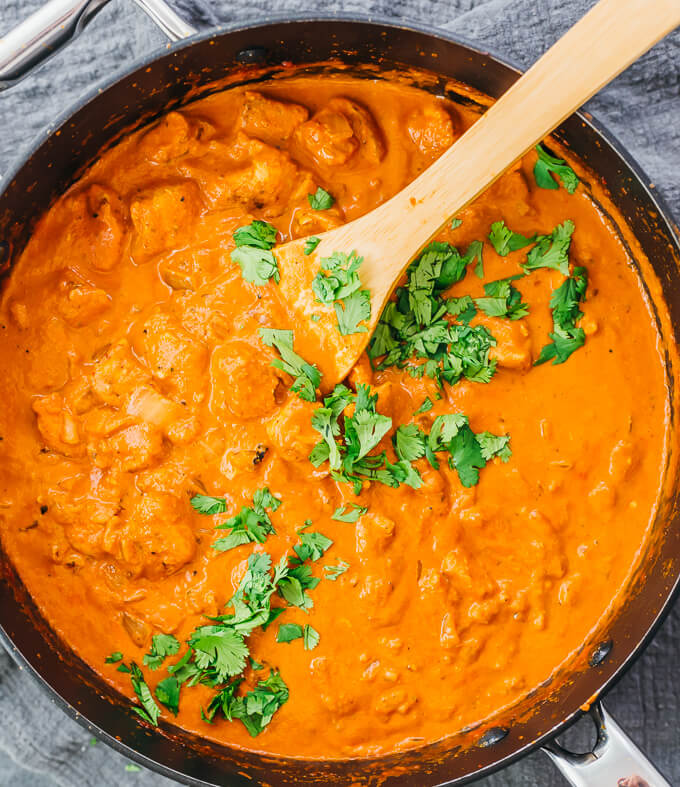 Butter Chicken Recipe Overview
Prior to searing, chicken breast chunks are coated in Greek yogurt to accelerate the browning process. They're seared in two batches to maintain the pan's hot temperature; otherwise, adding all of the chicken at once will cool the pan too much, resulting in a subpar sear. To save time, the chicken isn't marinated prior to cooking.
Finely chopped onions add a lovely sweet note to the whole dish, and also adds bulk to the generous sauce. Additional butter is stirred in at the end for extra richness. Both cilantro and ground coriander add an earthy but subtle flavor to the dish.
This recipe is also designed to be a carb conscious and keto friendly dinner by minimizing carb-heavy ingredients. Each serving is estimated to have 8.5g of net carbs.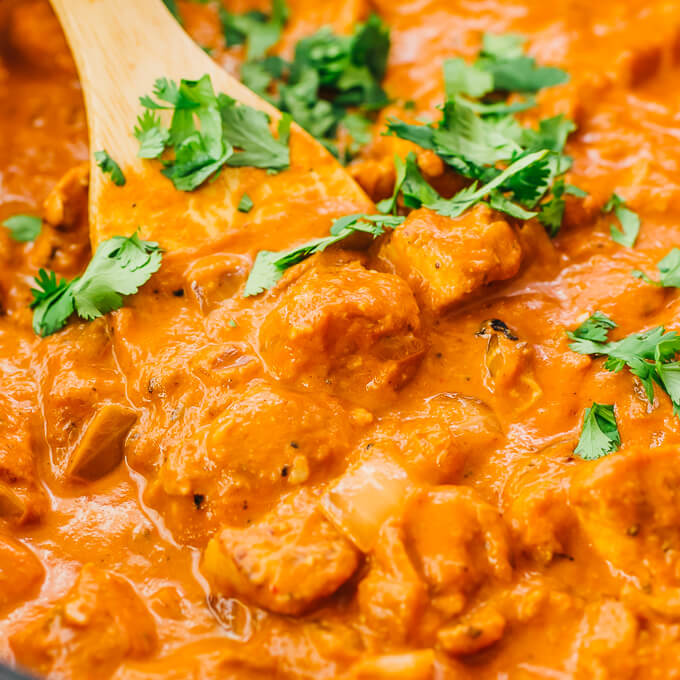 Low Carb Serving Options
Like many Indian dishes, butter chicken is often served with basmati rice and naan. You can replace them with lower carb options like fried cauliflower rice and low carb tortillas. Bags of pre-riced cauliflower can be found in the produce section of many U.S. grocery stores, or you can buy florets and use a food processor to grate them into rice-sized pieces. Low carb tortillas are also prevalent in many U.S. supermarkets — look for wraps by brands including Mission, La Banderita, and Kroger.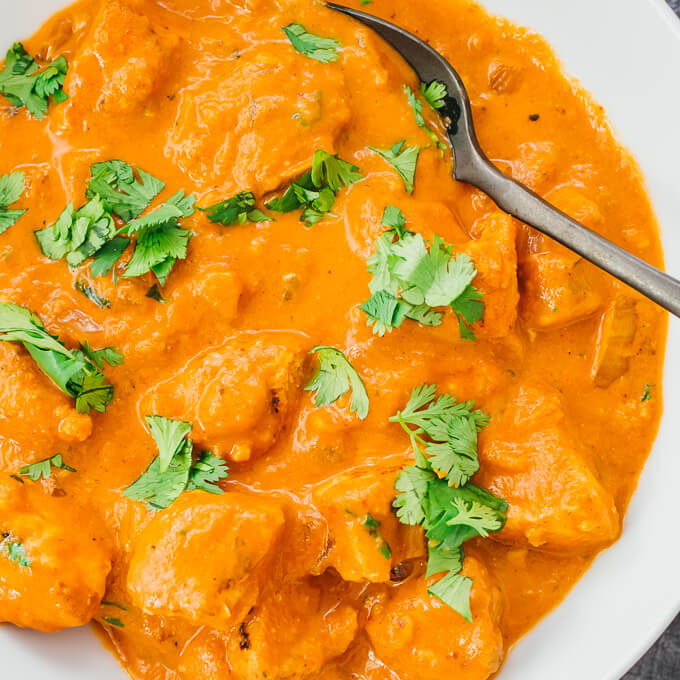 MORE EASY ASIAN DINNERS: