Summary:
Get your Indian fix by making one of my most popular recipes, chicken tikka masala, now adapted for the Instant Pot pressure cooker.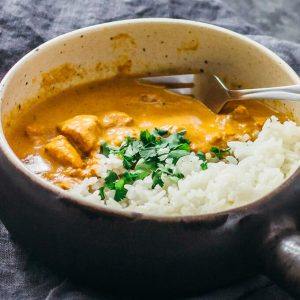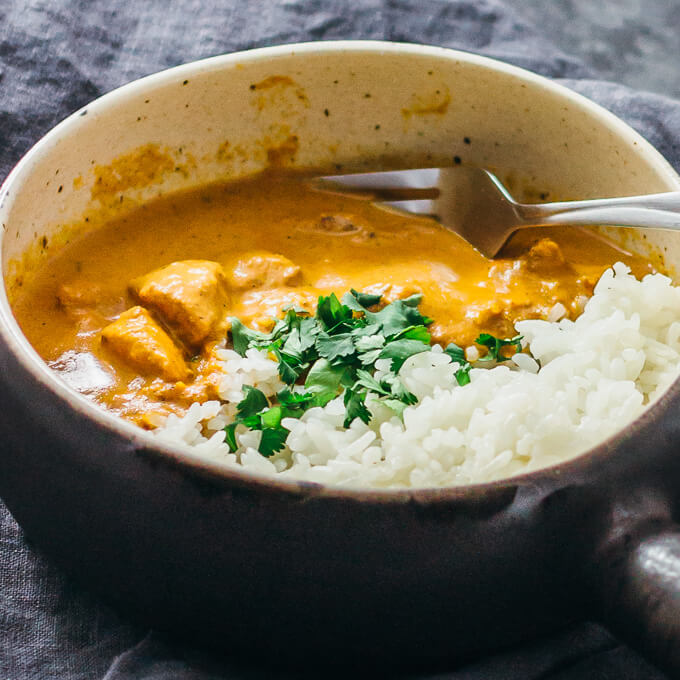 Instant Pot Chicken Tikka Masala (Pressure Cooker)
INGREDIENTS
For marinating the chicken:
1

pound

boneless skinless chicken breasts

about 2, chopped into bite-sized pieces

1

cup

plain 2% fat greek yogurt

7 ounces

1

tablespoon

garam masala

1

tablespoon

lemon juice

1

teaspoon

black pepper

1/4

teaspoon

ground ginger
INSTRUCTIONS
Marinating the chicken: Combine all marinade ingredients (minus the chicken) in a bowl and mix well. Add chicken chunks and coat with the marinade. Let sit in the refrigerator for at least 1 hour.

Pressure cooker saute mode: Select the saute mode on the pressure cooker for medium heat. When it has reached temperature, add chicken chunks (along with any marinade sticking to them) to the pressure cooker. Saute until the chicken is cooked on all sides, about 5 minutes, stirring occasionally. Turn off the saute mode.

Pressure cooker high pressure mode: Add all of the sauce ingredients except the cream to the pressure cooker, over the chicken, and stir. Secure and seal the lid. Select the manual mode to cook for 10 minutes at high pressure. Use the quick steam release handle to release pressure.

Pressure cooker saute mode: Select the saute mode on the pressure cooker for low heat. When it has reached temperature, add cream to the pot, stirring with the other ingredients. Simmer until the sauce is thickened to your liking, a few minutes.

Serving: Serve with basmati rice or naan. Garnish with cilantro.
NUTRITION
Makes 4 Servings
Amount Per Serving:
| | |
| --- | --- |
| Calories 460 (53% from fat) | |
| Total Fat 27g | 41% |
| Saturated Fat 17g | 85% |
| Cholesterol 171mg | 57% |
| Sodium 880mg | 37% |
| Net Carb 10g | |
| Total Carb 14.5g | 5% |
| Dietary Fiber 4.5g | 18% |
| Sugars 5.5g | |
| Protein 33g | |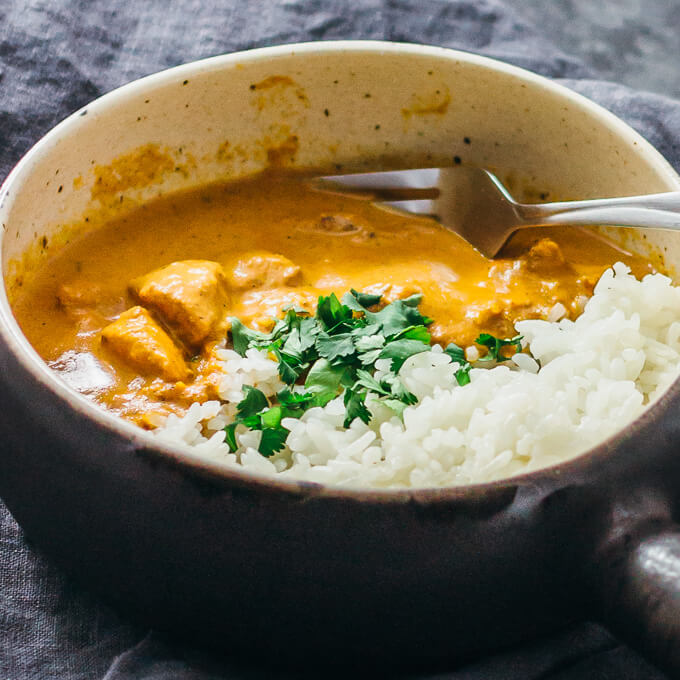 Chicken tikka masala is one of my favorite dishes of all time, and one of the most popular Indian dishes ordered at American restaurants. It goes great with basmati rice to help soak up all of the delicious sauce, or with some slabs of naan bread on the side. I enjoy this dish frequently in various forms, whether it be in a restaurant or just at home with a microwaveable frozen version (the one at Trader Joe's is quite good!). I'm somewhat embarrassed to admit that there have been times where I ate chicken tikka masala more than once in a single day. It's just one of those dishes that ticks off all of the boxes for me: (1) warm and comforting, (2) thick and saucy, (3) tons of spices and flavor, and (4) tender bites of chicken.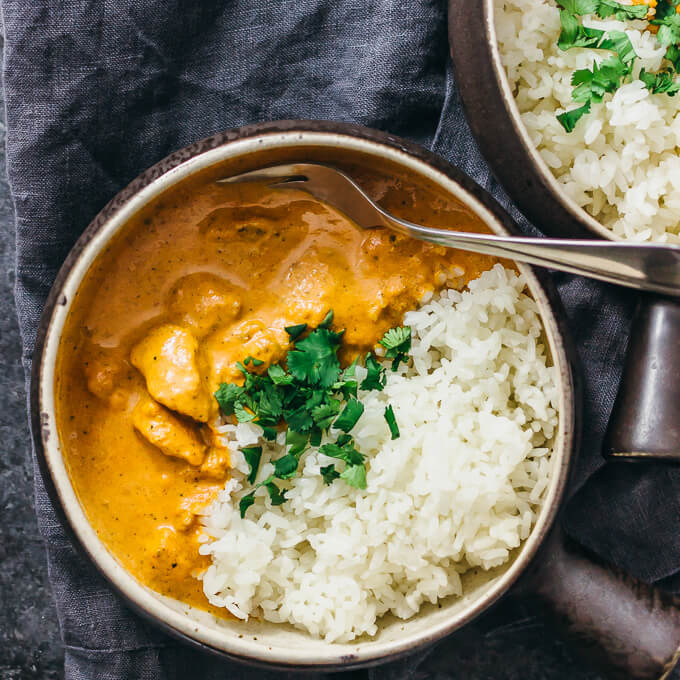 I developed my one-pan stovetop chicken tikka masala recipe about half a year ago — it's a made-from-scratch chicken tikka masala that's surprisingly easy and tastes just as good as the restaurant version. Since then, I've been asked to adapt the recipe to make an Instant Pot version. Via pressure cooking, it only takes 10 minutes to cook the sauce, which is about half as long as the stovetop method. I've also made some minor adjustments such as tweaking the spice mix and using less heavy cream. All in all, this Instant Pot chicken tikka masala tastes just as amazing as the stovetop version, so you can pick whichever cooking method you prefer.
Recently, I added a slow cooker chicken tikka masala for those of you with crockpots and other slow cookers.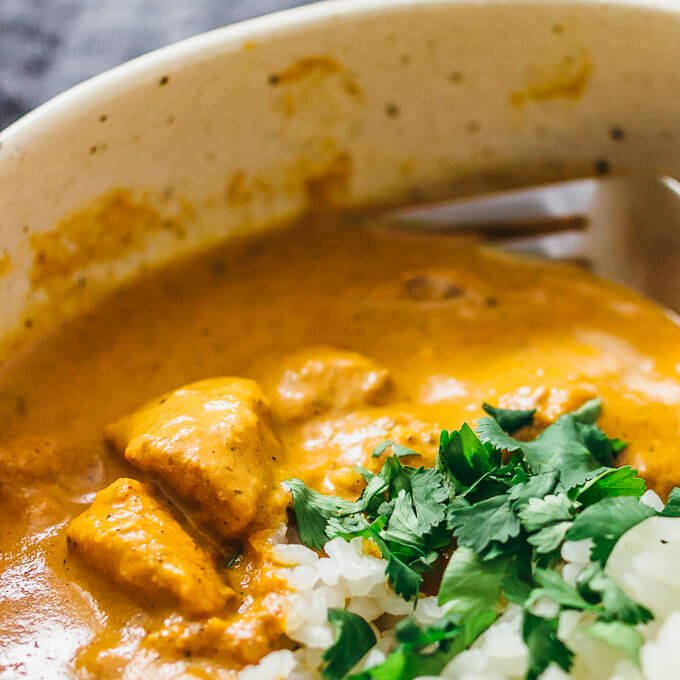 If you've ever made my stovetop chicken tikka masala, you'll know that it comes with a generous amount of sauce. This Instant Pot version is the same. You won't ever find me skimping on tikka masala sauce, otherwise, what's the point of basmati rice and naan if there isn't extra sauce to soak up? The flavors here are top notch — even the typically wary-of-Indian-food Mr. Savory Tooth loves it — and there's also a wonderful hint of lemon flavor as an added bonus.
For a low carb and keto friendly version, simply make the recipe as follows and substitute white rice with riced cauliflower or low carb naan.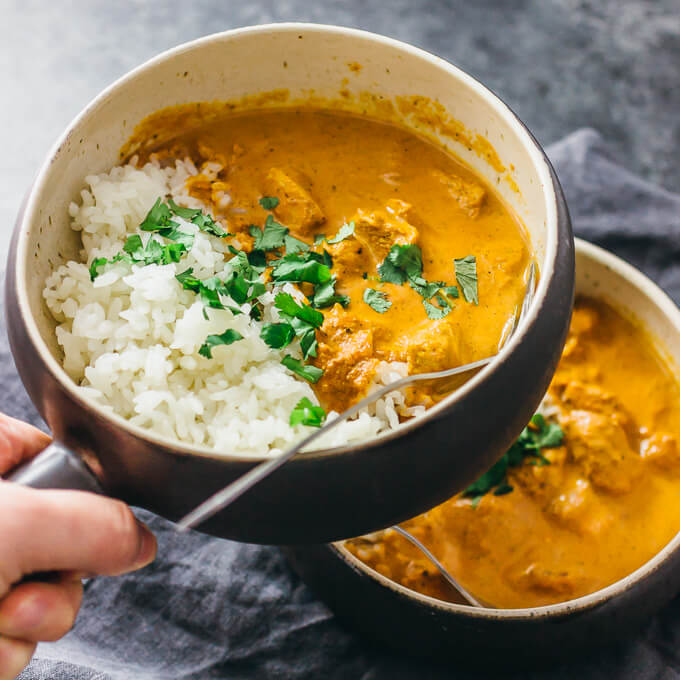 MORE DELICIOUS INSTANT POT RECIPES: