Summary:
This is a vegetarian Indian curry with oven roasted cauliflower and a spicy tikka masala sauce. See similar recipes at Keto/Low Carb Vegetable Mains.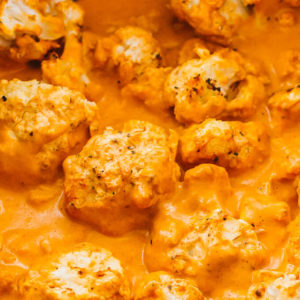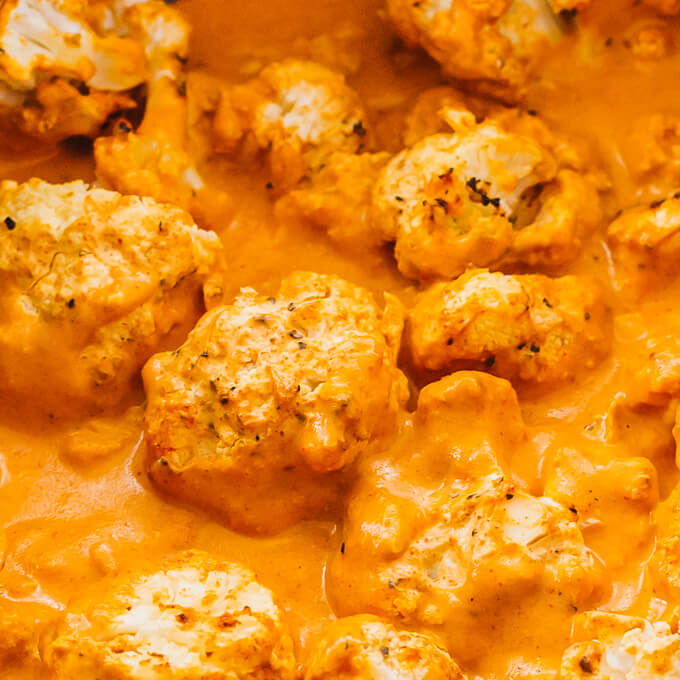 Indian Roasted Cauliflower Curry (Vegetarian Tikka Masala)
INGREDIENTS
Cauliflower Marinade:
1

pound

cauliflower florets (about 1 head)

1

(7-ounce)

container plain 2% fat greek yogurt

1

tablespoon

garam masala

1

tablespoon

lemon juice

1

teaspoon

black pepper

1/4

teaspoon

ground ginger
INSTRUCTIONS
Marinating Cauliflower:
In a large bowl, stir together yogurt, garam masala, lemon juice, pepper, and ground ginger until well-mixed.

If any cauliflower florets are on the larger side (more than 2 inches), cut them into smaller florets.

Toss the florets in the bowl with the marinade until well-coated. Cover and refrigerate overnight.
Roasting Cauliflower:
Preheat the oven to 400 F.

Prepare a baking sheet lined with foil or parchment paper. Add marinated cauliflower florets to the baking sheet, spreading them out in a single layer. Reserve any leftover marinade in the bowl, if any.

Bake at 400 F until the cauliflower is tender and the marinade looks dry, about 20 minutes, depending on your oven and taste preferences. While waiting for the cauliflower to bake, proceed to the next step to make the sauce.
Sauce:
In a large pot, add and stir together all sauce ingredients and any leftover marinade. Bring to a simmer.

Simmer until the sauce thickens and reduces by one-fourth, about 10 minutes, stirring frequently. Adjust the heat as needed to maintain a simmer.

If the cauliflower isn't done yet, keep the sauce warm over low heat.

When the cauliflower is done, add it to the sauce, stirring for a minute until the cauliflower is well-coated with sauce.

Serve while hot, and optionally garnish with chopped fresh cilantro or parsley.
NUTRITION
Makes 3 Servings
Amount Per Serving:
| | |
| --- | --- |
| Calories 400 (69% from fat) | |
| Total Fat 31g | 47% |
| Saturated Fat 19g | 96% |
| Cholesterol 96mg | 32% |
| Sodium 490mg | 20% |
| Net Carb 13.5g | |
| Total Carb 21.5g | 7% |
| Dietary Fiber 8g | 32% |
| Sugars 10.5g | |
| Protein 13g | |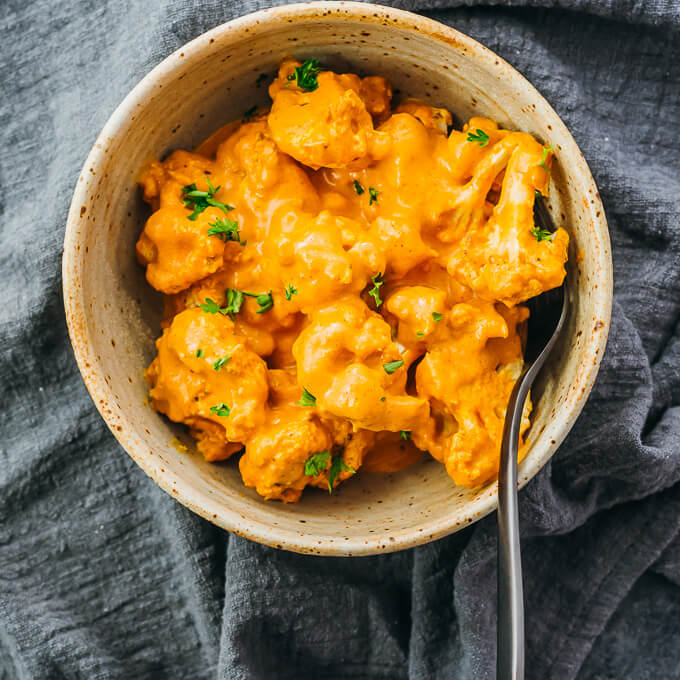 Recipe Overview
This cauliflower tikka masala is a spin on my popular chicken tikka masala recipe, which I have in three versions: stovetop, slow cooker, and pressure cooker. This one is for all of my vegetarian readers who've wanted a taste of my chicken tikka masala.
It's the same great tasting sauce made with tomato sauce, cream, and spices. The cooking method is a bit different; instead of sauteing and simmering the cauliflower, I bake it in the oven to achieve a nice roasted texture and flavor (as I also recently did for Cauliflower "Mac" And Cheese).
Tips On Selecting Ingredients
Yogurt. I use 2% fat plain Greek yogurt by FAGE. In the U.S., you can find it nationwide at major supermarkets like Kroger as well as health food stores like Whole Foods and Trader Joe's.
Garam Masala. Definitely don't skip this ingredient, or skimp on it. And don't try to replace it with other spices like curry powder. Garam masala lends a unique flavor profile to dishes like chicken tikka masala, and can't be easily substituted. You can find this spice mix online at Amazon (see garam masala) or in the spice aisle in most supermarkets.
Tomato Sauce. I use plain tomato sauce sold in cans. Avoid flavored varieties with herbs and other additions.
Cayenne. Also known as red pepper, I use ground cayenne spice to add a bit of heat to the dish. It's only mildly spicy, so it should be suitable for most people. If you prefer your curries less or more spicy, it's easy to adjust to taste.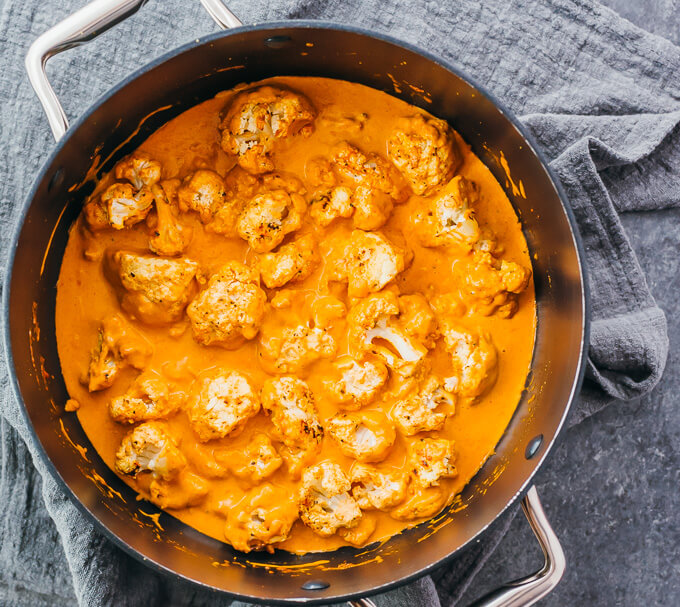 Cauliflower Baking Time
The roasting time for cauliflower florets will depend on your oven, size of the cauliflower florets, and taste preferences. If you prefer your cauliflower to be extra tender, you can bake an additional 5 to 10 minutes or until it reaches your desired result.
Depending on how long you bake the cauliflower, it may stick a bit to the foil lined baking sheet. Use a stiff spatula and the florets should come off cleanly. Or use parchment paper or a baking mat.
Optimizing Sauce Thickness
The sauce can also be adjusted to your preference. The simmering time in the recipe is an estimate based on my particular stovetop and cookware, and you may find that simmering for a shorter or longer period of time will yield a better result for you.
If you prefer a thinner (and therefore larger volume) of sauce, you can simmer for a shorter period of time, and vice versa.
Once the sauce has thickened to your liking, keep it warm over low heat so that it doesn't continue to simmer as you wait for the cauliflower finish baking.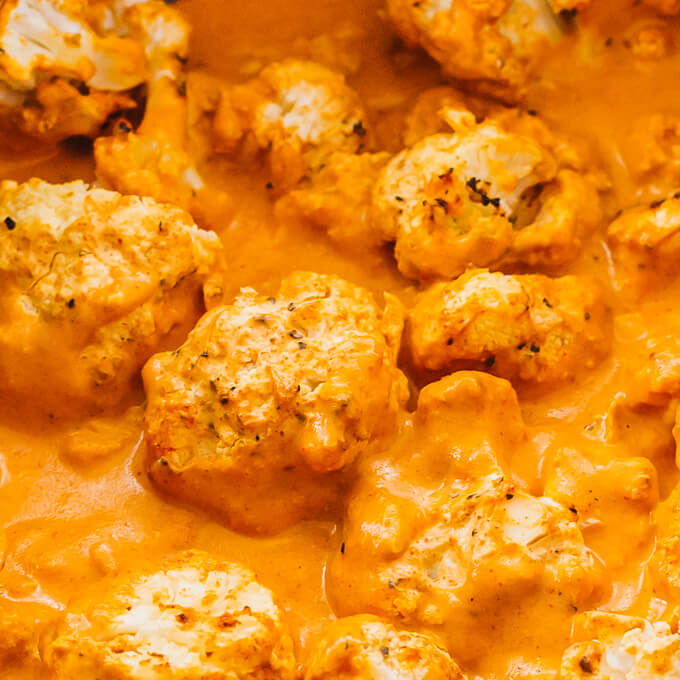 Serving
You can serve this cauliflower curry by itself, or with some side dishes such as:
More Low Carb Asian Recipes