Summary:
A homemade restaurant-quality version of chicken tikka masala using the slow cooker. Great for anyone looking for low carb and keto friendly chicken mains.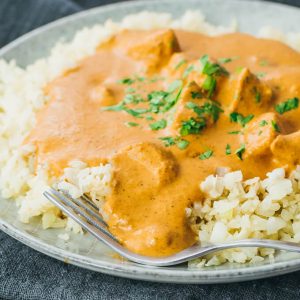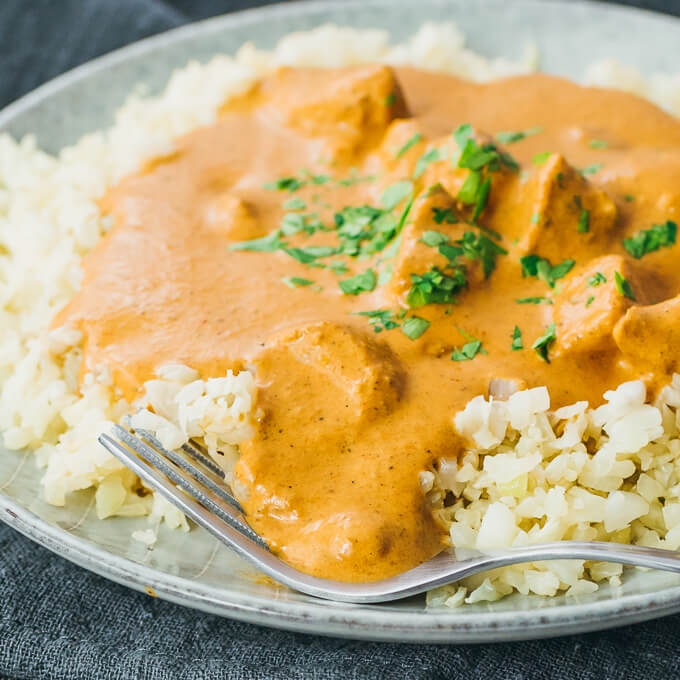 Slow Cooker Chicken Tikka Masala
INGREDIENTS
Marinating Chicken:
1

pound

boneless skinless fresh chicken breasts

7

ounces

plain 2% fat greek yogurt

(I use the Fage brand)

1

tablespoon

garam masala

1

tablespoon

fresh lemon juice

1

teaspoon

black pepper

1/4

teaspoon

ground ginger
INSTRUCTIONS
Pat the chicken breasts dry with paper towels. Chop them into bite-sized chunks, about 1/2 to 1 inch in size.

In a large bowl, combine all marinade ingredients except the chicken and mix well. Add chicken chunks and mix until well-coated with the marinade. Cover and refrigerate for at least 1 hour.

Heat a wide nonstick pan over high heat. Add one-third of the chicken chunks (along with any marinade sticking to them) and cook until the chicken appears a bit blackened and charred, less than 5 minutes, as you stir and flip the chicken to sear all sides.

When the chicken chunks are seared, transfer them to the slow cooker (don't include pan drippings, if any). Repeat this process with the remaining 2 batches of chicken chunks.

Add all sauce ingredients, except the cream, to the slow cooker and stir everything together. Cover and cook on high for 2 hours.

Uncover. Add heavy cream to the slow cooker, stirring it in until the sauce turns orange. Serve while hot, and optionally garnish with chopped cilantro.
NUTRITION
Makes 4 Servings
Amount Per Serving:
| | |
| --- | --- |
| Calories 410 (54% from fat) | |
| Total Fat 24g | 37% |
| Saturated Fat 15g | 73% |
| Cholesterol 138mg | 46% |
| Sodium 400mg | 17% |
| Net Carb 9g | |
| Total Carb 13g | 4% |
| Dietary Fiber 4g | 16% |
| Sugars 6.5g | |
| Protein 33g | |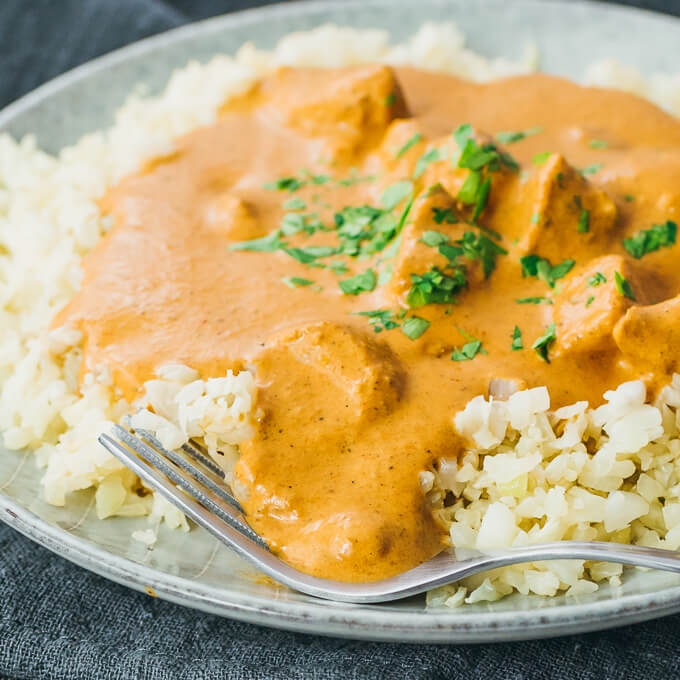 About Chicken Tikka Masala
Chicken tikka masala is one of those dishes that's universally loved by nearly everyone, whether you like Indian food or not, so it's no wonder that the British consider it to be their national dish. I've had so many blog readers tell me different versions of the same story: they make this dish for their family members, who turn up their noses and claim they don't like curries, only to take a bite and end up coming back for seconds and thirds.
I recommend that everyone try making this sometime — all you need to do is marinate the chicken in spices and yogurt, sear briefly on a fry pan, and put it in a slow cooker with the sauce ingredients for 2 hours on high.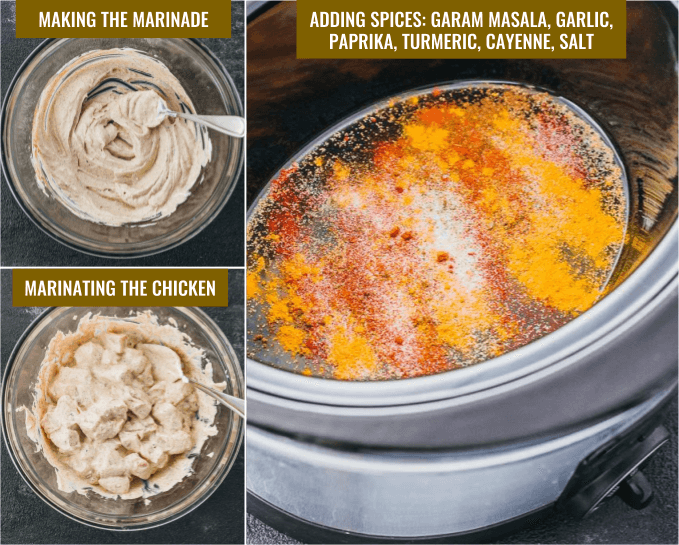 Alternate Cooking Methods
This slow cooker recipe is adapted from my stovetop and pressure cooker versions. Different cooking methods, but the final result is the same. You can find them at:
In all three versions, the chicken chunks are sauteed first. Don't skip this step by just tossing everything directly into the slow cooker. If you do, the chicken will release its juices into the sauce as it cooks, which will alter the color, taste, and texture of the resulting sauce. I've tried skipping that stovetop step, and it's nowhere near as good.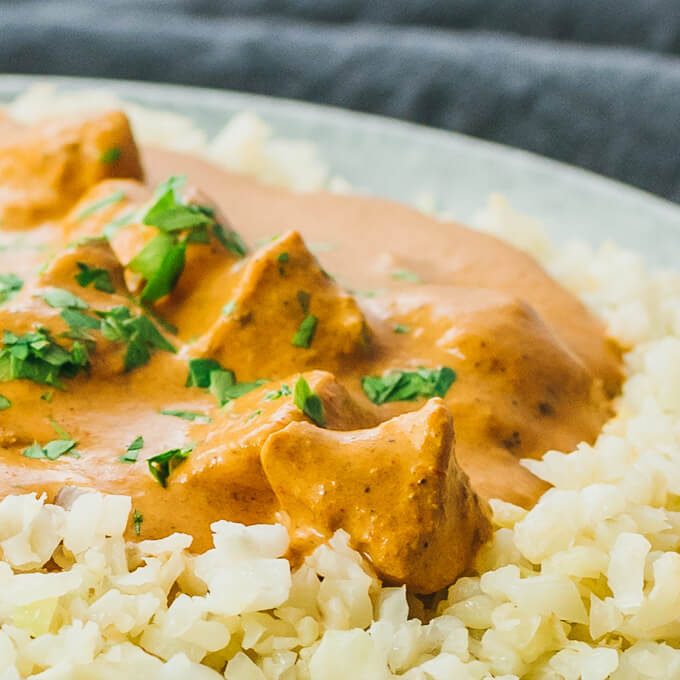 Ingredient Substitutions
I'm often asked about ingredient substitutions, in particular the heavy whipping cream. I haven't used anything other than heavy cream, but readers have told me that they have successfully substituted some or all of the heavy cream with coconut milk. I think the taste of coconut milk would go wonderfully with the flavors in chicken tikka masala, but I suspect it will result in a much thinner sauce. A better substitution might be coconut cream.
Garam masala is one of those spices that can't be substituted because it gives a characteristic taste to Indian recipes like chicken tikka masala. It's a blend of ground Indian spices including pepper, cloves, cinnamon, nutmeg, cardamom, and cumin. You can easily buy garam masala online, or you can buy it at some grocery stores. I've been able to consistently find it in U.S. supermarkets.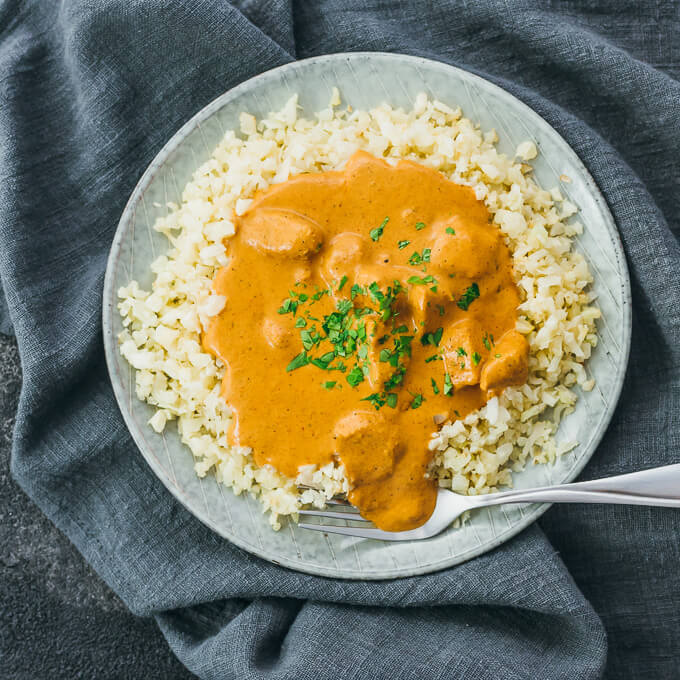 Serving Ideas
Chicken tikka masala is commonly served with side dishes like white rice or naan to help sop up the delicious sauce. This recipe makes a generous amount of sauce, so you'll have plenty on hand.
Since adopting a keto lifestyle, I've been enjoying this meal with low carb side dishes like:
cauliflower "rice" (as photographed here)
various roasted vegetables
Cauliflower rice is an excellent substitute for white rice, acting as an efficient vehicle for transporting more of the savory sauce into my mouth. To prepare this, it's easiest to buy bags of pre-riced cauliflower in the produce section of U.S. grocery stores — less work than grating cauliflower florets by hand. Sear the riced cauliflower on a pan with cooking oil until it's tender. Plain and simple cauliflower rice is best — the tikka masala sauce will bring all of the flavor you need.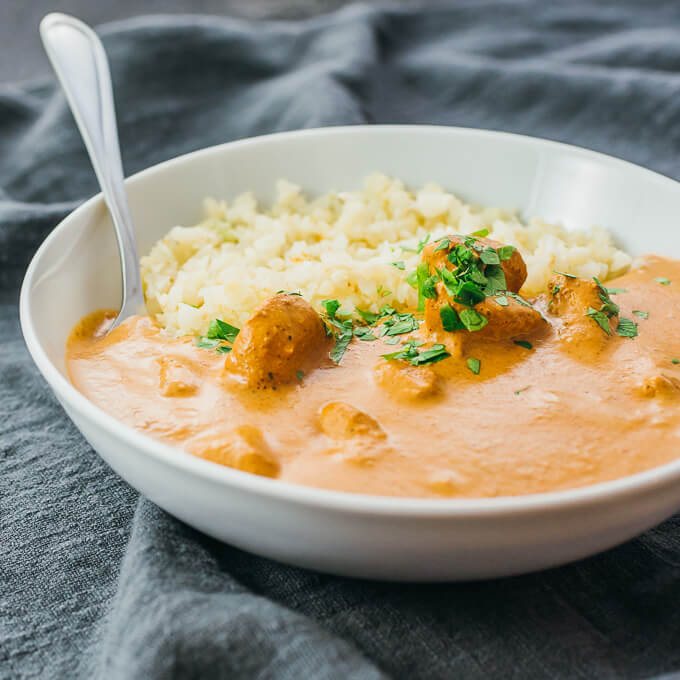 More Delicious Dinner Recipes