Here's a slow cooker recipe to make homemade chicken tikka masala, my favorite Indian curry dish.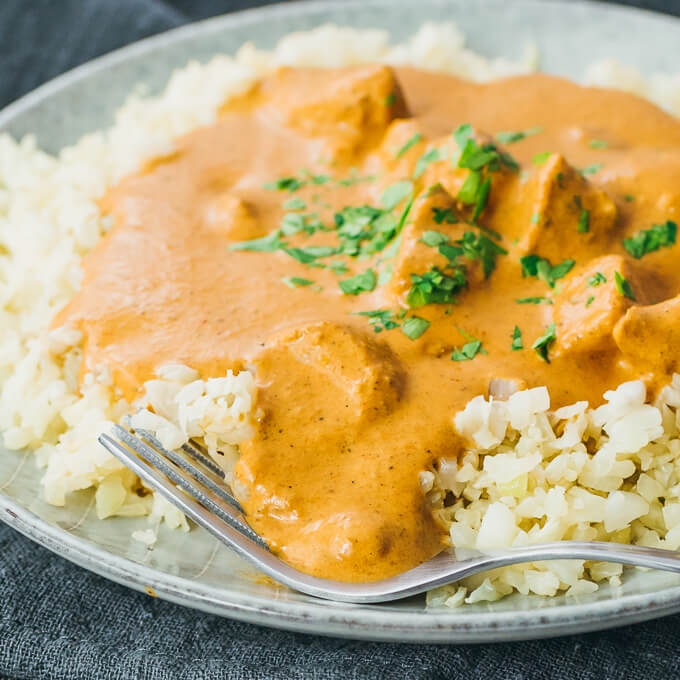 Chicken tikka masala is one of those dishes that's universally loved by nearly everyone, whether you like Indian food or not, so it's no wonder that the British consider it to be their national dish. I've had so many blog readers tell me different versions of the same story: they make this dish for their family, the husband turns his nose up and claims he doesn't like curries, only to take a bite and end up coming back for seconds and thirds.
Mr. Savory Tooth was the same; the first time I made this for him, he was quite skeptical but was quickly won over by the tender bites of chicken paired with a richly flavorful sauce. Now he looks forward to eating this curry and loves it when we have leftovers. I recommend that everyone try making this sometime — all you need to do is marinate the chicken in spices and yogurt, saute briefly on a fry pan, and put it in a slow cooker with the sauce for 2 hours on high.
Making chicken tikka masala in a slow cooker: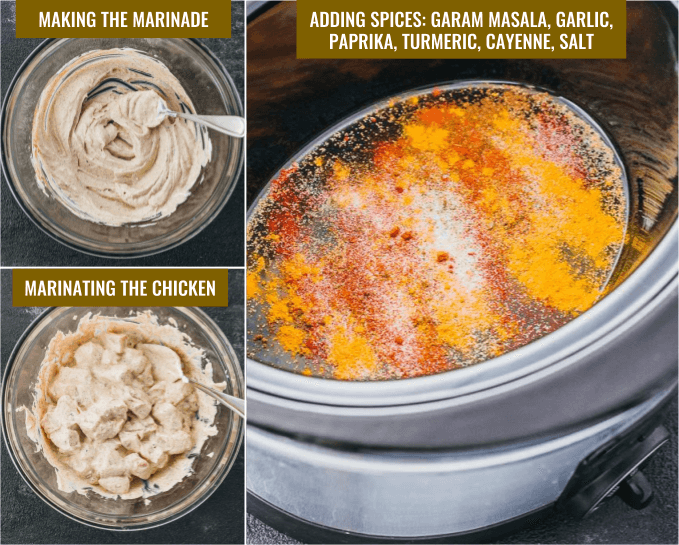 It's no secret that I'm a huge fan of chicken tikka masala, and I can't tell you how happy I am that it easily fits into my low carb lifestyle. In my original chicken tikka masala recipe made on the stovetop, I shared my obsession with this dish and how I would literally eat it several times a week — sometimes more than that — whether it be at an Indian restaurant, making it myself, or the microwaveable frozen food variety.
Since then, I adapted my original recipe with some modifications for a pressure cooker to debut my Instant Pot chicken tikka masala recipe, which has introduced a lot of new converts to this dish. Many people have asked me in the comments as well as by email when I'm going to publish a slow cooker version, so I'm excited to finally share this recipe with you. It has the same great taste and texture as the versions made on the stovetop and in the Instant Pot.
You'll notice in the recipe below that the chicken chunks are sauteed before slow cooking. This step is important because otherwise the chicken will release its juices into the slow cooker as it cooks, which will alter the color, taste, and texture of the resulting sauce. By cooking the chicken in a pan on the stovetop, it allows those juices to be released elsewhere and also "cooks in" the yogurt marinade. I've experimented by skipping that stovetop step, and it's nowhere near as good.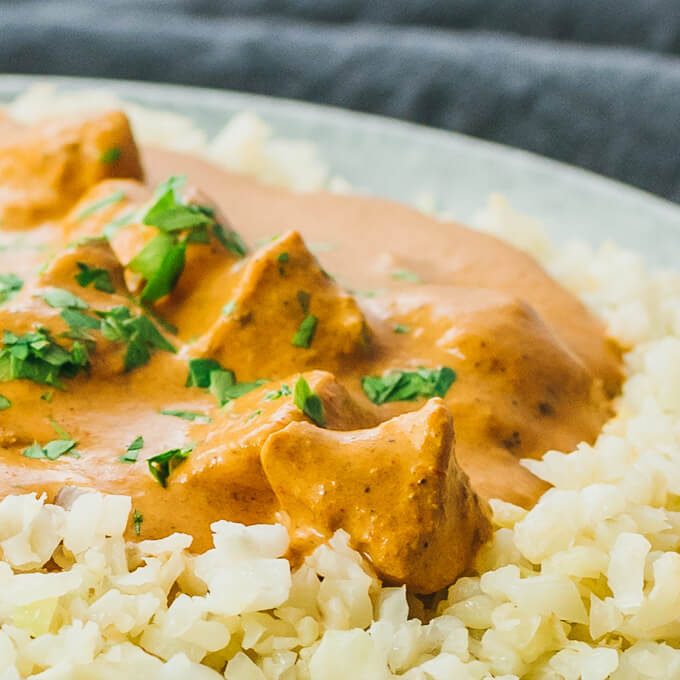 You can serve chicken tikka masala with naan flatbread or white rice, which are the most common choices. This recipe yields a generous amount of sauce, so naan or rice are essential in helping sop up the sauce.
Since adopting a low carb lifestyle, I've always paired it with cauliflower rice, as shown in these photos. It's an excellent substitute for white rice, and is a great vehicle for bringing more of that delicious sauce into my mouth. The sauce is so good that readers have told me that they are practically drinking it up at the end.
To make cauliflower rice, I recommend buying a bag of pre-riced cauliflower at your grocery store. My local Trader Joe's always carries it, as do some other markets. Otherwise, you can buy cauliflower florets and rice them using a grater or food processor. Don't use a blender, as it can end up blending it into a mushy mess.
Once you have riced cauliflower, heat a tablespoon of cooking oil on a large wide pan over medium heat and add the cauliflower. Cook, stirring frequently, until the cauliflower is tender, which will take about 5 to 10 minutes. Plain and simple cauliflower rice is best because the chicken tikka masala sauce will bring all of the flavor you need.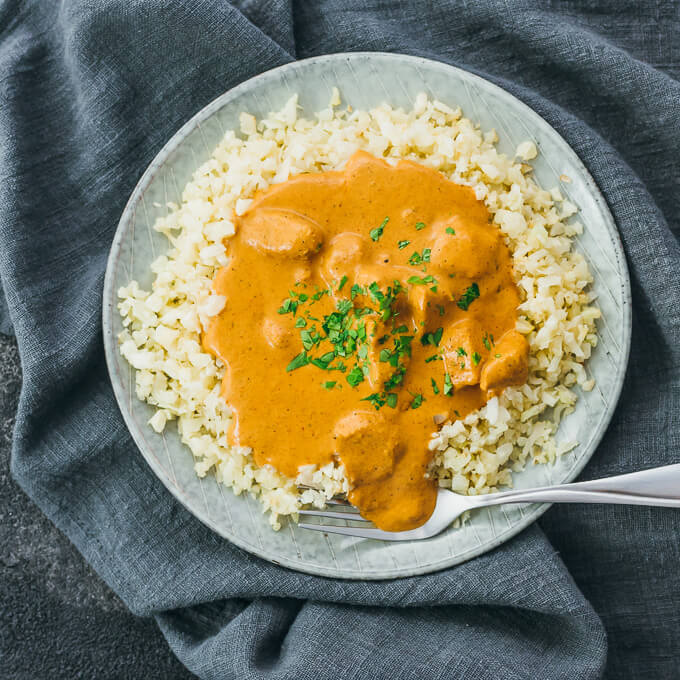 I'm often asked about ingredient substitutions, in particular the heavy cream. I haven't personally used anything other than heavy cream, but readers have told me that they have successfully substituted some or all of the heavy cream with coconut milk. I think the taste of coconut milk would go wonderfully with the flavors in chicken tikka masala, but I suspect it will result in a much thinner sauce.
Garam masala is one of those spices that can't be substituted because it gives a characteristic taste to Indian recipes like chicken tikka masala. It's a blend of ground Indian spices including pepper, cloves, cinnamon, nutmeg, cardamom, and cumin. You can easily buy garam masala online, or you can buy it at some grocery stores. I've been able to consistently find it at my local Whole Foods store.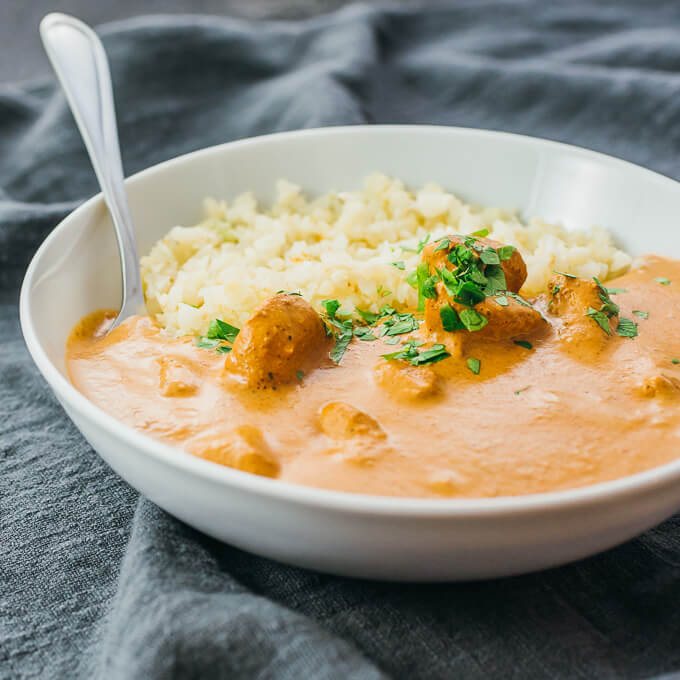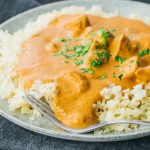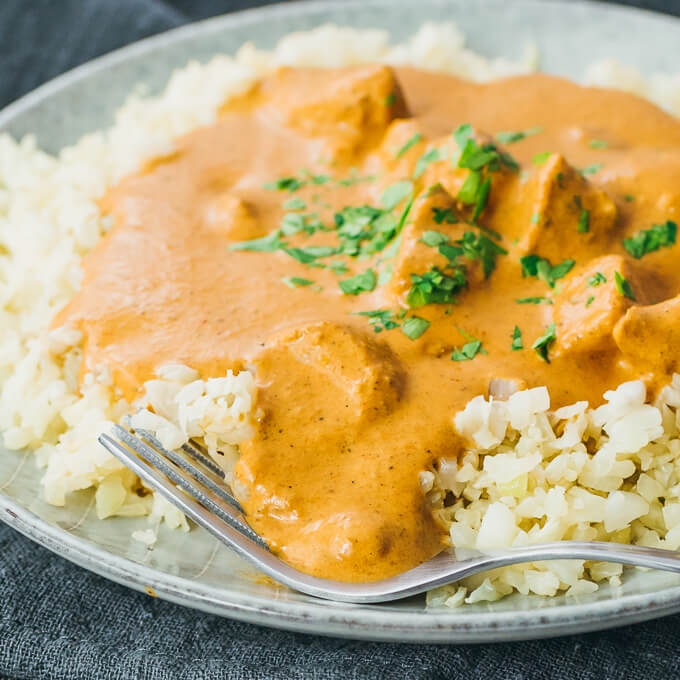 Slow Cooker Chicken Tikka Masala
A homemade restaurant-quality version of chicken tikka masala using the slow cooker. Low carb and keto friendly.
Cook Time
2
hours
5
minutes
Total Time
2
hours
15
minutes
Ingredients
For marinating the chicken:
1

pound

boneless skinless chicken breasts (about 2)

1

cup

plain 2% fat greek yogurt (7 ounces)

1

tablespoon

garam masala

1

tablespoon

lemon juice (about half a lemon)

1

teaspoon

coarsely ground black pepper

1/4

teaspoon

ground ginger
For serving:
naan

cauliflower rice

freshly chopped cilantro
Instructions
Pat chicken breasts dry with paper towels and chop into bite-sized chunks about 1/2 to 1 inch in size.

Combine all marinade ingredients except the chicken in a bowl and mix well. Add chicken chunks and coat with the marinade. Refrigerate for at least 1 hour.

Heat a pan over medium-high heat. Add chicken chunks along with any marinade sticking to them, and saute until the chicken is cooked on all sides, about 5 minutes, stirring occasionally. Remove the pan from heat.

Add all sauce ingredients except the cream to the slow cooker and stir to mix. Add chicken chunks (leaving its drippings in the pan) and stir with the sauce. Cover and cook on high for 2 hours.

Uncover to add heavy cream to the slow cooker, stirring it in until the sauce turns light orange. Serve with naan or rice, and optionally garnish with chopped cilantro.
Nutrition Info
This recipe yields 12 g net carbs per serving. Nutrition information does not include rice or naan.
Nutrition Facts Per Serving
| | |
| --- | --- |
| Calories 460 |   |
| Total Fat 27g | 41% |
|    Saturated Fat 17g | 85% |
|    Trans Fat 0g |   |
| Cholesterol 171mg | 57% |
| Sodium 970mg | 40% |
| Potassium 320mg | 9% |
| Total Carb 18g | 6% |
|    Dietary Fiber 6g | 25% |
|    Sugars 6g |   |
| Protein 32g |   |