Summary:
This Instant Pot butter chicken recipe is a keto and electric pressure cooker adaptation of the popular Indian murgh makhani dish. This low carb curry has tender chicken thighs in a smooth and creamy sauce infused with coconut milk, tomato, and aromatic spices. To make it on the stovetop instead, see Butter Chicken Recipe.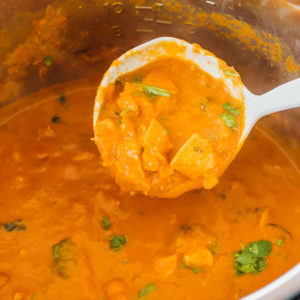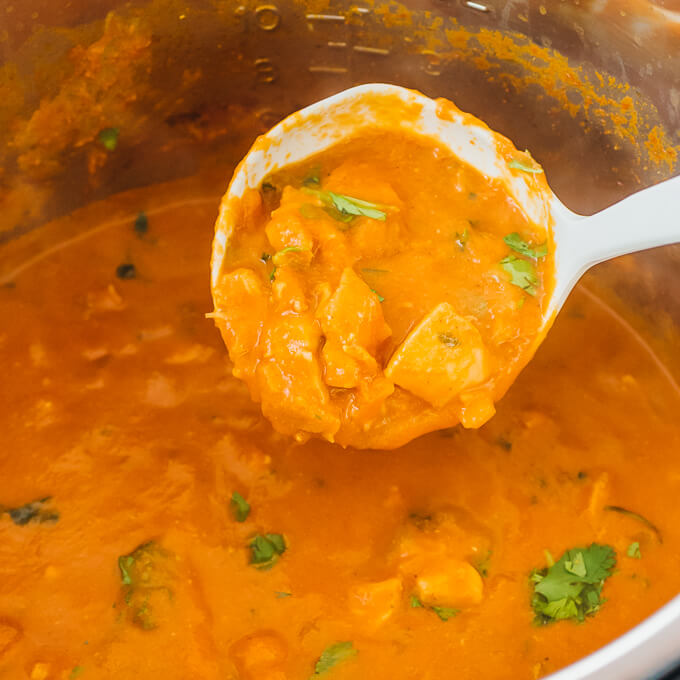 Instant Pot Butter Chicken
(Ratings:
)
INGREDIENTS
1 1/2

pounds

boneless skinless fresh chicken thighs

1

small yellow onion, finely chopped

5

cloves

garlic, minced

15

ounce

can unsalted plain tomato sauce

13.5

ounce

can coconut milk

(regular full-fat, not light versions; I use the Goya brand)

1/3

cup

plain 5% fat greek yogurt

(use whole milk yogurt or high fat like 5% so it does not curdle; I use the Fage brand)

3

tablespoons

chopped fresh cilantro

(I use both stems and leaves)

2

tablespoons

salted butter
INSTRUCTIONS
Add chopped onions, garlic, tomato sauce, coconut milk, yogurt, and all spices to the

pressure cooker

pot (I use a 6-quart Instant Pot). Stir until well-mixed.

Pat the chicken thighs dry with paper towels. Trimming off and discarding excess fat, cut the meat into 1-inch chunks. Add them to the pot, stirring until coated with sauce.

Cover and seal the lid. Cook at high pressure for 10 minutes, followed by a quick pressure release.

Uncover and turn on the saute mode for medium heat. Boil until the liquid thickens to your desired consistency with a smooth appearance, stirring occasionally to prevent sticking to the bottom of the pot. I prefer a stew-like consistency, which takes about 15 minutes of boiling.

Turn off the saute setting. Stir in butter and two-thirds (2 tablespoons) of chopped cilantro until the butter is melted. Serve into bowls, and garnish with remaining cilantro (1 tablespoon).

Butter Chicken goes great with low carb sides like cauliflower rice or creamed spinach. Leftovers taste just as good the next day; simply reheat in the microwave.
NUTRITION
Makes 4 Servings
Amount Per Serving:
| | |
| --- | --- |
| Calories 430 | |
| Total Fat 30g | 46% |
| Saturated Fat 17g | 85% |
| Cholesterol 133mg | 44% |
| Sodium 590mg | 24% |
| Net Carb 9.5g | |
| Total Carb 12.5g | 4% |
| Dietary Fiber 3g | 12% |
| Sugars 7.5g | |
| Protein 27g | |
Butter Chicken vs. Chicken Tikka Masala
Butter chicken originated in India whereas chicken tikka masala is more of a British invention, and some restaurants use those terms interchangeably. Both dishes use garam masala, a spice blend containing cumin, cardamom, cinnamon, and cloves, but butter chicken tends to be milder in taste.
I recommend butter chicken for those who prefer a less spiced, more buttery and subtle curry, and chicken tikka masala for those who prefer boldly flavored sauces. I've cooked the latter a number of different ways, with recipes for stovetop, pressure cooker, and slow cooker.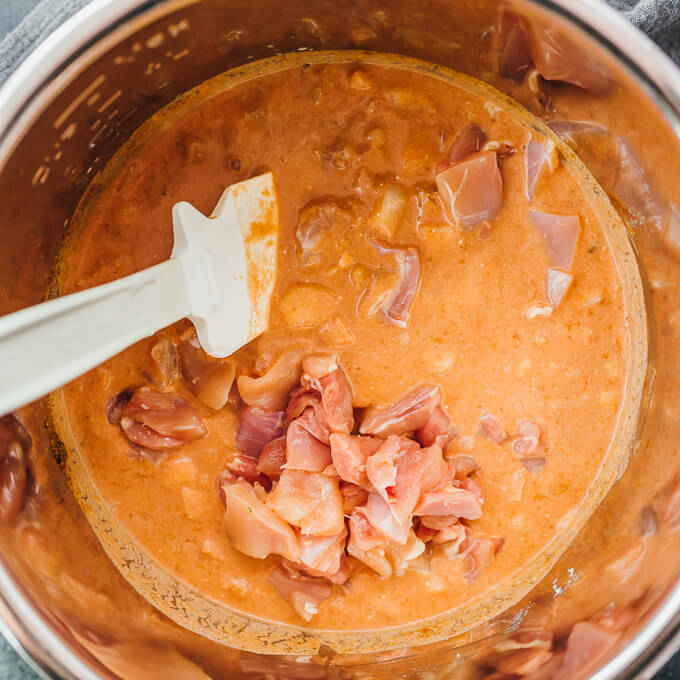 No Chicken Browning, Just Add Everything In
This recipe skips the step of browning the chicken. Browning is not an efficient process in the Instant Pot, since the narrow pot is only 9 inches in diameter. Adding too many chicken chunks at once would cool the pot too much, even on the highest heat level, so you would have to brown in multiple batches to get a good sear on the chicken.
By skipping the traditional steps of marinating and browning the chicken, all of the ingredients — save for the finishings/garnishes — are directly added to the cold pot and pressure cooked. Easy and simple, which is how Instant Pot recipes should be.
Fresh boneless and skinless chicken thighs are used, as opposed to chicken breasts. Thighs are preferred because they stay tender and moist, unlike breasts which can easily overcook and become dry.
Curry Made With Coconut Milk, Not Heavy Cream
This recipe uses coconut milk to build the curry sauce, as opposed to heavy whipping cream which does not always work well in a pressure cooker environment. With coconut milk, you don't have to worry about potential curdling, which means it can be pressure cooked with the rest of the sauce ingredients. It also provides liquid content to help pressurize the pot.
Coconut milk thickens nicely and gives a very smooth finish to the sauce, simultaneously lending a mild sweetness. Note that you don't actually taste any coconut flavor, since the spices and other ingredients are strong enough to mask it.
Just a moderate amount of thick Greek-style yogurt adds a pop of authentic flavor without overpowering. To avoid curdling, whole milk yogurt with a high fat content (5%) is used, and it's mixed with other ingredients in the pot while they're cold or at room temperature, prior to cooking.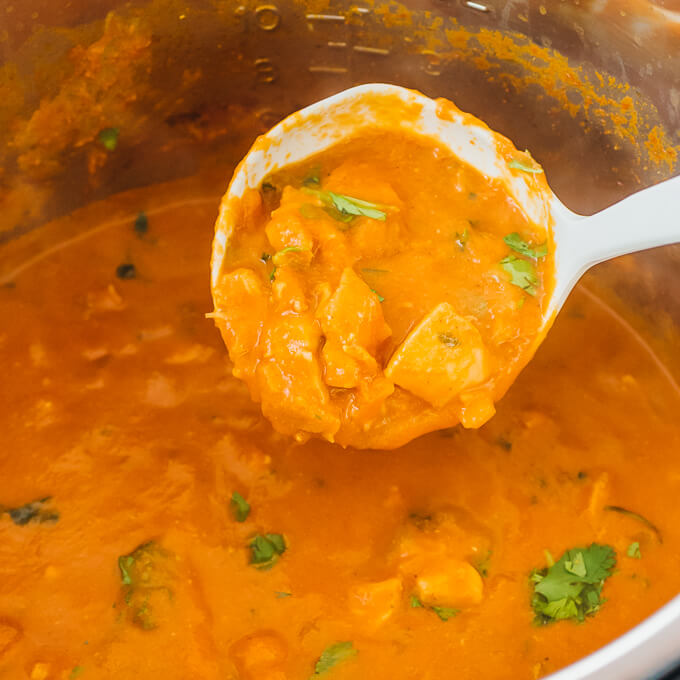 Modifications for Dairy-Free and Paleo
To make this recipe dairy-free and paleo compliant, make the following substitutions or omissions:
Replace the yogurt with dairy-free yogurt. Look for soy or coconut based yogurts at your grocery store that are plain and not flavored. If you can't find any, you can skip the yogurt altogether without a substantial loss in flavor. The curry will taste noticeably different, but it should still be quite good.
Skip the butter. The butter adds silkiness to the sauce — and this dish is called Butter Chicken, after all — but since the recipe only calls for a small amount of butter, you can omit this ingredient and it will still taste very similar to the original.
More Instant Pot Chicken Recipes