Summary:
This easy Instant Pot chili verde is a keto and paleo friendly recipe using chicken thighs, tomatillos, and chile peppers.
Check out the recipe below, followed by photos, cooking tips, and reader reviews.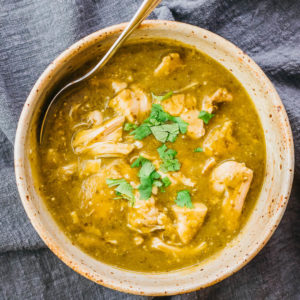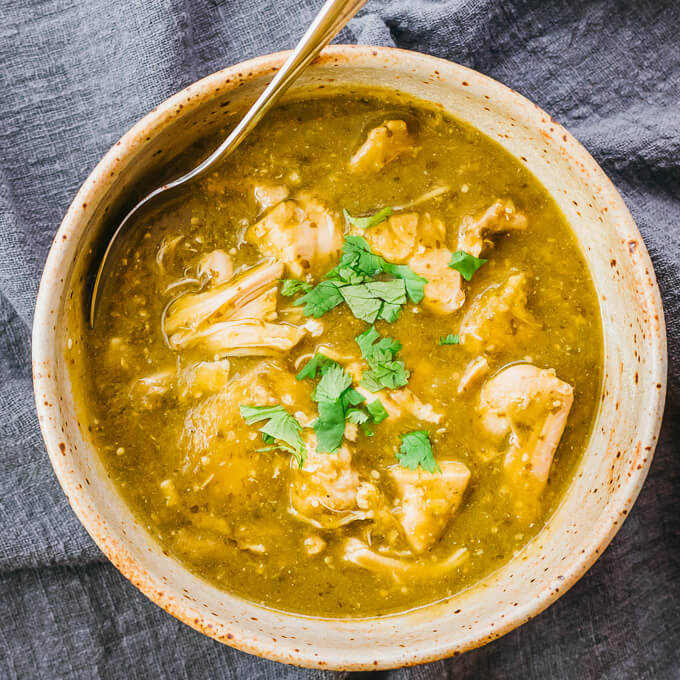 Instant Pot Chili Verde
(Ratings:
)
INGREDIENTS
2

pounds

boneless skinless chicken thighs (about 8)

12

ounces

tomatillos (about 7)

husked and quartered

8

ounces

poblano peppers (about 3)

stemmed, seeded, and chopped

4

ounces

jalapeño peppers (about 2)

stemmed, seeded, and chopped

4

ounces

onions (about 1/2)

chopped

1/4

cup

water

5

cloves

garlic

2

teaspoons

ground cumin

1 1/2

teaspoons

salt
For finishing:
1/4

ounce

chopped cilantro leaves (about 1/3 cup packed), plus more for garnish

1

tablespoon

fresh lime juice (about 1 lime)
INSTRUCTIONS
Add tomatillos, poblanos, jalapeños, onions, and water to the pressure cooker. Distribute garlic, cumin, and salt on top. Lastly, add chicken thighs. Secure and seal the lid. Cook at high pressure for 15 minutes, followed by a manual pressure release.

Uncover and transfer only the chicken to a cutting board. Cut into bite-sized pieces. Set aside.

Add cilantro and lime juice to the pressure cooker. Use an immersion blender or countertop blender to puree the mixture.

Select the saute mode on the pressure cooker for medium heat. Return the chicken to the mixture. Boil for about 10 minutes to thicken the sauce, stirring occasionally. Serve and garnish with additional cilantro.
NUTRITION
This recipe yields 6 g net carbs per serving.
Nutrition Facts Per Serving
| | |
| --- | --- |
| Calories 310 |   |
| Total Fat 15g | 22% |
|    Saturated Fat 0g | 0% |
|    Trans Fat 0g |   |
| Cholesterol 182mg | 61% |
| Sodium 910mg | 38% |
| Potassium 270mg | 8% |
| Total Carb 10g | 3% |
|    Dietary Fiber 4g | 15% |
|    Sugars 4.5g |   |
| Protein 37g |   |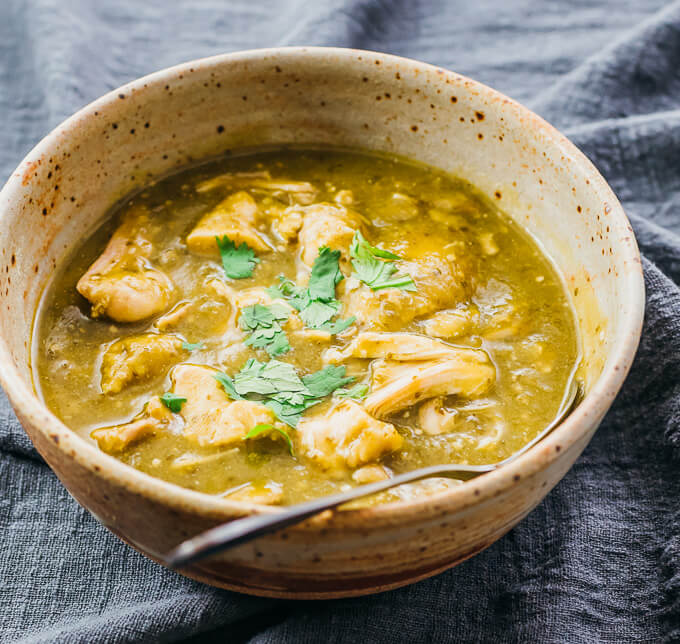 Taste and Texture
Chili verde is a saucy green stew made with fresh tomatillos, hot peppers, onions, and garlic. It has that unique tomatillo taste, a bit tart and fruity in flavor. Peppers and onions add bulk and help thicken the stew, and also give a refreshing aroma to the whole dish. The cumin, cilantro, and lime juice give the stew a decidedly Mexican flavor.
Chicken thighs provide the meat component, and they're nearly shreddable by the time the pressure cooker is done with them. Juicy and tender, they easily soak up the delicious chili verde sauce.
The sauce is somewhat thick, more like a stew than a soup, and easily clings to the chicken pieces. It thickens up considerably after pureeing the vegetables, and more so after simmering in the last step.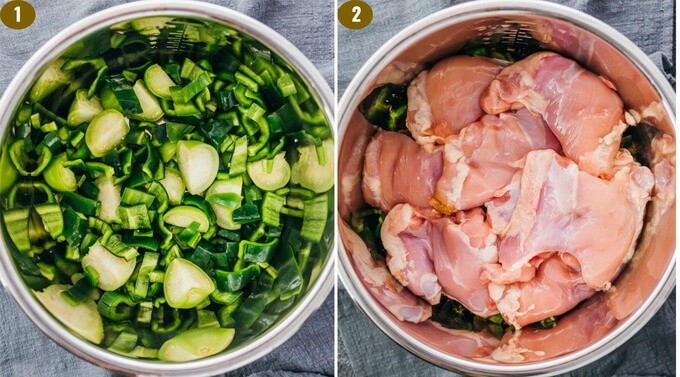 Ingredients in Chili Verde
I use boneless and skinless chicken thighs, which the pressure cooker easily transforms into fall-apart-tender meat. You can also substitute with pork or beef, but depending on the size of the individual chunks of meat, you'll need to modify the pressure cooking time.
For the green sauce, I use fresh tomatillos and green chile peppers like poblanos and jalapeños, similar to salsa verde. I remove the seeds to reduce the heat, but you can include them to increase the spiciness.
All of these ingredients are added to the cold pressure cooker pot at the same time — no need to first brown ingredients on the saute setting. I add the chicken thighs on top so that they can be easily transferred to a cutting board after pressure cooking.
Just a small amount of water is added — 1/4 cup — because the ingredients themselves have a lot of water content that will be released as they start cooking. There should be no issue getting enough liquid to pressurize the pot. For reference, I use a 6 quart Instant Pot.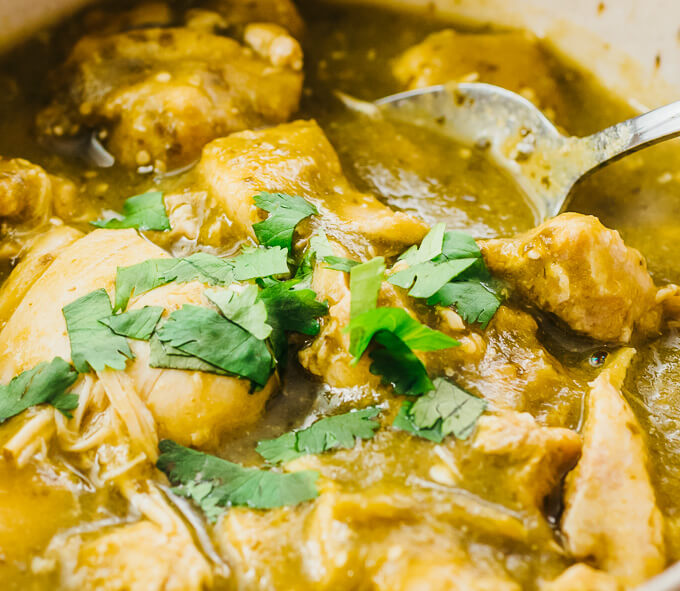 Ways To Enjoy
As-is. You can pour a bowl of this comforting stew and eat it by itself as a simple, low calorie meal. This is what I do.
With sides. You can pair chili verde with cauliflower rice or zucchini noodles. This is helpful for soaking up extra green sauce. Or you can serve it over mashed cauliflower.
As a filling. You can use this as a filling for enchiladas, burritos, tacos, tamales, and more. Leftovers keep well in the refrigerator, and you can save them for later use in Mexican style dishes.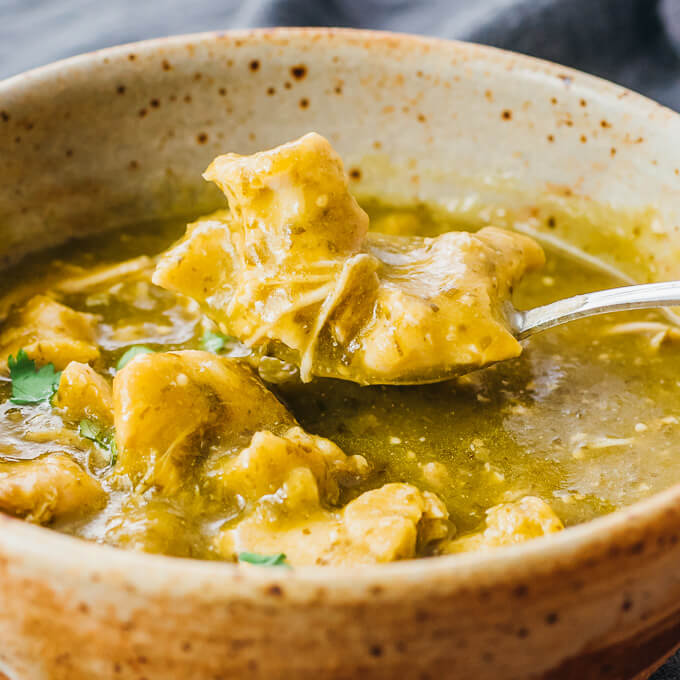 MORE PRESSURE COOKER CHICKEN DINNERS: