Summary:
Hearty and zesty, Chili Verde is a saucy green stew with juicy and tender chicken -- one of the most popular low carb, keto, and paleo Instant Pot dinners on the site. Peppers and onions add bulk and help thicken the stew, giving a refreshing aroma to the whole dish. The cumin, cilantro, and lime juice give the stew a decidedly Mexican flavor.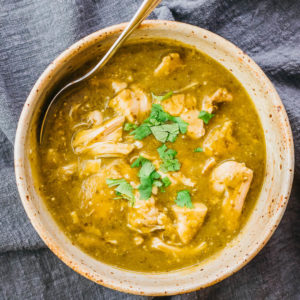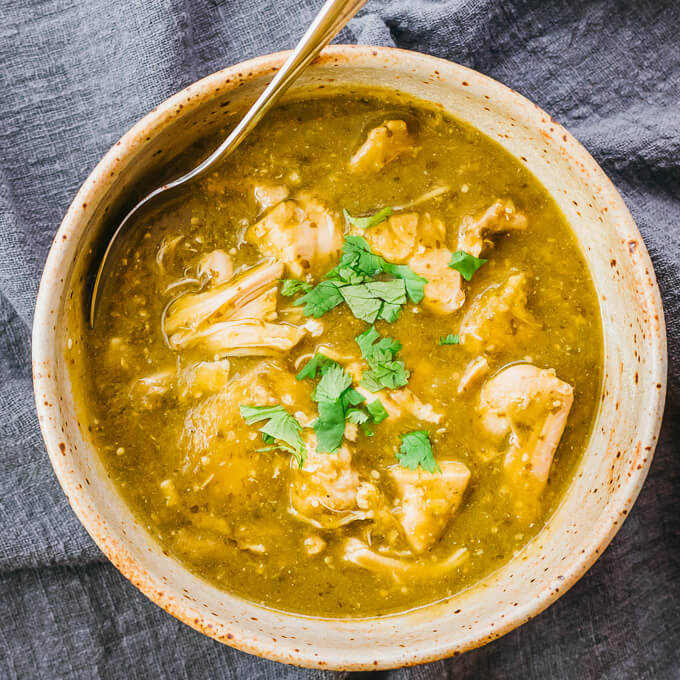 INGREDIENTS
2

pounds

boneless skinless chicken thighs (Note 1)

7

medium tomatillos, stemmed, husked, quartered (Note 2)

2

medium poblano peppers, stemmed, seeded, chopped

2

medium jalapeño peppers, stemmed, seeded, chopped

1/2

yellow onion, peeled, chopped

1/4

cup

water (Note 3)

5

cloves

garlic, peeled

2

teaspoons

ground cumin

1.5

teaspoons

table salt
For Finishing:
1/3

cup

chopped cilantro leaves, plus more for garnish

1

tablespoon

fresh lime juice
INSTRUCTIONS
Pressure Cook: Add tomatillos, poblanos, jalapeños, onions, and water to the pressure cooker. Distribute garlic, cumin, and salt on top. Lastly, add chicken thighs. Secure and seal the lid. Cook at high pressure for 15 minutes, followed by a quick pressure release. (Note 4)

Cut Chicken: Uncover. Transfer only chicken to a cutting board, and cut it into bite-sized pieces or shred. Set aside.

Thicken Stew: Add cilantro and lime juice to the pressure cooker. Use an immersion blender to puree the mixture in place, or transfer to a countertop blender. With the blended mixture in the pressure cooker, select the saute mode for medium heat. Return chicken to the mixture. Boil until stew is thickened, stirring occasionally, about 10 minutes.

Serve: Divide into bowls, and garnish with additional cilantro. Let stand until cool enough to eat, about 10 minutes. Serve hot (Note 5).
NUTRITION
Makes 4 Servings
Amount Per Serving (1.5 cups):
| | |
| --- | --- |
| Calories 310 (42% from fat) |   |
| Total Fat 15g | 22% |
|    Saturated Fat 0g | 0% |
| Cholesterol 182mg | 61% |
| Sodium 1200mg | 50% |
| Net Carb 6g |   |
| Total Carb 10g | 3% |
|    Dietary Fiber 4g | 15% |
|    Sugars 4.5g |   |
| Protein 37g |   |
PHOTOS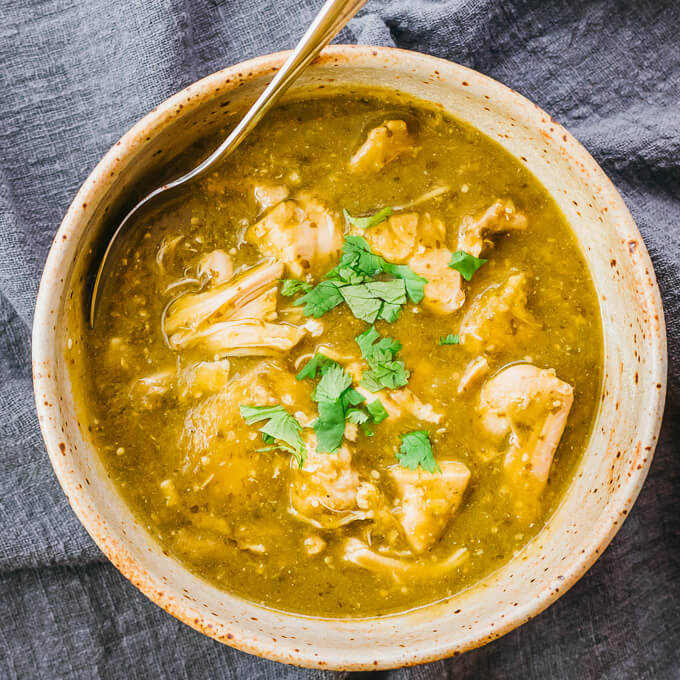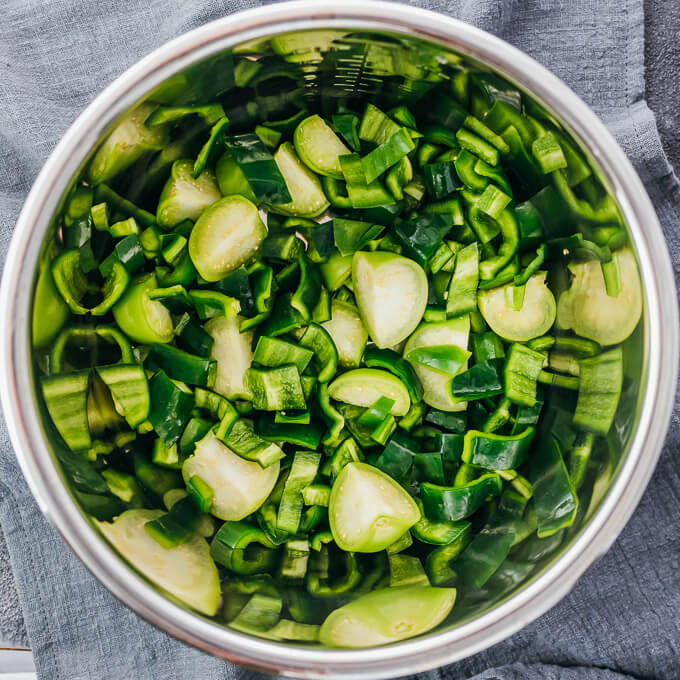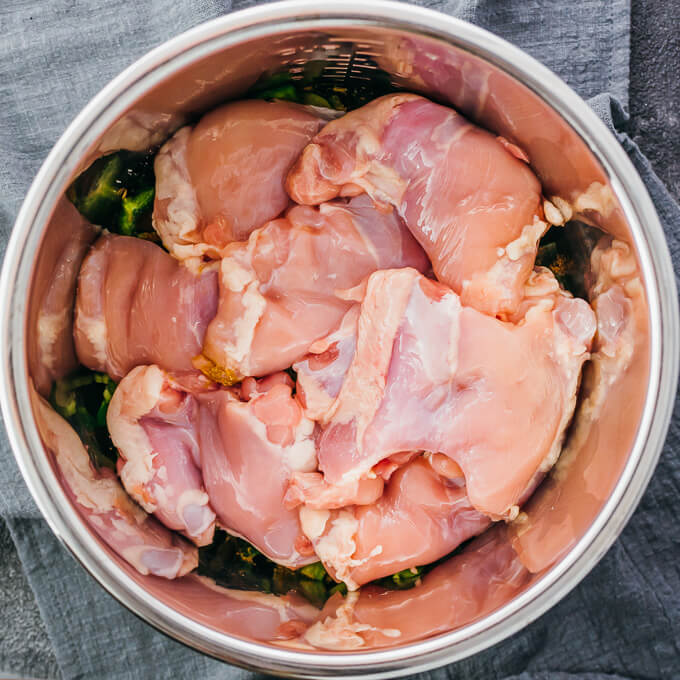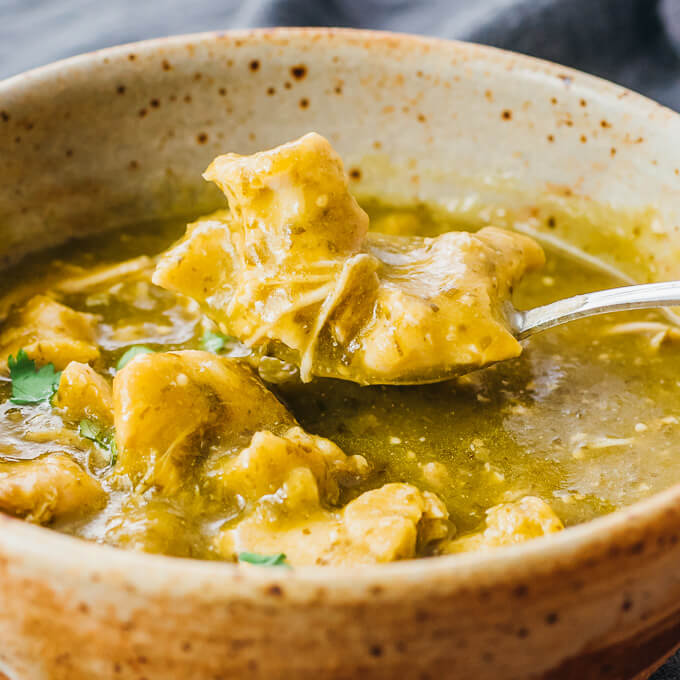 NOTES & TIPS
(1) Chicken. I use fresh; if yours is frozen, thaw overnight in the fridge. Two pounds is about 8 chicken thighs. If you don't mind the chicken being slightly less tender, you can use chicken breasts instead. Use the same weight, and cut each chicken breast into 2 to 3 smaller pieces so that they're about the same size as thighs. You can also substitute with chopped pork shoulder.
(2) Tomatillos. Same as 12 ounces in total weight. Tomatillos are small green fruits with husks. Since they vary a lot in size, for best results measure them out by weight using a scale at your grocery store's produce section. If you can't find fresh tomatillos, look for canned tomatillos or prepared salsa verde.
(3) Water. Just a small amount of water is added (1/4 cup) because the ingredients themselves have a lot of water content that will be released as they start cooking. There shouldn't be any iissue getting enough liquid to pressurize the pot.
(4) Pressure Cooking. I use a 6-quart Instant Pot. Before cooking, remember to seal the pressure cooker by turning the pressure knob from "venting" to "sealing." After cooking, to perform a quick pressure release, turn the knob back to "venting" and wait for the pressure pin to drop before uncovering. If you scale the ingredients up or down to accommodate a different number of servings, the pressure cooking time remains the same.
(5) Serving. Serve chili verde with sides like cauliflower rice, or with toppings like chopped avocado, Mexican cheese, and sour cream. If you have leftovers, store covered in the refrigerator for up to a few days. Reheat using the microwave or on the stovetop until heated through.