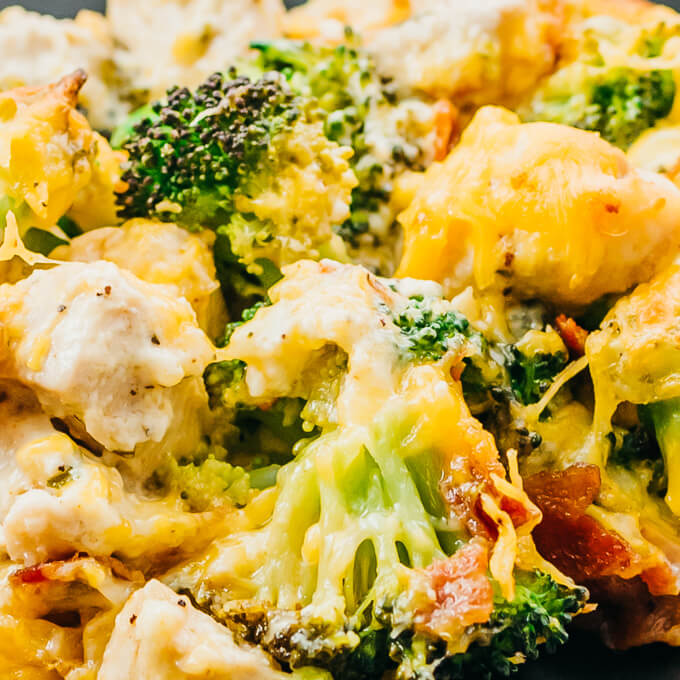 Chicken Bacon Ranch Casserole (Keto, Low Carb)
DESCRIPTION
Chicken bacon ranch casserole with broccoli is a keto friendly and low carb bake.
INGREDIENTS
1 1/2

pounds

boneless skinless chicken breasts (about 4)

cut into <1-inch chunks

4

strips bacon

12

ounces

broccoli florets

8

ounces

shredded cheddar cheese

4

ounces

shredded mozzarella cheese
Ranch dressing:
4

ounces

mayonnaise (1/2 cup)

4

ounces

sour cream (1/2 cup)

3

cloves

garlic

minced

2

tablespoons

minced fresh parsley

1

tablespoon

white vinegar

1/2

teaspoon

coarsely ground black pepper

1/2

teaspoon

salt

1/4

teaspoon

cayenne
INSTRUCTIONS
Preheat the oven to 375 F. Prepare a 9x13 inch casserole baking dish.

In a mixing bowl, combine all ranch dressing ingredients and stir until smooth. Set aside.

In a wide pan over medium heat, cook bacon slices for 5 to 10 minutes until crispy, turning them occasionally. Transfer to a paper towel lined plate to drain, reserving bacon grease on the pan. When cool, crumble into small pieces.

Add chopped chicken to the pan with bacon grease. Saute for 5 to 10 minutes over medium to medium-high heat until cooked through, flipping and stirring frequently. Turn off the heat and set aside.

While waiting for the bacon and chicken to cook, microwave the broccoli for 3-4 minutes or until tender.

Directly in the baking dish: add chicken, broccoli, ranch dressing, about 2/3 of each cheese, and about 2/3 of the bacon. Stir everything until well-mixed. Top with remaining cheese and bacon.

Bake at 375 F until heated through and bubbling, about 25 minutes.
NUTRITION
This recipe yields 4 g net carbs per serving.
Nutrition Facts Per Serving
| | |
| --- | --- |
| Calories 550 |   |
| Total Fat 38g | 58% |
|    Saturated Fat 13g | 65% |
|    Trans Fat 0.3g |   |
| Cholesterol 147mg | 49% |
| Sodium 840mg | 35% |
| Potassium 300mg | 9% |
| Total Carb 5.5g | 2% |
|    Dietary Fiber 1.5g | 6% |
|    Sugars 2.5g |   |
| Protein 44g |   |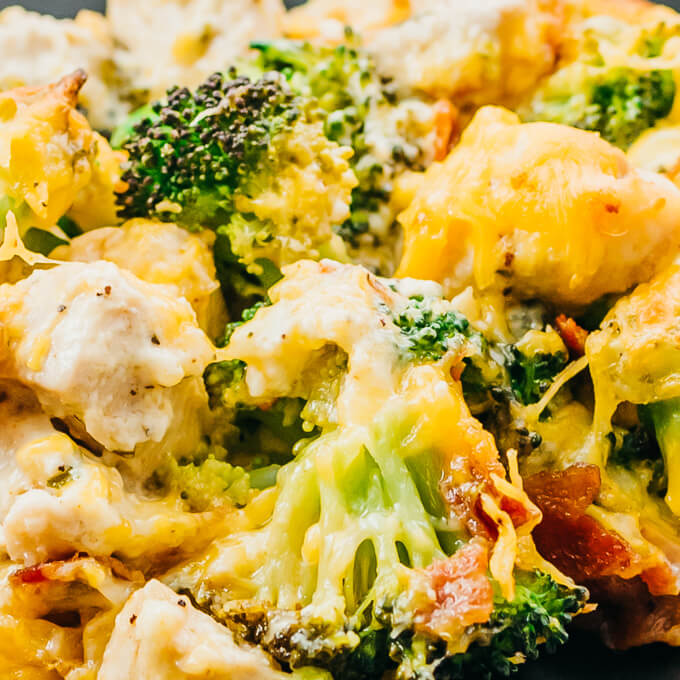 What's not to love about casseroles? They're great for transforming leftover ingredients, feed a lot of hungry people, and are hard to mess up. Similar to my zucchini lasagna, this casserole has plenty of my favorite things in it: chicken, broccoli, crispy bacon, ranch dressing, and a ton of cheese.
A good oven roasting helps bring all of these flavors together, yielding creamy bites of chicken and tender broccoli, punctuated with occasional bacon bits. The ranch flavor is definitely present, but not overpowering. Pretty much everything about this keto friendly casserole says delicious comfort food (same goes for these low carb chicken recipes).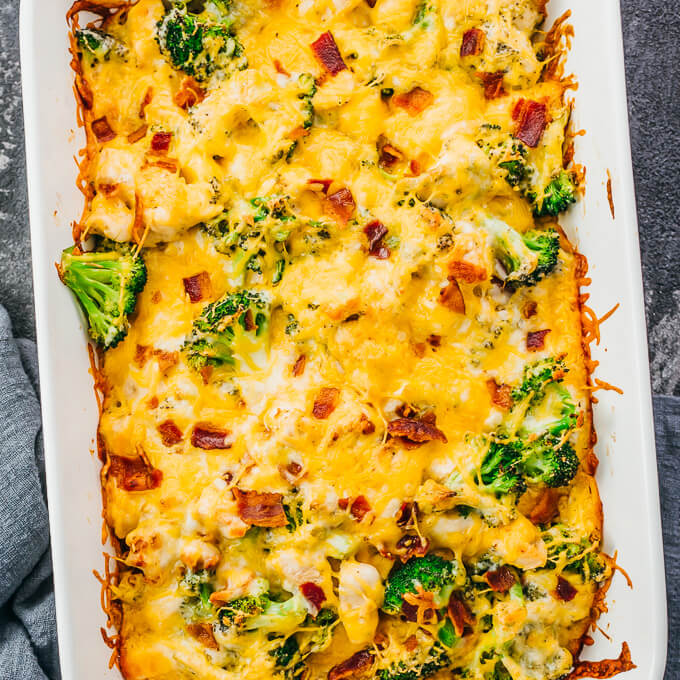 Time saving tips when making this casserole
The easiest way you can save time is to buy premade ingredients or use leftovers. The recipe below provides all of the instructions to make this low carb casserole from scratch, but that certainly doesn't mean you need to. That's the beauty of this recipe — you can do as much or as little work as you'd like!
Here are some ideas:
Skip prepping and cooking chicken by using leftover cubed chicken.
Same goes for the bacon. Skip the fuss with frying bacon and just buy storebought bacon crumbles that are already cooked and ready to use.
Don't buy a whole head of broccoli. Pick up a package of pre-chopped broccoli florets. Or, use frozen broccoli florets — just make sure they're well drained first.
There's no need to make your own ranch dressing as I do here (mine's adapted from Ree Drummond). Just buy a jar of your favorite ranch dressing and use about 1 – 1.5 cups for this recipe.
Another way you can save time is by doing all the prep work the day before. Mix together the ranch dressing, cook the ingredients, and assemble the casserole. Cover and refrigerate overnight.
About an hour before you plan to serve, preheat the oven and take the casserole out of the fridge. Bake until heated through — it might take you an extra 5-10 minutes more than the time estimate provided in the recipe.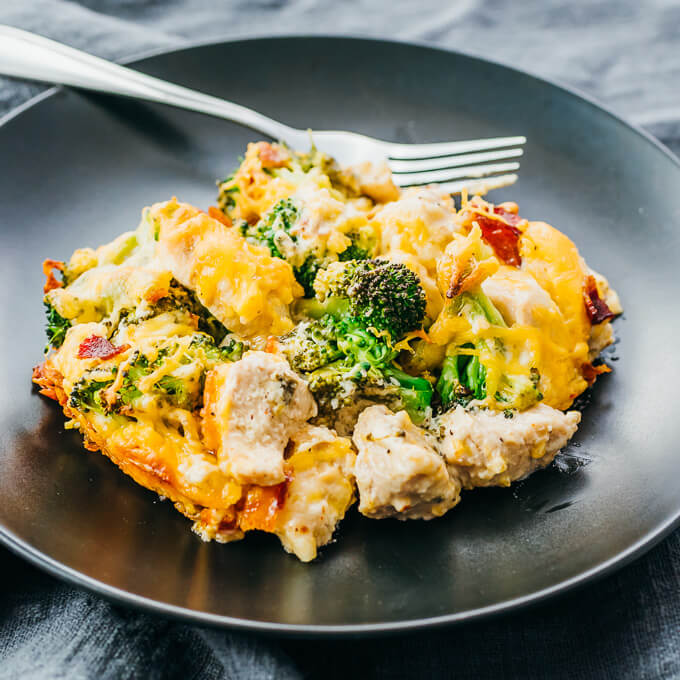 Reheating leftovers
Leftovers reheat okay in the microwave; overall the casserole still tastes great, but the ranch flavor is diminished and the cheese doesn't taste as good.
I recommend reheating in the oven for best results — it just takes much longer. If your casserole leftovers are still in the baking pan, give it 30 minutes on the counter top to come to room temperature, then another 20-30 minutes in the oven at 375 F until heated through.
CHECK OUT THESE BAKED CHICKEN DINNERS: