Summary:
Add this chicken bacon ranch casserole to your dinner rotation along with other casserole recipes. Imagine creamy bites of chicken, crispy bacon, and tender broccoli — all baked together with ranch dressing and plenty of cheese.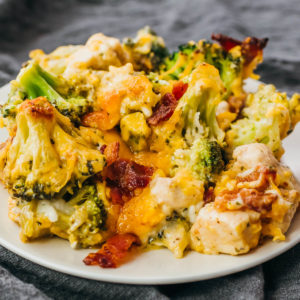 INGREDIENTS
1.5

pounds

boneless skinless chicken breasts (Note 1)

8

strips

bacon

10

cups

broccoli florets

2

cups

shredded cheddar cheese

1

cup

shredded mozzarella cheese

1

cup

ranch dressing (store-bought or make keto ranch dressing)

1

packet

ranch seasoning mix (Note 2)
INSTRUCTIONS
Cook Bacon & Broccoli (Note 3): Fry bacon slices in large skillet (Note 4) over medium heat until crispy, flipping occasionally, 5 to 10 minutes. Meanwhile, microwave broccoli until tender, 3 to 4 minutes (Note 5). Transfer crispy bacon to paper towel lined plate to drain, reserving bacon grease in skillet. When cool, crumble bacon into small pieces.

Cook Chicken: Cut chicken into bite-sized pieces (less than 1 inch) and add to skillet with bacon grease. Cook over medium-high heat until cooked through, stirring frequently, 5 to 10 minutes. Turn off heat.

Assemble Casserole (Note 6): Preheat oven to 375 F. In 9×13-inch casserole baking dish, add cooked chicken (leaving liquid behind in skillet) and dry ranch seasoning. Toss together until well-seasoned. Add broccoli, ranch dressing, mozzarella, 1/2 of cheddar, and 1/2 of bacon. Carefully stir together in baking dish until well-mixed. Top with remaining cheddar and bacon.

Bake & Serve: Bake at 375 F until casserole is heated through, about 25 minutes. Let stand at room temperature until bubbling ceases, then serve (Note 7).
NUTRITION
Makes 6 Servings
Amount Per Serving (1.75 cups):
| | |
| --- | --- |
| Calories 570 (58% from fat) |   |
| Total Fat 37g | 57% |
|    Saturated Fat 13g | 65% |
| Cholesterol 125mg | 42% |
| Sodium 1540mg | 64% |
| Net Carb 7g |   |
| Total Carb 9.5g | 3% |
|    Dietary Fiber 2.5g | 9% |
|    Sugars 2.5g |   |
| Protein 46g |   |
PHOTOS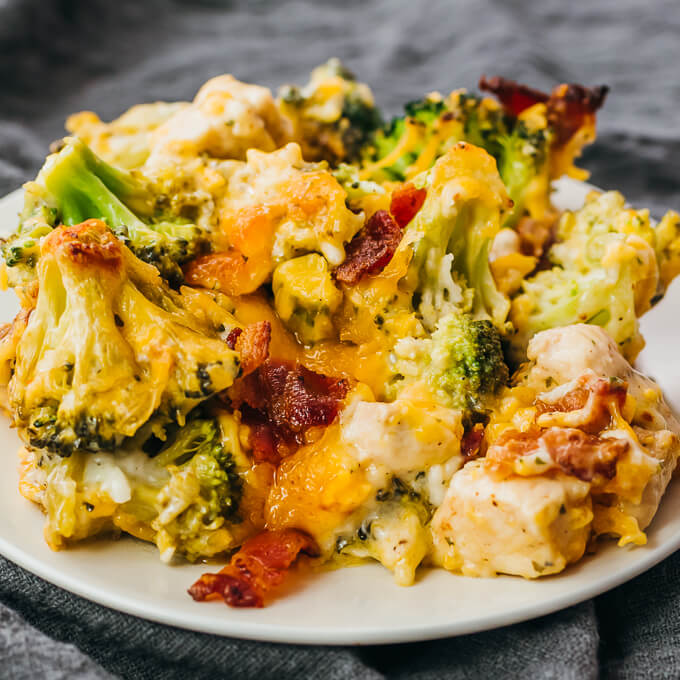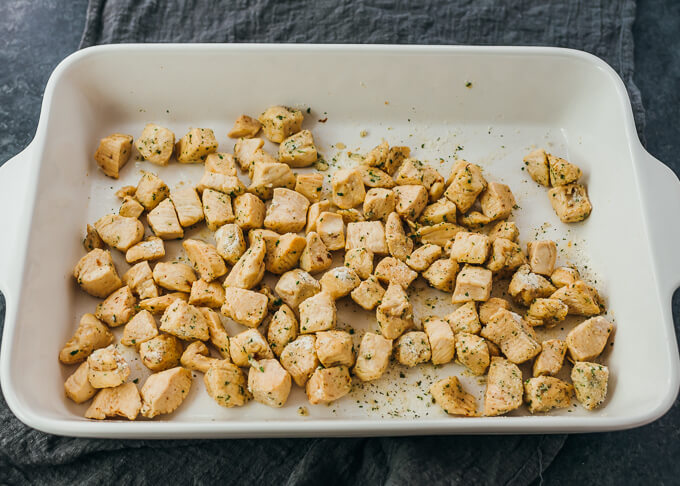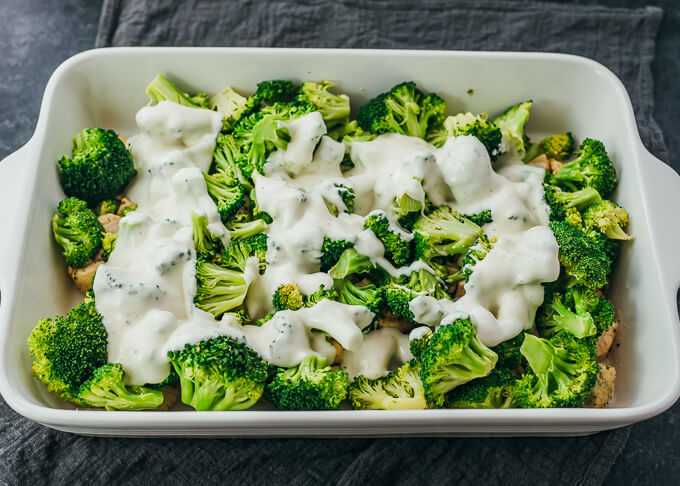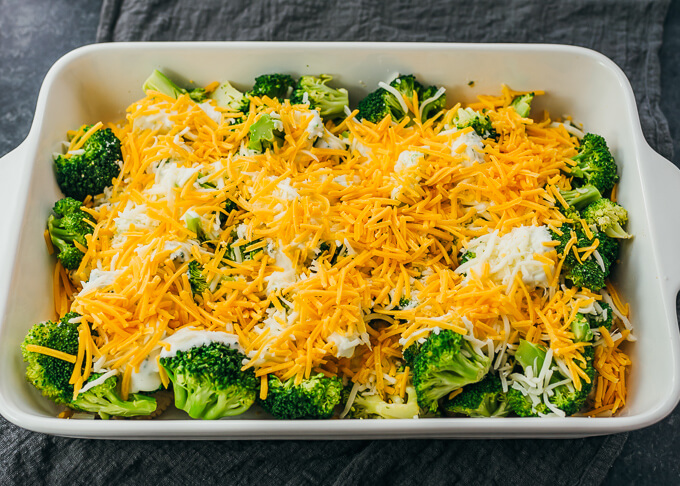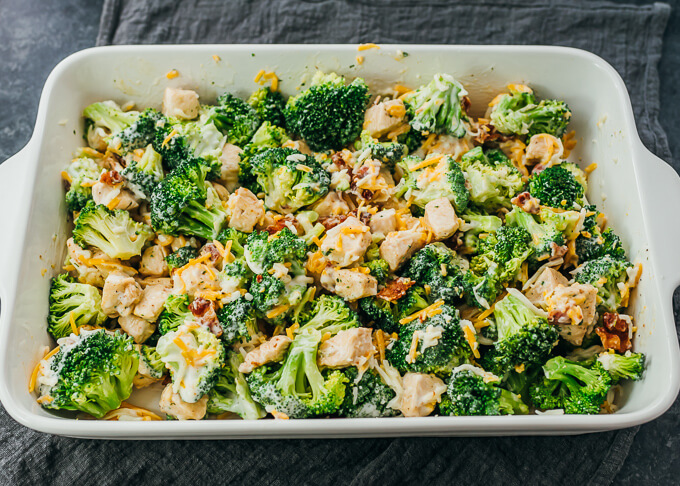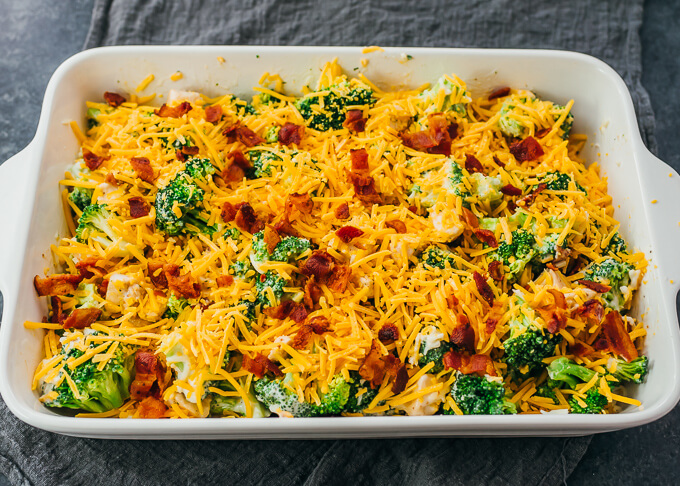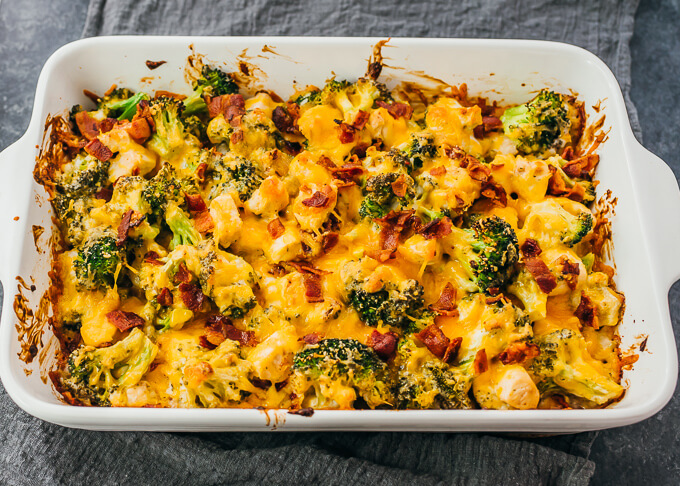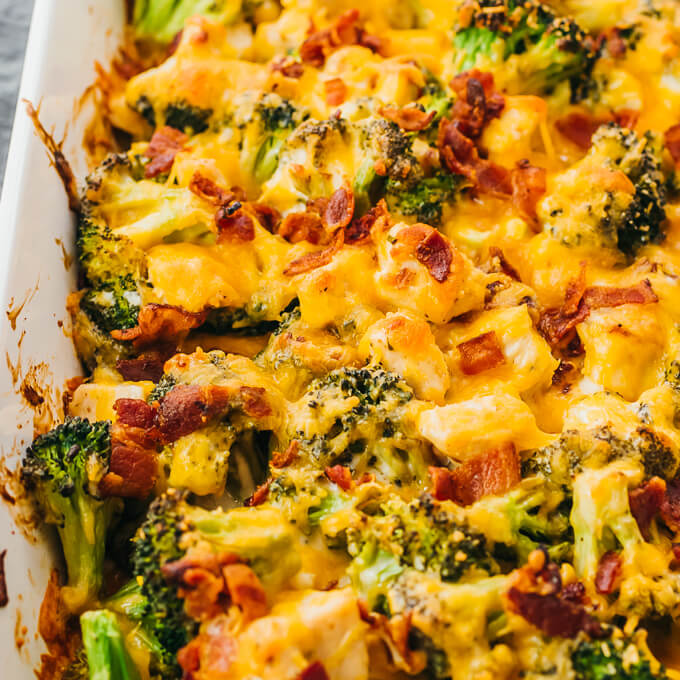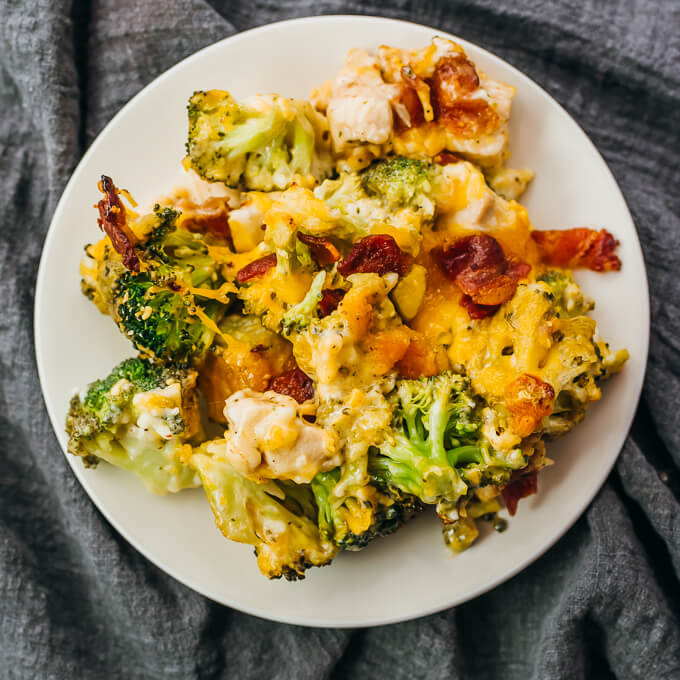 NOTES & TIPS
(1) Chicken. I use fresh chicken; if yours is frozen, defrost in the refrigerator until thawed before using in this recipe. You can also use leftover cooked chicken, in which case you can skip the cooking step.
(2) Ranch Seasoning Packet. Same as 1 ounce weight; this is in powder form and I use the brand Hidden Valley. Even though this recipe already includes liquid ranch dressing, adding it in powder form takes the ranch flavor up a notch so it's more noticeable in the final dish. Ranch seasoning packets are found in U.S. grocery stores in the aisle where salad dressings are sold. If you can't find it, you can omit this — the ranch flavor will be less pronounced, but the casserole will still taste great.
(3) Bacon & Broccoli. To save time and skip the cooking, you can use already cooked bacon crumbles and cooked broccoli florets. Make sure the broccoli is well-drained before adding it to the casserole.
(4) Large Skillet. I use a 12-inch nonstick skillet, which is wide enough so that I can fit all of the bacon slices simultaneously.
(5) Microwaving Broccoli. Depending on the size of your microwave, you may need to microwave the broccoli in batches. I recommend covering the broccoli while it's microwaving so that it steams. The listed cooking time is based on a 700-watt microwave, and is approximate since microwaves vary.
(6) Assembling Casserole. After assembling everything, you can cover and refrigerate if you don't plan on serving right away, up to a day in advance. About an hour before you plan to serve, preheat the oven and take the casserole out of the fridge. Bake until heated through, which might take 5 to 10 minutes longer than the estimate provided in the recipe.
(7) Serving. Serve this casserole with a side of roasted vegetables or creamed spinach. Leftovers can be covered and stored in the refrigerator for up to a few days or in the freezer, and baked in the oven until heated through.