Summary:
Shepherd's pie has fantastic flavors and textures, and generally refers to a meat pie or casserole cooked in a sauce with vegetables, topped with mashed potato. To reduce carbs, this recipe replaces the traditional topping with a thick and fluffy cauliflower mash. While ground lamb is used for shepherd's pie, you may substitute with beef.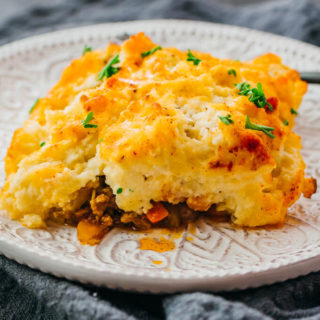 INGREDIENTS
Meat Layer:
Mashed Cauliflower Layer:
1.5

pounds

cauliflower florets (Note 2)

1/2

cup

shredded cheddar cheese

2

ounces

cream cheese, softened to room temperature

2

tablespoons

salted butter, softened to room temperature

2

cloves

garlic, minced

1/4

teaspoon

table salt

1/4

teaspoon

ground black pepper
Optional Toppings:
shredded cheddar cheese
olive oil
chives or parsley
INSTRUCTIONS
Sauté: Heat olive oil in large pan over medium-high heat. Add meat and cook until no longer pink, about 5 minutes, crumbling with wooden spoon. Add diced celery, onions, carrots, rosemary, thyme, salt, and pepper to pan. Cook until vegetables soften, about 5 minutes, stirring occasionally.

Simmer Meat Sauce: Add beef broth and tomato paste to same pan, stirring until paste dissolves. Reduce heat slightly and continue simmering until sauce thickens, about 15 minutes. While simmering, start preparing mashed cauliflower in next step.

Cook Cauliflower: Microwave cauliflower florets in large microwave-safe bowl until very tender, about 10 minutes. Spread out florets on paper towels to drain for 5 to 10 minutes, or until steaming subsides.

Purée Cauliflower: Transfer cauliflower to food processor (Note 3). Add cheddar cheese, cream cheese, butter, garlic, salt, and pepper. Purée until mixture has smooth consistency resembling mashed potatoes, pausing as needed to scrape down sides of food processor bowl.

Assemble Casserole: Use slotted spoon (so that any grease is left behind) to transfer meat sauce to 8×8 inch baking dish (Note 4), evenly spreading along bottom of dish. Evenly spread mashed cauliflower over meat sauce. Use fork to roughen cauliflower surface. Optionally, top with shredded cheddar cheese and paprika, and lightly drizzle olive oil on top.

Bake: Bake at 400 F until peaks of mashed cauliflower are browning, about 30 minutes. Optionally, garnish with chives or parsley. Casserole will be very hot; cool in baking dish, then slice and serve (Note 5).
NUTRITION
Makes 6 Servings
Amount Per Serving:
| | |
| --- | --- |
| Calories 380 (66% from fat) |   |
| Total Fat 28g | 43% |
|    Saturated Fat 13g | 64% |
| Cholesterol 100mg | 33% |
| Sodium 1170mg | 49% |
| Net Carb 6.5g |   |
| Total Carb 10g | 3% |
|    Dietary Fiber 3.5g | 15% |
|    Sugars 5g |   |
| Protein 23g |   |
PHOTOS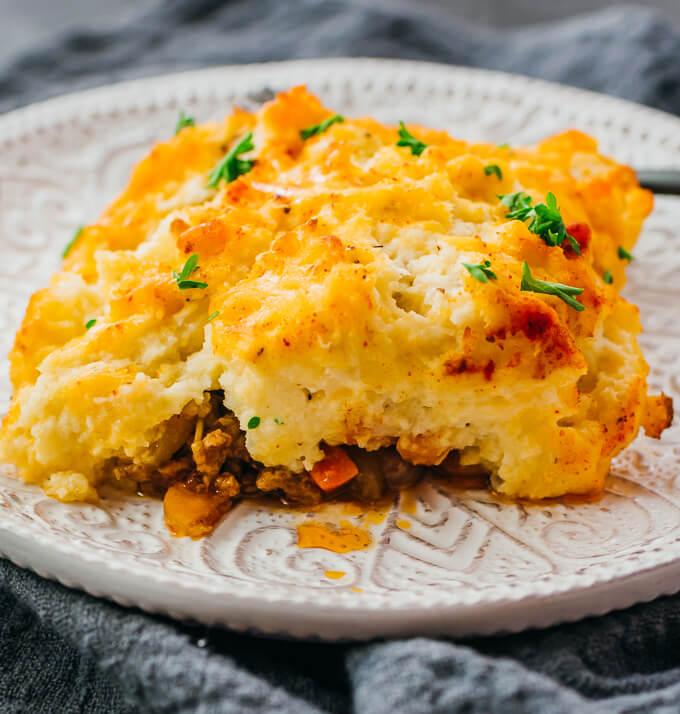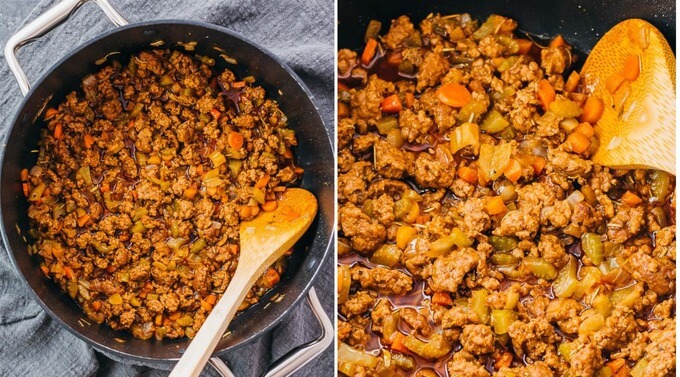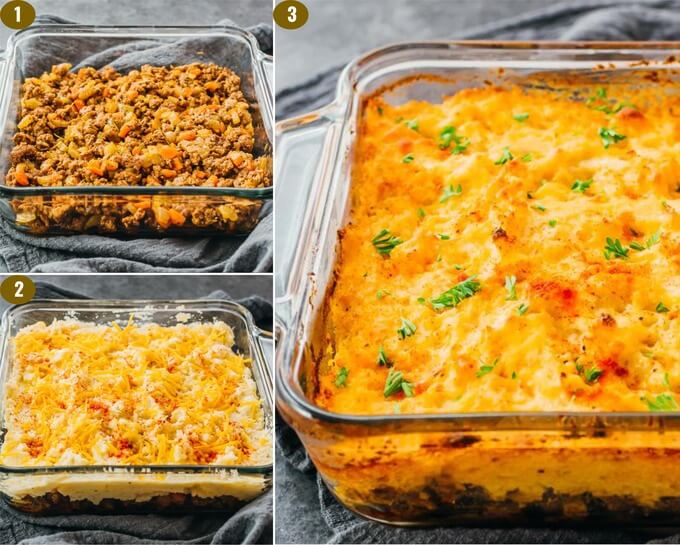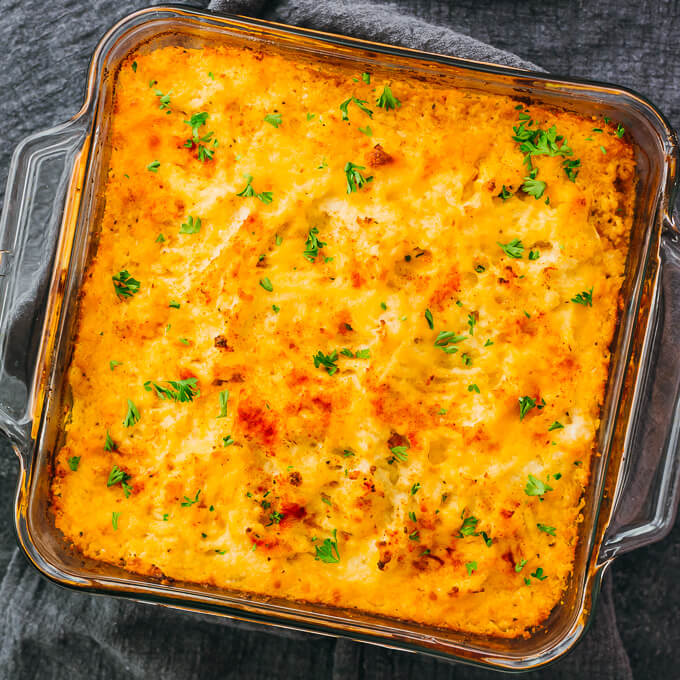 NOTES & TIPS
(1) Ground Lamb. The term "shepherd's pie" is usually reserved for when ground lamb is used for the meat sauce, and "cottage pie" for beef. This recipe uses lamb, but you can substitute it with beef for a similarly delicious result.
(2) Cauliflower. 1.5 pounds = 24 ounces weight, which is the weight of florets you would get from 1 medium-large head. You can use either florets or riced cauliflower, fresh or frozen. The only difference is that the microwave cooking time will vary; the goal is to cook until the cauliflower is very soft and tender. For convenience, I recommend picking up a 24-ounce bag of pre-cut florets or pre-riced cauliflower in the produce section of U.S. grocery stores.
(3) Puréeing. For ideal texture, use a food processor, tabletop or personal blender, or immersion blender to purée the cauliflower florets until they resemble mashed potatoes.
(4) Baking Dish. I use a glass 8×8 inch baking dish and do not grease or line. If you do not have an 8×8-inch dish, any 2 quart baking dish should work. If you use a metal dish, your baking time may be different from mine since glass transfers heat differently than metal.
(5) Serving. The casserole will be very hot when it comes out of the oven, so let it cool a bit before slicing and serving. This will help the casserole keep its shape better, which means you'll be able to serve slices that hold together instead of falling apart. If you're serving this with other Irish-themed dishes for St. Patrick's Day, I recommend pressure cooked corned beef with cabbage and carrots, corned beef hash, or green vegetable sides like broccoli or green beans.
(6) Suggested Books. This dish reminds me of some of the delicious foods mentioned in fantasy novels. I recommend serving shepherd's pie while reading these books: (1) The Farseer Trilogy by Robin Hobb, plus all of the subsequent series in the Elderlings realm (see bibliography), (2) The Deed of Paksenarrion by Elizabeth Moon, and (3) Outlander by Diana Gabaldon. Enjoy!