Summary:
Cold nights are perfect for enjoying Icelandic Lamb Stew with meltingly tender meat, thanks to searing and slow-roasting in the oven. It's a hearty lamb dinner that's great for low carb, keto, and paleo diets.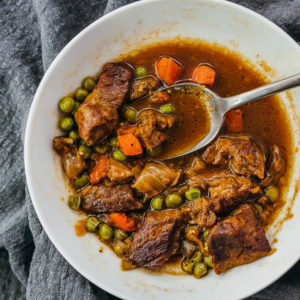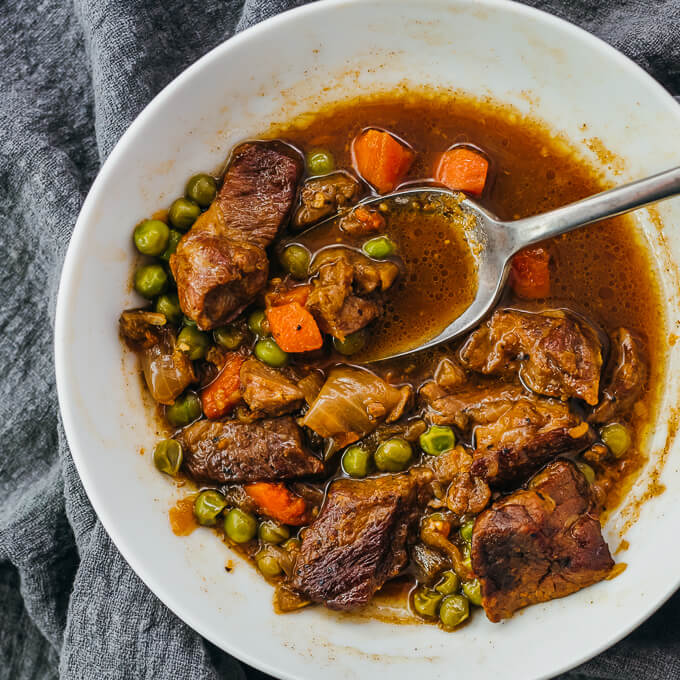 Icelandic Lamb Stew Recipe
INGREDIENTS
2

lb

lamb shoulder chops, 1 1/2 inches thick

(see below for more details on selecting the right kind of cut)

1

medium onion, cut into 1-inch pieces

(I use a yellow onion)

1

medium carrot, cut into 1/2-inch pieces

2

large ribs celery, cut into 1/2-inch pieces

5

cloves

garlic, minced

(I use a garlic press)

1 3/4

cups

water

1/2

cup

frozen green peas

2

tbsp

olive oil, divided

1

tbsp

white vinegar

(can be substituted with your preferred vinegar)

1

tsp

table salt, divided

1/2

tsp

ground black pepper

1/2

tsp

dried ground thyme

(powder texture, not dried leaves)
INSTRUCTIONS
Cut the bones from the meat, reserving the bones for later. Working with the meat, trim off and discard excess fat. Cut the trimmed meat into chunks, 1 to 1 1/2 inches in size. Season the meat chunks on one side with 1/2 tsp each of salt and black pepper.

Adjust an oven rack to lower-middle position, and preheat to 300 F.

In an oven-safe pot (I use a 6-quart dutch oven), heat 1 tbsp olive oil over medium-high heat until very hot. Add all of the seasoned meat to the pot in a single layer. Cook without moving until well-browned on the bottom, about 5 minutes. Stir to turn the meat chunks to repeat the browning for a new side, another 5 minutes without moving them. Transfer the meat to a large bowl.

Reduce to medium heat, and add remaining 1 tbsp olive oil, onions, carrots, and celery. Cook for a few minutes, stirring and scraping with a stiff wooden utensil to loosen browned bits stuck to the bottom of the pot.

Add garlic and thyme, stirring them in until well-mixed and aromatic, less than 30 seconds.

Add water and remaining 1/2 tsp salt. Scrape along the pan's bottom and sides to loosen any browned bits.

Add the reserved bones, counting them so that you know how many to collect later. Return the browned meat and any accumulated juices, evenly distributing them in the pot.

Bring to a simmer, cover with a lid, and transfer the pot to the preheated oven. Cook until the meat is very tender, about 2 hours.

Take the pot out of the oven, and uncover. Pick out and discard the bones. Stir in green peas and vinegar until well-mixed. Adjust salt and pepper to taste. Serve warm.

Leftovers: Cover and refrigerate for up to 3 days. Reheat using the microwave or bring to a simmer over medium-low heat.
NUTRITION
Makes 4 Servings
Amount Per Serving:
| | |
| --- | --- |
| Calories 380 | |
| Total Fat 20g | 31% |
| Saturated Fat 6g | 28% |
| Cholesterol 130mg | 43% |
| Sodium 710mg | 30% |
| Net Carb 5g | |
| Total Carb 7g | 2% |
| Dietary Fiber 2g | 8% |
| Sugars 3g | |
| Protein 42g | |
arm chops

blade chops

final dish
Lamb Shoulder Chops: Selection & Preparation
I use lamb shoulder chops because they're inexpensive and deeply flavorful when slow-roasted until fall-apart tender.
For this recipe, you can use two types of lamb shoulder chops:
Arm Chops: They have a round bone in them because it's a cross-section of the arm bone. This is my preferred cut because it's straightforward to separate the easily visible bone from the meat. There's also a higher meat to bone ratio.
Blade Chops: They contain a larger bone, which is oddly-shaped and harder to separate from the meat. After removing the bone and fat, sometimes there's very little lean meat remaining.
I usually use a mixture of these two types of shoulder chops, depending on what's available at the butcher. Avoid lamb shoulder roast, which is difficult to remove the bone.
See above photos in this post to get an idea of what these cuts look like.
When carving out the bone, it doesn't have to be perfect. It's fine if there's some meat still stuck to the bone. Since the bones are cooked along with the rest of the stew, the meat will fall right off when it's time to remove and discard the bones. You won't end up wasting any meat.
Recipe Inspiration
This recipe is inspired by my trips to Iceland, first in 2016 for two weeks exploring the north and west, and second in 2018 for one week exploring the south.
I enjoyed several delicous lamb stews during these trips. Since it's a traditional dish, pretty much every chef and family in Iceland cooks lamb stew and has their own version of it. What they all have in common is very fresh lamb meat.
I began experimenting with this recipe during my first trip, using the kitchen in my rented house, so that I could take advantage of the fresh Icelandic meat available in local markets.
My goal was to keep the dish simple in terms of ingredients so that the natural lamb flavor really shines through. Even though the ingredient list only has some basic stew vegetables and seasonings, the lamb is given the full treatment via searing and slow-roasting, which brings out its rich and savory meaty flavor.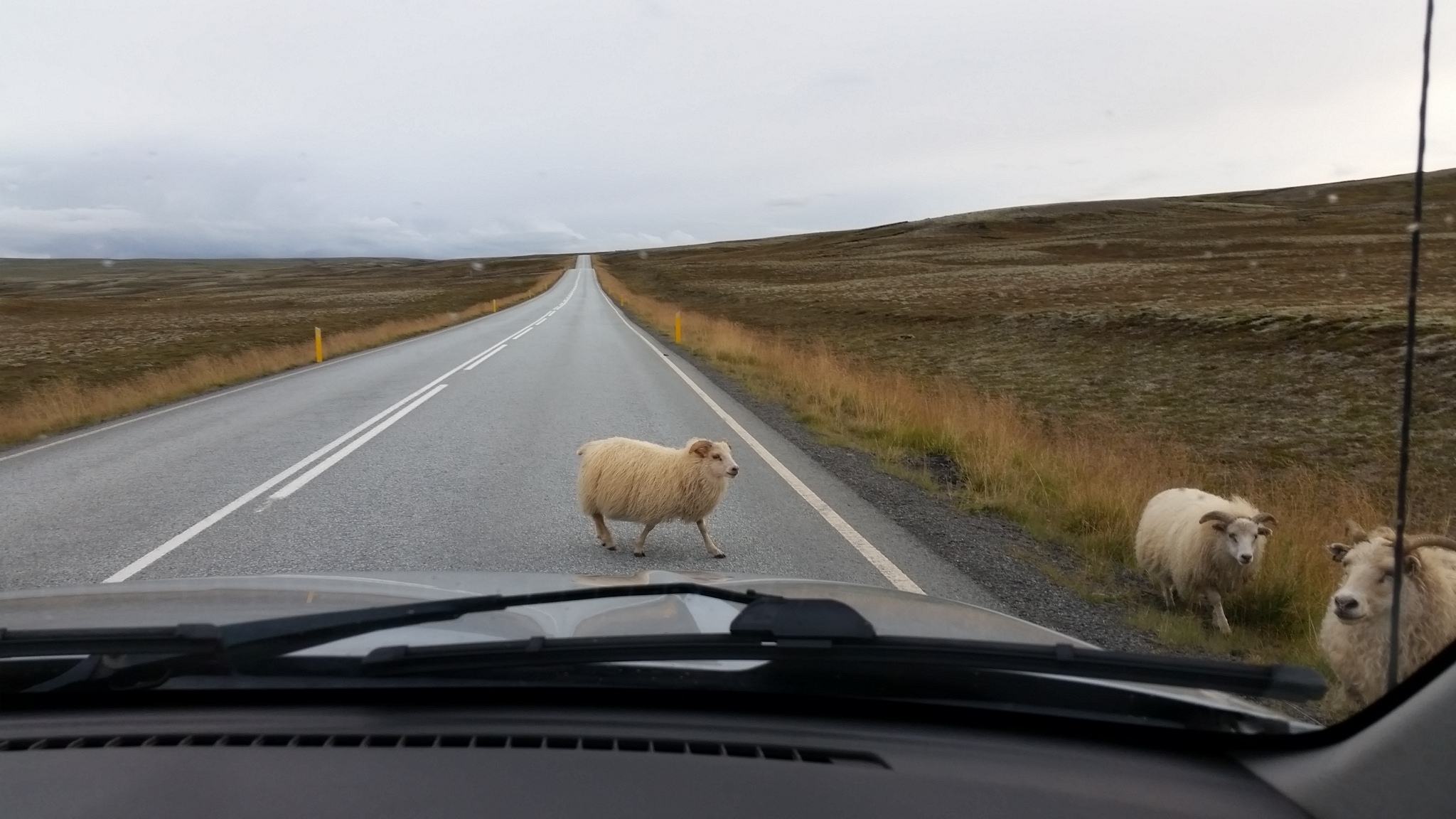 Sheep in Iceland
In Iceland, sheep are free-range and allowed to roam the countryside during summer. They are literally everywhere, often in groups of three, heads down and munching on grass and berries nonstop. It's hard to miss them.
Since sheep outnumber people in Iceland by a factor of 3, it's easy to see why lamb stew is one of the most popular and traditional dishes in the country.
Icelandic sheep also love hanging out on the road — see above photo of them crossing the road during my first day in Iceland. They can be really stubborn, so you'll have to honk loudly to get them to move along.
More Low Carb Soups & Stews