Summary:
Cold nights are perfect for enjoying Icelandic Lamb Stew with meltingly tender meat. Searing then slow-roasting in the oven brings out a rich and savory meaty flavor.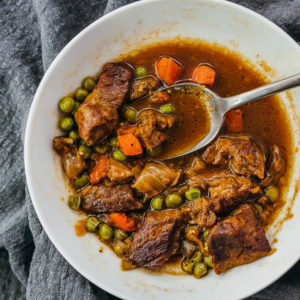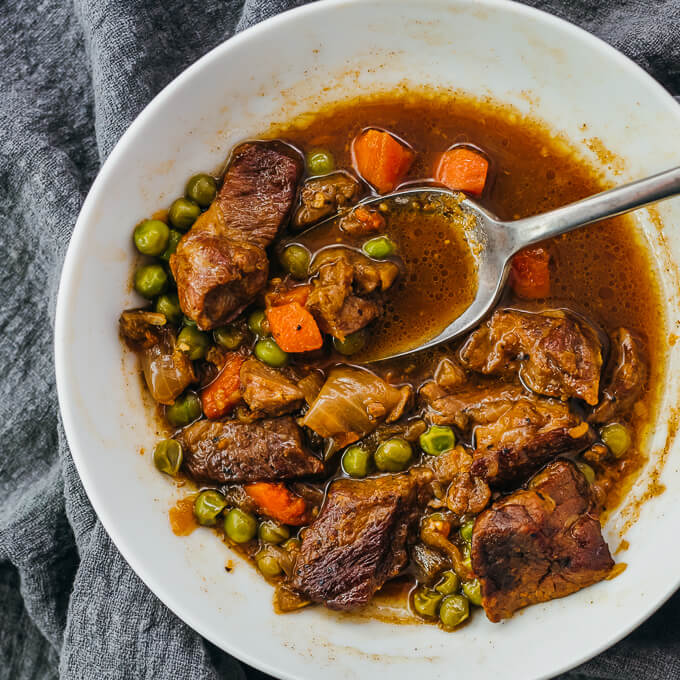 INGREDIENTS
2

pounds

lamb shoulder or leg (Note 1)

1

medium onion, cut into 1-inch pieces

1

medium carrot, cut into 1/2-inch pieces

2

large ribs

celery, cut into 1/2-inch pieces

5

cloves

garlic, minced

1.75

cups

water

1/2

cup

frozen green peas

2

tablespoons

olive oil, divided

1

tablespoon

white vinegar (Note 2)

1

teaspoon

table salt, divided

1/2

teaspoon

ground black pepper

1/2

teaspoon

ground thyme (Note 3)
INSTRUCTIONS
Prepare Meat: Separate meat from any bones, optionally reserving bones (Note 4). Working with meat, trim off and discard excess fat. Cut trimmed meat into chunks, 1 to 1.5 inches in size. Season meat chunks on one side with 1/2 teaspoon each of salt and black pepper.

Preheat Oven: Adjust oven rack to lower-middle position, and preheat to 300 F.

Brown Meat: Heat 1 tablespoon olive oil in oven-safe pot (Note 5) over medium-high heat until very hot. Add seasoned meat to pot in single layer. Cook until well-browned on bottom, about 5 minutes. Flip meat chunks and repeat for another side, another 5 minutes. Transfer meat to large bowl.

Cook Vegetables: Reduce to medium heat, and add onions, carrots, celery, and 1 tablespoon olive oil to now-empty pot. Cook for a few minutes, stirring and scraping with stiff wooden utensil to loosen browned bits stuck to bottom of pot. Stir in garlic and thyme until well-mixed and aromatic, less than 30 seconds.

Add Water & Meat: Add water and 1/2 teaspoon salt. Scrape along bottom and sides of pot to loosen any browned bits. Add any reserved bones. Return browned meat and any accumulated juices, evenly distributing in pot.

Bake: Bring to simmer, then cover with lid and transfer pot to preheated oven. Cook until meat is very tender, about 2 hours.

Serve: Uncover, and discard any bones. Stir in green peas and vinegar until well-mixed. Season with salt and pepper to taste. Serve and save leftovers (Note 6).
NUTRITION
Makes 4 Servings
Amount Per Serving:
| | |
| --- | --- |
| Calories 380 (47% from fat) |   |
| Total Fat 20g | 31% |
|    Saturated Fat 6g | 28% |
| Cholesterol 130mg | 43% |
| Sodium 710mg | 30% |
| Net Carb 5g |   |
| Total Carb 7g | 2% |
|    Dietary Fiber 2g | 8% |
|    Sugars 3g |   |
| Protein 42g |   |
PHOTOS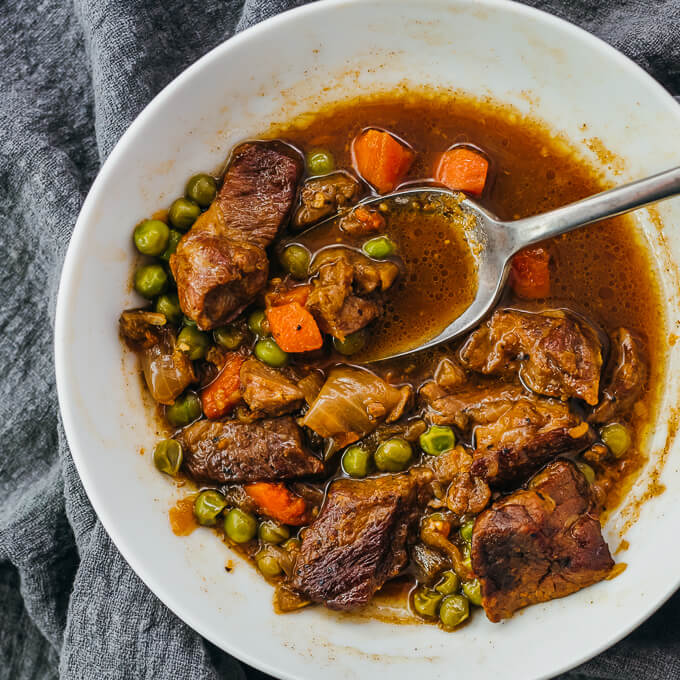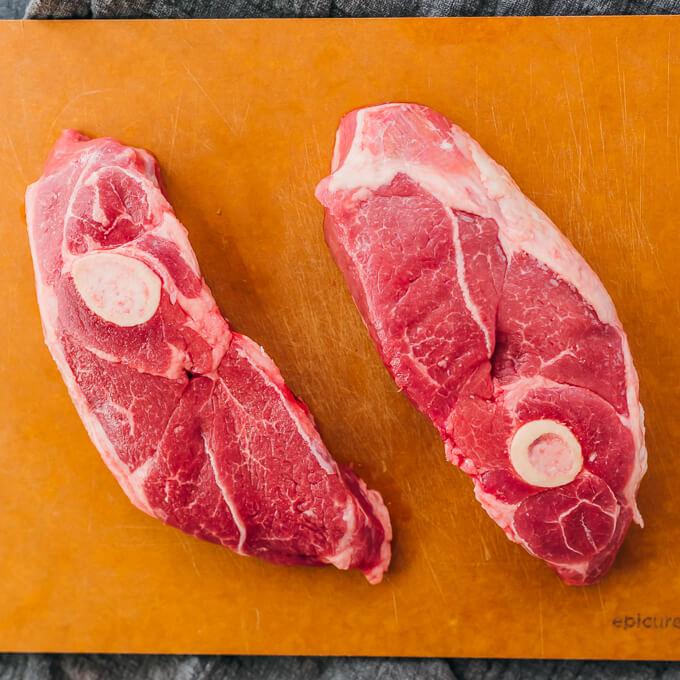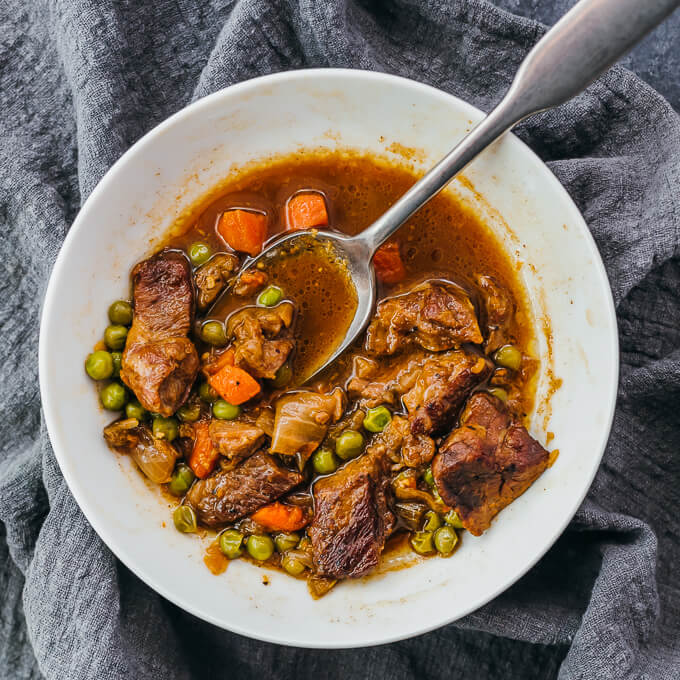 NOTES & TIPS
(1) Lamb. Use 2 pounds of fresh lamb, such as meat from the shoulder or leg. Select a leaner cut, since excess fat will be trimmed and discarded. Both boneless and bone-in varieties are fine.
(2) White Vinegar. This can be substituted with your preferred vinegar.
(3) Thyme. I use dried thyme in powdered form, not whole leaves.
(4) Separating Bones. It's fine if you don't perfectly separate all of the meat from the bone. Since the bones are cooked along with the rest of the stew, the meat will effortlessly fall off the bone after cooking and won't be wasted.
(5) Pot. I use a 6-quart dutch oven. Any similarly sized pot with lid, safe for oven use, will also work for this recipe.
(6) Serving / Leftovers. Potatoes and rye bread are popular Icelandic side dishes served with meat. For a lower carb meal, pair with cauliflower mash. Stew leftovers can be stored in a covered container in the refrigerator for up to 3 days. Reheat using the microwave or bring to a simmer over medium-low heat.
(7) Recipe Inspiration. This recipe is inspired by my trips to Iceland, first in 2016 for two weeks exploring the North and West, and second in 2018 for one week exploring the South. I enjoyed several delicious lamb stews during these trips. Since it's a traditional dish (and sheep outnumber people in Iceland by a factor of 3), almost every family in Iceland cooks lamb stew and has their own version of it. What they all have in common is very fresh pastured lamb meat.