Summary:
This Mediterranean inspired bowl features a colorful medley of fresh and cooked ingredients, including ground lamb, spinach, cauliflower rice, tomatoes, feta cheese, and warm spices. This recipe is a fast one-pan dinner, great for keto and low carb diets with only 5 grams of net carbs.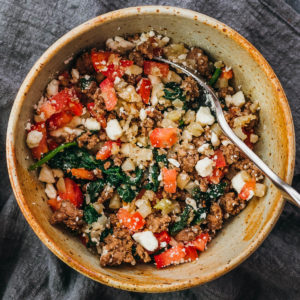 INGREDIENTS
INSTRUCTIONS
Wilt Spinach: Add half of spinach to pan with lamb, stirring until wilted, 1 to 2 minutes. Then stir in remaining half of spinach until wilted, another 1 to 2 minutes.

Cook Cauliflower: Add cauliflower rice to pan and cook until tender, a few minutes, stirring occasionally. Stir in salt, cumin, and cinnamon until well-mixed, about 1 minute. Turn off heat.

Serve: Divide contents of pan into 3 bowls, using slotted spoon so any excess liquid is left behind. Evenly distribute tomatoes and feta cheese among bowls, stirring them in. Serve (Notes 5-6).
NUTRITION
Makes 3 Servings
Amount Per Serving (2 cups):
| | |
| --- | --- |
| Calories 560 (62% from fat) |   |
| Total Fat 39g | 60% |
|    Saturated Fat 18g | 92% |
| Cholesterol 173mg | 58% |
| Sodium 1290mg | 54% |
| Net Carb 5g |   |
| Total Carb 9g | 3% |
|    Dietary Fiber 4g | 15% |
|    Sugars 4g |   |
| Protein 43g |   |
PHOTOS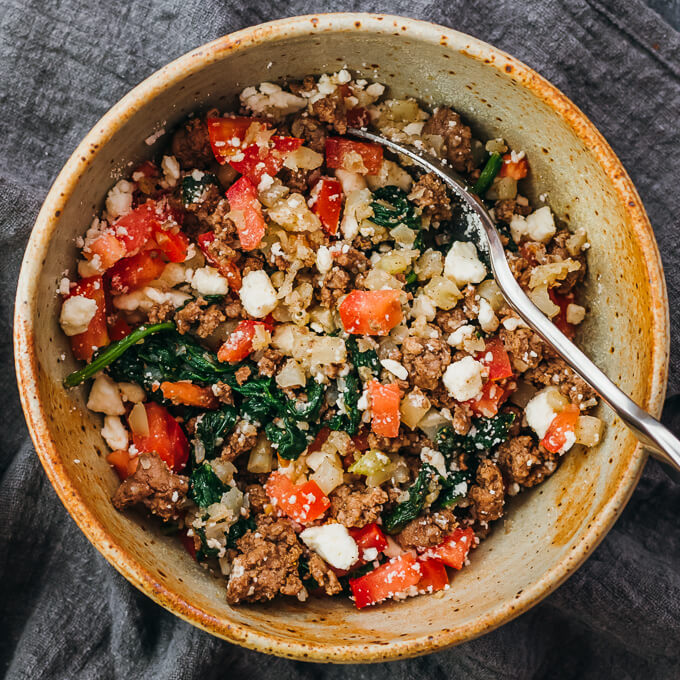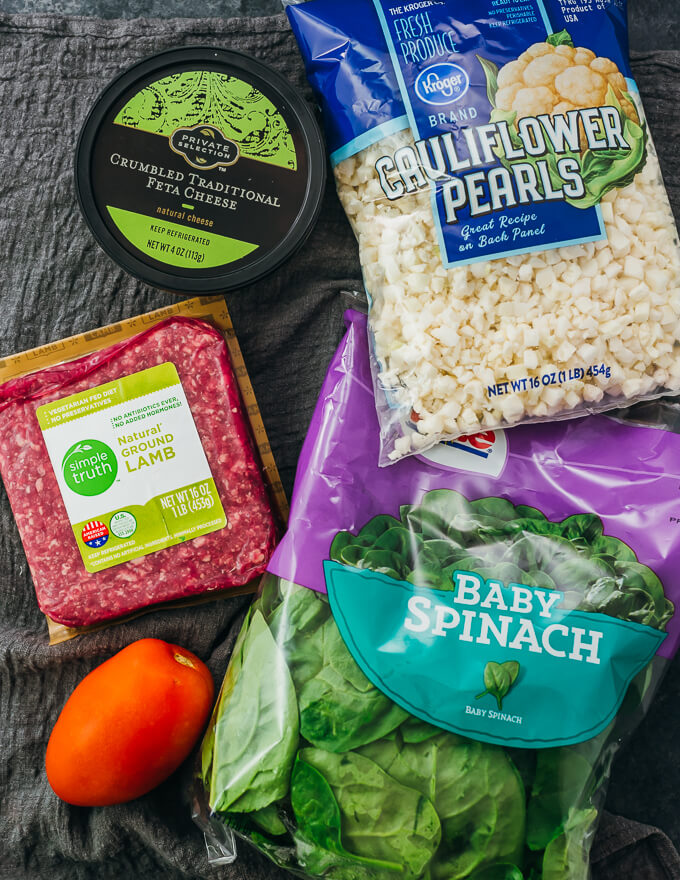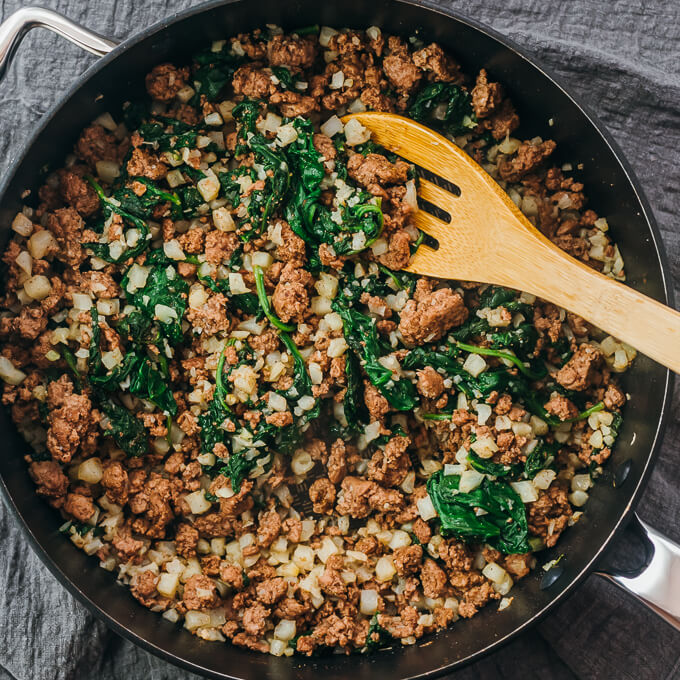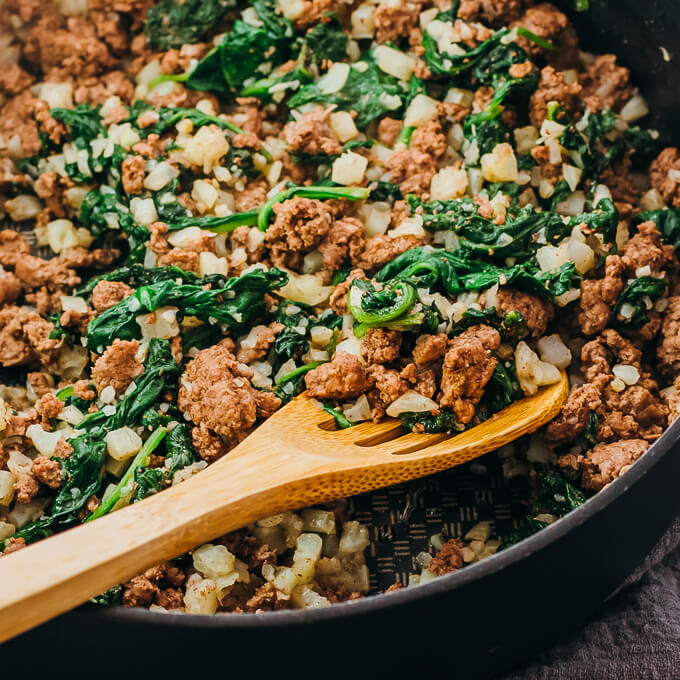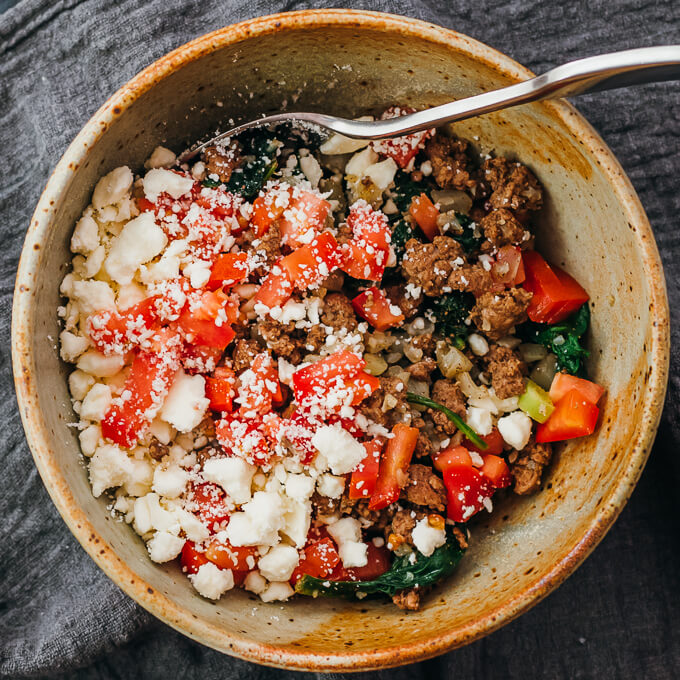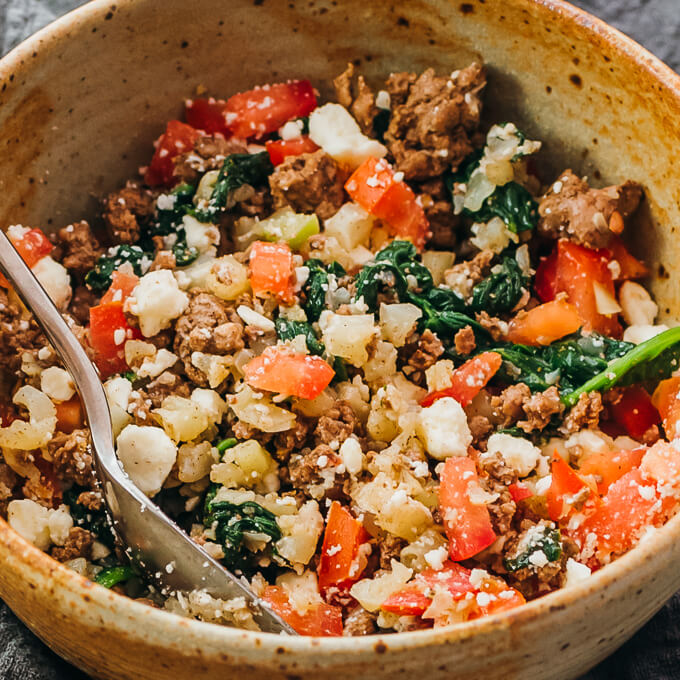 NOTES & TIPS
(1) Lamb. I use ground American lamb. This can be substituted with other types of ground meat, such as beef or turkey. If you use anything leaner than 80%, you may want to add extra fat (like olive oil or butter) during cooking to improve flavor and prevent the pan from getting too dry.
(2) Cauliflower Rice. About 8 to 9 ounces weight. You can use fresh or frozen. I recommend picking up a bag of pre-riced cauliflower in the produce section or freezer aisle of U.S. grocery stores — easier than grating cauliflower florets with a box grater or food processor. If you choose to grate your own cauliflower rice, you'll need about half of a large head of cauliflower.
(3) Pan. The pan should be large enough to hold all of the ingredients, especially the voluminous raw spinach. I use a nonstick 10-inch pan with 3-inch-tall sides. No lid needed. It's not necessary to pre-heat the pan, and oil is not required since the ground lamb will release fat as it cooks.
(4) Draining Grease. I don't drain the grease so that it can be used for cooking the spinach and cauliflower rice. It also adds extra flavor to the dish.
(5) Serving. Serve these lamb bowls while warm, optionally with a dollop of pesto sauce. Enjoy them alongside a Mediterranean salad, tomato basil soup, or fried zucchini coins.
(6) Leftovers / Make Ahead. Whether you anticipate having leftovers or you're planning on making this ahead of time, keep the cooked and fresh ingredients separate. The cooked lamb, spinach, and cauliflower rice should be kept in one container, and the diced tomatoes and crumbled feta in another. Just before eating, microwave the container with cooked ingredients until heated through, then stir in the fresh ingredients. Avoid microwaving the feta and tomatoes — it really diminishes the overall flavors of the dish.