Summary:
Featuring fresh basil and roasted red peppers, this flavorful tomato soup is hearty and creamy, without using cream. All of the ingredients are puréed together, giving the soup a smooth and thick consistency.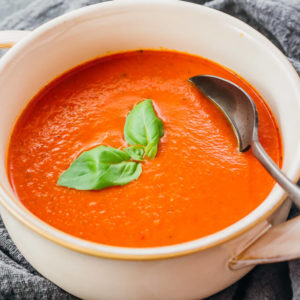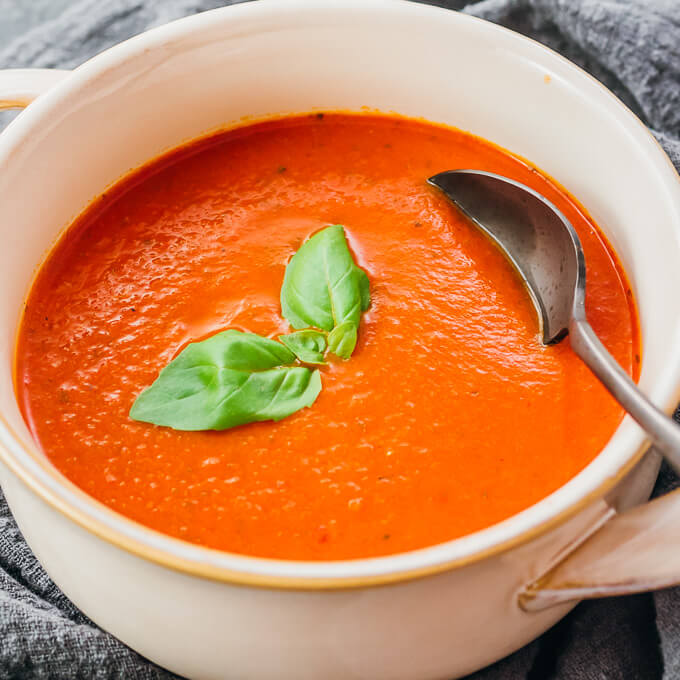 INSTRUCTIONS
Sauté: Melt butter in pot or dutch oven over medium heat (Note 4). Add onions, carrots, salt, thyme, and red pepper flakes. Cook until starting to brown, about 10 minutes, stirring frequently. Add basil to pot, stirring with everything until wilting, about a minute.

Simmer: Add crushed tomatoes, drained red peppers, and water to pot, stirring together with vegetables. Increase heat to bring to boil, then cover with lid. Decrease to medium-low heat and simmer for 30 minutes.

Blend: Uncover and turn off heat. Use immersion blender to blend mixture until very smooth, or pour into tabletop blender for same effect (Note 5).

Serve: Gradually stir in parmesan cheese until melted. Optionally, season with additional salt to taste. Serve (Note 6).
NUTRITION
Makes 7 Servings
Amount Per Serving (1 cup):
| | |
| --- | --- |
| Calories 110 (35% from fat) |   |
| Total Fat 4g | 7% |
|    Saturated Fat 3g | 16% |
| Cholesterol 14mg | 5% |
| Sodium 770mg | 32% |
| Net Carb 8.5g |   |
| Total Carb 11g | 4% |
|    Dietary Fiber 2.5g | 11% |
|    Sugars 4g |   |
| Protein 5g |   |
PHOTOS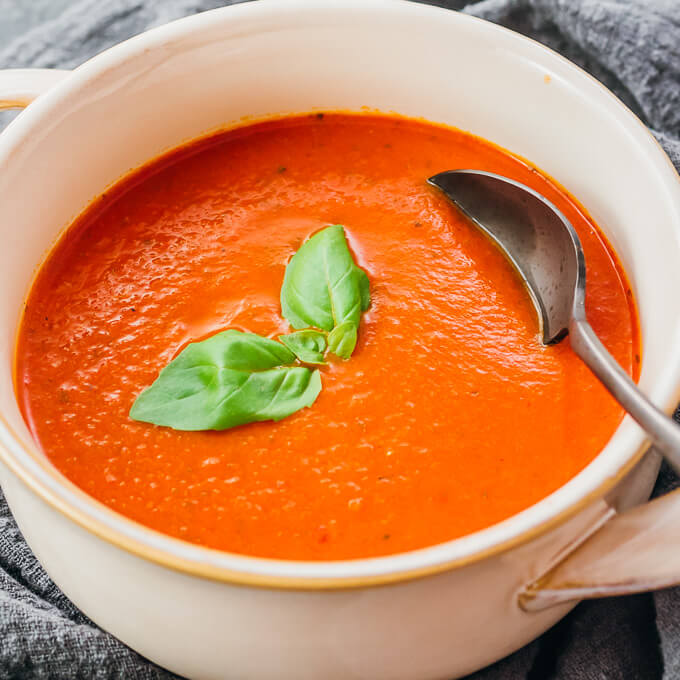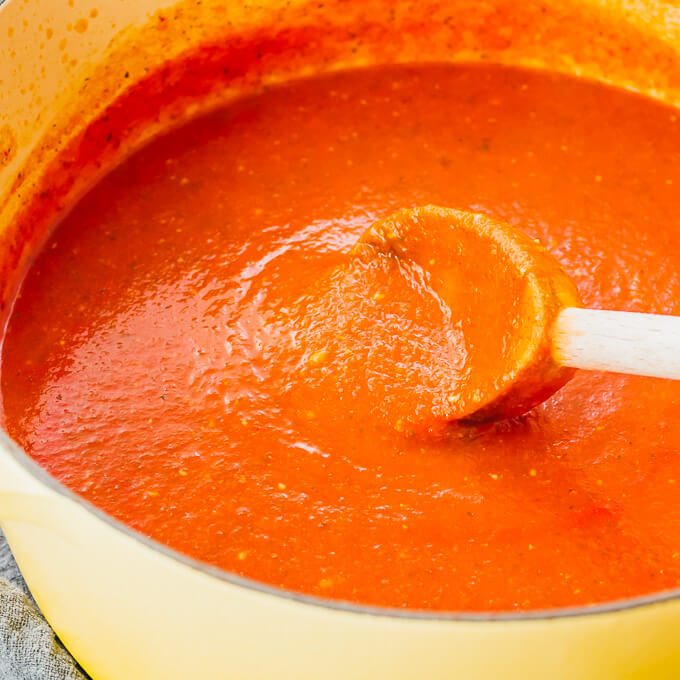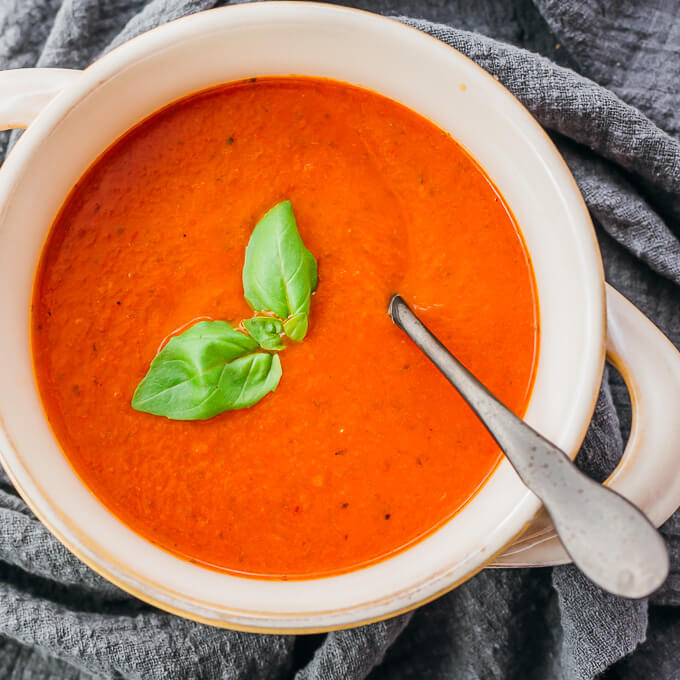 NOTES & TIPS
(1) Basil. About 1.5 ounces weight of fresh basil leaves.
(2) Parmesan Cheese. This is finely grated parmesan that has a sandy or almost powdery texture, not shredded, often available in pre-grated bags in the refrigerated section of U.S. grocery stores. This can be substituted with similar cheeses like pecorino romano or asiago.
(3) Dried Thyme. This amount is for powdered dry thyme, not whole leaves.
(4) Pot. Any medium to large pot can be used for this recipe. I use a 6 quart dutch oven, and smaller sizes will work as well.
(5) Blender. An immersion blender is convenient for making puréed soups like this. If you don't have one, pour the soup into a large countertop blender and blend for the same effect. Make sure that your blender is safe for use with hot liquids.
(6) Serving. Serve in bowls, optionally topping with extra fresh basil. Pair with homemade parmesan crisps, almond flour garlic knots, or chicken avocado bacon salad.