Summary:
Made in a single pot on the stovetop, this flavorful soup is full of chopped vegetables in a creamy base made of broth and cream cheese. With over 75% of calories coming from fat, it's perfect for anyone on a keto or low carb diet. Visit Soup Recipes for more cozy soups.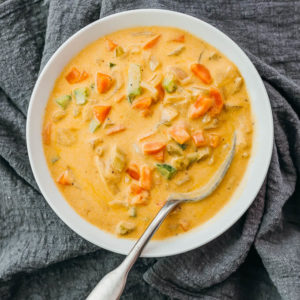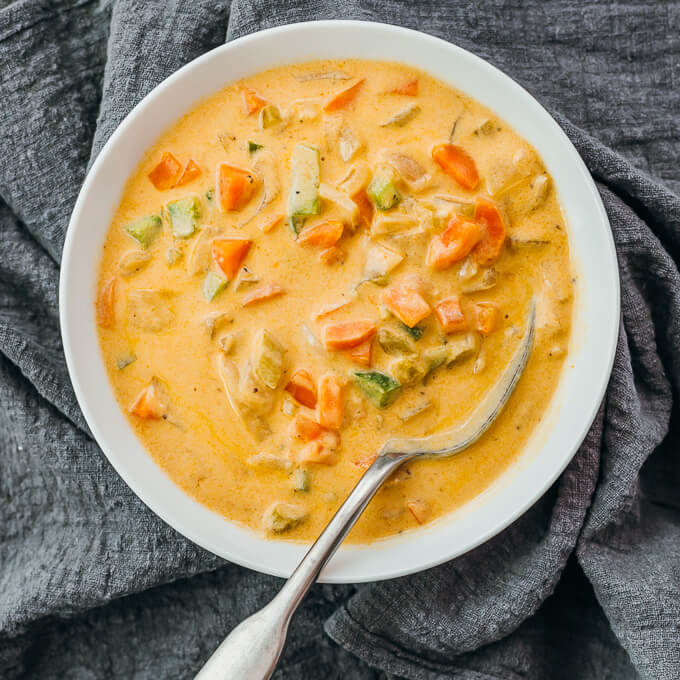 Creamy Vegetable Soup Recipe
INGREDIENTS
3

ribs celery, finely chopped

(see section below called "Tips For Success" on how to save time on prep work)

2

carrots, finely chopped

1

onion, finely chopped

(I use a yellow onion)

5

cloves

garlic, minced

(I use a garlic press)

4

cups

low sodium chicken broth

1

(8-ounce) package cream cheese

3

tablespoons

tomato paste

2

tablespoons

olive oil

1.5

teaspoons

table salt

1

teaspoon

ground black pepper
For Finishing:
1

green bell pepper, finely chopped

1

cup

finely grated parmesan cheese (4 ounces weight), plus extra for serving

(this is the kind with a powdery texture, not shredded)
INSTRUCTIONS
Cut the cream cheese into 8 cubes. Set aside to soften while you work on the rest of the recipe.

Heat olive oil in a pot (I use a 6-quart dutch oven) over medium-high heat until shimmering, a few minutes. Add celery, carrots, onions, salt, and black pepper. Cook until onions are translucent, about 5 minutes, stirring occasionally.

Add garlic and tomato paste. Stir constantly until incorporated and fragrant, about 1 minute. You may notice flavorful browned bits collecting at the bottom of the pot.

Add broth, and briefly scrape along the pot's bottom to loosen any browned bits. Bring to a boil over high heat, then reduce to medium heat. Add cream cheese cubes, vigorously whisking them into the soup until fully incorporated, about 5 minutes. Initially, you'll see many white cream cheese bits, but eventually they will dissolve after whisking.

Reduce to medium-low heat. Simmer to let the flavors combine, about 5 minutes, stirring occasionally. The soup should be smooth and creamy, with a pale orange color.

Turn off the heat. Stir in bell pepper and parmesan cheese until well-mixed, about 1 minute. The bell pepper is added last so that it retains some juicy crunch and bright green color.

Serve warm, passing around extra parmesan cheese for topping.

Leftovers: Cover and store leftovers in the refrigerator. Reheat in the microwave or bring to a simmer on the stove.
NUTRITION
Makes 8 Servings
Amount Per Serving (1 cup):
| | |
| --- | --- |
| Calories 210 | |
| Total Fat 18g | 28% |
| Saturated Fat 8g | 40% |
| Cholesterol 44mg | 15% |
| Sodium 820mg | 34% |
| Net Carb 5g | |
| Total Carb 6.5g | 2% |
| Dietary Fiber 1.5g | 6% |
| Sugars 2.5g | |
| Protein 9g | |
❕ Tips For Success
A whisk is important in this recipe. I use a wire whisk, which helps incorporate cream cheese into the soup so that it melts evenly. If you simply stir instead, it can take a long time to achieve the desired effect or not at all, ending up with white lumps of cream cheese in your soup. It'll still taste good, but might look unappetizing.
Don't skimp on extra parmesan cheese for serving. Parmesan cheese adds a lot of sharp complex flavors, so have extra parmesan cheese prepared to pass around the table for topping the soup.
Reduce the broth to 3 cups for an extra creamy soup, almost like a chowder. This also means you'll have a soup with a greater ratio of vegetables in it. Personally, I prefer the soup's texture with 4 cups, but I've also enjoyed it with 3 cups when I'm craving something heartier.
Use mirepoix to save time when chopping vegetables. This is a package of pre-chopped onions, carrots, and celery that you can often find in the refrigerated produce section of U.S. supermarkets.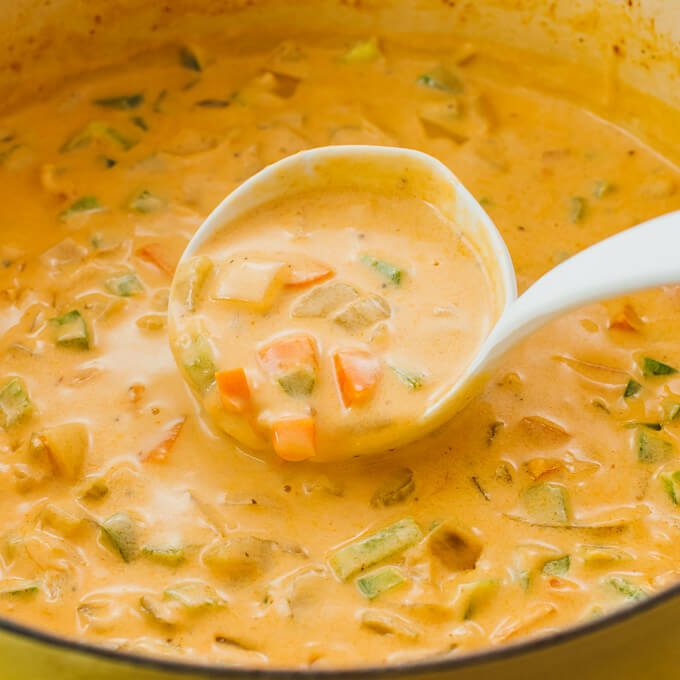 🔔 Why You Should Make This
Great Taste & Texture. The vegetables are perfectly cooked: tender carrots and onions, with a juicy crunch from the bell peppers. The cream cheese lends a thick and smooth consistency to the soup, and the parmesan cheese contributes a complex nutty flavor.
Perfect Keto Macros. Are you on keto? Then you'll love this soup because not only is it delicious, but 75% of its calories come from fat to help you stay in ketosis.
One-Pot Meal. All of the ingredients are cooked together in a single pot on the stovetop; this means less cleanup and hassle.
Packed With Veggies. Whether you're looking to use up leftover vegetables in your fridge, or just trying to sneak more vegetables into your diet, this soup helps you accomplish that.
🔧 Behind The Scenes: Recipe Development
I was inspired to develop this recipe after publishing my Instant Pot Salsa Chicken Soup Recipe. I wanted to make a low carb soup similarly thickened with cream cheese, but focused on vegetables rather than chicken, and prepared on the stovetop instead of the pressure cooker.
As written, this recipe is not vegetarian but easily converted; simply replace the chicken broth with vegetable broth. I opted for chicken broth for two reasons: the first is flavor and the second is the carb count. At my local grocery store, I'm able to find chicken broth with zero carbs, but not vegetable broth.
More Low Carb Soup Recipes