Summary:
Cheesy and pillowy soft, these garlic knots are made with almond flour, shredded cheese, cream cheese, and eggs. After baking, they're generously brushed with garlic butter.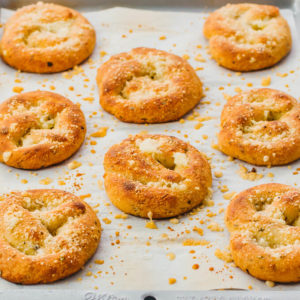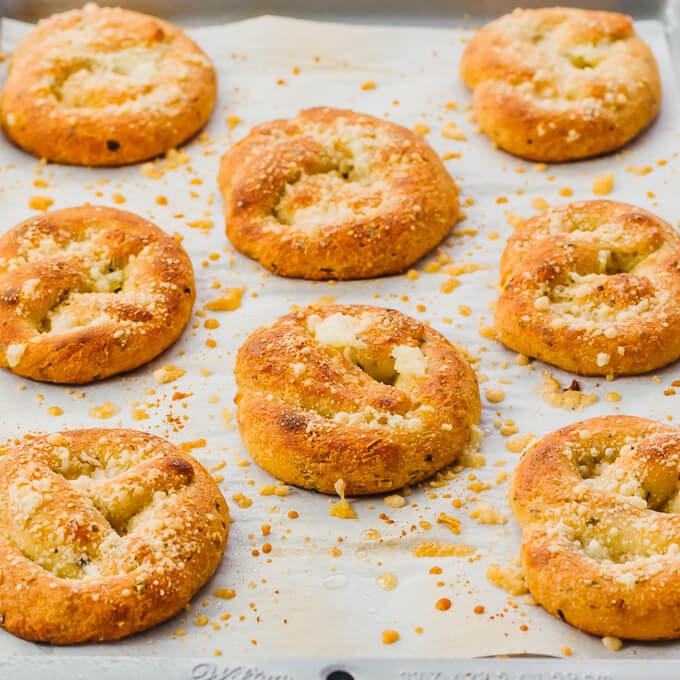 INGREDIENTS
Toppings:
3

cloves

garlic, minced

1

tablespoon

butter

1

tablespoon

finely grated parmesan cheese (Note 4)
INSTRUCTIONS
Make Dough: Stir dry ingredients (almond flour, oregano, garlic powder, baking powder, salt) in large microwave-safe bowl until well-mixed. Add mozzarella cheese and cream cheese to same bowl. Microwave for 45 seconds, stir, and microwave for another 45 seconds or until cheese is melted. Stir until mixture forms smooth dough. Stir in egg until absorbed and well-mixed; if easier, use your hands to knead once dough is cool enough to handle.

Form Knots: Cut dough into 8 equal pieces. Roll each piece into 9-inch-long log, then form into knot-like shape (Note 5). Place knots at least 1 inch apart on lined baking sheet. Spray or brush tops with oil.

Bake: Bake at 375 F until lightly golden on top, about 15 minutes (Note 6), then remove garlic knots from oven.

Broil: Set broiler on high. Microwave butter and minced garlic in small heatproof bowl until melted. Brush garlic butter over tops of garlic knots. Sprinkle parmesan cheese on top. Return garlic knots to oven and broil until golden brown on top, about 1 minute; monitor carefully because they can easily burn. Serve hot (Note 7).
NUTRITION
Makes 8 Servings
Amount Per Serving (1 garlic knot):
| | |
| --- | --- |
| Calories 180 (72% from fat) |   |
| Total Fat 15g | 22% |
|    Saturated Fat 6g | 28% |
| Cholesterol 49mg | 16% |
| Sodium 350mg | 14% |
| Net Carb 3g |   |
| Total Carb 4.5g | 2% |
|    Dietary Fiber 1.5g | 5% |
|    Sugars 1g |   |
| Protein 9g |   |
PHOTOS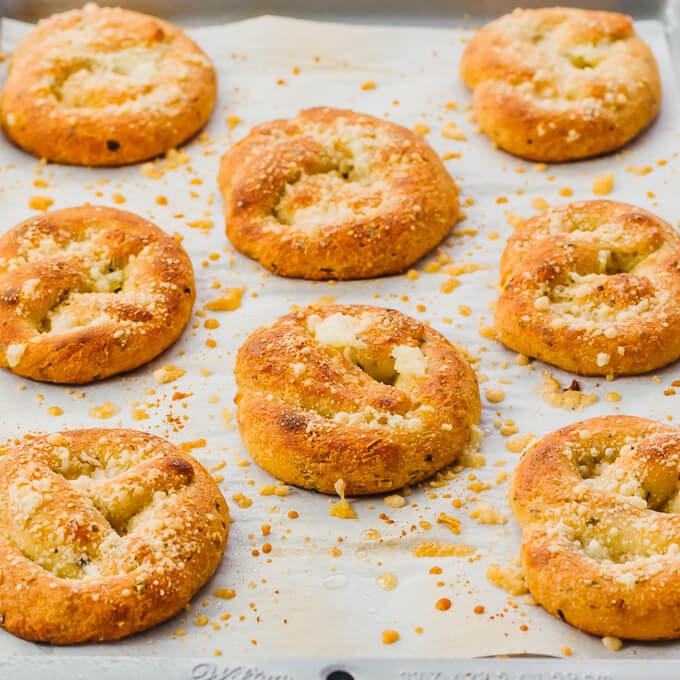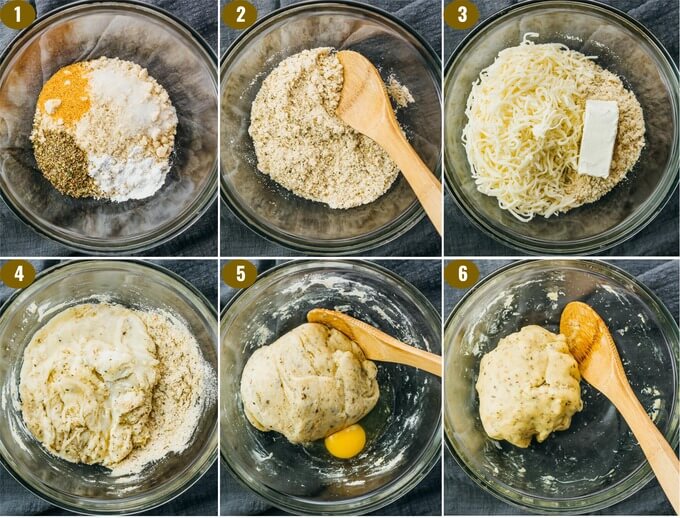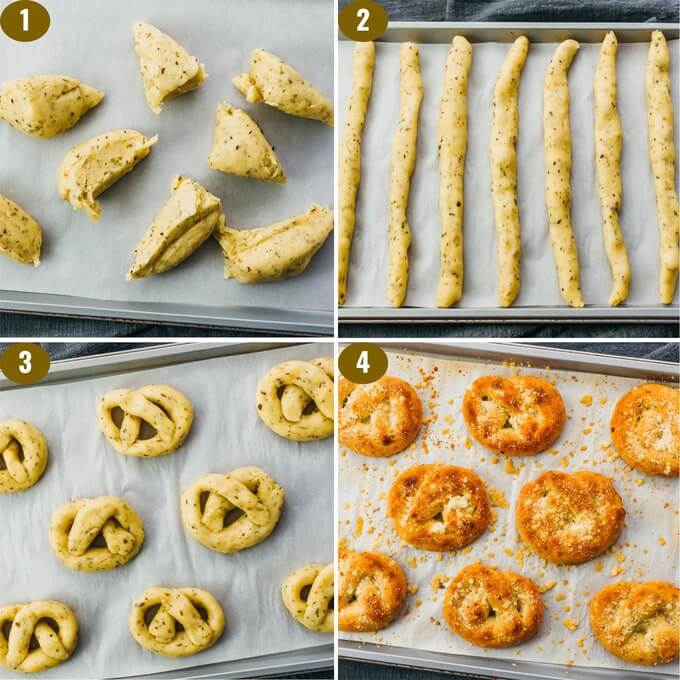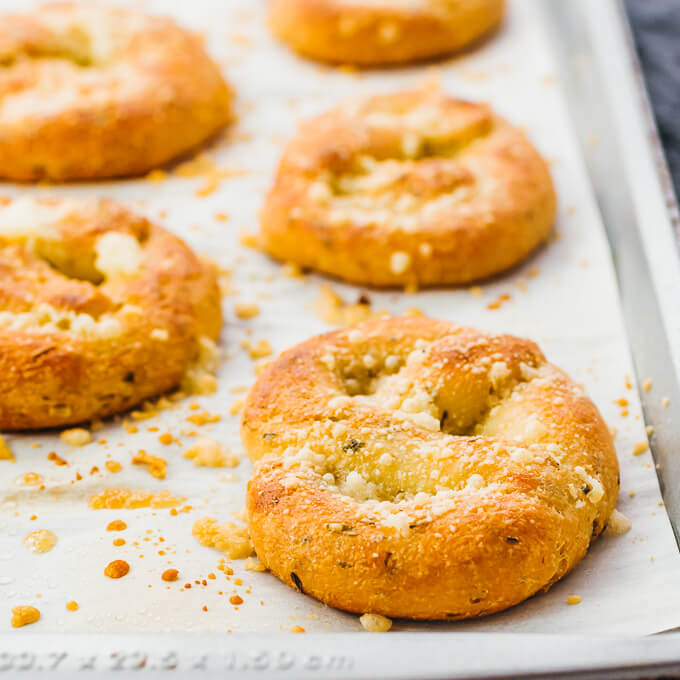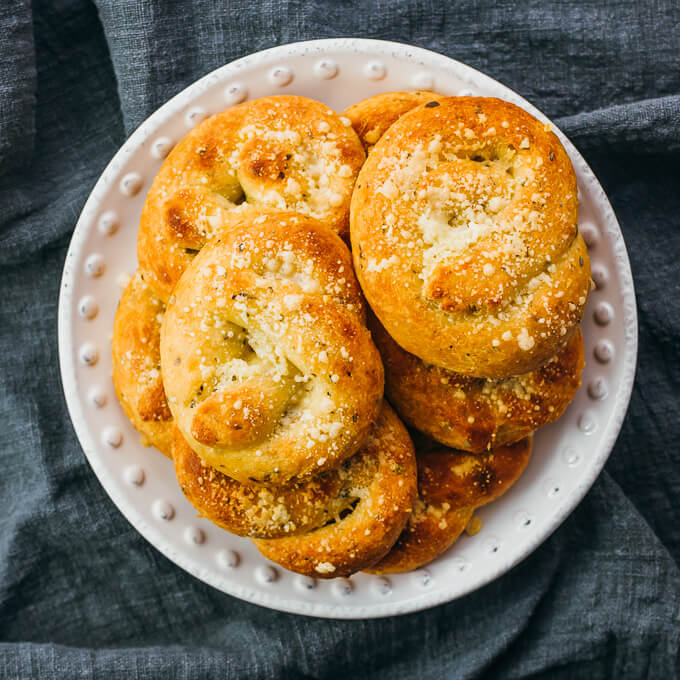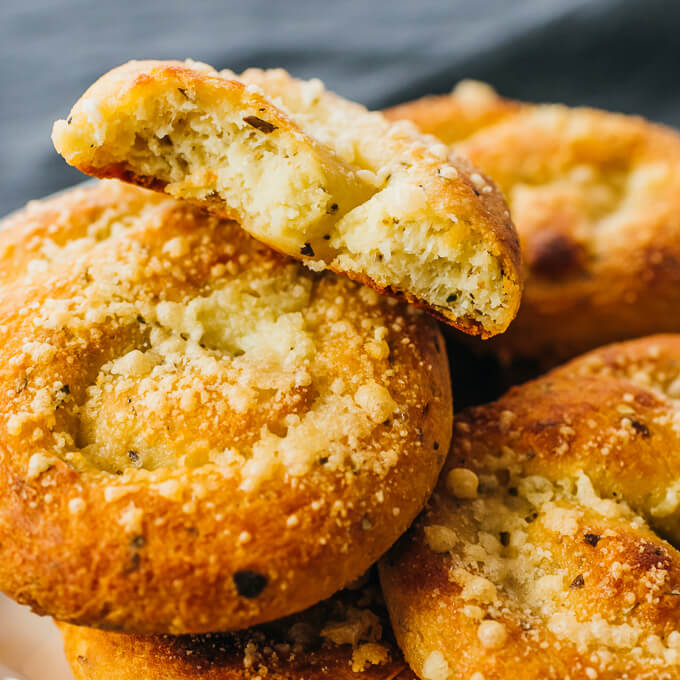 NOTES & TIPS
(1) Mozzarella Cheese. About 6 ounces weight. I use a bag of pre-shredded low-moisture part-skim mozzarella, which means the cheese has been dried out for a longer shelf life and better browning.
(2) Almond Flour. About 3 ounces weight. I use almond flour that is blanched, which means the skins are taken off of the almonds, so the resulting flour looks white. I typically use Costco's Kirkland brand, which has 2 grams of net carbs per 1/4 cup serving. Don't substitute with coconut flour or other flours, which vary in their absorbency.
(3) Cream Cheese. Two ounces is one-quarter of a standard 8-ounce brick. I use regular, full-fat cream cheese from the brand Philadelphia, not reduced fat or light versions.
(4) Parmesan Cheese. This is finely grated parmesan that has a sandy or almost powdery texture (not shredded), available in pre-grated bags in the refrigerated section of U.S. grocery stores. This can be substituted with similar cheeses like pecorino romano or asiago.
(5) Forming Knots. I recommend rolling out the dough on a silicone baking mat so that it doesn't slide around on the countertop. If the dough is too sticky, rub a bit of olive oil on your hands and the baking mat. Once you have 8 long logs, you can form them into whatever shape you prefer. I adopted pretzel-like shapes, which turned out great. I don't recommend trying to tie an actual knot; the dough will probably break apart before you can do that. It's not as elastic as wheat-based dough.
(6) Baking Time. Baking times vary from oven to oven, so don't solely rely on the time estimates provided in the recipe. The garlic knots should be lightly golden when they've finished baking, and golden brown when they've finished broiling. Your results can also vary depending if you use a rack positioned higher or lower in the oven — I typically use a rack positioned in the center of the oven.
(7) Serving / Leftovers. These garlic knots are best served hot, alongside some keto pizza or biscuits. Leftovers can be stored in an airtight container in the refrigerator for up to 3 days. To reheat, place the garlic knots in a single layer on a nonstick pan over medium-low heat. Cook for 5-10 minutes or until sizzling and warmed through. No need to flip or anything.