Summary:
This is an easy recipe to make vanilla ice cream that's keto friendly, low carb, and sugar free. It's a simple dessert with just 4 ingredients and only 2 grams of net carbs per serving. No ice cream maker needed.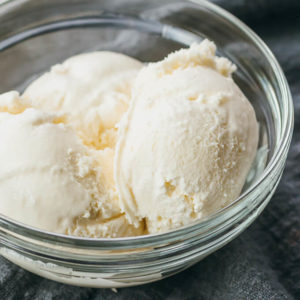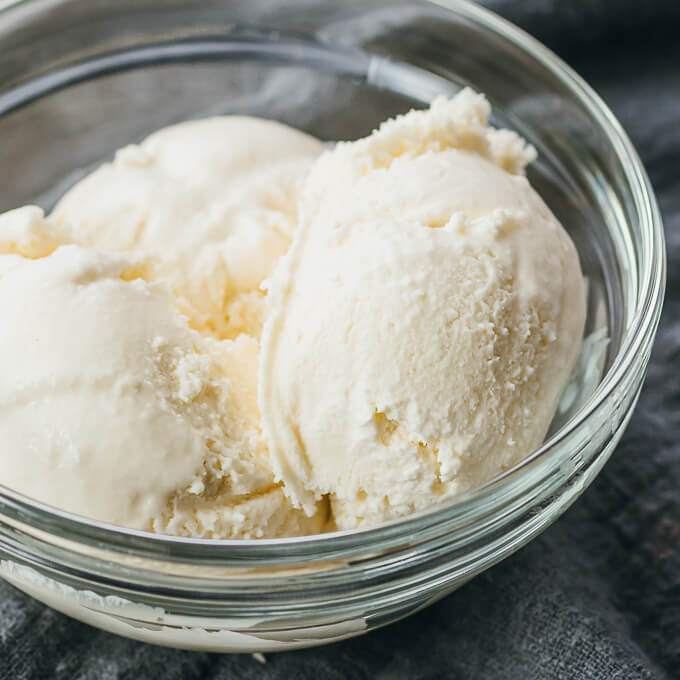 INGREDIENTS
INSTRUCTIONS
Chill Pan: Prepare durable dish with 1.5 quart capacity, safe for freezer and hand mixer use — I use glass 9×5 inch loaf pan. Place pan in freezer to chill for about 10 minutes.

Combine Ingredients: Whisk all ingredients in large bowl until sweetener is completely dissolved. Pour mixture into chilled pan, and freeze uncovered for about 45 minutes or until edges of mixture begin to set.

Beat & Freeze (Note 3): Scrape down sides and use electric hand mixer directly in pan to beat for about 30 seconds on low or until smooth. Return pan to freezer. Repeat this process every 30 minutes to scrape down frozen bits and beat mixture until smooth, freezing in between, for about 3 hours or until mixture is no longer liquid. As mixture freezes, it will become firmer each time you beat it. After beating for last time, use rubber spatula to flatten surface of ice cream, cover, and store in freezer until frozen.

Serve (Note 4): Prior to serving, take ice cream out of freezer to thaw a bit before enjoying.
NUTRITION
Makes 5 Servings
Amount Per Serving (1/2 cup):
| | |
| --- | --- |
| Calories 250 (95% from fat) |   |
| Total Fat 26g | 40% |
|    Saturated Fat 16g | 82% |
| Cholesterol 81mg | 27% |
| Sodium 30mg | 1% |
| Net Carb 2g |   |
| Total Carb 2g (Note 5) | 1% |
|    Dietary Fiber 0g | 0% |
|    Sugars 2g |   |
| Protein 2g |   |
PHOTOS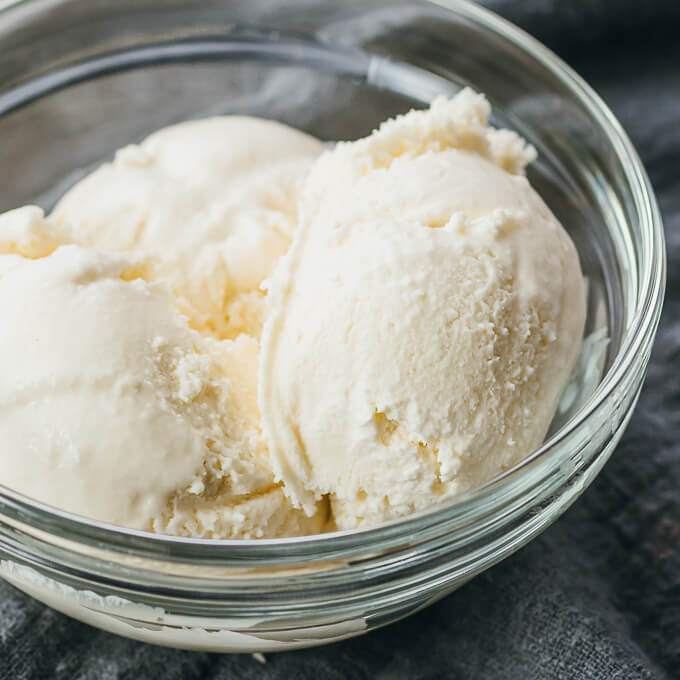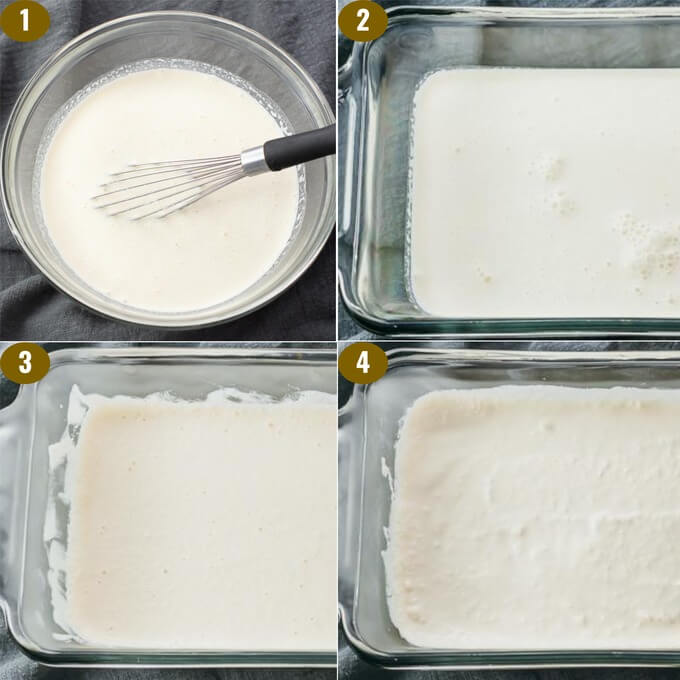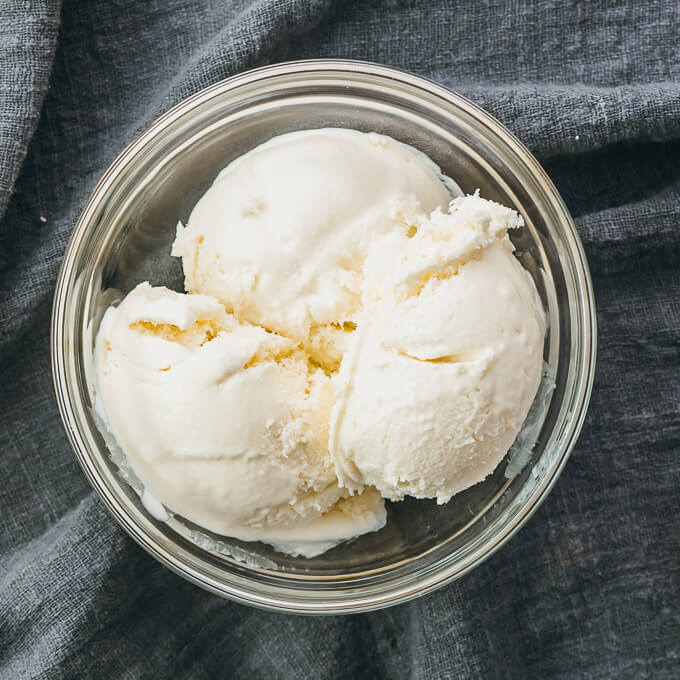 NOTES & TIPS
(1) Almond Milk. Almond milk is used for its fewer carbs compared to dairy milk. From my tests, a combination of heavy whipping cream and almond milk yielded ice cream with the fewest net carbs and a modest calorie count. You can substitute with other nut milks like cashew milk, ideally unsweetened and plain. Find them in the refrigerated fresh milk section of a grocery store. To determine if your nut milk is unsweetened, look at the carton's nutrition facts — it should only have 1 gram of total carbs per 1 cup serving. Anything more than that and it's likely sweetened with a lot of added sugars.
(2) Sweetener. About 2.5 ounces weight. Confectioners Swerve measures the same as regular powdered sugar; it's not the same as powdered erythritol which is about 70% as sweet. Note that in terms of volume, confectioners (powdered) sweeteners measure differently than granulated sweeteners since they pack differently into a measuring cup. Use a Nutribullet or similar blender to process a granulated sweetener into powdered form. If you use another brand of sweetener and don't know how much to use, add it to taste when you're whisking the ice cream ingredients together.
(3) Beat and Freeze Method. If you have an ice cream maker, churn the ice cream according to your manufacturer's instructions. Otherwise, use this simple low-tech beat-and-freeze method: as the ice cream mixture freeze, periodically beat it with an electric hand mixer. It gets thicker each time, until finally it's no longer liquid. I use a standard sized loaf pan to hold the ice cream mixture, which is deep enough that I can beat the mixture directly in the pan on low speed without splashing. I don't recommend using an immersion blender, which would likely splash too much.
(4) Serving. This ice cream is great when topped with chopped nuts, fresh berries, or Lily's sugar-free chocolate chips. You can make an ice cream sandwich using two pecan cookies or peanut butter cookies. Another idea is serving the ice cream over apple crisp, brownies, or chocolate cake.
(5) Carbs. The nutrition calculation assumes you are using Swerve or a similar erythritol-based sweetener that uses sugar alcohols, whose carbs are non-impact and therefore not included in the nutrition estimate. Apps that count sugar alcohols will show a higher number of carbs. Most of the carbs in this ice cream comes from heavy whipping cream, which is not a zero carb ingredient even if it lists 0 on the label, due to rounding (see Hidden Carbs).