Summary:
These moist brownies have a rich chocolate taste, with a texture somewhere between fudgy and chewy. Chopped walnuts give a nice crunch to every bite, and coarse sea salt adds a sweet-and-salty taste to these brownies. They're easy to make, using just a mixing bowl and spoon for stirring; no electric mixer needed.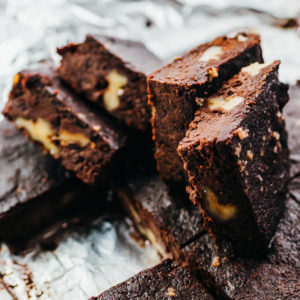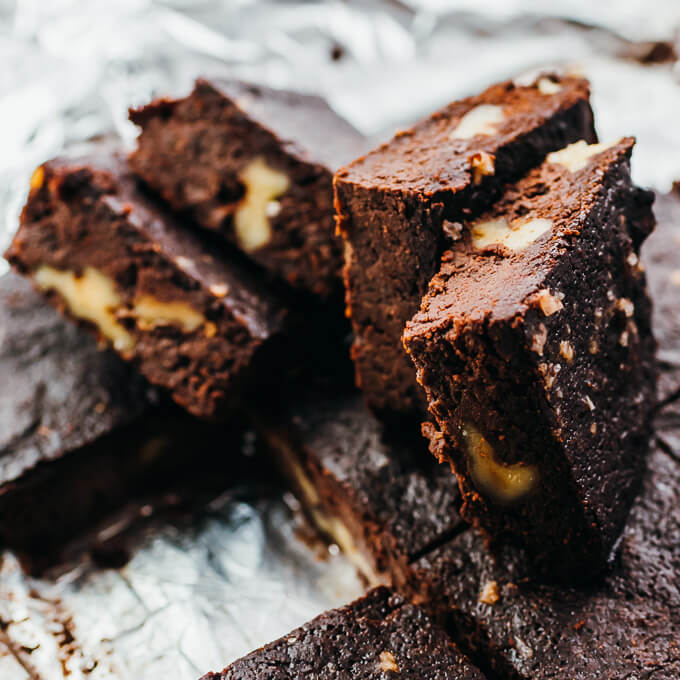 INSTRUCTIONS
Prepare: Position oven rack in middle of oven, and preheat to 350 F. Line bottom and sides of 8×8 inch baking dish (Note 6) with foil. Grease foil, and set aside.

Make Batter: Stir together cocoa powder, table salt, and boiling water in large mixing bowl until smooth. Add oil and eggs, carefully stirring or whisking until completely smooth, pausing halfway to scrape down bowl and mixing spoon. Batter should look like pudding. Stir in sweetener and almond flour until well-mixed. Stir in chopped walnuts.

Bake: Pour batter into lined baking dish, spreading to edges and corners. Smooth surface. Optionally, sprinkle coarse sea salt on top. Bake uncovered at 350 F for about 35 minutes, or until toothpick inserted into center has a few moist crumbs attached. Since ovens vary, start checking at 30 minutes.

Cool & Serve: Let brownies cool for 10 minutes, then pull up sides of foil to lift brownies from baking dish onto wire rack to avoid overcooking in baking dish. For optimally chewy brownies, cool completely for 2 hours before cutting into 16 squares and serving (Note 7).
NUTRITION
Makes 16 Servings
Amount Per Serving (1 brownie):
| | |
| --- | --- |
| Calories 130 (86% from fat) |   |
| Total Fat 12g | 19% |
|    Saturated Fat 1g | 6% |
| Cholesterol 23mg | 8% |
| Sodium 50mg | 2% |
| Net Carb 1.5g |   |
| Total Carb 3.5g (Note 8) | 1% |
|    Dietary Fiber 2g | 8% |
|    Sugars 0.5g |   |
| Protein 4g |   |
PHOTOS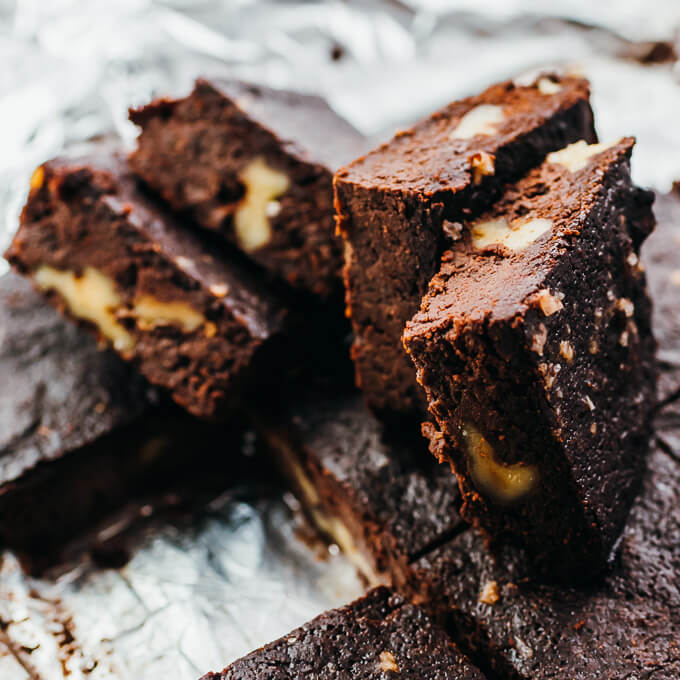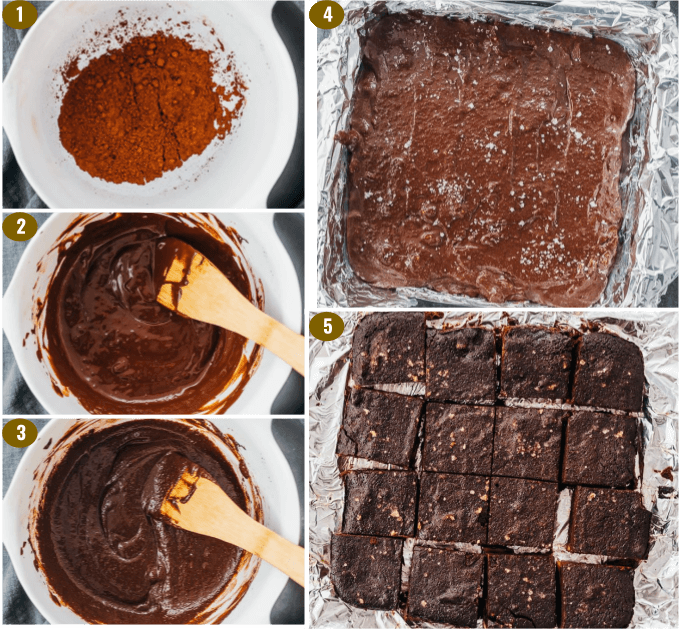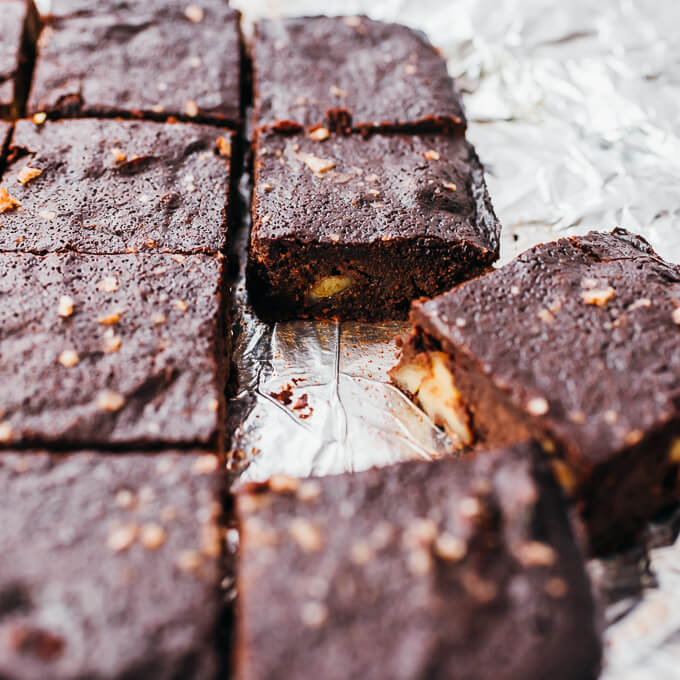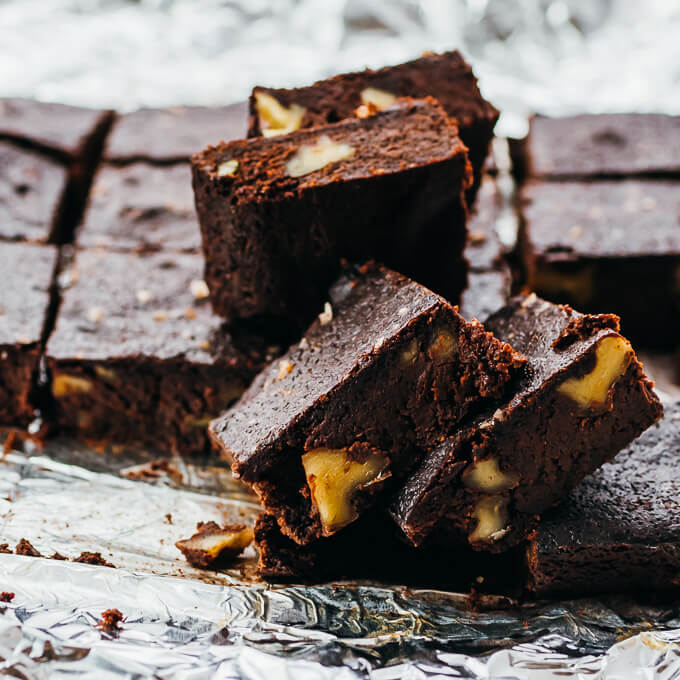 NOTES & TIPS
(1) Sweetener. I recommend Swerve because it's a 1:1 replacement for sugar. You can use either granular or confectioners, as their granular form is already very fine. If you use the confectioners form, it's important to measure it out by weight and not volume. Another option is to use pure erythritol. Since erythritol is only about 70% as sweet as Swerve, you'll need to increase the amount to 8.5 ounces weight, which will result in a thicker batter. I recommend powdering the erythritol using a small blender like a Nutribullet. I don't recommend substituting with a liquid sweetener because it will substantially alter the ratio of wet to dry ingredients in this recipe.
(2) Almond Flour. For best results, measure by weight. I use almond flour that is blanched, which means the skins are taken off of the almonds, so the resulting flour looks white. I typically use Costco's Kirkland brand, which has 2 grams of net carbs per 1/4 cup serving. Don't substitute with coconut flour or other flours, which vary in their absorbency.
(3) Walnuts. In my tests, walnuts bake better than pecans, which gave a burnt taste to the brownies. I haven't experimented with other kinds of nuts, but chopped macadamia nuts would likely be delicious.
(4) Oil. Use an oil with neutral flavor, and for ideal brownie texture, mostly monounsaturated fat with less than 15% saturated fat. Good options include avocado oil and high-oleic safflower oil. Avoid butter and coconut oil, which have about 60% and 80% saturated fat, respectively.
(5) Cocoa Powder. For best results, measure by weight. There are two different kinds of unsweetened cocoa powder: natural and dutch process. Dutch processed cocoa has been treated with an alkalizing agent to lower its acidity and it allows more of the chocolate flavor to shine through. I recommend using dutch processed cocoa for these brownies. If you substitute with natural cocoa, add 1/2 teaspoon baking soda to neutralize it. To tell which type of cocoa you have, check the packaging. If the ingredient list says "alkali" anywhere, that means it's dutched; otherwise, it's natural. Dutch processed cocoa powder also has a noticeably darker color than natural cocoa powder, which affects the color of the resulting brownies. Read more about the differences between these two types of cocoa and how to know which one to use in a recipe.
(6) Baking Dish. I use a glass 8×8-inch baking dish. If you use metal, the baking time may vary.
(7) Serving / Leftovers. Once the brownies have completely cooled after baking, cut them into 16 squares. For very clean cutting lines, refrigerate or freeze the brownies for 10 minutes to harden them a bit. Serve them at room temperature, optionally topped with vanilla ice cream or fresh raspberries. Leftovers can be stored in an airtight container at room temperature for up to 3 days, using parchment paper to keep individual brownies from sticking to each other.
(8) Carbs. The nutrition calculation assumes you are using Swerve or a similar erythritol-based sweetener that uses sugar alcohols, whose carbs are non-impact and therefore not included in the nutrition estimate. Apps that count sugar alcohols will show a higher number of carbs.