Summary:
Flourless keto brownies with walnuts, only 1.5g net carbs each and easy to make. It's ideal for anyone looking for simple low carb dessert recipes.
Keto Brownies (Low Carb, Sugar Free Recipe)
INSTRUCTIONS
Position a rack in the middle of the oven and preheat to 350 F. Prepare an 8x8 inch baking dish and line the bottom and sides with foil. Grease the foil and set aside.

In a large mixing bowl, add cocoa powder, salt, and boiling water, stirring together until smooth.

Add vegetable oil and eggs, carefully stirring or whisking until completely smooth, pausing halfway to scrape down the bowl and mixing spoon. It should look like pudding at this point.

Add sweetener and almond flour, and stir until well-mixed. Stir in chopped walnuts.

Pour the batter into the prepared baking dish, spreading it to the edges and corners. Smooth the surface. Optionally, sprinkle sea salt on top.

Bake at 350 F for about 35 minutes. It's done when a toothpick inserted in the center has a few moist crumbs attached. Since ovens vary, start checking at 30 minutes.

Let the brownies cool for 10 minutes, then pull up the sides of the foil to lift the brownies from the baking dish to a wire rack to avoid overcooking in the dish. For best texture, let it cool completely for 2 hours before cutting into 16 squares and serving.
NUTRITION
Makes 16 Servings
Amount Per Serving (1 brownie):
| | |
| --- | --- |
| Calories 130 (86% from fat) | |
| Total Fat 12g | 19% |
| Saturated Fat 1g | 6% |
| Cholesterol 23mg | 8% |
| Sodium 50mg | 2% |
| Net Carb 1.5g | |
| Total Carb 3.5g | 1% |
| Dietary Fiber 2g | 8% |
| Sugars 0.5g | |
| Protein 4g | |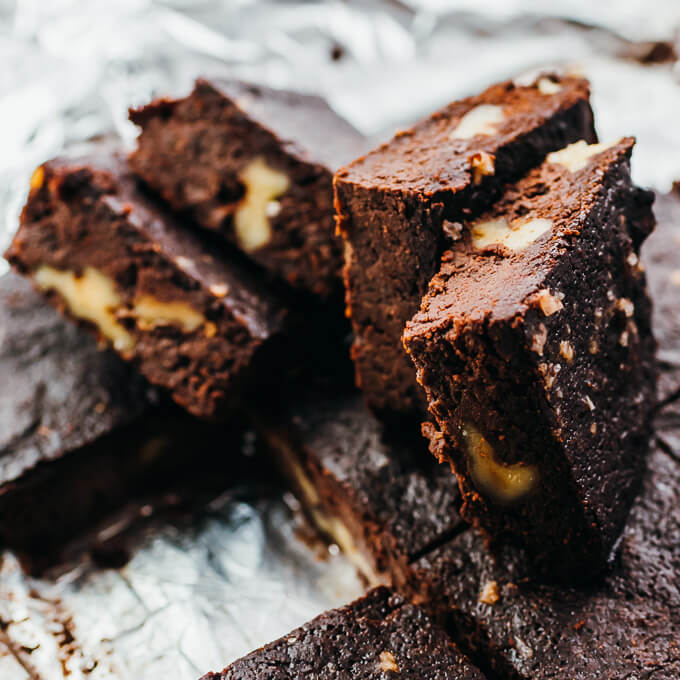 These keto brownies are sinfully good. They're moist and have a strong chocolate flavor, with a texture somewhere between fudgy and chewy. If you're like me and want that extra crunch in your brownies, toss some chopped walnuts into the batter before baking. For a sweet-and-salty combo, I also like to sprinkle some sea salt on top of the brownies.
This recipe is the sixth iteration of these low carb brownies, as it took that many experiments before I finally got it right. For me, low carb baking (like brownies and keto chocolate chip cookies) is always going to be harder than cooking savory stovetop or Instant Pot dishes. There was literally a month or two when I was eating brownies almost every day — not that I can really complain.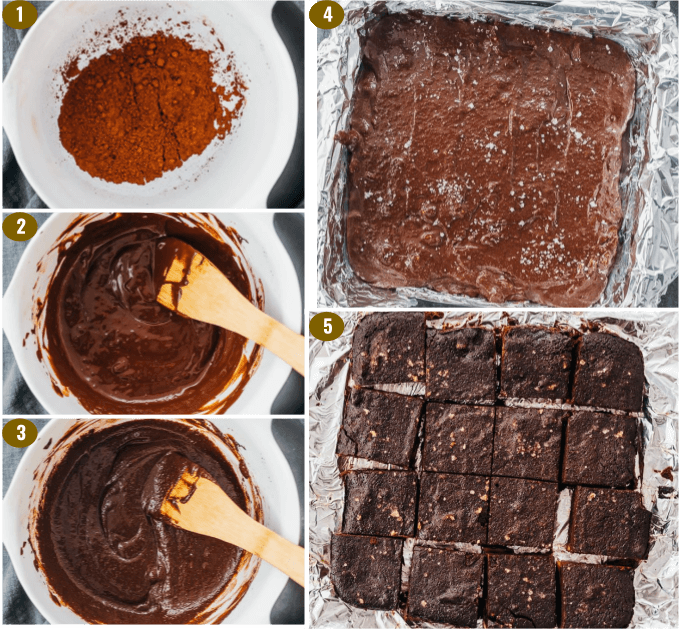 Making keto brownies
Keto brownies are straightforward to make. No electric mixer or any special equipment needed; just a mixing bowl and a wooden utensil for stirring. The ingredients go in one at a time: first the cocoa powder and boiling water to melt it, then vegetable oil and eggs, and lastly the sugar free sweetener and almond flour. It's ideal to use a kitchen scale to measure out the ingredients instead of using volume estimates.
The batter is poured over a greased foil-lined 8×8 inch glass baking dish. Whether you use a glass, light metal, or dark metal pan will make a difference in the baking time of your brownies. That's why the back of cake mix packages will often provide different cook times for different pans. The recipe has cooking time estimates optimized for glass. If you use metal, you might have to tweak the baking time depending on your oven.
It's important to not overbake brownies. Better to err on the side of underbaking. When you stick a toothpick in the center, it should come out with a few moist crumbs but not drenched.
Glass pans have high heat retention, so once the brownies are out of the oven, you'll want to lift the foil to move the brownies from the pan onto a cooling rack. Otherwise, brownies sitting in a hot glass pan will continue cooking and can lead to overbaked brownies.
For optimally chewy brownies, let the brownies completely cool before cutting into them. This can take up to two hours, but your patience will be highly rewarded!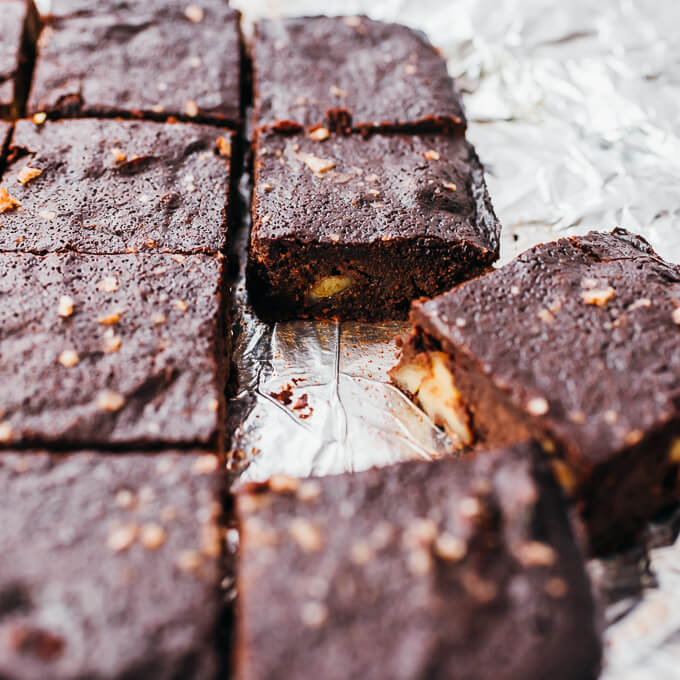 The nuances of cocoa powder
There are two different kinds of unsweetened cocoa powder: natural and dutch process. Dutch processed cocoa has been treated with an alkalizing agent to lower its acidity and it allows more of the chocolate flavor to shine through. Depending on the recipe, you can't substitute one with the other due to leavening.
For these keto brownies, you should use dutch processed cocoa since there aren't any leaveners like baking soda in the recipe. If you were to use acidic natural cocoa, you would need baking soda to neutralize it.
To tell which type of cocoa you have, check the packaging. If the ingredient list says "alkali" anywhere, that means it's dutched; otherwise, it's natural. The dutch processed cocoa powder also has a noticeably darker color than natural cocoa powder, which affects the color of the resulting brownies.
You can read more about the differences between these two types of cocoa and how to know which one to use in a recipe.
Common ingredient questions
What kind of vegetable oil can I use?
I recommend any vegetable oil with a neutral flavor and less than 10% saturated fat by weight for ideal texture.  This means you can't use butter (52% saturated fat) or coconut oil (82%).
I recommend canola oil (7%). For those of you unsure if canola oil is healthy or not, you can rest assured that canola oil is a safe and healthy fat — check out this explanation by a Harvard nutrition professor and this answer from a Mayo Clinic dietitian.
What kind of sweetener can I use?
I recommend swerve because it's a 1:1 replacement for sugar. You can use either granular or confectioners, as their granular form is already very fine. It's important to measure it out by weight and not volume.
Another option is to use pure erythritol, which I haven't tested with this recipe. Since erythritol is only about 70% as sweet as Swerve, you'll need to increase the amount to 8.5 ounces. This will throw off the ratio of wet to dry ingredients. It'll also result in a thicker batter. Make sure it's powdered because erythritol granules aren't fine enough.
Can I replace walnuts with pecans?
No. In my tests with pecans, they gave a burnt taste to the brownies. Walnuts bake much better. I haven't experimented with other kinds of nuts, but chopped macadamia nuts would likely be great.
Serving and storing
Once your brownies have completely cooled after baking, cut them into 16 squares. If you want super clean cutting lines, refrigerate or freeze the brownies to let them harden a bit. I usually pop mine into the freezer for 10 minutes before cutting.
I recommend serving at room temperature. But if you prefer refrigerating them for colder brownies, that's fine too. Either way, they'll taste great!
For storing, place the brownies in a tight covered container at room temperature for up to three days. You can keep the individual brownies from sticking to each other by separating them with wax or parchment paper.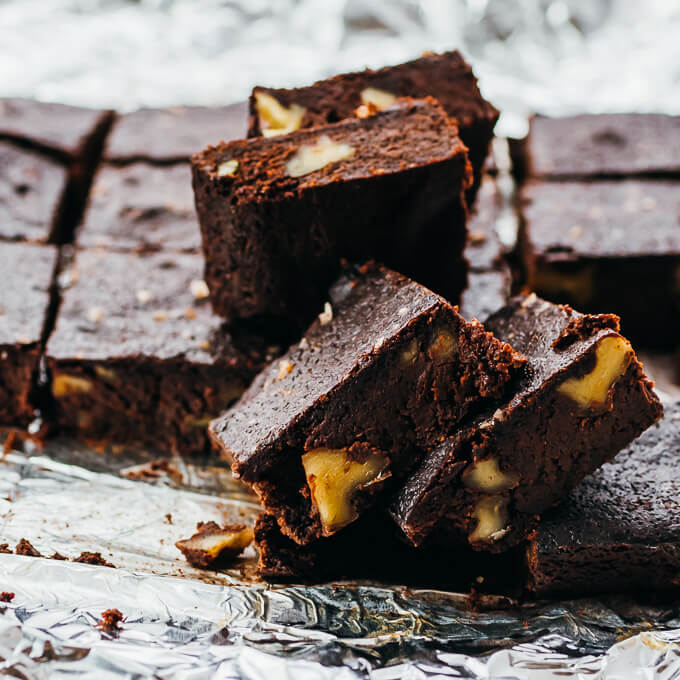 CHECK OUT THESE TASTY KETO DESSERTS: