Summary:
This recipe is a low carb, homemade version of Chipotle's popular burrito bowl. It uses easy-to-find ingredients, and no cooking is required. You can conveniently make this burrito bowl ahead of time for workday lunches.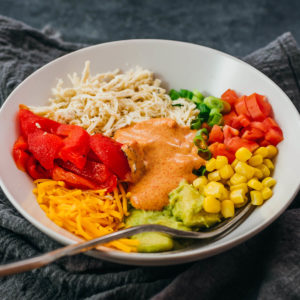 INGREDIENTS
Spicy Dressing:
1/4

cup

mayonnaise

1

tablespoon

fresh lime juice

1

teaspoon

smoked paprika

1/4

teaspoon

table salt
INSTRUCTIONS
Make Dressing: Stir all dressing ingredients with fork in measuring glass or bowl until smooth.
NUTRITION
Makes 3 Servings
Amount Per Serving (2 cups):
| | |
| --- | --- |
| Calories 500 (57% from fat) |   |
| Total Fat 32g | 49% |
|    Saturated Fat 6g | 29% |
| Cholesterol 108mg | 36% |
| Sodium 1210mg | 50% |
| Net Carb 9.5g (Note 12) |   |
| Total Carb 15.5g | 5% |
|    Dietary Fiber 6g | 25% |
|    Sugars 5g |   |
| Protein 36g |   |
PHOTOS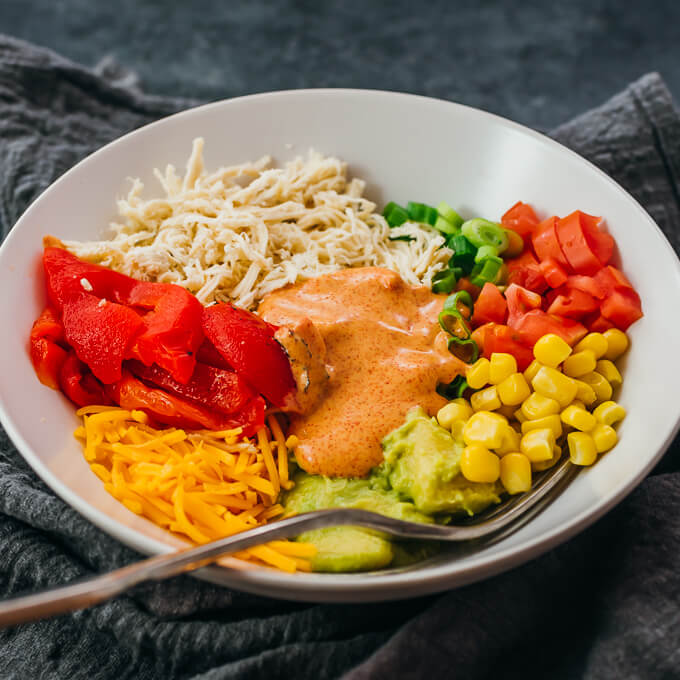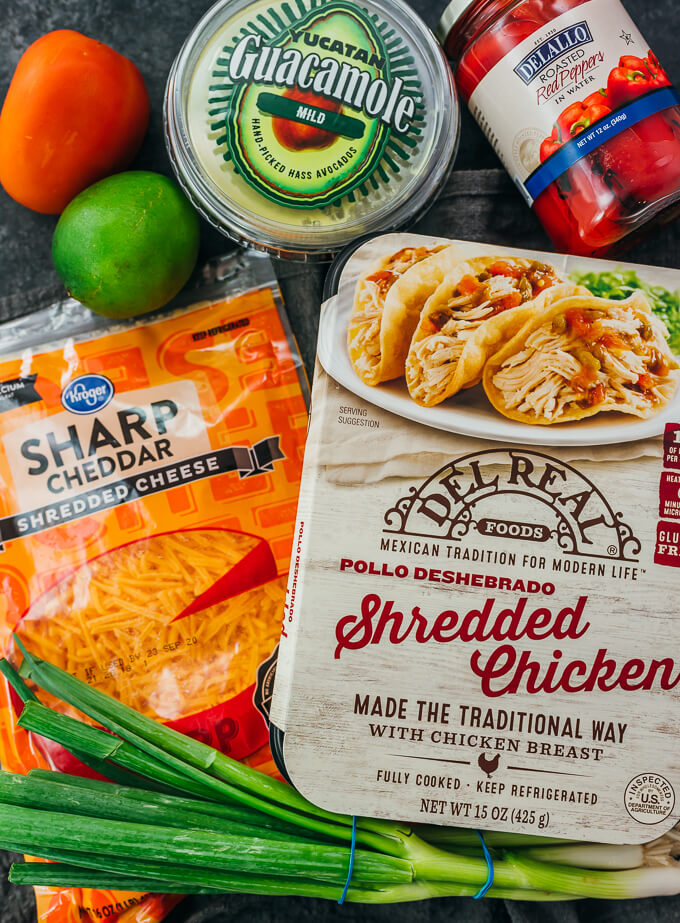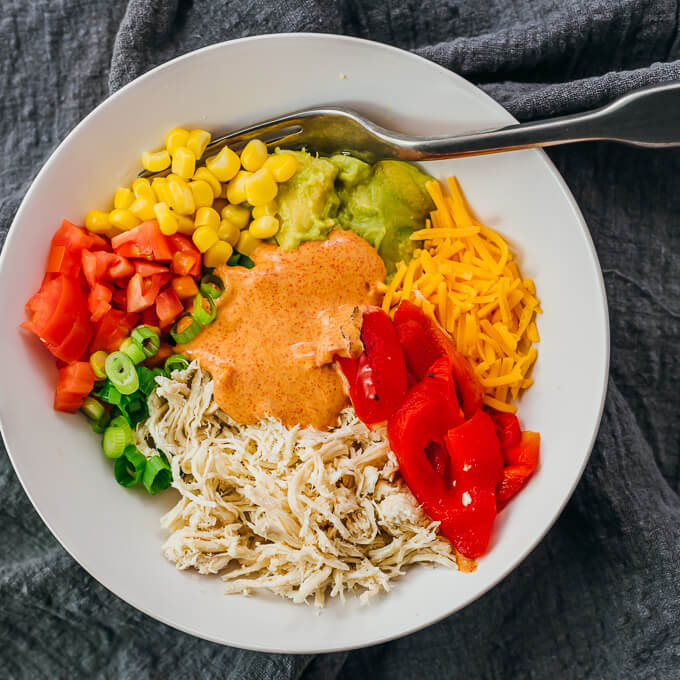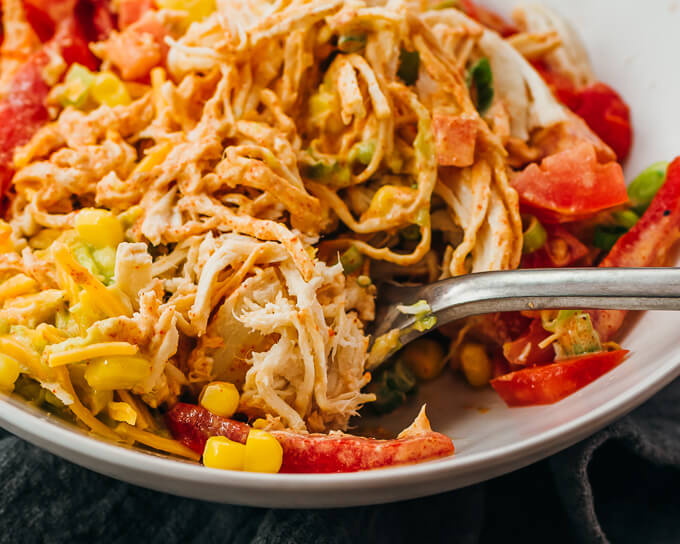 NOTES & TIPS
(1) Chicken. About 1 pound cooked chicken. For convenience, I often buy pre-shredded chicken at my Kroger supermarket by the brand Del Real. You can also get shredded meat from rotisserie chicken or leftover cooked chicken from previous meals. Or you can buy raw chicken, cook it any way you prefer — pan sear, slow cook, pressure cook, grill, or bake — and shred it. Watch out for any cooked-out juices from the meat, which will make your burrito bowl thin and watery. Drain out this liquid, or squeeze the shredded chicken dry, before making this bowl.
(2) Chicken Alternatives. Don't like chicken? Substitute with steak, ground beef, ground turkey, tofu, shrimp, salmon, or your cooked protein of choice.
(3) Roasted Peppers. You can also substitute with 1-2 fresh bell peppers, sliced and pan-seared until tender.
(4) Tomato. For extra flavor, substitute with Mexican salsa or pico de gallo.
(5) Scallions. Also known as green onions. I use the green parts. They can be substituted with finely chopped shallots or onions.
(6) Guacamole. This can be storebought or homemade guacamole, or simply chopped avocado.
(7) Cheese. You can substitute with any soft shredded cheese. If paleo or vegan, use dairy-free imitation cheese shreds.
(8) Corn. Can be frozen or fresh. If using frozen, microwave the corn until thawed, 30 to 60 seconds.
(9) Cayenne. This amount of cayenne yields a mildly spicy dressing. You can substitute cayenne with a chipotle in adobo — combine all dressing ingredients in a blender until smooth.
(10) Serving. Serve at room temperature. If desired, warm up chicken on a pan or in the microwave. The burrito bowl pairs well with extra toppings like chopped cilantro, sour cream, and salsa verde, or with side dishes like low carb tortillas (Mission brand) and bacon wrapped jalapeno poppers.
(11) Saving For Later. Cover each bowl and refrigerate for up to 2 days. About 15 minutes before serving, take the bowl out of the refrigerator to let it warm slightly on the counter. No need to heat anything.
(12) Net Carbs. For a lower carb dish, use only half as much roasted red peppers (half of a 12-ounce jar instead of the full jar); this change reduces the net carbs per serving from 9.5 to 7 g. To reduce further, omit the corn, which lowers the net carbs from 7 to 5 g.