Summary:
Salsa verde is a spicy and tangy green sauce made with pureed tomatillos, chili peppers, onions, and other seasonings. Whether you use it as a sauce or dip, it works with many diets including keto, low carb, gluten free, paleo, and vegan.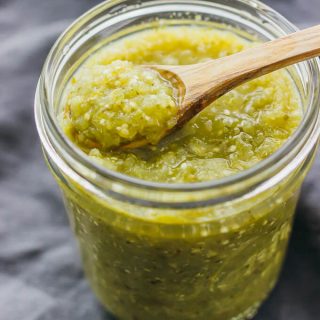 Salsa Verde (Green Tomatillo Sauce)
INGREDIENTS
7

medium tomatillos (1 lb), husked and chopped

(looks like a small green tomato surrounded by a husk)

2

serrano chili peppers, chopped

(use 2 serranos for medium spiciness, use only 1 for mild)

1/2

cup

chopped onion

1/4

cup

chopped fresh cilantro leaves

1

lime, juiced (2 tbsp lime juice)





1

tsp

garlic powder

1

tsp

ground cumin

1/2

tsp

salt
INSTRUCTIONS
In a food processor, add all ingredients. Process until pureed, about 20 seconds, pausing halfway to scrape down the sides of the processor bowl.

Transfer the salsa verde from the food processor to a small saucepan.

Bring to a simmer over medium-high heat. Simmer for 5 minutes, stirring frequently, reducing the heat as needed to maintain the simmer. The mixture should darken in color as it cooks.

Turn off the heat, and let the mixture cool at room temperature. Transfer to a lidded container and refrigerate until ready to serve.
NUTRITION
Makes 6 Servings
Amount Per Serving:
| | |
| --- | --- |
| Calories 30 | |
| Total Fat 0g | 0% |
| Saturated Fat 0g | 0% |
| Cholesterol 0mg | 0% |
| Sodium 200mg | 8% |
| Net Carb 4.5g | |
| Total Carb 7.5g | 2% |
| Dietary Fiber 3g | 12% |
| Sugars 3.5g | |
| Protein 0g | |
Salsa verde brightens up any meal, whether you use it as a dip, as a condiment over scrambled eggs, chicken, steak, pork, or fish (especially over pan-seared swordfish and salmon), or in burritos and tacos.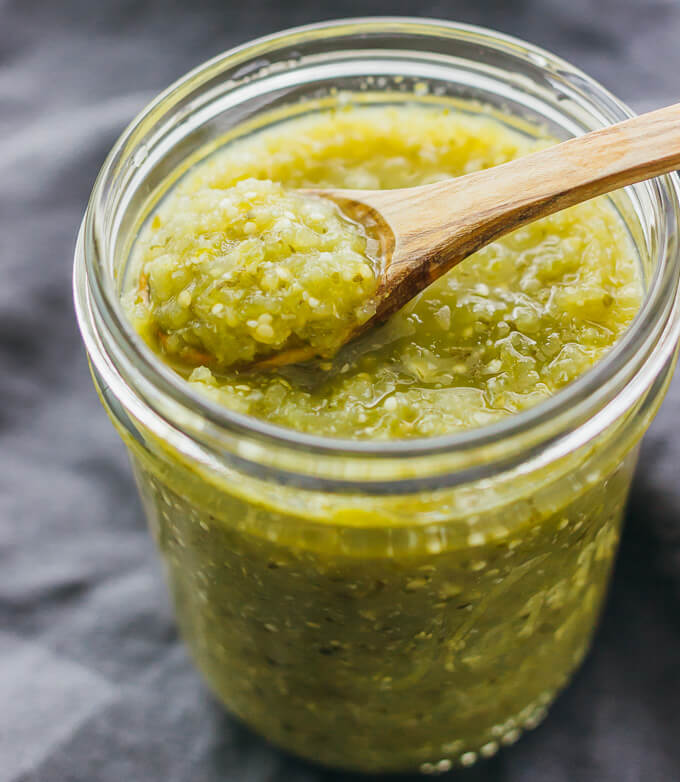 Salsa vs. Salsa Verde
The main difference is that regular salsa is made with red tomatoes whereas salsa verde is made with tomatillos. Beyond that, they are very similar — both typically contain onions, chili peppers, cilantro, and various seasonings.
The tomatillos contribute a tart, zesty flavor to salsa verde that is quite unique, which is why it can't be substituted with another ingredient.
Removing the husks

Adding chopped tomatillos

Adding onions, cilantro, serranos

Adding seasonings and lime juice

Processing until pureed

Simmering the salsa verde
Ingredients For Salsa Verde
To make salsa verde, all you need are tomatillos, onions, serrano peppers, cilantro, garlic powder, cumin, lime juice, and salt. These ingredients should be easy to find, with the exception of tomatillos if you've never shopped for them before.
Tomatillos are green in color, the size of a very small tomato, and covered with a papery husk. They are in season from early summer through fall, but they are typically available year-round. You can find them in the produce section of U.S. supermarkets.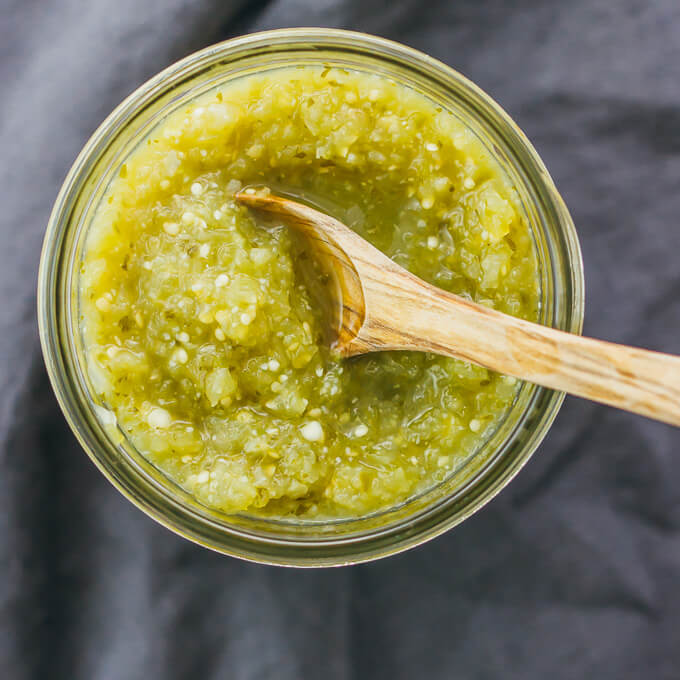 More Chili Pepper Recipes