It's so easy to make this homemade salsa verde recipe, a sauce with pureed tomatillos, chili peppers, onion, cilantro, lime, and other seasonings. Check out the step-by-step photos below to learn how to make this recipe.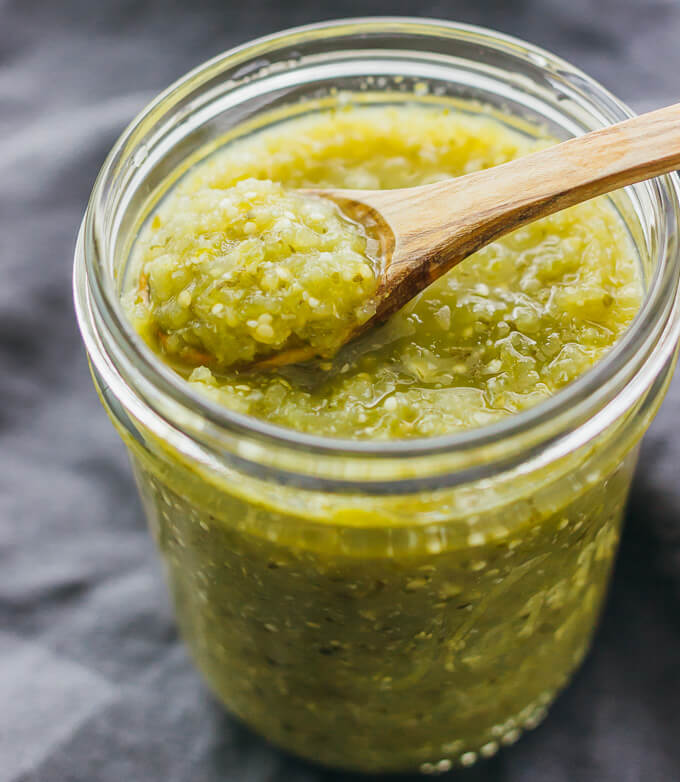 Salsa verde and tomatillo salsa are the same thing. They're both made using tomatillos, which are originally from Mexico and are a member of the tomato family. They're green in color and covered with a husk that needs to be removed before using. Tomatillos are frequently used in many Mexican dishes, and they can be eaten raw or cooked. Summer is when you'll find them in season, and I love using them to make a big batch of salsa verde.
Salsa verde tastes a bit tart and has a characteristic tomatillo flavor that's so unique. The tart tomatillo flavor in the sauce is addicting and I'm often craving that special flavor. Try it, and you'll see what I mean.
Similar to my Mexican salsa, this salsa verde is healthy, vegetarian and vegan, easy to make, low carb & keto, and paleo friendly.
How to make salsa verde:
To make salsa verde, you need tomatillos, onions, serrano peppers, cilantro, garlic, cumin, lime juice, and salt. All of these ingredients are pureed in a food processor and then simmered in a pot until cooked. Once the mixture has cooled, it can be stored in the refrigerator until ready to serve.

You might be wondering how spicy this is going to be. This recipe yields 2 cups of salsa verde and I use 2 serrano peppers for that amount of sauce, which is about medium hot for me. Here is what I recommend:
1 serrano pepper – mild and not that spicy at all, good for those who are sensitive to heat
2 serrano peppers – medium spiciness, this is my preference
4 serrano peppers – extremely spicy, the kind where you'll be sweating a lot
I include seeds and membranes of the serranos while using them for this recipe. You can omit to make this less hot. You can also substitute serranos with jalapeños — about 2 serranos for each jalapeño.
Watch the video below to learn how to make salsa verde: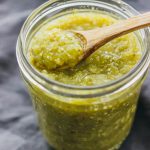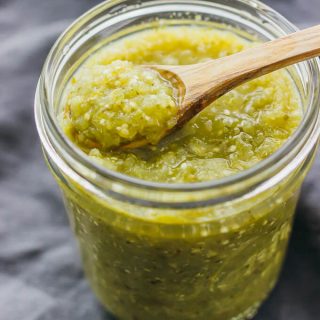 Salsa Verde Recipe (Green Tomatillo Sauce)
Salsa verde is a green tomatillo sauce that is pureed and then cooked on the stove.
Ingredients
1

pound

tomatillos

about 8, husked and chopped

2

serrano chili peppers

chopped

1/2

cup

chopped onion

1/4

cup

chopped fresh cilantro leaves

1

lime

juiced

1

teaspoon

garlic powder

1

teaspoon

ground cumin

1/2

teaspoon

salt
Instructions
Add all of the ingredients to a

food processor

. Puree for 20 seconds or until combined, pausing halfway to scrape down the sides of the processor bowl.

Transfer the contents from the food processor to a small pot. Bring to a simmer over medium-high heat. Simmer for 5 minutes, stirring frequently, reducing the heat as needed to maintain the simmer. The mixture should darken in color as it cooks.

Let the mixture cool. Transfer to a lidded container and refrigerate until ready to serve.
Nutrition Info
This recipe yields 6.5 g net carbs per serving.
Nutrition Facts Per Serving
| | |
| --- | --- |
| Calories 50 |   |
| Total Fat 0g | 0% |
|    Saturated Fat 0g | 0% |
|    Trans Fat 0g |   |
| Cholesterol 0mg | 0% |
| Sodium 290mg | 12% |
| Potassium 360mg | 10% |
| Total Carb 11g | 4% |
|    Dietary Fiber 4.5g | 17% |
|    Sugars 5g |   |
| Protein 0g |   |