Summary:
Fresh cranberry sauce is easy to make at home — the ingredients are simply combined in a saucepan and simmered until thickened into a rich sauce. To make this low carb, a non-nutritive sweetener (e.g., erythritol) is used in place of regular sugar.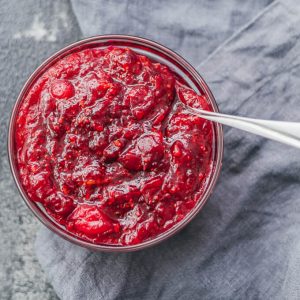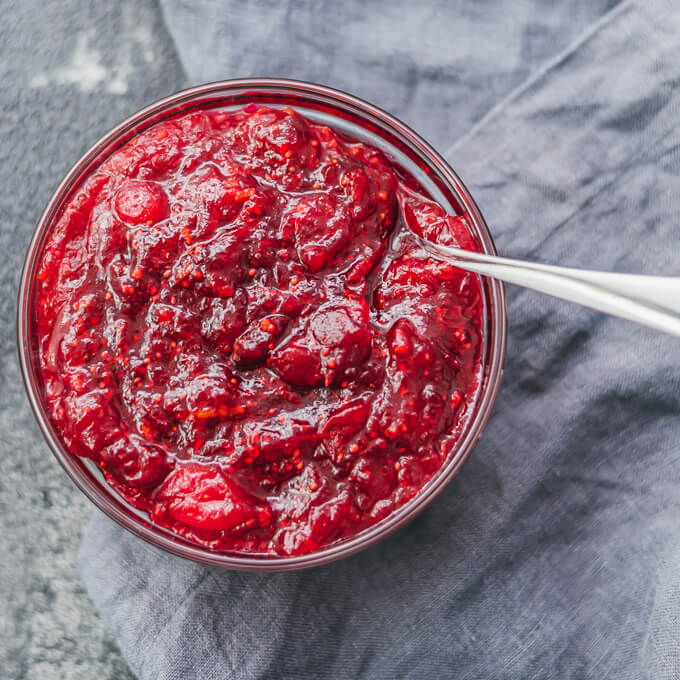 INSTRUCTIONS
Bring To Boil: Add sweetener, water, and salt to saucepan (Note 5). Bring to boil over medium-high heat, stirring occasionally.

Cook Cranberries: Add cranberries to saucepan, stirring them in. Return to boil, then reduce to medium heat. Stirring occasionally, cook uncovered until cranberries have split open and sauce reaches desired consistency, 10 to 15 minutes.

Finish & Serve: Add orange zest to saucepan, stirring with sauce for 1 minute. Serve (Note 6).
NUTRITION
Makes 6 Servings
Amount Per Serving (1/4 cup):
| | |
| --- | --- |
| Calories 20 (0% from fat) |   |
| Total Fat 0g | 0% |
|    Saturated Fat 0g | 0% |
| Cholesterol 0mg | 0% |
| Sodium 0mg | 0% |
| Net Carb 4g |   |
| Total Carb 6g (Note 8) | 2% |
|    Dietary Fiber 2g | 8% |
|    Sugars 2g |   |
| Protein 0g |   |
PHOTOS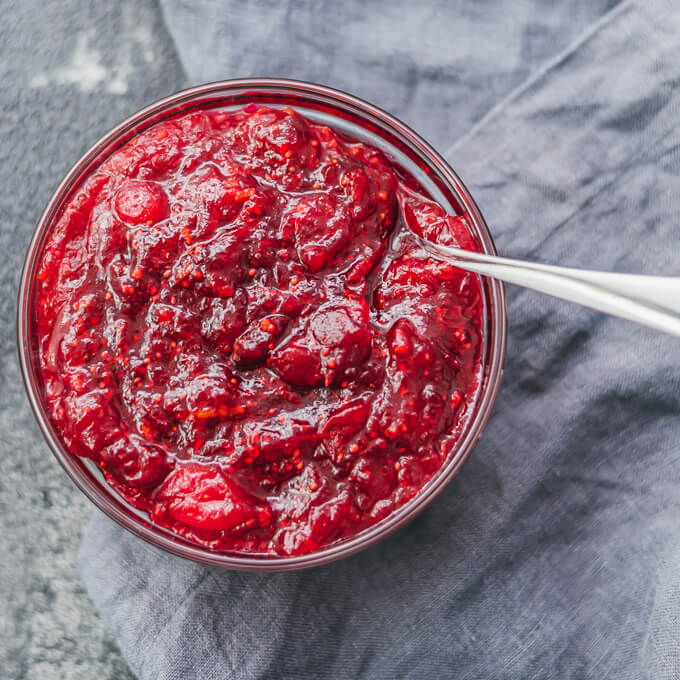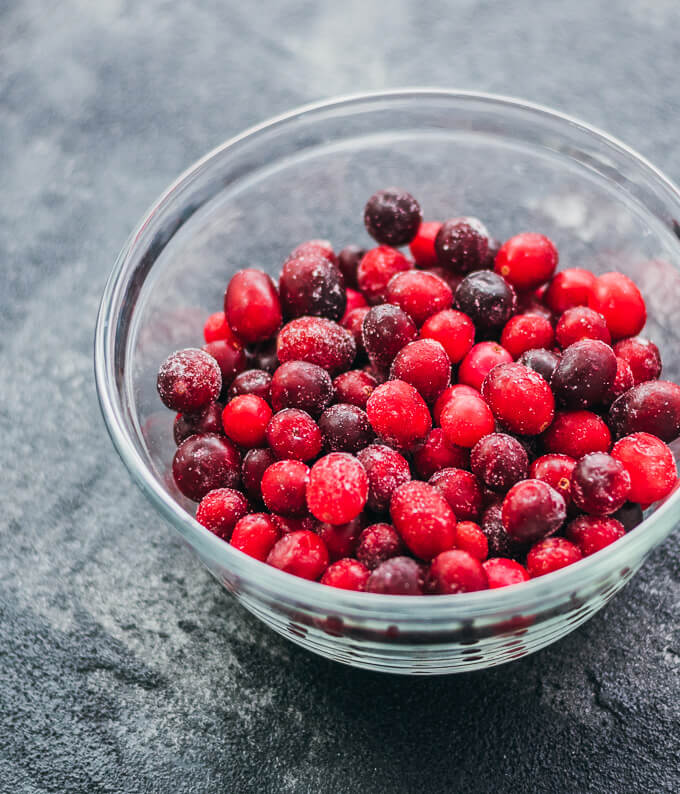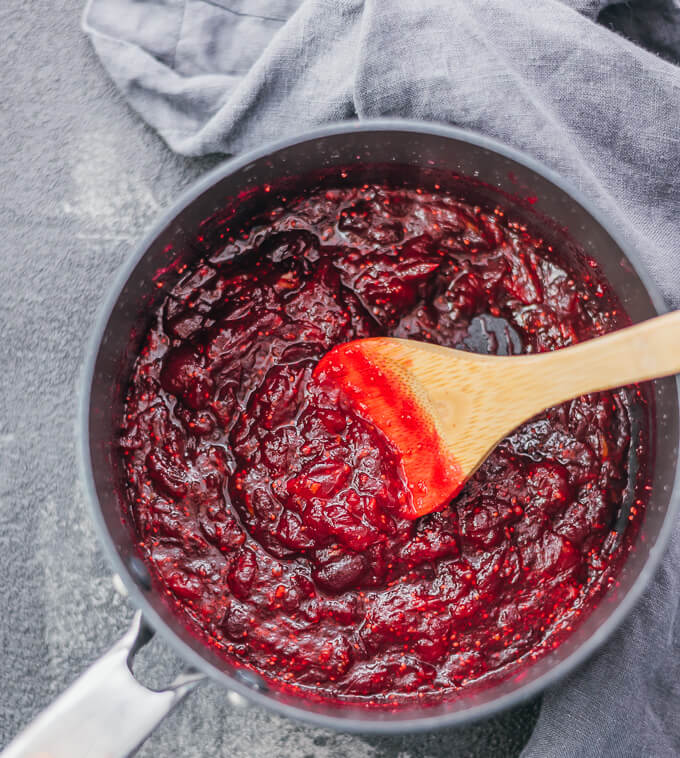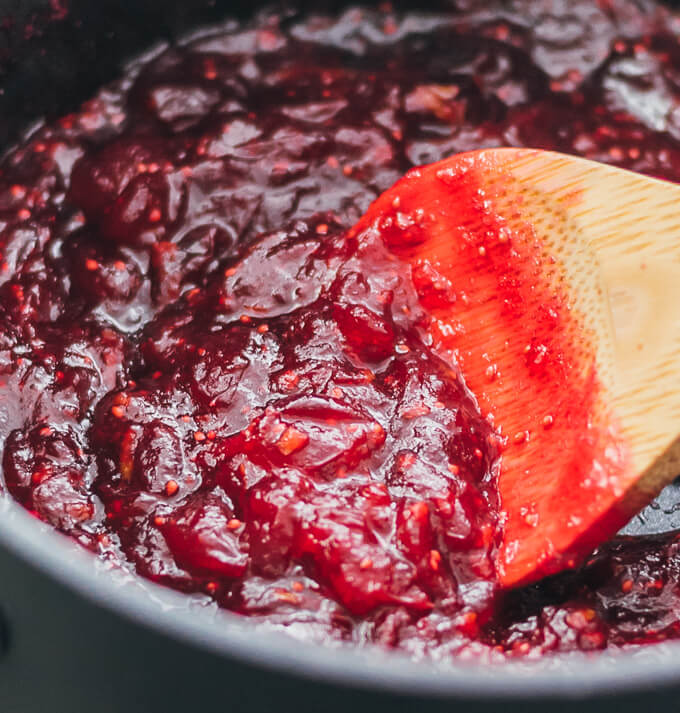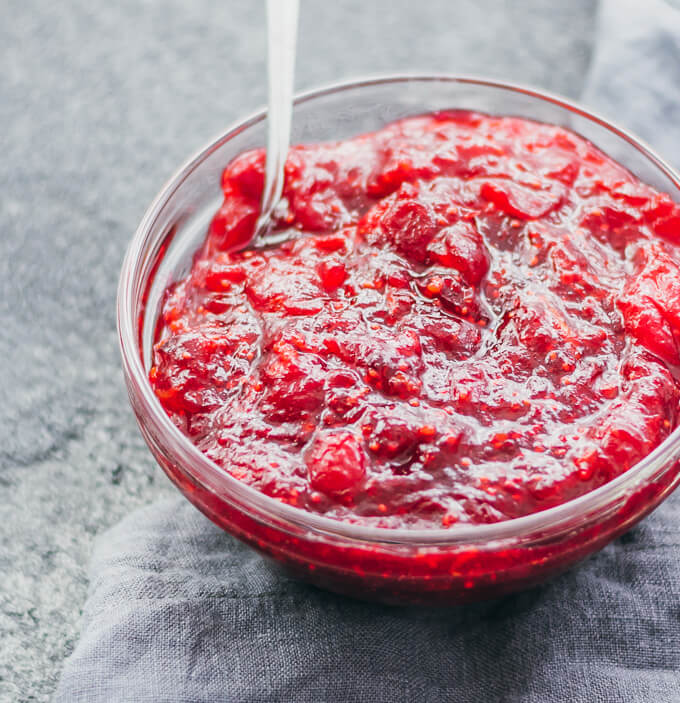 NOTES & TIPS
(1) Cranberries. You can use either fresh or frozen whole cranberries. If using frozen ones, you don't need to defrost them beforehand.
(2) Sweetener. I buy granulated erythritol and process it in a Nutribullet blender for a few seconds until it becomes powdered. I prefer using the powdered form because it dissolves quickly. Erythritol is about 70% as sweet as regular sugar. You can also use 3/4 cup of confectioners swerve, which measures the same as regular sugar.
(3) Orange Zest. I use 1 navel orange to get 1 tablespoon of fresh orange zest. When you're grating the orange peel, make sure to only grate the orange colored part and not the white membrane. Use a fine grater or microplane so that the orange zest is very fine.
(4) Salt. Using a pinch of salt helps bring out the sweetness of the cranberries, improving the overall flavor of the sauce.
(5) Saucepan. For best results, avoid reactive pans like aluminum, cast iron, and copper — acidic foods like cranberries can sometimes pick up metallic flavors when cooked in reactive pans.
(6) Serving. Serve cranberry sauce while warm, over meaty dishes like slow cooked turkey breast, pork tenderloin, roast chicken, or meatballs. Cranberry sauce is also great as a jam over toast, bagels, muffins, yogurt, ice cream, or cakes.
(7) Make Ahead / Reheating Leftovers. This cranberry sauce can be made ahead of time, and stored in an airtight container in the refrigerator. Once cold, the erythritol may crystallize and harden the cranberry sauce, but this effect will go away once the sauce is heated again. Prior to serving, reheat the cold cranberry sauce with 1/4 cup water in a saucepan over medium heat, stirring frequently, until mixture simmers into a thick sauce.
(8) Carbs. The nutrition calculation assumes you are using erythritol (a sugar alcohol) as the sweetener, whose carbs are non-impact and therefore not included in the nutrition estimate. Apps that count sugar alcohols will show a higher number of carbs.