Summary:
A simple roast chicken recipe with vegetables including brussels sprouts and pearl onions. Perfect as a low carb, keto main course entree for the holidays.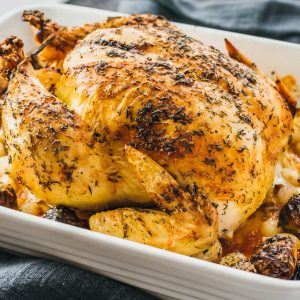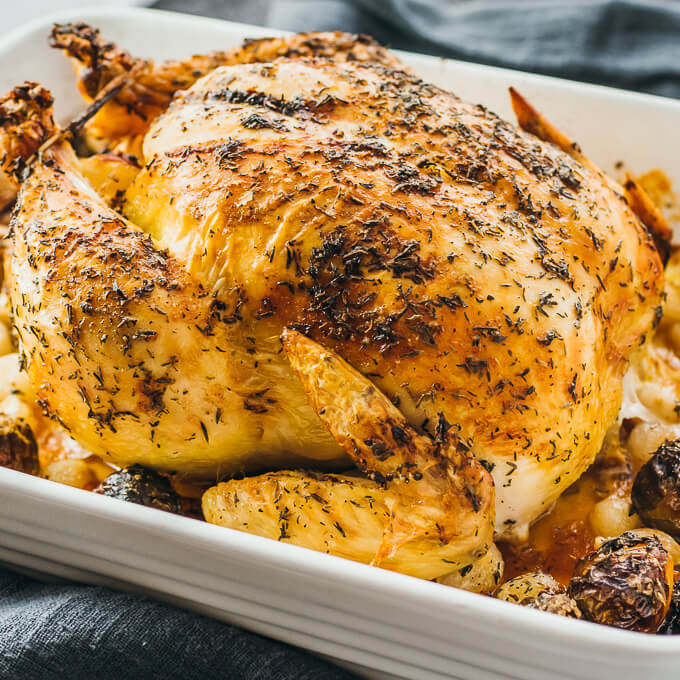 Simple Roast Chicken with Vegetables
INGREDIENTS
1

whole roasting chicken (4 1/2 to 5 pounds)

8

ounces (weight)

brussels sprouts

trimmed

8

ounces (weight)

peeled pearl onions

thawed if frozen

1

lemon

cut into wedges

10

cloves

garlic

chopped in half

3

tablespoons

salted butter

melted

2

teaspoons

dried thyme

salt and black pepper
INSTRUCTIONS
Prepare a baking pan large enough to hold the chicken and vegetables.

Prepare a rack in the bottom third of the oven so that chicken placed on the baking pan will be in the center of the oven.

Preheat the oven to 425 F.

Clean the chicken and remove any giblets. Pat the chicken dry with paper towels.

Place the chicken in the baking pan, breast side up. Stuff the chicken's cavity with lemon wedges and garlic. Tie the legs together with twine, and tuck the wings under the body.

Arrange the vegetables in the baking pan around the chicken.

Stir together melted butter and thyme, and brush all over the chicken and vegetables. Generously sprinkle salt and pepper all over them.

Bake until the chicken is cooked through, about 80 minutes. You should see bubbling juices in the pan, released by the cooked chicken.

Let the chicken rest for 10 minutes before slicing and serving. Spoon juices in the baking dish over the sliced chicken.
NUTRITION
Makes 4 Servings
Amount Per Serving:
| | |
| --- | --- |
| Calories 650 (64% from fat) | |
| Total Fat 46g | 71% |
| Saturated Fat 15g | 76% |
| Cholesterol 273mg | 91% |
| Sodium 550mg | 23% |
| Net Carb 5.5g | |
| Total Carb 8.5g | 3% |
| Dietary Fiber 3g | 11% |
| Sugars 3.5g | |
| Protein 52g | |
Nutrition information assumes that 50% of the whole chicken's nutritional value is consumed.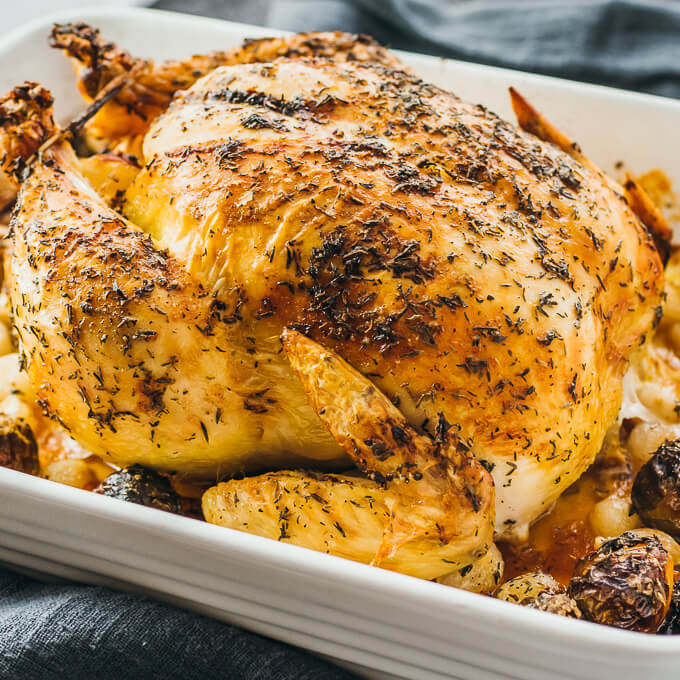 For the longest time, I resisted the idea of cooking a whole chicken. I thought that it sounded like a lot of work, and so I only ever cooked chicken breasts for the most part, and the occasional thighs. Last week I decided to try roasting a whole chicken, and I was pleasantly surprised at how hardly any prep work was involved — easier than many of my chicken breast dinners, in fact — and how flavorful the chicken turned out. The chicken had a thin and crispy golden brown skin, and underneath was some of the juiciest chicken meat I've ever had.
It's accompanied by vegetables that are cooked until very tender — the brussels sprouts are delicious and practically melt in your mouth, and the pearl onions are juicy and sweet. If you're like me and balked at the idea of roasting a whole chicken, you should make this recipe so you can see for yourself how easy it is.
Preparing a whole chicken and vegetables for roasting: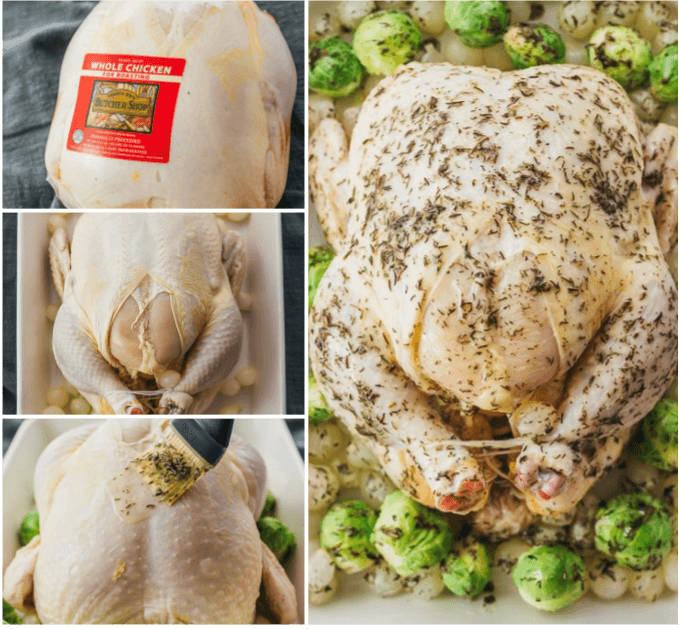 You should buy a "roasting chicken" for this recipe, which is defined as an older chicken typically a few months old, weighing between 3 1/2 to 6 pounds. Other common types of chicken include broiler and fryer types, which are usually 6 to 10 weeks old, weighing 2 to 3 pounds.
These names are defined by the USDA, and are used to determine how much meat you will get. Other types of chicken include cornish game hens (actually not game, but a very young broiler chicken weighing about 1 pound), stewing chickens (laying hens that are past their prime with tougher meat requiring stewing to break it down), and cocks and roosters (old male chickens with ropey muscles and little fat, rarely found in grocery stores).
This recipe is designed for whole chickens weighing 4 1/2 to 5 pounds, which take about 80 minutes to cook at 425 F. If your chicken is smaller or larger, here are some estimates to modify the cooking time:
4 pounds: 75 minutes at 425 F
4 1/2 to 5 pounds (this recipe): 80 minutes at 425 F
5 1/2 pounds: 85 minutes at 425 F
6 pounds: 90 minutes at 425 F
You can use these cooking times as a guideline. However, different ovens will vary in their cooking time, so you should use either a thermometer to check if the chicken is done, or use qualitative checks such as whether the chicken has released clear juices in the pan or if slicing between the thigh and body releases clear juices.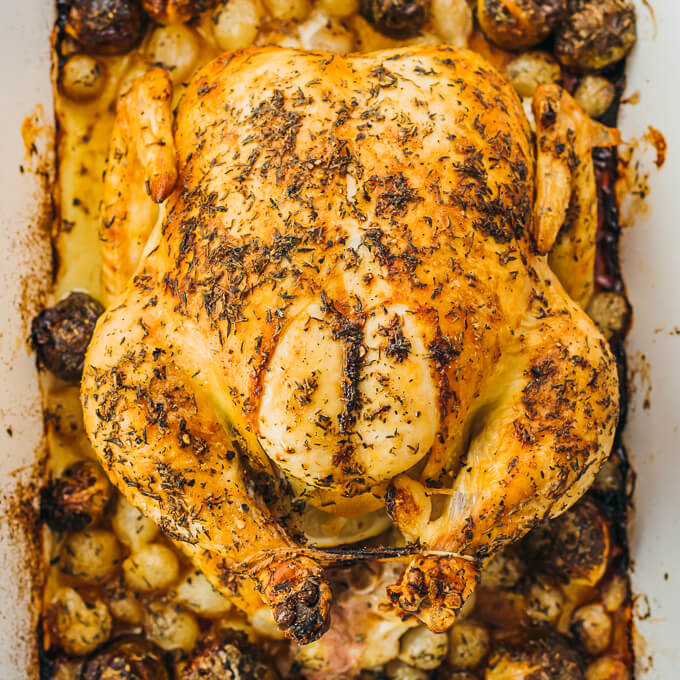 I enjoy pairing roast chicken with a variety of vegetables, as the long baking time can bring out a ton of flavor and tenderness to any kind of vegetable. Here, I've paired it with brussels sprouts and pearl onions, but other good ideas include:
thickly sliced onions (instead of pearl onions)
trimmed radishes
roughly chopped carrots
thickly sliced leeks
Alternatively, you can prepare side dishes like loaded mashed cauliflower with bacon and cheddar.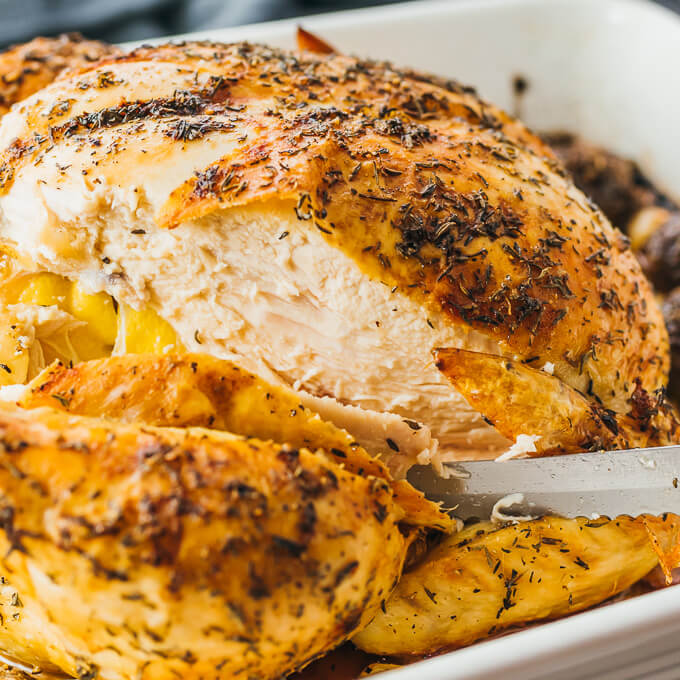 To make ahead, you can prep and assemble the chicken and vegetables in the baking pan. Cover and refrigerate for up to 24 hours. Just prior to serving, brush with butter and thyme, and roast.
Leftovers reheat well in the microwave — the meat doesn't get tough and still retains its juiciness. But, the skin will no longer be crispy.