Summary:
This flavorful roast chicken has juicy meat and crispy golden-brown skin, baked alongside sweet pearl onions and melt-in-your-mouth brussels sprouts.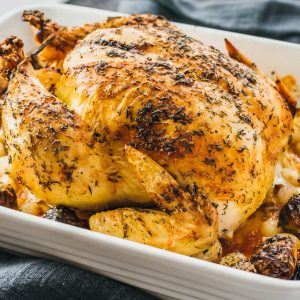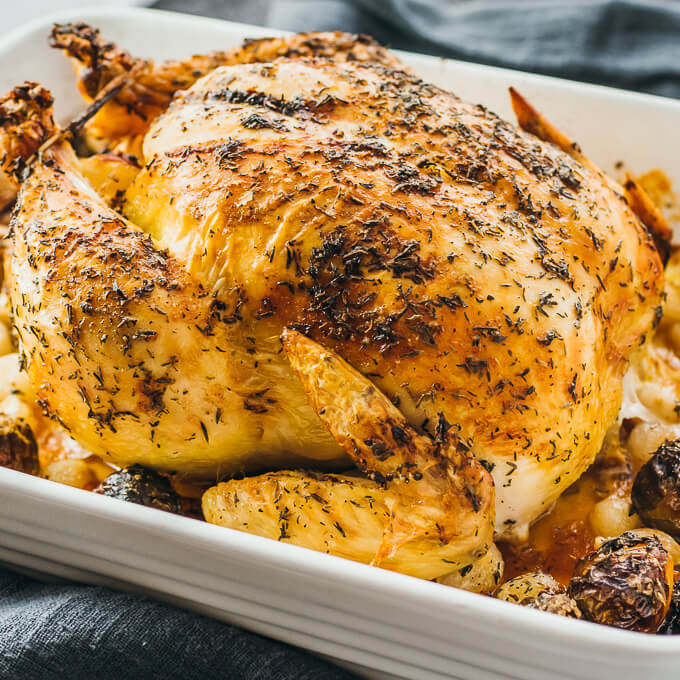 INGREDIENTS
INSTRUCTIONS
Prepare Equipment: Set aside baking dish large enough to hold chicken and vegetables, such as 13×9-inch casserole dish. Position oven rack in bottom third of oven so that chicken placed on baking dish will be centered in oven. Preheat to 425 F.

Prepare Chicken: Clean chicken and remove any giblets. Pat chicken dry with paper towels. Place chicken in baking dish, breast side up. Stuff chicken cavity with lemon wedges and garlic. Tie legs together with twine, and tuck wings under body.

Add Seasonings: Arrange vegetables around chicken in baking dish. Stir together melted butter and thyme, and brush all over chicken and vegetables. Generously sprinkle salt and pepper all over.

Bake: Bake uncovered until chicken is cooked through, about 80 minutes (Note 3). Bubbling juices should be visible in baking dish, released by cooked chicken.

Serve: Let chicken rest for 10 minutes, then slice and transfer to serving plates. Spoon juices in baking dish over sliced chicken, and serve (Note 4).
NUTRITION
Makes 4 Servings (Note 6)
Amount Per Serving:
| | |
| --- | --- |
| Calories 650 (64% from fat) |   |
| Total Fat 46g | 71% |
|    Saturated Fat 15g | 76% |
| Cholesterol 273mg | 91% |
| Sodium 550mg | 23% |
| Net Carb 5.5g |   |
| Total Carb 8.5g | 3% |
|    Dietary Fiber 3g | 11% |
|    Sugars 3.5g |   |
| Protein 52g |   |
PHOTOS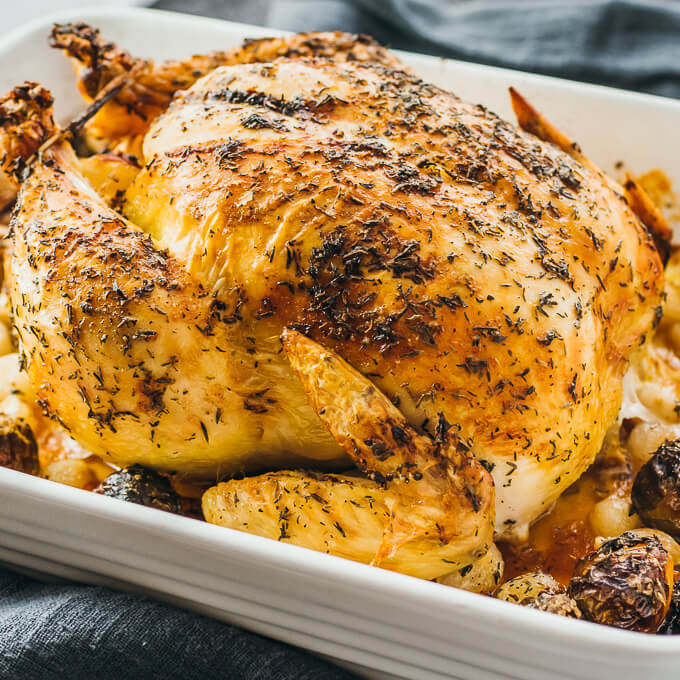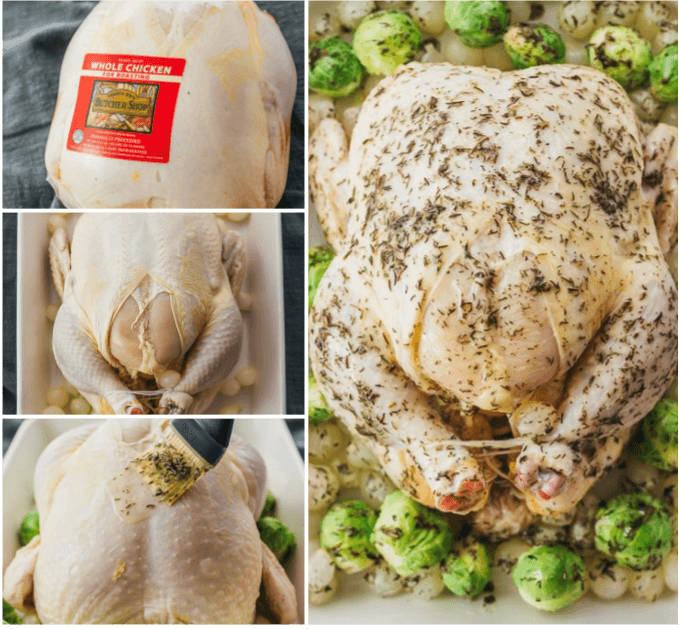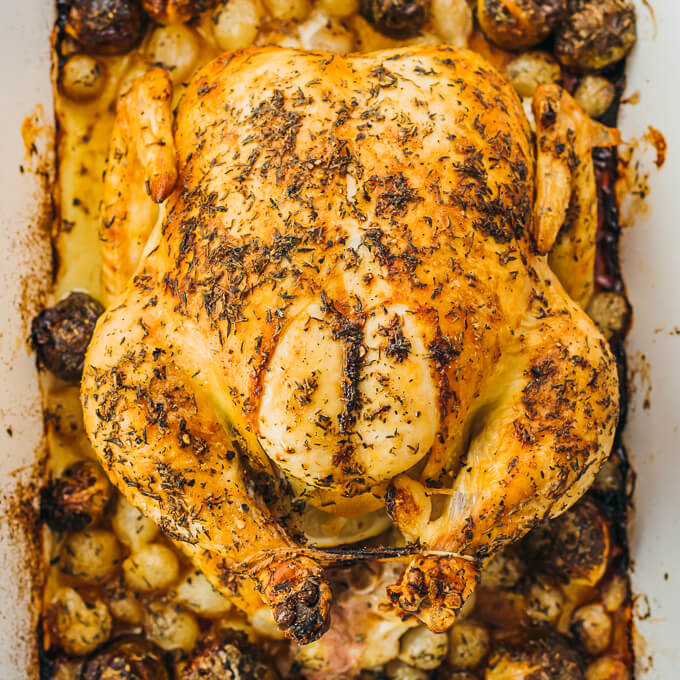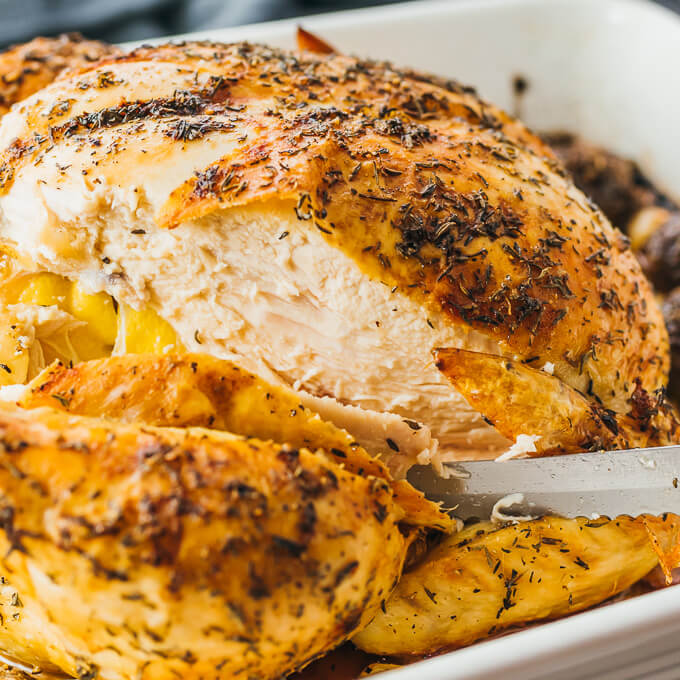 NOTES & TIPS
(1) Roasting Chicken. Use a 4.5 to 5 pound "roasting chicken" for this recipe, which is defined as an older chicken that is typically a few months old.
(2) Dried Thyme. This amount is for dried whole leaves, not powdered.
(3) Baking Time. The 80-minute baking time estimate is applicable to chickens weighing 4.5 to 5 pounds. As a rough guideline, decrease or increase the baking time by 5 minutes for every 1/2-pound difference in weight. For example, 75 minutes for a 4-pound chicken and 85 minutes for a 5.5 pound chicken. The chicken is done when an instant-read thermometer registers 165 F.
(4) Serving / Leftovers. Pair roast chicken with side dishes like mashed cauliflower or creamed spinach. Leftovers can be reheated in the microwave; the meat retains its juiciness, but the skin will no longer be crispy.
(5) Making Ahead. To prepare this dish ahead of time, assemble the chicken and vegetables in the baking pan. Cover and refrigerate for up to 24 hours. Just prior to serving, brush with butter and thyme, and bake.
(6) Nutrition. This nutrition calculation assumes that 50% of the whole chicken's weight is consumed.