Summary:
An easy 5-ingredient recipe for low carb crackers using almond flour, parmesan cheese, and egg. Reminiscent of homemade cheese chips, these crackers are great for dipping or as a standalone gluten free and keto friendly snack.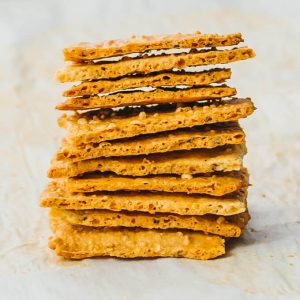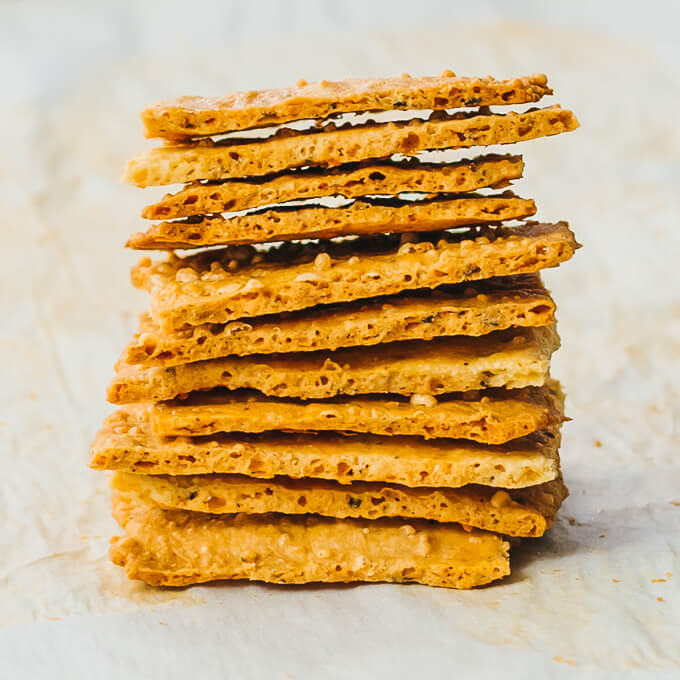 Low Carb Crackers with Almond Flour
INGREDIENTS
3/4

cup

blanched almond flour (3 ounces weight)

1/2

cup

finely grated parmesan cheese with sandy texture (2 ounces weight)

1

large egg

beaten

1/4

teaspoon

coarsely ground black pepper

1/4

teaspoon

salt
INSTRUCTIONS
Preheat the oven to 350 F.

Combine all dry ingredients (almond flour, parmesan cheese, pepper, salt) in a bowl, stirring together until well-mixed.

Add about two-thirds of the beaten egg and stir together until it forms a cohesive and rollable dough. Use hands to form the dough, if needed. Set aside the remaining egg.

Prepare a baking sheet lined with parchment paper or a baking mat. Divide the dough into 4 equal balls and space them out on the parchment paper.

Working with one piece of dough at a time, cover with plastic wrap and flatten the dough to less than 1/8 inch thick. Get it as thin as you can, and make it uniform across the dough so that the crackers will crisp evenly in the oven. Each dough piece should be flattened to a roughly square shape, about 3x3 inches.

Optionally, use a butter knife to lightly score the dough into 16-20 individual crackers, making it easier to break them up after baking.

Using the remaining beaten egg, brush a very thin layer across the surface of the crackers. Discard the rest of the egg.

Bake at 350 F until golden brown and crispy, about 20 minutes. They will crisp starting from the edges and moving inward; the crackers are done when the centers are crispy. Ovens vary, so frequently monitor the crackers starting at 15 minutes and remove them when done.

Let them fully cool before breaking into individual crackers by snapping them along the perforations.
NUTRITION
Makes 2 Servings
Amount Per Serving (8-10 crackers):
| | |
| --- | --- |
| Calories 370 (70% from fat) | |
| Total Fat 29g | 45% |
| Saturated Fat 6g | 32% |
| Cholesterol 113mg | 38% |
| Sodium 510mg | 21% |
| Net Carb 3.5g | |
| Total Carb 8g | 3% |
| Dietary Fiber 4.5g | 18% |
| Sugars 2g | |
| Protein 20g | |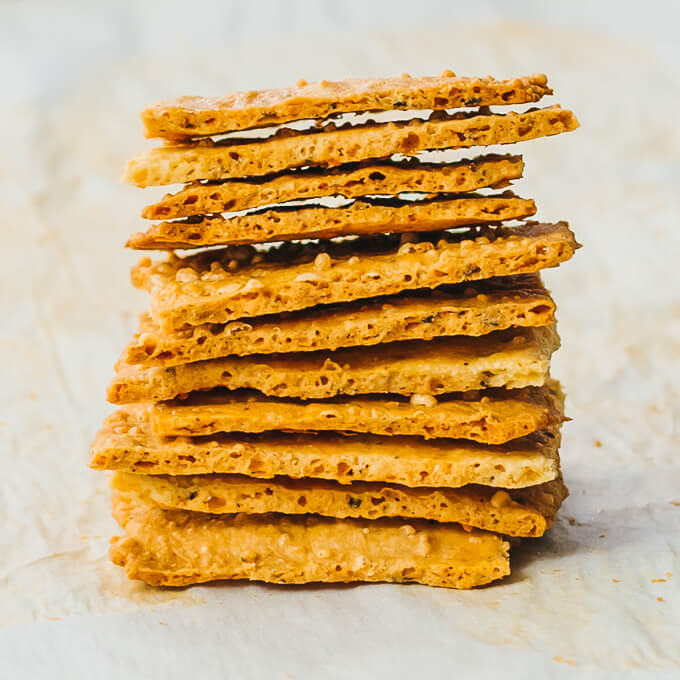 Texture and taste
These baked cheese crackers are the best keto crackers that I've had — extra crispy and crunchy, and stiff enough to scoop up a generous amount of dip. They're even sturdier than tortilla chips.
These crackers have a cheesy flavor from the parmesan cheese, but it's not overwhelming. They're relatively mild in flavor, which is why I use them as a blank canvas for dipping into artichoke spinach dip, hot crab dip with cream cheese, or hummus. If you're new to a keto or gluten free diet, these healthy crackers can definitely fill the void of not having a vehicle for your favorite dips!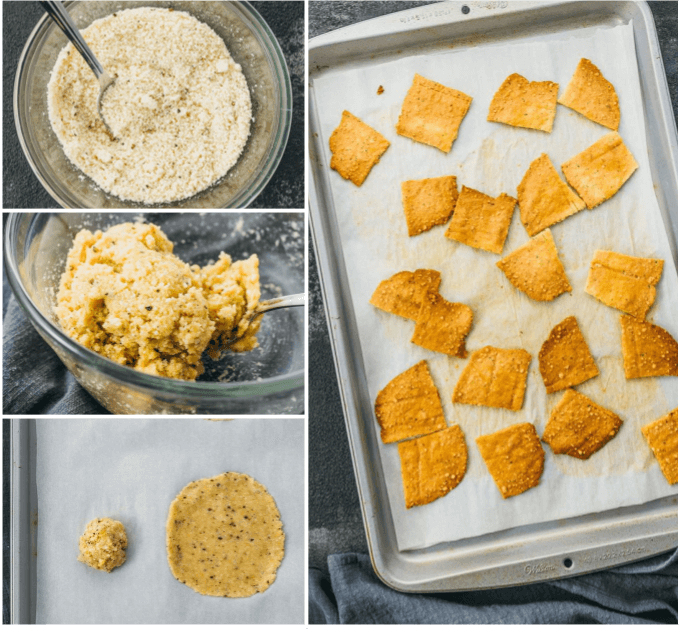 Tips for making low carb crackers with almond flour
I've experimented with this recipe numerous times to optimize it. Here are a few tips for anyone making this the first time:
Make sure you only use about half to two-thirds of an egg when forming the dough. Don't accidentally add the whole egg. You don't want the dough to be too sticky by adding too much egg, which will hamper your ability to flatten the dough. Ideally, you only want to add enough egg so that the mixture forms a cohesive dough. The remaining egg will be used for brushing on top.
Divide the dough into four equal parts for flattening. In the oven, the dough will crisp up starting from the edges, so by having four separate parts, the dough will crisp more evenly. Otherwise, the edges of a single large sheet of dough will burn before the center is done.
After dividing the dough into fourths, the easiest way to flatten is to form a round shape and cover with plastic wrap. Press down on the plastic wrap and use your hands to spread the dough out. Then take a rolling pin (or a wine bottle, a can, anything with round sides) to flatten the dough into a roughly rectangular shape about 1/8 inch thick. Once you're finished, you can lift up the plastic wrap and repeat for the other dough.
Make sure that the flattened dough is as even as possible, about 1/8 inch thick. It should have uniform thickness across the dough, or your crackers won't have uniform crispiness. Check that the edges are not too thin compared to the center.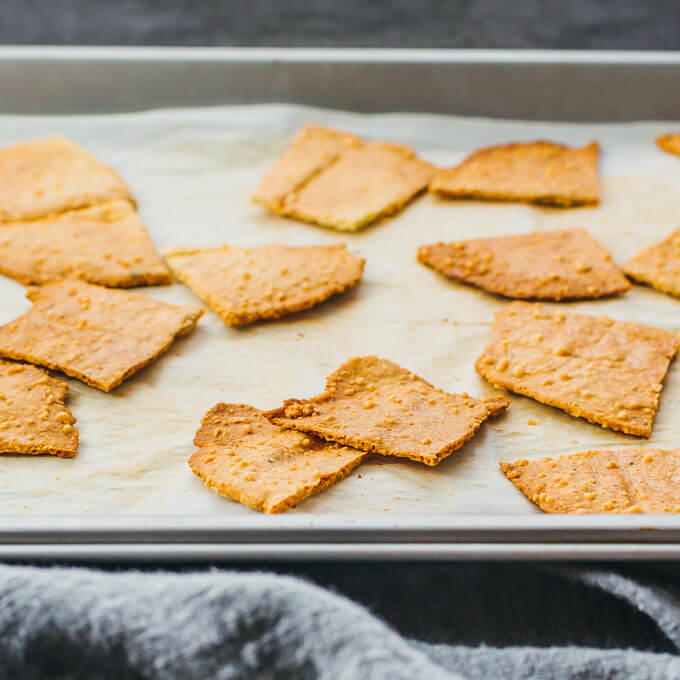 Flavor Mix-ins
This recipe makes parmesan cheese flavored crackers. You can swap in other flavors such as:
sea salt and pepper (sprinkle freshly cracked sea salt and coarsely ground black pepper on top of the dough just prior to baking)
garlic crackers (add garlic powder when forming the dough)
sesame seed (top with sesame seeds or other kinds of seeds to the dough before baking)
spicy crackers (add mustard powder or ground cayenne)
dairy free crackers (if you're lactose intolerant, you can omit the parmesan cheese for plain crackers)
flax seed crackers (replace almond flour with finely ground flax seed)
And there are many other variations. Have fun with these mix-ins; I'd love to hear what you've paired these homemade crackers with.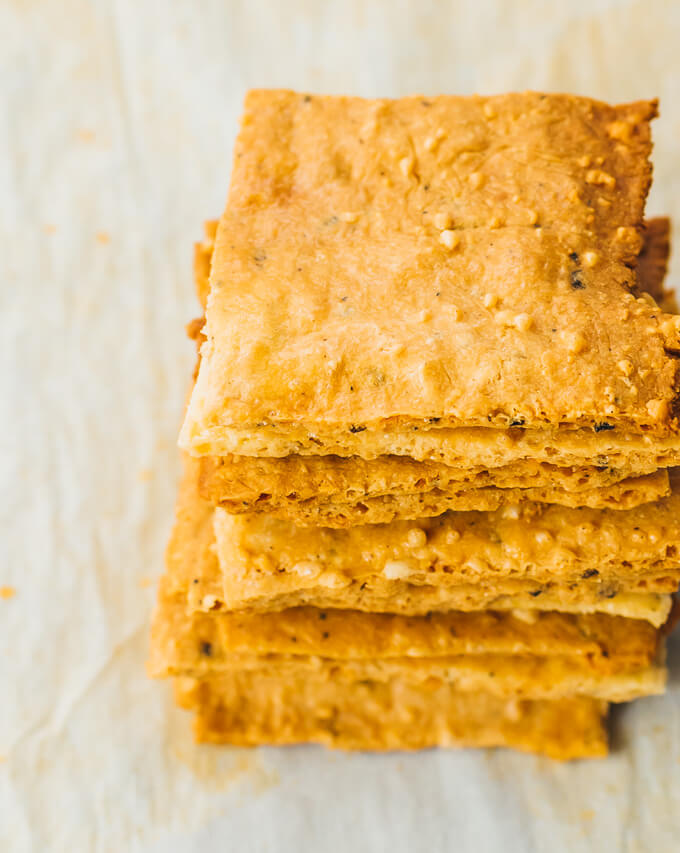 ENJOY THE KETO CRACKERS WITH THESE DIPS: