Summary:
This is an easy 5-ingredient recipe for making low carb crackers using almond flour. With a mild cheesy flavor, they're extra crispy and sturdy — perfect as a crunchy snack or for scooping up a generous amount of dip.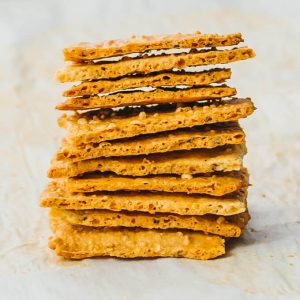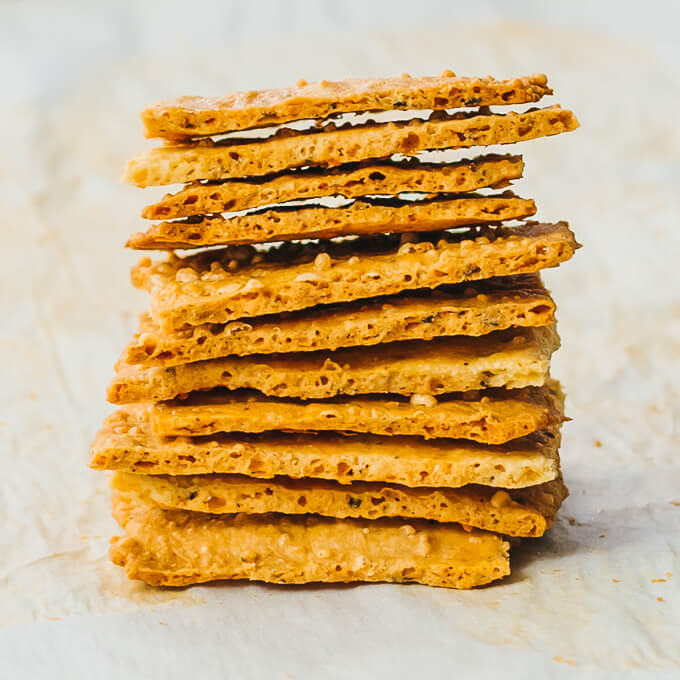 INGREDIENTS
3/4

cup

(3 oz wt.) almond flour (Note 1)

1/2

cup

(2 oz wt.) finely grated parmesan cheese (Note 2)

1

large egg, beaten

1/4

teaspoon

ground black pepper

1/4

teaspoon

table salt
INSTRUCTIONS
Make Dough: Stir together all dry ingredients (almond flour, parmesan cheese, pepper, salt) in bowl until well-mixed. Stir in 2/3 of beaten egg (Note 3) until mixture forms into cohesive and rollable dough, using hands if needed. Set aside remainder of egg.

Roll Out Dough: Divide dough into 4 equal balls (Note 4) and space out on parchment paper. Working with one at a time, cover with plastic wrap and flatten dough as thin as possible (Note 5), ideally less than 1/8 inch thick, into roughly square shape, about 3×3 inches. Dough should have uniform thickness so that crackers will crisp evenly in oven.

Score & Brush: Optionally, use butter knife to lightly score dough into 16 to 20 individual crackers, making them easier to separate after baking. Using remaining beaten egg, brush very thin layer across surface of crackers. Discard rest of egg.

Bake: Bake at 350 F until crackers are golden brown and crispy, about 20 minutes. They will crisp starting from edges and moving inward; crackers are done when centers are crispy. Since ovens vary, frequently monitor starting at 15 minutes and remove when done.

Cool: Let crackers fully cool before breaking into individual crackers by snapping along perforations. Serve (Note 6).
NUTRITION
Makes 2 Servings
Amount Per Serving (8-10 crackers):
| | |
| --- | --- |
| Calories 370 (70% from fat) |   |
| Total Fat 29g | 45% |
|    Saturated Fat 6g | 32% |
| Cholesterol 113mg | 38% |
| Sodium 510mg | 21% |
| Net Carb 3.5g |   |
| Total Carb 8g | 3% |
|    Dietary Fiber 4.5g | 18% |
|    Sugars 2g |   |
| Protein 20g |   |
PHOTOS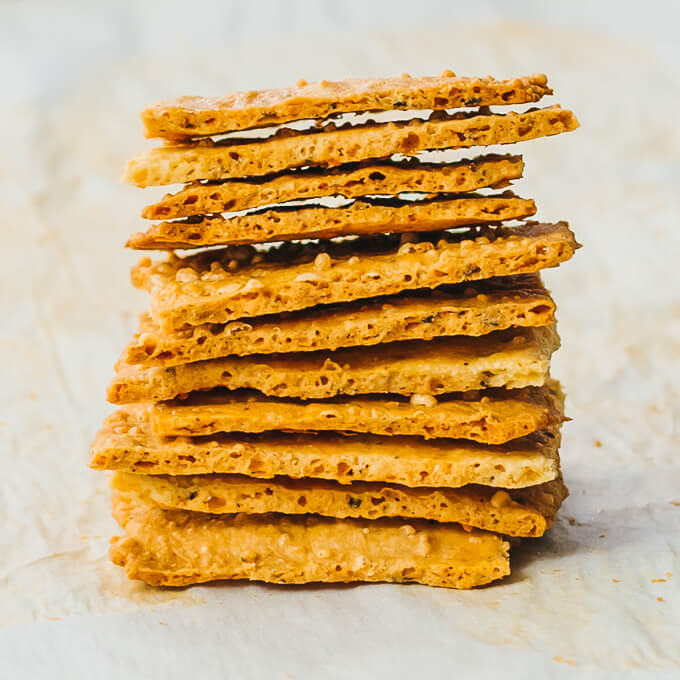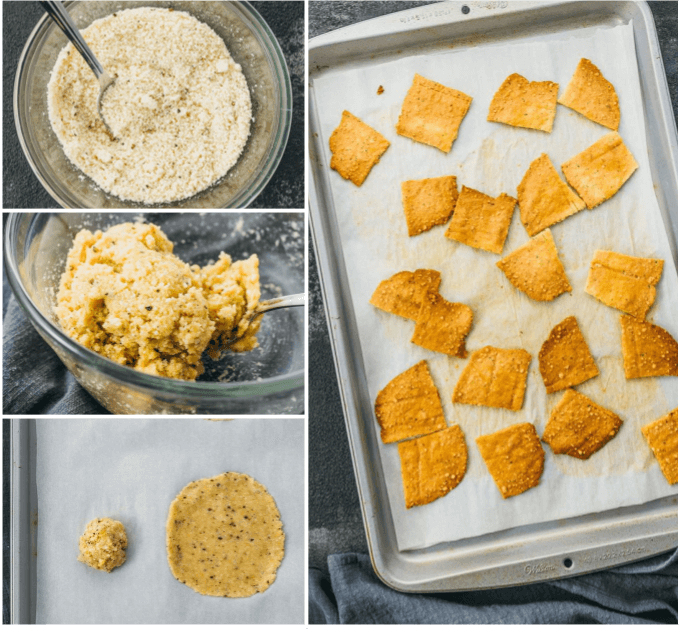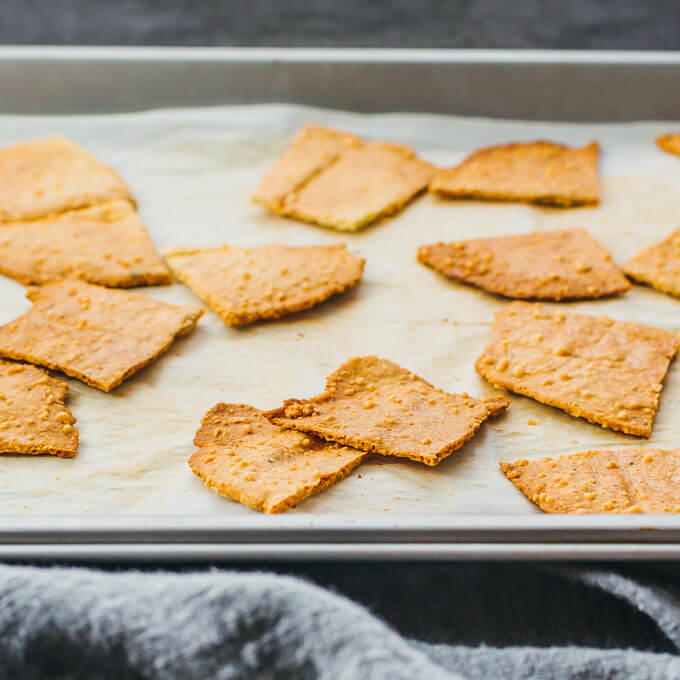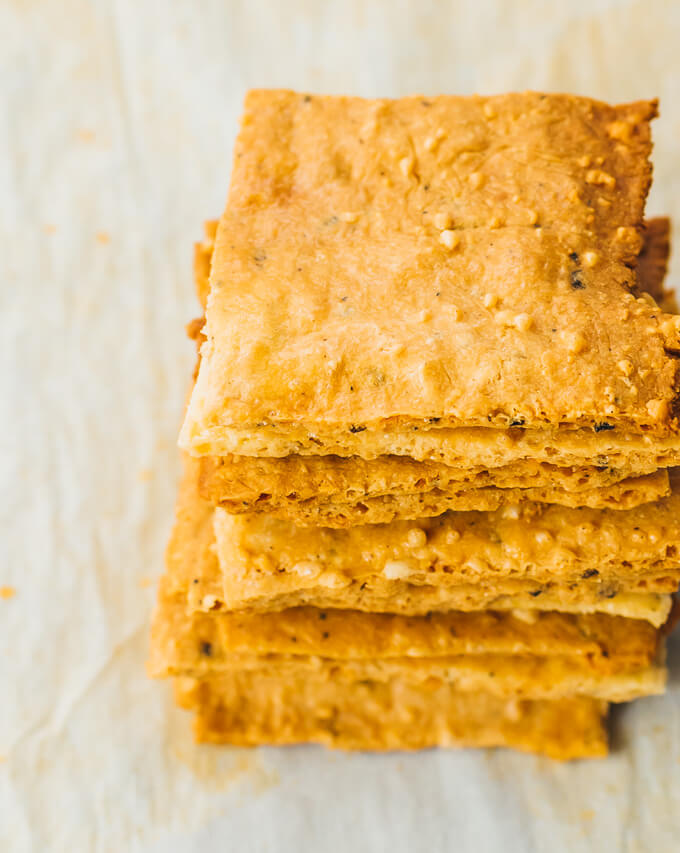 NOTES & TIPS
(1) Almond Flour. For best results, measure by weight. I use almond flour that is blanched, which means the skins are taken off of the almonds, so the resulting flour looks white. I typically use Costco's Kirkland brand, which has 2 grams of net carbs per 1/4 cup serving. Don't substitute with coconut flour or other flours, which vary in their absorbency.
(2) Parmesan Cheese. For best results, measure by weight. This is finely grated parmesan that has a sandy or almost powdery texture, not shredded, often available in pre-grated bags in the refrigerated section of U.S. grocery stores.
(3) Adding Egg. Only add about two-thirds of the beaten egg to avoid an overly wet and sticky dough, which would be difficult to flatten. Ideally, add just enough egg so that the mixture can form a cohesive dough. The remainder of the egg will be used for brushing the surfaces of the crackers.
(4) Dividing Dough. By dividing the dough into four separate parts, the crackers will crisp more evenly in the oven. Otherwise, the edges of a single large sheet of dough will burn before the center is done.
(5) Flattening Dough. Cover the dough with plastic wrap and use your hands to spread the dough out. Then, use a rolling pin or anything with round sides like a wine bottle or a can to flatten the dough into a roughly square shape with 1/8 inch thickness or less.
(6) Serving. Serve these crackers with dips like cheesy hot crab dip, chunky guacamole, tomato salsa, or spinach artichoke dip. Store at room temperature, and enjoy on the same day for optimal crispness.
(7) Optional Flavor Mix-Ins. This recipe makes parmesan cheese flavored crackers. You can swap in other flavors such as: sea salt and pepper (sprinkle freshly cracked sea salt and coarsely ground black pepper on top of the dough just prior to baking), garlic crackers (add garlic powder when forming the dough), sesame seed (top with sesame seeds or other kinds of seeds to the dough before baking), spicy crackers (add mustard powder or ground cayenne), dairy free crackers (if you're lactose intolerant, you can omit the parmesan cheese for plain crackers), or flax seed crackers (replace almond flour with finely ground flax seed).